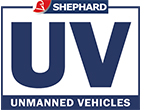 Subscribe
Unmanned Vehicles - supported by its dedicated on-line intelligence service www.uvonline.com - is the world's leading independent bi-monthly publication for the unmanned systems industry.
With a circulation of more than 6,000, and a senior-level readership of more than 25,000 in 120 countries, UV together with the annual Unmanned Vehicles Handbook deliver essential, in-depth and up-to-date coverage of technology developments, news, procurement data and civil/commercial market opportunities.
The aim of UV is to be the business to business source of information for both the industry professional and the user community.
EDITORIAL COMMENT
Interesting times
NEWS
• Cameroonian UAVs combat Boko Haram
• USN Triton squadron stands up
• Chinese-American UAV helo weaponised
• Defence funding pledge for Mayflower 400
• UK nears end of Protector road
CUTTING THE CORD
An increasing number of underwater tasks currently handled by ROVs in the gas and oil industry could in future be handed over toautonomous or hybrid platforms.
SENSING OPPORTUNITY
Advanced sensor technology is opening new doors for UAVs in specific domains in the commercial and civil sectors.
SCHOOL RULES
From humble beginnings, small UAS training has improved dramatically thanks to operator-led courses. However, safety concerns over less than rigorous tests have recently emerged.
COMMERCIAL AWARENESS
Rapid expansion is predicted for UAS in the US, and companies there are keen to exploit opportunities for commercial gain, while working under legislation effective both state-wide and nationally. 
GOING MODULAR
Ground control stations have typically been tailor-made for specific missions, but manufacturers are now taking a modular approach, providing greater flexibility and more capabilities.
INTERVIEW
COMPOSITE CAPABILITIES
French unmanned systems manufacturer ECA Group is looking to build on a busy 2016 to increase platform efficiency and coordination next year, according to CEO Guénaël Guillerme, speaking exclusively to Richard Thomas.
Feb/Mar 2017
Features
Combat UAVs
Commercial UAS delivery
Battery technology
Swarming systems

Event distribution
Oceanology (San Diego, CA, USA)
IDEX (Abu Dhabi, UAE)
Avalon (Geelong, Australia)
Chatham House Security & Defence (London, UK)
AUSA Global (Huntsville, AL, USA)
LIMA (Langkawi, Malaysia)
Sea-Air-Space (National Harbor, MD, USA)
Aero India (Bengaluru, India)
LAAD (Rio de Janeiro, Brazil)
Ocean Business (London, UK)

Apr/May 2017
Features
C2 and GCS
UGV autonomy
Commercial AUV
US programme update

Event distribution
Security & Counter Terror Expo (London, UK)
AUVSI's Xponential (Dallas, TX, USA)
SOFIC (Tampa, FL, USA)
UV 2017 Med (Marathon Bay, Greece)
UDT Europe (Bremen, Germany)
CANSEC (Ottawa, Canada)

Jun/Jul 2017
Features
Munitions
Small UAS gimbals
Combat UGVs
European commercial usage

Event distribution
Paris Air Show (Paris, France)

Aug/Sep 2017
Features
UAS in business
Payloads
Combat USVs
HAPS/HALE

Event distribution
MAKS (Moscow, Russia)
MSPO (Kielce, Poland)
DSEI (London, UK)
Modern Day Marine (Quantico, VA, USA)
Pacific (Sydney, Australia)

Oct/Nov 2017
Features
UAS mapping
Tactical UAS
EOD ROVs
Commercial UAV X

Event distribution
AUSA Annual (Washington, DC, USA)
Seoul ADEX (Seoul, South Korea)
Commercial UAV Show (London, UK)
Commercial UAV Expo (Las Vegas, NV, USA)
Defence & Security (Bangkok, Thailand)
Dubai Airshow (Dubai, UAE)
I/ITSEC (Orlando, FL, USA)
Gulf Defence (Kuwait)
Dec 2017/Jan 2018
Features
Engines
Parapublic unmanned systems
Battlefield systems
VTOL developments

Event distribution
DefExpo 2018 (India)
Shephard Media is delighted to announce that our range of defence, aerospace and security magazines are now available through dedicated Apps for both Android and Apple devices.

Optimised for mobile viewing, the App allows readers to download and view each issue offline, and provides additional content such as interactive links, slideshow galleries, animations, video and more.

The first issue in each App is free to download and all issues will soon be available free to access for Shephard Plus subscribers using their existing Shephard Plus login details.

We hope you enjoy this great new way to access your favourite magazines.