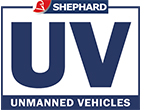 Subscribe
Unmanned Vehicles - supported by its dedicated on-line intelligence service www.uvonline.com - is the world's leading independent bi-monthly publication for the unmanned systems industry.
With a circulation of more than 6,000, and a senior-level readership of more than 25,000 in 120 countries, UV together with the annual Unmanned Vehicles Handbook deliver essential, in-depth and up-to-date coverage of technology developments, news, procurement data and civil/commercial market opportunities.
The aim of UV is to be the business to business source of information for both the industry professional and the user community.
EDITORIAL COMMENT
Artificial ingredients
NEWS
• FAA introduces commercial SUAS rules
• Proteus progress proclaimed
• Hans-free Solo readied for UW2016
BATTERIES NOT INCLUDED
When a UAV runs out of energy, militaries lose a vital surveillance asset that does not cost just money, but lives. That is why many companies are constantly looking at improving battery and power technology, especially when it comes to getting more for less.
GUIDING PRINCIPLES
As their mission set expands, precision navigation technology is key to the successful deployment of UUVs.
EXCESS BAGGAGE
Militaries worldwide are demanding more from UGVs, expecting them to carry a wider array of payloads for a broad range of missions at a reasonable cost. This is driving the evolution of the sector and prompting focus on interoperability and common system architectures.
TALKING TACTICS
Industry and militaries are seeking to extend the capabilities of their growing fleets of tactical UAVs in a rapidly evolving operating environment.
OCEAN OBSERVERS
Providing additional range and capability for vessels and up-close surveillance where manned patrol aircraft fail to reach, unmanned technology is continuing to develop, enhancing maritime C4ISR capability.
REGION REGULATION
While unmanned activity within the Middle East generally involves military operations by foreign powers, opportunities for commercial providers are increasing as the indigenous capability for both sectors expands.
INTERVIEW
ARRESTED DEVELOPMENT
While the use of unmanned aircraft is an undeniable necessity of modern warfare, industry is developing various UCAVs without the guarantee of future success. Former RAF Air Marshal Iain McNicoll, fellow at the Royal Aeronautical Society, gives his views on the realities of their capability and the likelihood of such a platform entering service.
Dec/Jan 2015/16

•    MCM
•    Sense and avoid technology
•    HALE UAVs
•    Advanced materials
Feb/Mar 2016
(Singapore Airshow, UMEX, DefExpo, DIMDEX, FIDAE, AUSA Global Force)
•    Latin American UAS
•    Rotary-wing UAS
•    UGV base security
•    Data storage
Apr/May 2016
(DSA, Quad A, AVUSI's Xponential, SOFEX, Sea-Air-Space, SOFIC)
•    UAS training
•    Launch and recovery
•    Small commercial UAS
•    UUV/USV hydrography
Jun/Jul 2016
(UDT Europe, ILA Berlin, Eurosatory, Farnborough Air Show)
•    Commercial UAS insurance
•    UGV bomb disposal
•    Composite materials
•    Powerpacks
Aug/Sep 2016
(MSPO, AAD, ADAS)
•    Maritime UAS
•    Navigation systems
•    Tactical UAS
•    Payloads
Oct/Nov 2016
(AUSA Annual, Commercial UAV Show, Euronaval, Indo Defence, Unmanned Vehicle & Systems)
•    Load carrying UGVs
•    USVs
•    Engine development
•    Communications
Dec/Jan 2016/17
(I/ITSEC, Aero India)
•    UAS training
•    Sensors
•    Control stations
•    UUVs
Shephard Media is delighted to announce that our range of defence, aerospace and security magazines are now available through dedicated Apps for both Android and Apple devices.

Optimised for mobile viewing, the App allows readers to download and view each issue offline, and provides additional content such as interactive links, slideshow galleries, animations, video and more.

The first issue in each App is free to download and all issues will soon be available free to access for Shephard Plus subscribers using their existing Shephard Plus login details.

We hope you enjoy this great new way to access your favourite magazines.