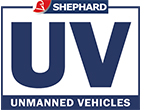 Subscribe
Unmanned Vehicles - supported by its dedicated on-line intelligence service www.uvonline.com - is the world's leading independent bi-monthly publication for the unmanned systems industry.
With a circulation of more than 6,000, and a senior-level readership of more than 25,000 in 120 countries, UV together with the annual Unmanned Vehicles Handbook deliver essential, in-depth and up-to-date coverage of technology developments, news, procurement data and civil/commercial market opportunities.
The aim of UV is to be the business to business source of information for both the industry professional and the user community.
EDITORIAL COMMENT
Risk assessment 
NEWS
• Legacy Black Hawks go unmanned
• Robotic option for future US Army kit
• Irish navy OPVs poised for MCM AUV capability
• ACTUV becomes Sea Hunter
• More laser designators for Shadow
• UMS Skeldar gets flight approval across Norway
• India needs more MALEs
ASSET PROTECTION
Insuring a UAS can be very similar to getting cover for any other aviation platform, depending on what the operator intends to do and the type of policy they require. However, there are some key areas of difference, not least regarding the perceived growth potential of this burgeoning sector.
WATCHERS IN THE WATER
Searching for the Holy Grail of complete security for port operations, authorities are turning their gaze to what the unmanned industry can contribute in a layered, system-of-systems approach that complements existing capabilities.
SAFER STREETS
Use of IEDs in recent terrorist attacks in Europe illustrates the importance of teams and technology deployed to neutralise this threat. Top of the list of critical equipment for such missions is the UGV, which can be deployed to find, fix and neutralise suspect devices while operators remain at a safe tactical distance. 
COMBINED FORCE 
Maritime exploration has long depended on vessels of impeccable structure and material selection to keep sailors alive. While some onboard personnel have become redundant with the advent of remotely operated and autonomous systems, UMVs are still constrained by the properties of the substances used in their construction. 
AS-PAC PLAYBACK
Fresh from attendance at defence shows in India, Malaysia and Singapore, UV examines some new regional designs.
INTERVIEW: HIGH-FLYING FUNDS
UAVs have become a major media focus over the last decade, whether through their military use in Afghanistan or the work being carried out by Silicon Valley giants. Now, the sector is increasingly attracting the attention of investors. Gerrard Cowan talks to Andrew Chanin, CEO of industry specialist PureFunds.
Dec/Jan 2015/16

•    MCM
•    Sense and avoid technology
•    HALE UAVs
•    Advanced materials
Feb/Mar 2016
(Singapore Airshow, UMEX, DefExpo, DIMDEX, FIDAE, AUSA Global Force)
•    Latin American UAS
•    Rotary-wing UAS
•    UGV base security
•    Data storage
Apr/May 2016
(DSA, Quad A, AVUSI's Xponential, SOFEX, Sea-Air-Space, SOFIC)
•    UAS training
•    Launch and recovery
•    Small commercial UAS
•    UUV/USV hydrography
Jun/Jul 2016
(UDT Europe, ILA Berlin, Eurosatory, Farnborough Air Show)
•    Commercial UAS insurance
•    UGV bomb disposal
•    Composite materials
•    Powerpacks
Aug/Sep 2016
(MSPO, AAD, ADAS)
•    Maritime UAS
•    Navigation systems
•    Tactical UAS
•    Payloads
Oct/Nov 2016
(AUSA Annual, Commercial UAV Show, Euronaval, Indo Defence, Unmanned Vehicle & Systems)
•    Load carrying UGVs
•    USVs
•    Engine development
•    Communications
Dec/Jan 2016/17
(I/ITSEC, Aero India)
•    UAS training
•    Sensors
•    Control stations
•    UUVs
Shephard Media is delighted to announce that our range of defence, aerospace and security magazines are now available through dedicated Apps for both Android and Apple devices.

Optimised for mobile viewing, the App allows readers to download and view each issue offline, and provides additional content such as interactive links, slideshow galleries, animations, video and more.

The first issue in each App is free to download and all issues will soon be available free to access for Shephard Plus subscribers using their existing Shephard Plus login details.

We hope you enjoy this great new way to access your favourite magazines.