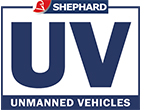 Subscribe
Unmanned Vehicles - supported by its dedicated on-line intelligence service www.uvonline.com - is the world's leading independent bi-monthly publication for the unmanned systems industry.
With a circulation of more than 6,000, and a senior-level readership of more than 25,000 in 120 countries, UV together with the annual Unmanned Vehicles Handbook deliver essential, in-depth and up-to-date coverage of technology developments, news, procurement data and civil/commercial market opportunities.
The aim of UV is to be the business to business source of information for both the industry professional and the user community.
EDITORIAL COMMENT
Checks and balances
NEWS
• Raytheon pitches common UAS controller
• USV conversion kit in MENA tests
• UGVs team up for demolition duty
• UK ScanEagles to be refurbed, redeployed
• Watchkeeper report details crash factors
COPIOUS CHOICES
From turbofans originally developed for business jets to miniature electric motors, the range of powerplant options for UAVs is greater than ever before.
DON'T BRING ME DOWN
The risk of a UAV being hijacked from its operator's control by hackers or having its precious ISR data feed intercepted by a hostile party has led to the consideration of a range of sophisticated countermeasures.
RELIABLE REACH
Communication with and between UAVs and other sensor platforms is an essential part of ongoing special forces operations in theatres around the globe.
UNDER THE WEATHER
Monitoring of storms and gathering climate data is an increasingly common application for USVs, leading to greater understanding of global weather patterns.
BEASTS OF BURDEN
Despite development work by multiple manufacturers, squad-level utility UGVs for dismounted troops have still not progressed beyond the user assessment phase.
INTERVIEW
CROSSING OVER
Barry Trimmer, VP technical for ISR products at Thales UK, talks to Gerrard Cowan about the company's plan to expand into the civil UAS market.
Dec/Jan 2015/16

•    MCM
•    Sense and avoid technology
•    HALE UAVs
•    Advanced materials
Feb/Mar 2016
(Singapore Airshow, UMEX, DefExpo, DIMDEX, FIDAE, AUSA Global Force)
•    Latin American UAS
•    Rotary-wing UAS
•    UGV base security
•    Data storage
Apr/May 2016
(DSA, Quad A, AVUSI's Xponential, SOFEX, Sea-Air-Space, SOFIC)
•    UAS training
•    Launch and recovery
•    Small commercial UAS
•    UUV/USV hydrography
Jun/Jul 2016
(UDT Europe, ILA Berlin, Eurosatory, Farnborough Air Show)
•    Commercial UAS insurance
•    UGV bomb disposal
•    Composite materials
•    Powerpacks
Aug/Sep 2016
(MSPO, AAD, ADAS)
•    Maritime UAS
•    Navigation systems
•    Tactical UAS
•    Payloads
Oct/Nov 2016
(AUSA Annual, Commercial UAV Show, Euronaval, Indo Defence, Unmanned Vehicle & Systems)
•    Load carrying UGVs
•    USVs
•    Engine development
•    Communications
Dec/Jan 2016/17
(I/ITSEC, Aero India)
•    UAS training
•    Sensors
•    Control stations
•    UUVs
Shephard Media is delighted to announce that our range of defence, aerospace and security magazines are now available through dedicated Apps for both Android and Apple devices.

Optimised for mobile viewing, the App allows readers to download and view each issue offline, and provides additional content such as interactive links, slideshow galleries, animations, video and more.

The first issue in each App is free to download and all issues will soon be available free to access for Shephard Plus subscribers using their existing Shephard Plus login details.

We hope you enjoy this great new way to access your favourite magazines.