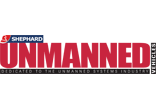 Subscribe
Unmanned Vehicles - supported by its dedicated on-line intelligence service www.uvonline.com - is the world's leading independent bi-monthly publication for the unmanned systems industry.
With a circulation of more than 6,000, and a senior-level readership of more than 25,000 in 120 countries, UV together with the annual Unmanned Vehicles Handbook deliver essential, in-depth and up-to-date coverage of technology developments, news, procurement data and civil/commercial market opportunities.
The aim of UV is to be the business to business source of information for both the industry professional and the user community.
EDITORIAL COMMENT
Playing by the rules 
NEWS
• Zephyr in mind for Roke data link integration
• Northrop confirmed for DARPA UAV project
• Germany to lease IAI Heron TPs
• Royal Navy's lean RIBs could run unmanned
ROTARY REVOLUTION?
Unmanned helicopters will transform the way naval operations are conducted, allowing warships to project over-the-horizon ISR and strike into areas considered too dangerous for manned aircraft, with much greater endurance. However, doubts persist over whether the rotary-wing UAV offers a more affordable route towards an embarked aviation capability. 
OUT AND ABOUT
Outside the EOD role, the development of UGVs continues to progress slowly by comparison with rapidly evolving UAVs, but there are clear signs of progress towards deploying the technology for perimeter and border security duties. 
MEMORIES ARE MADE OF THIS
Intelligence gathered by UAS is only useful if it can be disseminated and analysed. Increasing levels of sensor sophistication and fidelity are placing an ever greater burden on onboard data storage and transmission capabilities, creating challenges for developers. 
OPEN SKIES?
While some well-known companies have announced their intention to fill the skies with UAVs making package deliveries and providing broadband connectivity, the regulatory reality is somewhat different. 
SMALLER GAPS, GROWING CAPABILITY
The Latin American market contains a diverse mix of indigenous and imported unmanned capabilities and services, but the ratios for some nations are shifting.
GETTING CREATIVE
Nicholas Hill, defence and security director at Plextek Consulting, speaks to Richard Thomas about the sort of innovative solutions that must be found to advance automation, communications and active camouflage capabilities.
Dec/Jan 2015/16

•    MCM
•    Sense and avoid technology
•    HALE UAVs
•    Advanced materials
Feb/Mar 2016
(Singapore Airshow, UMEX, DefExpo, DIMDEX, FIDAE, AUSA Global Force)
•    Latin American UAS
•    Rotary-wing UAS
•    UGV base security
•    Data storage
Apr/May 2016
(DSA, Quad A, AVUSI's Xponential, SOFEX, Sea-Air-Space, SOFIC)
•    UAS training
•    Launch and recovery
•    Small commercial UAS
•    UUV/USV hydrography
Jun/Jul 2016
(UDT Europe, ILA Berlin, Eurosatory, Farnborough Air Show)
•    Commercial UAS insurance
•    UGV bomb disposal
•    Composite materials
•    Powerpacks
Aug/Sep 2016
(MSPO, AAD, ADAS)
•    Maritime UAS
•    Navigation systems
•    Tactical UAS
•    Payloads
Oct/Nov 2016
(AUSA Annual, Commercial UAV Show, Euronaval, Indo Defence, Unmanned Vehicle & Systems)
•    Load carrying UGVs
•    USVs
•    Engine development
•    Communications
Dec/Jan 2016/17
(I/ITSEC, Aero India)
•    UAS training
•    Sensors
•    Control stations
•    UUVs
Shephard Media is delighted to announce that our range of defence, aerospace and security magazines are now available through dedicated Apps for both Android and Apple devices.

Optimised for mobile viewing, the App allows readers to download and view each issue offline, and provides additional content such as interactive links, slideshow galleries, animations, video and more.

The first issue in each App is free to download and all issues will soon be available free to access for Shephard Plus subscribers using their existing Shephard Plus login details.

We hope you enjoy this great new way to access your favourite magazines.