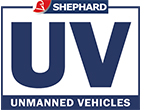 Subscribe
Unmanned Vehicles - supported by its dedicated on-line intelligence service www.uvonline.com - is the world's leading independent bi-monthly publication for the unmanned systems industry.
With a circulation of more than 6,000, and a senior-level readership of more than 25,000 in 120 countries, UV together with the annual Unmanned Vehicles Handbook deliver essential, in-depth and up-to-date coverage of technology developments, news, procurement data and civil/commercial market opportunities.
The aim of UV is to be the business to business source of information for both the industry professional and the user community.
EDITORIAL COMMENT
Best laid plans 
NEWS
• Malaysia selects Fulmar UAV
• Patroller to replace French Army Sperwer
• UK rolls out unmanned vessel framework
• Global Hawk in U2 sensor tests
• Qatar signs Aerosonde deal
WATER POWER
Critical to naval force missions is adequate planning and preparation, with 'ground study' providing a vital element in route planning, making military hydrography hugely important to navies seeking safe passage of expensive vessels through blue-water and littoral environments. 
LEARNING CURVE
When tens of millions of dollars are spent on a UAV, it pays to make sure it is available for operations more often than not, particularly with the growing demand being placed on such platforms by militaries around the world. 
FETCH AND CARRY
The UAS industry is a byword for innovation, but while attention is often placed on platforms and payloads, developments in the launch and recovery of unmanned systems are helping create new opportunities and capabilities for eager operators. 
COMMERCIAL GAIN 
Small UAS are the tool of choice for the vast majority of commercial operators. While the sector faces technological challenges to its growth in a number of areas, senior figures are confident these can be overcome, stimulating further expansion for the fledgling industry. 
HIGH HOPES
The Northrop Grumman Global Hawk remains the only HALE UAV fully operational with a military user, the USAF, and has been for well over a decade. However, companies and militaries alike are partnering up in an attempt to tap into this market and utilise the capabilities it brings.
COST MANAGEMENT
Lockheed Martin's Skunk Works brain trust has a history of coming up with innovative solutions to complex problems. Richard Thomas speaks to Kevin Lewelling, manager of the company's rapid operations programmes, about its approach in developing multirole, low-risk and affordable designs.
Dec/Jan 2015/16

•    MCM
•    Sense and avoid technology
•    HALE UAVs
•    Advanced materials
Feb/Mar 2016
(Singapore Airshow, UMEX, DefExpo, DIMDEX, FIDAE, AUSA Global Force)
•    Latin American UAS
•    Rotary-wing UAS
•    UGV base security
•    Data storage
Apr/May 2016
(DSA, Quad A, AVUSI's Xponential, SOFEX, Sea-Air-Space, SOFIC)
•    UAS training
•    Launch and recovery
•    Small commercial UAS
•    UUV/USV hydrography
Jun/Jul 2016
(UDT Europe, ILA Berlin, Eurosatory, Farnborough Air Show)
•    Commercial UAS insurance
•    UGV bomb disposal
•    Composite materials
•    Powerpacks
Aug/Sep 2016
(MSPO, AAD, ADAS)
•    Maritime UAS
•    Navigation systems
•    Tactical UAS
•    Payloads
Oct/Nov 2016
(AUSA Annual, Commercial UAV Show, Euronaval, Indo Defence, Unmanned Vehicle & Systems)
•    Load carrying UGVs
•    USVs
•    Engine development
•    Communications
Dec/Jan 2016/17
(I/ITSEC, Aero India)
•    UAS training
•    Sensors
•    Control stations
•    UUVs
Shephard Media is delighted to announce that our range of defence, aerospace and security magazines are now available through dedicated Apps for both Android and Apple devices.

Optimised for mobile viewing, the App allows readers to download and view each issue offline, and provides additional content such as interactive links, slideshow galleries, animations, video and more.

The first issue in each App is free to download and all issues will soon be available free to access for Shephard Plus subscribers using their existing Shephard Plus login details.

We hope you enjoy this great new way to access your favourite magazines.