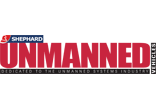 Subscribe
Unmanned Vehicles - supported by its dedicated on-line intelligence service www.uvonline.com - is the world's leading independent bi-monthly publication for the unmanned systems industry.
With a circulation of more than 6,000, and a senior-level readership of more than 25,000 in 120 countries, UV together with the annual Unmanned Vehicles Handbook deliver essential, in-depth and up-to-date coverage of technology developments, news, procurement data and civil/commercial market opportunities.
The aim of UV is to be the business to business source of information for both the industry professional and the user community.
Editorial Comment
Editor Richard Thomas discusses the place of the pilot in the unmanned systems era.

News
Northrop pushes for UK Triton buy A review of some of the latest developments from around the unmanned systems industry.

Legal aid
Law enforcement has been one sector where the application of small UAS has helped boost capabilities and keep more personnel out of harm's way. Richard Thomas looks at what systems are being purchased and the forces utilising them.

Personnel development
The US is currently facing a shortage of suitably trained UAV pilots and operators. Beth Maundrill examines the current training environment as well as proposed strategies to tackle this issue.

Local businesses
A number of East Asian countries are making strides in their indigenous UAV manufacturing capabilities. Gordon Arthur reviews the respective industry activities.

Strengthening ties
The value of an unmanned asset is directly related to the power of the data links within the overall network. Angus Batey assesses the current limitations of the technology and what industry is doing to help push capabilities further.

What goes up…
Greater proliferation of UAS brings with it a concomitant threat to people, infrastructure and security, as a number of recent high-profile incidents have highlighted. Grant Turnbull looks at industry's response in the shape of sensor and disruptor systems designed to protect and defend against such aircraft flown by hostile, malicious or negligent operators.

Interview
A great deal of noise is made about the growth of the global UAS market, but activity in Latin America often flies under the radar. Richard Thomas speaks to Sebastián Zepeda, general manager of Delair-Tech Latin America, on opportunities across the region.
Dec/Jan 2014/15
(Aero India)
• UAS training
• Data links
• Commercial UGVs
• Environmental monitoring
Feb/Mar 2015
(IDEX, Avalon, LIMA, AUVSI Europe, Quad A, AUSA Winter, LAAD)
• Cargo-carrying UGVs
• Weapon integration
• Airspace integration
• MALE UAVs
Apr/May 2015
(AUVSI Unmanned Systems, IDEF, IMDEX Asia)
• Mine clearance
• AUVs
• Quadrotors
• Propulsion
Jun/Jul 2015
(UDT Europe, Paris Air Show)
• Underwater payloads
• Optionally piloted vehicles
• UCAVs
• Onboard processing
Aug/Sep 2015
(MSPO, DSEi, Modern Day Marine)
• Surveillance UGVs
• USVs
• Tactical UAVs
• Infrastructure monitoring
Oct/Nov 2015
(AUSA Annual, ADEX, Defense & Security, Dubai Airshow)
• Small UAVs
• Simulation and training
• Emerging markets
• Data links
Dec/Jan 2015/16
(Defexpo 2016)
• MCM
• Sense and avoid technology
• HALE UAVs
• Advanced materials
Shephard Media is delighted to announce that our range of defence, aerospace and security magazines are now available through dedicated Apps for both Android and Apple devices.

Optimised for mobile viewing, the App allows readers to download and view each issue offline, and provides additional content such as interactive links, slideshow galleries, animations, video and more.

The first issue in each App is free to download and all issues will soon be available free to access for Shephard Plus subscribers using their existing Shephard Plus login details.

We hope you enjoy this great new way to access your favourite magazines.