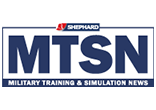 Subscribe
Military Training & Simulation News (MTSN) was first published in monthly newsletter format in 1995, and in 1999 it became a bi-monthly magazine.

In 2015, MTSN became part of the Shephard Media portfolio. With a readership of over 40,000, MTSN is requested, read and respected in over 70 countries by professional military, government, academic and industry personnel.

With a team of global correspondents, the magazine brings the reader high-quality analysis, news and in-depth features. MTSN is the only magazine dedicated to military training and simulation with a publishing frequency of six issues per year.
EDITORIAL COMMENT
Pipe down
NEWS
• Boeing launches latest version of CRVS
• RDE hopes KC-390 training will become intercontinental
• Farewell QF-4, hello QF-16
• Iqarus opens Hereford training centre
FLEXIBLE THINKING
As companies, procurement officials and users prepare to decamp to Orlando for the annual I/ITSEC event, MTSN takes a look at the US simulation and training industry's capabilities. As more and more military users adopt these technologies, both to improve training and save money, the market remains buoyant.
BACK IN FASHION?
In recent years, armed forces have concentrated on counter-insurgency operations but with troop withdrawals from Iraq and Afghanistan, capabilities have been refocused. More nations are looking again to high-intensity operations and the use of constructive training systems to help them prepare for such engagements.
REFRESH RATES
The market for simulator updates and upgrades is massive and it is not only platform OEMs that are benefiting, as many smaller suppliers that provide projectors, software and more are also involved.
CRACKLY VOLTS
As many of the world's military forces get back up to speed with the need to train for high intensity operations, EW is back on the training agenda, whether it is on land, at sea or in the air.
ESCAPE CLAUSE
As the reliability of rotary-wing systems, particularly their powerplants, has increased over the years, aircraft ditchings have declined. Despite this, military crews must be prepared for any eventuality and so psychological preparation and physical underwater escapetraining are crucial.
VIRTUAL REVOLUTION
With new technologies creating ever more realistic virtual environments, militaries are conducting increasing amounts of training in this domain. It would appear that the live-synthetic argument has shifted towards the virtual. This is mainly due to increased fidelity and lower cost, but there are other benefits.
SURVIVAL IN THE SKIES
At Dobbins Air Reserve Base in Georgia, the ambitious Aeromedical Simulation Training and Education Center is revolutionising the way in which crews train for their demanding and life-saving roles.
INTERVIEW
VITAL ASSET
Founded in 1988, the National Training and Simulation Association aims to foster communication between training agencies regarding the industry's requirements, procurement issues and policies. Trevor Nash talks to its president, RAdm James Robb, USN (Retd), about the future for simulation and training in the US.
Jan/Feb 2017
Features
Motion capture and eye tracking
Visual database development
Serious games
US S&T programme update

Event distribution
IDEX (Abu Dhabi, UAE)
Avalon (Geelong, Australia)
AUSA Global (Huntsville, AL, USA)
LIMA (Langkawi, Malaysia)
Aero India (Bengaluru, India)

Mar/Apr 2017
Features
Naval training
Projection technology
Counter IED training
Land training environment

Event distribution
Sea-Air-Space (National Harbor, MD, USA)
LAAD (Rio de Janeiro, Brazil)
IDEF (Istanbul, Turkey)

May/Jun 2017
Features
Aerial target systems
Training armoured forces
JTAC/FAC training
Aggressor adversary training

Event distribution
IMDEX (Singapore)
ITEC (London, UK)
UDT Europe (Bremen, Germany)
CANSEC (Ottawa, Canada)
Paris Air Show (Paris, France)

Jul/Aug 2017
Features
Maintenance training
Trainer aircraft
Medical training
Enhanced flight and aeromedical training

Event distribution
MSPO (Kielce, Poland)

Sep/Oct 2017
Features
Motion platforms and cueing systems
Virtual small arms training
Range targets for live fire training
Developments in LVC

Event distribution
DSEI (London, UK)
AFA (National Harbor, MD, USA)
Modern Day Marine (Quantico, VA, USA)
Pacific (Sydney, Australia)
AUSA Annual (Washington, DC, USA)
Seoul ADEX (Seoul, South Korea)
Defence & Security (Bangkok, Thailand)

Nov/Dec 2017
Features
US S&T industry
Constructive training
EW training
Image generation

Event distribution
I/ITSEC (Orlando, FL, US)
Gulf Defence (Kuwait)