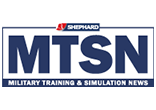 Subscribe
Military Training & Simulation News (MTSN) was first published in monthly newsletter format in 1995, and in 1999 it became a bi-monthly magazine.

In 2015, MTSN became part of the Shephard Media portfolio. With a readership of over 40,000, MTSN is requested, read and respected in over 70 countries by professional military, government, academic and industry personnel.

With a team of global correspondents, the magazine brings the reader high-quality analysis, news and in-depth features. MTSN is the only magazine dedicated to military training and simulation with a publishing frequency of six issues per year.
EDITORIAL COMMENT
Onwards and upwards
NEWS
• Meggitt divests target business
• SAF opens new armour simulation centre
• Singapore matures I-LVC
• American EW range for Australia
• French pilot training outsourcing progresses
• Barco unveils F70 projector
SMOOTH OPERATOR
With instructors and students flying 35% of the US Navy's total flight hours on 26% of the total service aircraft inventory, the Chief of Naval Air Training organisation plays a critical part in providing flight capabilities for the navy, marine corps and coast guard, plus foreign partners.
VISUAL VARIATIONS
Synthetic training environments are key to any modern military's training methods, with visual databases forming the first step in their creation.
NAVAL KNOW-HOW
France's Défense Conseil International is looking to increase its portfolio in the naval training sector. Currently maintaining a strong presence throughout the world, the organisation continues to expand by offering a range of courses, consultancy and services.
POSITIVE VIBES
The US S&T industry is the largest in the world and shows off its wares at the annual I/ITSEC show in Orlando. The event is the biggest gathering in the industry calendar and provides a good indication of the current mood and the trends that are likely to emerge in the future.
THE HUMAN FACTOR
Increasing emphasis is being placed on small unit operations and the role of the individual within them. One way to enhance realism is to capture their motion parameters and then use the data to create virtual entities.
GETTING SERIOUS
'Serious games' have been part of many armed forces' training curricula for many years, and have become ever more realistic. However, some providers in the sector believe that games engine-based systems now face a challenge.
INTERVIEW
FLEXIBLE FUTURE
As one of the world's leading aerospace and defence contractors, Boeing has been involved in training throughout the whole of its 100-year existence. That emphasis on training is growing, both in terms of provision of equipment and services. Trevor Nash talks to Tim Noonan, Boeing's VP of training systems and government services, about the company's approach to this key market.
Jan/Feb 2017
Features
Motion capture and eye tracking
Visual database development
Serious games
US S&T programme update

Event distribution
IDEX (Abu Dhabi, UAE)
Avalon (Geelong, Australia)
AUSA Global (Huntsville, AL, USA)
LIMA (Langkawi, Malaysia)
Aero India (Bengaluru, India)

Mar/Apr 2017
Features
Naval training
Projection technology
Counter IED training
Land training environment

Event distribution
Sea-Air-Space (National Harbor, MD, USA)
LAAD (Rio de Janeiro, Brazil)
IDEF (Istanbul, Turkey)

May/Jun 2017
Features
Aerial target systems
Training armoured forces
JTAC/FAC training
Aggressor adversary training

Event distribution
IMDEX (Singapore)
ITEC (London, UK)
UDT Europe (Bremen, Germany)
CANSEC (Ottawa, Canada)
Paris Air Show (Paris, France)

Jul/Aug 2017
Features
Maintenance training
Trainer aircraft
Medical training
Enhanced flight and aeromedical training

Event distribution
MSPO (Kielce, Poland)

Sep/Oct 2017
Features
Motion platforms and cueing systems
Virtual small arms training
Range targets for live fire training
Developments in LVC

Event distribution
DSEI (London, UK)
AFA (National Harbor, MD, USA)
Modern Day Marine (Quantico, VA, USA)
Pacific (Sydney, Australia)
AUSA Annual (Washington, DC, USA)
Seoul ADEX (Seoul, South Korea)
Defence & Security (Bangkok, Thailand)

Nov/Dec 2017
Features
US S&T industry
Constructive training
EW training
Image generation

Event distribution
I/ITSEC (Orlando, FL, US)
Gulf Defence (Kuwait)