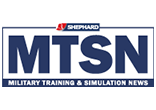 Subscribe
Military Training & Simulation News (MTSN) was first published in monthly newsletter format in 1995, and in 1999 it became a bi-monthly magazine.

In 2015, MTSN became part of the Shephard Media portfolio. With a readership of over 40,000, MTSN is requested, read and respected in over 70 countries by professional military, government, academic and industry personnel.

With a team of global correspondents, the magazine brings the reader high-quality analysis, news and in-depth features. MTSN is the only magazine dedicated to military training and simulation with a publishing frequency of six issues per year.
EDITORIAL COMMENT
Prize procurement
NEWS
• Textron forms Airborne Solutions and buys ATAC
• Cubic boosts JRTC work
• USAF LVC training bridges generation gap
• JTAC accreditation for Nautilus
• LMCO MS&T is no more
DESTINATION ORLANDO
Known as the epicentre of US simulation and training and HQ for numerous companies, DoD procurement agencies and academic research facilities, Orlando is also home to the I/ITSEC 2016 event.
AACMI ALERT
Emerging autonomous air combat manoeuvring instrumentation systems are now providing platforms where I-LVC can take place, and potentially this type of training has great mileage.
WASAWAN WONDER
It is now two years since the CAE Brunei Multipurpose Training Centre started training pilots, and the facility is about to receive a third device, a Sikorsky S-70i, and begin scaling up training using its disaster response simulator.
LOCKED AND LOADED
Virtual small arms trainers have become a de facto lead-in preparation tool for live-fire exercises. The market is a highly competitive one, but business levels are currently buoyant and the fidelity levels of such devices continue to improve.
WICKED PROBLEMS
The UK RAF is about to embark on two major procurements that will shape its training for decades to come. DOTC (A) and ASDOT will cost upwards of £2 billion, but will they address blended LVC?
ALL HANDS ON DECK
The Royal Naval School of Flight Deck Operations is training a new generation of handlers for the Queen Elizabeth-class aircraft carriers. Using live and virtual elements, as well as exchange deployments with the USN, a previous training gap is now being closed.
INTERVIEW
THE STRONGEST LINK
The name of Link has been associated with training and simulation for more than 80 years, ever since Edwin Link sold his first 'Blue Box' trainer. After many acquisitions and industry consolidations, that name lives on as L-3 Link Simulation and Training. Trevor Nash talks to Lenny Genna, president of the company, about current and future business.