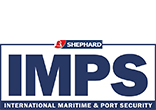 Subscribe
Launched in late 2013, International Maritime & Port Security builds on Shephard Media's international experience in the security market, and with the security of ports and littoral waters a major concern for both governments and merchant shipping on a global scale, is an essential read.

Drawing on Shephard Media's 30+ years as a niche publisher in the aviation and defence sectors, International Maritime & Port Security magazine and the Maritime Security Handbook provide comprehensive insight into the main security issues that affect shipping, the littoral and ports, whether sea or land-side.

Focus areas include port and offshore installation security, maritime surveillance, patrol vessels, maritime domain awareness and identification and tracking systems. The continuing high risks of piracy, maritime terrorism, drug smuggling and human trafficking, as well as ongoing territorial disputes and the requirement of nations to protect their exclusive economic zones are all areas of coverage.

With the 14,000+ global circulation and print/digital readership of 42,000 – consisting of decision-takers and influencers within international governments, senior naval and coastguard personnel, ship-owners, manufacturers, operators, petrochemical companies, port authorities, shipping associations, maritime agencies, P&I clubs, security firms and industry – International Maritime & Port Security is set to become the definitive publication available to a truly global audience.
Jan/Feb 2017
Features
Perimeter security
Harbour patrol
EEZ monitoring
Coast guards

Event distribution
NAVDEX (Abu Dhabi, UAE)
LIMA (Langkawi, Malaysia)
Chatham House Security & Defence (London, UK)
Maritime Security East (Galveston, TX, USA)

Mar/Apr 2017
Features
AIS/VTS programmes
Police/paramilitary patrol
Non-lethal deterrents
Propulsion

Event distribution
Sea-Air-Space (National Harbor, MD, USA)
LAAD (Rio de Janeiro, Brazil)
Ocean Business (London, UK)
Milipol Asia (Singapore)
Security & Counter Terror Expo (London, UK)
IDEF (Istanbul, Turkey)
IMDEX (Singapore))

May/Jun 2017
Features
Personnel and light vehicle
scanners
Inshore patrol craft
Maritime/ship security training
Coastal defence systems

Event distribution
Offshore Patrol & Surveillance (Portsmouth, UK)
UDT Europe (Bremen, Germany)
CANSEC (Ottawa, Canada)
Infosecurity (London, UK)
MAST Asia (Tokyo, Japan)
ISDEF (Tel Aviv, Israel)

Jul/Aug 2017
Features
OPVs
MSA
Cargo security
Undersea detection

Sep/Oct 2017
Features
Guns/munitions
Vessel radar
Landside perimeter
Anti-boarding

Event distribution
DSEI (London, UK)
Modern Day Marine (Quantico, VA, USA)
Pacific (Sydney, Australia)
Seoul ADEX (Seoul, South Korea)

Nov/Dec 2017
Features
RIBs
Fisheries protection
Maritime EO/IR
Modularity and mission bays

Event distribution
Milipol Paris (Paris, France)
International WorkBoat Show (New Orleans, USA)
Defence & Security (Bangkok, Thailand)
I/ITSEC (Orlando, FL, US)
Gulf Defence (Kuwait)
EDITORIAL COMMENT
Cross check
NEWS
• Busy French Navy pressed for spare capacity
• More radar for Marseilles
• Clyde moving to River drum beat
• OPV set for October delivery
• UK and France monitor ferry threat
RHIB MUSCLE
The public profile of the rigid-hull inflatable boat has never been higher than it is today, thanks to almost daily news coverage of Europe's migrant crisis, but testing times are ahead for this flexible asset.
WATCHING THE WATER
Today's maritime surveillance aircraft need to be cost-effective and perform multiple roles, with platform and sensors working in harmony.
BARRIER TO SUCCESS
Physical protection against surface and subsurface intruders is essential in any harbour security strategy. In the face of developing threats, a new generation of floating barriers have proved themselves a versatile solution.
ATTENTION DEFICIT
The increasing threat to port security means that an assessment of waterside overwatch measures is long overdue.
PLAY YOUR CARDS RIGHT
The modest appearance of mine countermeasure craft often belies their strategic importance, but as time moves on, operators face a choice between embracing the potential in new technology or refurbishing what they have and know – to stick or twist.
PARTING SHOT
MISSION ON THE MED
It has been a troubled 18 months for the EU naval force to the Mediterranean, otherwise known as Operation Sophia, as diplomats and military planners alike attempt to solve the deadly dilemma of desperate maritime migrant crossings. Deputy commander of the operation, RAdm Gilles Humeau of the French Navy, spoke to Richard Thomas about the scale of the problem and charting a way forward.
Shephard Media is delighted to announce that our range of defence, aerospace and security magazines are now available through dedicated Apps for both Android and Apple devices.

Optimised for mobile viewing, the App allows readers to download and view each issue offline, and provides additional content such as interactive links, slideshow galleries, animations, video and more.

The first issue in each App is free to download and all issues will soon be available free to access for Shephard Plus subscribers using their existing Shephard Plus login details.

We hope you enjoy this great new way to access your favourite magazines.