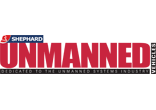 Subscribe
Unmanned Vehicles - supported by its dedicated on-line intelligence service www.uvonline.com - is the world's leading independent bi-monthly publication for the unmanned systems industry.
With a circulation of more than 6,000, and a senior-level readership of more than 25,000 in 120 countries, UV together with the annual Unmanned Vehicles Handbook deliver essential, in-depth and up-to-date coverage of technology developments, news, procurement data and civil/commercial market opportunities.
The aim of UV is to be the business to business source of information for both the industry professional and the user community.
Editorial Comment
With the rise of UAV 'leisure users', Editor Andrew White considers whether this seemingly innocent hobby could lead to potential security risks.

News
Taiwan boosts UAS capabilities
A review of some of the latest developments from around the unmanned systems industry.

Knowing the drill
In the first of a series of articles putting the spotlight on up and coming areas of expertise in the unmanned industry, Andrew White considers how the oil and gas sector is looking to utilise UAVs.

Hopes and fears
After a decade of accelerated UAS development fuelled by campaigns in Southwest Asia, Western commanders now face slower technological progress (and reduced funding) coupled with raised expectations of capability. Angus Batey assesses the situation.

A swarm front
With the rising threat of fast inshore attack craft, navies are now utilising autonomous surface vessels in their countermeasure preparations, finds Richard Scott.

Breaking tradition
As militaries seek UGV utility beyond the counter-IED applications of recent times, platform requirements are being redefined. Claire Apthorp examines how this is impacting development activity.

Core workout
With good power-to-weight ratios, smooth operation and fuel-efficient performance, the two-stroke engine is attractive to small UAV developers. Peter Donaldson talks to industry about recent advances in the technology.

New brooms
A little over a decade after it rushed unmanned minesweeping equipment into service for shallow-water operations in the opening phase of Operation Telic, the UK Royal Navy is back in the market for a new-generation capability, Richard Scott reports.

An even playing field
Matthew Baldwin, the European Commission's director of aviation, explains to Andrew White how the continent's RPAS community must steer away from its current 'patchwork' legislation if it is to have a positive effect on the global unmanned market.
Dec/Jan 2014/15
(Aero India)
• UAS training
• Data links
• Commercial UGVs
• Environmental monitoring
Feb/Mar 2015
(IDEX, Avalon, LIMA, AUVSI Europe, Quad A, AUSA Winter, LAAD)
• Cargo-carrying UGVs
• Weapon integration
• Airspace integration
• MALE UAVs
Apr/May 2015
(AUVSI Unmanned Systems, IDEF, IMDEX Asia)
• Mine clearance
• AUVs
• Quadrotors
• Propulsion
Jun/Jul 2015
(UDT Europe, Paris Air Show)
• Underwater payloads
• Optionally piloted vehicles
• UCAVs
• Onboard processing
Aug/Sep 2015
(MSPO, DSEi, Modern Day Marine)
• Surveillance UGVs
• USVs
• Tactical UAVs
• Infrastructure monitoring
Oct/Nov 2015
(AUSA Annual, ADEX, Defense & Security, Dubai Airshow)
• Small UAVs
• Simulation and training
• Emerging markets
• Data links
Dec/Jan 2015/16
(Defexpo 2016)
• MCM
• Sense and avoid technology
• HALE UAVs
• Advanced materials
Shephard Media is delighted to announce that our range of defence, aerospace and security magazines are now available through dedicated Apps for both Android and Apple devices.

Optimised for mobile viewing, the App allows readers to download and view each issue offline, and provides additional content such as interactive links, slideshow galleries, animations, video and more.

The first issue in each App is free to download and all issues will soon be available free to access for Shephard Plus subscribers using their existing Shephard Plus login details.

We hope you enjoy this great new way to access your favourite magazines.