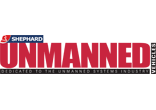 Subscribe
Unmanned Vehicles - supported by its dedicated on-line intelligence service www.uvonline.com - is the world's leading independent bi-monthly publication for the unmanned systems industry.
With a circulation of more than 6,000, and a senior-level readership of more than 25,000 in 120 countries, UV together with the annual Unmanned Vehicles Handbook deliver essential, in-depth and up-to-date coverage of technology developments, news, procurement data and civil/commercial market opportunities.
The aim of UV is to be the business to business source of information for both the industry professional and the user community.
Editorial Comment
UV considers if the PR tide is turning for the unmanned systems industry.

News
Sky-Futures set to enhance UK UAS training
A review of some of the latest developments from around the unmanned systems industry.

Mounting up
While armed forces continue air strikes from proven UAV platforms, opportunities are being created for weapons integration on emerging and more compact designs. Daniel Tye provides an overview.

Consensus forms
Efforts to integrate unmanned vehicles into civil airspace continue to gain pace. Angus Batey looks at how progress is being made on the technical challenges and discovers agreement is beginning to emerge on how to tackle the legal issues.

Up and coming
Unmanned VTOL systems are gaining favour with civil and military customers, particularly in the maritime arena. Claire Apthorp talks to some of the UAS developers leading the way to find out why.

Out of the red
China's indigenous unmanned vehicles industry is clearly playing catch-up with Western manufacturers, but it is starting to close the gap and seize export opportunities. Gordon Arthur examines the country's recent technological advances and asks: what next?

Pilot projects
The current focus for manufacturers of flight control systems is on a new set of capabilities. Jonathan Tringham reports on how advances in electronics are helping boost industry developments.

Cargo carriers
Interest in small UGVs that can meet the load-carrying needs of a single squad or small group of individuals is growing. Scott R Gourley looks at recent developments and the wider implications.

Watching brief
With the British Army's Watchkeeper now in service, Angus Batey speaks to Matt Moore, global product line manager for UAS at Thales, about the present and future of the programme.


Dec/Jan 2014/15
(Aero India)
• UAS training
• Data links
• Commercial UGVs
• Environmental monitoring
Feb/Mar 2015
(IDEX, Avalon, LIMA, AUVSI Europe, Quad A, AUSA Winter, LAAD)
• Cargo-carrying UGVs
• Weapon integration
• Airspace integration
• MALE UAVs
Apr/May 2015
(AUVSI Unmanned Systems, IDEF, IMDEX Asia)
• Mine clearance
• AUVs
• Quadrotors
• Propulsion
Jun/Jul 2015
(UDT Europe, Paris Air Show)
• Underwater payloads
• Optionally piloted vehicles
• UCAVs
• Onboard processing
Aug/Sep 2015
(MSPO, DSEi, Modern Day Marine)
• Surveillance UGVs
• USVs
• Tactical UAVs
• Infrastructure monitoring
Oct/Nov 2015
(AUSA Annual, ADEX, Defense & Security, Dubai Airshow)
• Small UAVs
• Simulation and training
• Emerging markets
• Data links
Dec/Jan 2015/16
(Defexpo 2016)
• MCM
• Sense and avoid technology
• HALE UAVs
• Advanced materials
Shephard Media is delighted to announce that our range of defence, aerospace and security magazines are now available through dedicated Apps for both Android and Apple devices.

Optimised for mobile viewing, the App allows readers to download and view each issue offline, and provides additional content such as interactive links, slideshow galleries, animations, video and more.

The first issue in each App is free to download and all issues will soon be available free to access for Shephard Plus subscribers using their existing Shephard Plus login details.

We hope you enjoy this great new way to access your favourite magazines.