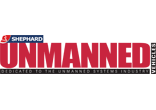 Subscribe
Unmanned Vehicles - supported by its dedicated on-line intelligence service www.uvonline.com - is the world's leading independent bi-monthly publication for the unmanned systems industry.
With a circulation of more than 6,000, and a senior-level readership of more than 25,000 in 120 countries, UV together with the annual Unmanned Vehicles Handbook deliver essential, in-depth and up-to-date coverage of technology developments, news, procurement data and civil/commercial market opportunities.
The aim of UV is to be the business to business source of information for both the industry professional and the user community.
Editorial Comment
As the Israel-Hamas conflict dominates the headlines, Editor Andrew White questions why there has been little attention given to the operational use of UAS. 

News
UCAV programmes make progress
A review of the latest developments from around the unmanned systems industry.
Hunting the hunters
Anti-poaching groups in Africa continue to fall short in apprehending the perpetrators, although UAS technology could be the much-needed solution. Andrew White talks to those active in turning this concept into reality. 
Sea searchers
As AUVs take their turn in the media limelight, Ashley Roque canvasses developers about their future capabilities, data transmission challenges and the prospect of full autonomy. 
An eye for detail
The expansion and enhancement of EO/IR payloads has been a key element in the proliferation of UAS over the past decade. Scott R Gourley examines the sensors that have been central to this growth and those pushing the boundaries further. 
Danger zone
One of the drivers of unmanned systems development has been the imperative to keep human beings out of harm's way. Angus Batey explores how the technology is being deployed in the high-risk arena of counter-IED and mine clearance work.
Upwardly mobile
As a steadily maturing technology, VTOL UAS are gaining critical mass among users and developers alike, finds Claire Apthorp. 
Offshore investment
As the threat of piracy remains a hot topic for navies and shipping companies around the world, Matthew Smith evaluates the role UAS can play in protecting vessels against such attacks. 
Russian robots
Oleg Martyanov, member of the State Military- Industrial Commission of the Russian Federation and head of the Laboratory of Combat Robotics, speaks to Eugene Gerden about some of the country's plans within the field of robotics.
Dec/Jan 2013/14
(AUSA Aviation, Defexpo, Singapore Airshow 2014)
• Information exploration
• Aerostats
• Sensors
• Unmanned logistics
Feb/Mar 2014
(AUSA Winter, DIMDEX, FIDAE, Unmanned Aerial Systems)
• Asian UAV market
• Harbour protection
• UGV navigation
• Parapublic robots
Apr/May 2014
(Defence Services Asia, Quad A, AUVSI Unmanned Systems, SOFEX, UDT, ILA Berlin)
• UCAVs
• Airspace integration technologies
• Small AUVs
• Load-carrying UGVs
Jun/Jul 2014
(Eurosatory, Farnborough Air Show)
• Optionally piloted vehicles
• Power systems
• Autonomous UGVs
• USVs
Aug/Sep 2014
(Africa Aerospace & Defence Exposition)
• VTOL platforms
• AUV subsystems
• Counter-piracy
• Landmine clearance
Oct/Nov 2014
(AUSA Annual, Euronaval, Airshow China, Indo Aerospace)
• MCM
• Tactical UAVs
• Small UGVs
• Propulsion
Dec/Jan 2014/15
(Aero India)
• UAS training
• Data links
• Commercial UGVs
• Environmental monitoring
Shephard Media is delighted to announce that our range of defence, aerospace and security magazines are now available through dedicated Apps for both Android and Apple devices.

Optimised for mobile viewing, the App allows readers to download and view each issue offline, and provides additional content such as interactive links, slideshow galleries, animations, video and more.

The first issue in each App is free to download and all issues will soon be available free to access for Shephard Plus subscribers using their existing Shephard Plus login details.

We hope you enjoy this great new way to access your favourite magazines.