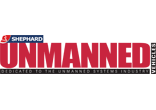 Subscribe
Unmanned Vehicles - supported by its dedicated on-line intelligence service www.uvonline.com - is the world's leading independent bi-monthly publication for the unmanned systems industry.
With a circulation of more than 6,000, and a senior-level readership of more than 25,000 in 120 countries, UV together with the annual Unmanned Vehicles Handbook deliver essential, in-depth and up-to-date coverage of technology developments, news, procurement data and civil/commercial market opportunities.
The aim of UV is to be the business to business source of information for both the industry professional and the user community.
Editorial Comment
Tim Fish looks at the issues holding back development of new unmanned capabilities in the land, sea and air domains.

News
Malaysia's STRIDE unveils new unmanned designs at LIMA
A review of some of the latest developments from around the unmanned systems industry.

Trading gains
As sensors get smaller, UAS are gaining capabilities once regarded as the sole preserve of manned platforms, plus the option of hosting multiple payloads. But size isn't always everything, finds Jonathan Tringham.

Commercial appeal
Will the economic advantages of using quadcopters for business purposes soon outweigh fears over privacy and security? Grant Turnbull takes a close look at the sector to find out.

Into the blue
The autonomous underwater vehicle is set to evolve over the coming years as users seek greater modularity, utility and overall autonomy. Tim Fish explores some of the work being undertaken by OEMs to meet these demands.

Rising in the east
UAS development in Asia and Australasia has progressed in leaps and bounds in recent years, with a proliferation of systems of all shapes and sizes appearing at regional trade shows. Gordon Arthur highlights some of the most significant programmes.

Digging in the dirt
From area de-mining to route clearance, the process of dealing with dangerous land mines on the battlefield, as well as removing those from previous conflict zones, needs the right tools for the job, and arguably UGVs are the best. Tim Fish takes a look at the market.

Cell theory
There is a battle of technologies going on in the fuel cell powerplant sector for small UAS, with a number of factors influencing whether a clear winner will emerge. Peter Donaldson examines some of the development work currently taking place.

Eyes in the skies
Aerobots, a UAV aerial imaging company based in Hong Kong, commenced operations in 2011. Managing director Robert Luxton speaks to Gordon Arthur about the progress it has made and the current state of the Chinese market.
Dec/Jan 2014/15
(Aero India)
• UAS training
• Data links
• Commercial UGVs
• Environmental monitoring
Feb/Mar 2015
(IDEX, Avalon, LIMA, AUVSI Europe, Quad A, AUSA Winter, LAAD)
• Cargo-carrying UGVs
• Weapon integration
• Airspace integration
• MALE UAVs
Apr/May 2015
(AUVSI Unmanned Systems, IDEF, IMDEX Asia)
• Mine clearance
• AUVs
• Quadrotors
• Propulsion
Jun/Jul 2015
(UDT Europe, Paris Air Show)
• Underwater payloads
• Optionally piloted vehicles
• UCAVs
• Onboard processing
Aug/Sep 2015
(MSPO, DSEi, Modern Day Marine)
• Surveillance UGVs
• USVs
• Tactical UAVs
• Infrastructure monitoring
Oct/Nov 2015
(AUSA Annual, ADEX, Defense & Security, Dubai Airshow)
• Small UAVs
• Simulation and training
• Emerging markets
• Data links
Dec/Jan 2015/16
(Defexpo 2016)
• MCM
• Sense and avoid technology
• HALE UAVs
• Advanced materials
Shephard Media is delighted to announce that our range of defence, aerospace and security magazines are now available through dedicated Apps for both Android and Apple devices.

Optimised for mobile viewing, the App allows readers to download and view each issue offline, and provides additional content such as interactive links, slideshow galleries, animations, video and more.

The first issue in each App is free to download and all issues will soon be available free to access for Shephard Plus subscribers using their existing Shephard Plus login details.

We hope you enjoy this great new way to access your favourite magazines.