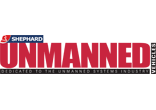 Subscribe
Unmanned Vehicles - supported by its dedicated on-line intelligence service www.uvonline.com - is the world's leading independent bi-monthly publication for the unmanned systems industry.
With a circulation of more than 6,000, and a senior-level readership of more than 25,000 in 120 countries, UV together with the annual Unmanned Vehicles Handbook deliver essential, in-depth and up-to-date coverage of technology developments, news, procurement data and civil/commercial market opportunities.
The aim of UV is to be the business to business source of information for both the industry professional and the user community.
Editorial Comment
Editor Richard Thomas wonders whether the long-promised UCAV revolution is going to take place any time soon.
News
A review of some of the latest developments from around the unmanned systems industry.
Coming out fighting
Despite numerous demonstrator programmes, a true UCAV, capable of carrying out strike missions in a contested air defence environment, has yet to enter service. Angus Batey highlights the many challenges faced in developing such a platform.
Deep and meaningful
From mine countermeasures to hull inspection operations, UUV payloads provide valuable capabilities to naval forces around the globe and ensure greater operator safety. Claire Apthorp reports on recent market developments.
All aboard
A greater level of onboard data processing is a key element in taking UAVs to the next level of utility. Peter Donaldson explores some of the technologies that are making this possible.
Split personalities
Grant Turnbull examines the benefits and likely employment of aircraft that are able to switch between manned
Better visuals
The level of EO/IR surveillance provided by high-end UAS is now taken for granted by many commanders in Western militaries. Angus Batey looks at some of the ways in which airframe and sensor developers are looking to improve this capability even further.
Technical support
Lockheed Martin's Squad Mission Support System has seen extensive development work over the past few years combined with real-world operational deployments.
String theories
Scott R Gourley visited the company's testing facility in Dallas, Texas, to see the latest activity. 48 Interview Tom Frost, senior VP and general manager for defence and security at iRobot, spoke to Richard Thomas about the firm's plans for the future and the key word in robotics development – autonomy.
Dec/Jan 2014/15
(Aero India)
• UAS training
• Data links
• Commercial UGVs
• Environmental monitoring
Feb/Mar 2015
(IDEX, Avalon, LIMA, AUVSI Europe, Quad A, AUSA Winter, LAAD)
• Cargo-carrying UGVs
• Weapon integration
• Airspace integration
• MALE UAVs
Apr/May 2015
(AUVSI Unmanned Systems, IDEF, IMDEX Asia)
• Mine clearance
• AUVs
• Quadrotors
• Propulsion
Jun/Jul 2015
(UDT Europe, Paris Air Show)
• Underwater payloads
• Optionally piloted vehicles
• UCAVs
• Onboard processing
Aug/Sep 2015
(MSPO, DSEi, Modern Day Marine)
• Surveillance UGVs
• USVs
• Tactical UAVs
• Infrastructure monitoring
Oct/Nov 2015
(AUSA Annual, ADEX, Defense & Security, Dubai Airshow)
• Small UAVs
• Simulation and training
• Emerging markets
• Data links
Dec/Jan 2015/16
(Defexpo 2016)
• MCM
• Sense and avoid technology
• HALE UAVs
• Advanced materials
Shephard Media is delighted to announce that our range of defence, aerospace and security magazines are now available through dedicated Apps for both Android and Apple devices.

Optimised for mobile viewing, the App allows readers to download and view each issue offline, and provides additional content such as interactive links, slideshow galleries, animations, video and more.

The first issue in each App is free to download and all issues will soon be available free to access for Shephard Plus subscribers using their existing Shephard Plus login details.

We hope you enjoy this great new way to access your favourite magazines.