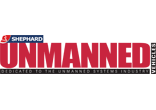 Subscribe
Unmanned Vehicles - supported by its dedicated on-line intelligence service www.uvonline.com - is the world's leading independent bi-monthly publication for the unmanned systems industry.
With a circulation of more than 6,000, and a senior-level readership of more than 25,000 in 120 countries, UV together with the annual Unmanned Vehicles Handbook deliver essential, in-depth and up-to-date coverage of technology developments, news, procurement data and civil/commercial market opportunities.
The aim of UV is to be the business to business source of information for both the industry professional and the user community.
Editorial Comment
Editor Daniel Tye reflects on the progress unmanned technology has made over the past decade – and where the industry will be heading next.

News
K-MAX system douses its first fire A review of some of the latest developments from around the unmanned systems industry.

MALE evolves
The requirements for and specifications of MALE UAS are evolving as militaries prepare their fleets for a post-asymmetric warfare environment. Claire Apthorp examines how industry is responding.

Stepping up
UGVs are beginning to find greater utility outside of the military sphere. Andrew White examines the future role of the platforms in disaster response, fire-fighting and CBRN work.

Taking in the sights
Whether on the ground, at sea or in the air, unmanned systems are finding greater utility in the environmental monitoring sphere. Claire Apthorp assesses industry's efforts to penetrate this market.

Making no impact
Collision avoidance systems are relatively immature and likely to face certification and integration issues for some time, according to some industry voices. Tony Skinner looks at where the technology currently is.

Home schooling
UAS training procedures are changing to reflect a somewhat uncertain operating environment post- Afghanistan. Scott R Gourley discusses the US Army's new approach with representatives from both the service and industry.

Control groups
Two data link systems have recently launched that are promising new capabilities to a technologically slow-moving marketplace. Peter Donaldson provides a detailed overview of the latest offerings.

Parting Shot
Michael Drobac, executive director of the Small UAV Coalition, tells Tony Skinner how advocates of small UAVs for civil operations remain confident in the face of crippling regulation and slow pace of reform.

Dec/Jan 2014/15
(Aero India)
• UAS training
• Data links
• Commercial UGVs
• Environmental monitoring
Feb/Mar 2015
(IDEX, Avalon, LIMA, AUVSI Europe, Quad A, AUSA Winter, LAAD)
• Cargo-carrying UGVs
• Weapon integration
• Airspace integration
• MALE UAVs
Apr/May 2015
(AUVSI Unmanned Systems, IDEF, IMDEX Asia)
• Mine clearance
• AUVs
• Quadrotors
• Propulsion
Jun/Jul 2015
(UDT Europe, Paris Air Show)
• Underwater payloads
• Optionally piloted vehicles
• UCAVs
• Onboard processing
Aug/Sep 2015
(MSPO, DSEi, Modern Day Marine)
• Surveillance UGVs
• USVs
• Tactical UAVs
• Infrastructure monitoring
Oct/Nov 2015
(AUSA Annual, ADEX, Defense & Security, Dubai Airshow)
• Small UAVs
• Simulation and training
• Emerging markets
• Data links
Dec/Jan 2015/16
(Defexpo 2016)
• MCM
• Sense and avoid technology
• HALE UAVs
• Advanced materials
Shephard Media is delighted to announce that our range of defence, aerospace and security magazines are now available through dedicated Apps for both Android and Apple devices.

Optimised for mobile viewing, the App allows readers to download and view each issue offline, and provides additional content such as interactive links, slideshow galleries, animations, video and more.

The first issue in each App is free to download and all issues will soon be available free to access for Shephard Plus subscribers using their existing Shephard Plus login details.

We hope you enjoy this great new way to access your favourite magazines.