Rotorhub
USAF moves forward with HH-60 replacement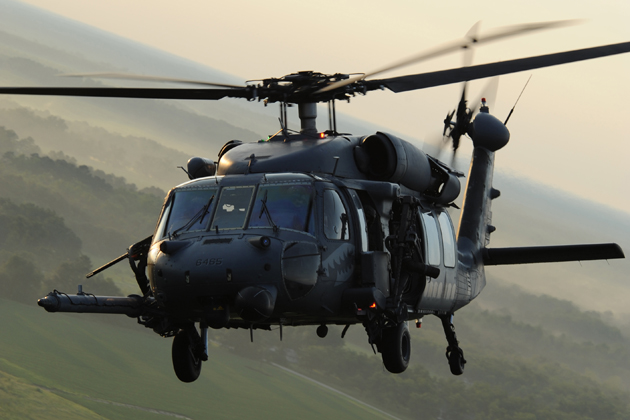 Despite budget cuts continuing to cast a long shadow over US helicopter programmes, the US Air Force is looking to advance plans for a new Combat Rescue Helicopter (CRH).
Col Chad Franks, commanding officer of 347th Rescue Group, said acquisition plans were made more urgent by the high demand for the aging HH-60G Pave Hawk, which was putting a strain on an already stressed fleet.
'There have been a lot of major structural cracks in the last six years in the HH-60 and increased combat damage,' explained Franks, speaking at the IQPC International Military Helicopter conference in London on 26 January.
'The bottom line is our availability rate is declining and our maintenance guys are having a hard time keeping up. So it is really demanding a lot from our aircraft and our people.'
The HH-60G fleet carried out more than 9,700 sorties in 2010, recovering over 1,900 personnel, with the number of sorties only falling to around 8000 sorties in 2011. In the past six years there were 83 structural issues with aircraft that required unscheduled depot maintenance.
Franks noted that the secretary of the air force had endorsed the acquisition strategy in April 2011 and the CRH programme was currently funded in the Future Years Defense Program (FYDP).
An RfP was expected to be released in March 2012, with contract award 12 months later and an IOC scheduled for 2018. With funding uncertain, however, Franks cautioned that these were 'not written in stone'.
The CRH programme was briefed to more than 30 companies at Wright-Patterson Air Force Base, Ohio, from 9 to 11 January. The event outlined the preliminary acquisition strategy, contract strategy and programme timeline, and also outlined such requirements as airworthiness, test and evaluation, training systems and product support.
Asked at the conference in London what the service was looking for in a potential CRH, Franks pointed to a dedicated and fully integrated aircraft.
'What we have done over the last few years is we have put add-ons onto the aircraft but it has not been integrated the way it should have been. So for us, getting that total integration of our mission systems and our rescue systems all in one package would be ideal.'
The CRH will be designed from the offset to also carry out a wide range of missions, such as civil SAR, disaster relief, casualty/medical evacuation, humanitarian missions and non-combatant evacuation operations.
Franks noted that CSAR-X was primarily designed for one mission, which 'really hurt it in the budget fight' prior to its cancellation.
Meanwhile, the air force is continuing with the Operational Loss Replacement (OLR) programme, with two UH-60M aircraft accepted in 2012 to date.
'Given the aircraft we have lost over the last nine years, our first job is to get back to 112. We are doing that by buying UH-60Ms right off the line and outfitting them with our rescue equipment.'