Rotorhub
QuadA2012: AVX team moves towards flight tests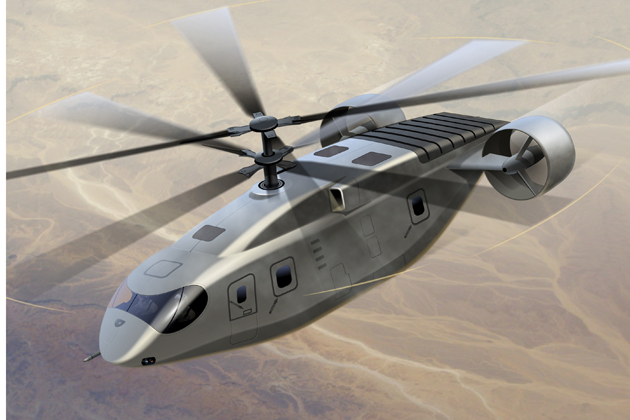 AVX Aircraft Company is hoping to start flight testing its OH-58D coaxial conversion in 2014 as it continues to pursue the US Army's Armed Aerial Scout (AAS) programme.
With US Army leadership confirming that involvement in mid-2012 flying demonstrations would not preclude companies from the AAS project, AVX is continuing to develop what it claims is the 'less expensive solution' for the replacement of the current OH-58D fleet.
Looking to correct what company officials believed was a market perception of AVX as the 'tiny company' in the race, AVX used the Quad A exhibition in Nashville to announce its teaming partners that are working across both AAS and the Joint Multirole configuration trades analysis (CTA) under the Future Vertical Lift (FVL) effort.
These included Rockwell Collins, Rolls Royce, Moog, Hamilton Sundstrand, Continuum Dynamics, Eagle Technologies and the Triumph Group.
AVX director of communications Mike Cox said the CTA studies were progressing well and were looking at various aspects of the company's JMR concept, in particular how scalable the technology is.
Under the FVL initiative, the DoD is looking to a family of vertical lift aircraft that includes multiple sizes/classes of vehicles to both meet future vertical lift needs and bring a level of commonality between platforms that does not exist today.
Bell-Boeing, Boeing and Sikorsky are also working under 18-month CTA contracts looking at a variety of configurations, including conventional compound, coaxial-rotor compound, tiltrotor and advanced helicopter designs.
The project envisages an aircraft that will enter service sometime between 2025 and 2030, with prototypes flying before 2020. Two companies are expected to be chosen for a second phase to build two prototypes.
The desired vehicle attributes of the JMR family include: a scalable common core architecture; integrated aircraft survivability; speed of 170+ kts; a combat radius of 424 km; vehicle performance at 6K/95 F; shipboard compatibility; improved fuel efficiency; improved supportability; and affordability, optionally manned capability, and commonality.