Mil-Log
IDEX 2017: Rubb seeks shelter opportunities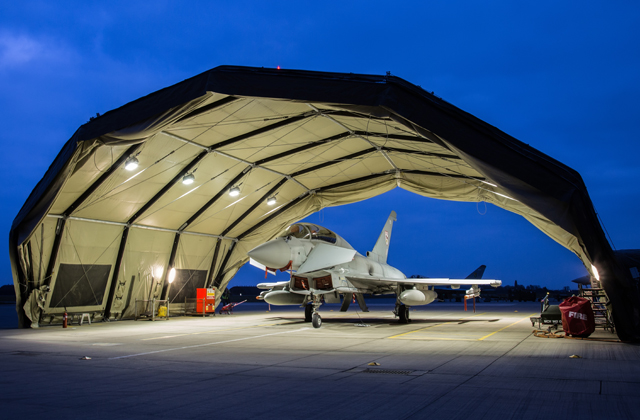 With nations in the Middle East increasing their air power many will now be looking at where to store new aircraft. Hangar systems are an increasing option.
Andy Knox, sales manager at hangar systems provider Rubb said: 'There is significant interest in our hangar systems in the defence sector in the Middle East, with a growing emphasis on expeditionary and surveillance operations.'
He added: 'We have noted growth in procurement activity for fast jets and rotorcraft and in turn we have seen enquiries regarding our rapid deployment hangars grow in areas such as the UAE, Saudi Arabia, Iraq, Oman, Kuwait and Qatar. We are interested in exploring these opportunities further and meeting potential new clients, as well as some familiar faces at IDEX.'
The company has also recently proven its capabilities as its military aircraft shelters played a pivotal role in the environmental trials of Typhoon aircraft at RAF Coningsby in the UK. During the trials, 5001 squadron constructed four 20.4 m span structures.
Knox said that the trials provided 5001 squadron with an opportunity to train new personnel in Technical Working Environments (TWE) construction on a fast jet operating base and the Typhoon Force proved the viability and benefits of using small aircraft shelters during operations.
The squadron's core capability, to rapidly construct aircraft hangars and other items of TWE at austere locations, has been a key enabler for deployed forces and continues to be in high demand. The TWE installations included a large number of Rubb Expeditionary Forces Aircraft Shelter System (EFASS) structures.
Rubb's EFASS is designed to be rapidly deployed, providing durable and field maintainable fabric engineered structures for difficult terrain and harsh climatic conditions.
Rubb managing director Ian Hindmoor said: 'This trial proves that use of TWE is helping to decrease aircraft maintenance costs and maintenance downtime. We will continue to improve our hangars and services to ensure the best value and product life-time cost savings for our clients.'
French countermeasure experts Lacroix are in the process of adding additional capabilities to its Galix self-protection system with the integration of missile warning and laser ... Read More

The UAE Land Forces has ordered thousands of vehicles from their domestic manufacturer, Nimr, it was announced at IDEX.Although the value of the contract was ... Read More

The UAE Land Forces are set to receive and upgrade to their battle management that will see them transition to digital systems.A contract worth $189 ... Read More