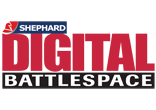 Subscribe
Digital Battlespace is the only dedicated publication delivering news, information and analysis for the global C4ISR community. The bi-monthly publication and dedicated online news service extend Shephard's existing services to the global C4ISR community, and reinforce the success of the company's related handbooks and events.
The DB team delivers timely news, analysis and comment on the pressing issues facing the C4ISR community. The magazine is delivered to a hand-picked audience of government and military decision-makers and opinion leaders throughout the globe and the audience keep in touch with issues on a day to day basis through the dedicated www.digital-battlespace.com portal.
Through Shephard's team of in house journalists and expansive, global network of dedicated correspondents, DB covers the widest possible range of issues of concern to the C4ISR practitioners, covering everything from sensor development to network generation, through concepts of operation to procurement practices.
Whether you are an expert wanting to know the challenges facing the C4ISR community, or a company wanting to reach the right decision-makers, DB is the only magazine that you can rely on to deliver.
Comment
Editor Tim Fish provides an overview of some of the developments in the C4ISR world touched upon in this issue of Digital Battlespace.

News
Australian Wedgetail nears FOC
Savox launches new tactical headgear
L-3 Linkabit delivers NCW modem to Canada • Thales, Ultra TCS team for next-gen radios
NZDF looks to renew comms network

An array of functions
Radar technology has always been at the forefront of electronic engineering R&D. Tom Withington considers how innovation is further extending the capabilities of ground-based air surveillance systems beyond simply detecting and tracking aircraft.

From the ground up
Industry is driving fresh innovation in radar and surveillance cameras as threats, particularly on national borders, are becoming more widespread and diverse. Jonathan Tringham examines the emerging trends.

Remote access
SATCOM is critical to the success of military forces, especially when deployed in isolated or austere environments. Andrew White examines how these needs will be met by a combination of commercial and dedicated military solutions on future operations.

Electronic nerves
Armoured vehicles must be able to evolve quickly in response to new threats. Angus Batey discusses the challenges of developing an electronic architecture to keep platforms fighting fit for decades to come.

Rugged individualism
Making COTS PDAs ready for operational environments requires a combination of ruggedisation and encryption. Tim Fish examines how industry is assisting with the former.

Picking locks
With the surge in COTS devices being used for military and government data storage and communications, ensuring adequate encryption is a top priority, finds Tim Fish.

Shielding effect
A variety of long-range radars and interceptor missiles protect US and allied assets in Asia-Pacific from North Korean and other ballistic threats. Gordon Arthur reviews the technology and maps out its upgrade path.

Final Word
The recent launch of the annual Military Balance by the London-based IISS provided an opportunity for a snapshot view of key strategic developments in the last 12 months. Nick Watts discussed these with Eneken Tikk-Ringas, senior fellow for cyber security at the institute.
Nov/Dec 2014
• Maritime ISR
• MOTS battle management system
• Defence biometrics
• Tactical communications support
Jan/Feb 2015
(AFCEA West, IDEX, Aero India, Avalon)
• Maritime EW
• Tactical communications
• Next-generation power
• Land C2
Mar/Apr 2015
(LIMA, AUSA Winter, Sea-Air-Space, LAAD, Interpol World, IDEF)
• Border surveillance
• Vehicle digitisation
• Ground-based radar
• SATCOM

May/Jun 2015
(IMDEX, UDT Europe, Paris Air Show)
• Maritime radars
• Airborne surveillance
• Direction finding
• Underwater communications

Jul/Aug 2015
(MSPO)
• Intelligent EO/IR
• Airborne early warning
• Soldier modernisation
• COMINT
Sep/Oct 2015
(AUSA Annual, DSEi, Modern Day Marine, ADEX)
• Software-defined radios
• Cyber warfare
• Ruggedised computing
• Maritime C2
Nov/Dec 2015
(Defense and Security, Dubair Airshow, AOC Annual)
• Mobile ad-hoc networking
• Air defence networks
• Jamming
• Data management
Shephard Media is delighted to announce that our range of defence, aerospace and security magazines are now available through dedicated Apps for both Android and Apple devices.

Optimised for mobile viewing, the App allows readers to download and view each issue offline, and provides additional content such as interactive links, slideshow galleries, animations, video and more.

The first issue in each App is free to download and all issues will soon be available free to access for Shephard Plus subscribers using their existing Shephard Plus login details.

We hope you enjoy this great new way to access your favourite magazines.