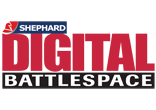 Subscribe
Digital Battlespace is the only dedicated publication delivering news, information and analysis for the global C4ISR community. The bi-monthly publication and dedicated online news service extend Shephard's existing services to the global C4ISR community, and reinforce the success of the company's related handbooks and events.
The DB team delivers timely news, analysis and comment on the pressing issues facing the C4ISR community. The magazine is delivered to a hand-picked audience of government and military decision-makers and opinion leaders throughout the globe and the audience keep in touch with issues on a day to day basis through the dedicated www.digital-battlespace.com portal.
Through Shephard's team of in house journalists and expansive, global network of dedicated correspondents, DB covers the widest possible range of issues of concern to the C4ISR practitioners, covering everything from sensor development to network generation, through concepts of operation to procurement practices.
Whether you are an expert wanting to know the challenges facing the C4ISR community, or a company wanting to reach the right decision-makers, DB is the only magazine that you can rely on to deliver.
Editorial Comment
As information is released outlining procurement issues surrounding US Army radio programmes, Editor Tim Fish discusses the positive implications of this level of openness.

News
• North Korea doubles cyber effort
• US builds cyber mission force
• MUOS-3 satellite launches after swap delay
Catching the wave
The software-defined radio promises to revolutionise tactical communications, but programme delays and cost concerns mean that putting them into the hands of significant numbers of warfighters could still be a long way off, finds Andrew White.

Seduction trap
New techniques and technologies are being applied to the further development of active offboard countermeasures for anti-ship missile defence, Richard Scott reports.

Allied powers
Sharing information and intelligence in the land domain has become of critical importance within NATO given recent geopolitical events. Peter Donaldson examines the programmes and architectures in place and under development to increase interoperability levels.

World views
In the context of a shifting geopolitical and strategic balance in various regions around the globe, gathering intelligence on terrain, populations and infrastructure is more important than ever. Grant Turnbull assesses the current state of the art in geospatial intelligence.

A charged environment
As the amount of soldier-worn electronics carried into battle increases, the problem of generating enough power to run it all without adding an excessive weight burden has become critical, discovers Claire Apthorp.

Emulation stations
ISTAR training using surrogate airborne platforms provided by a commercial contractor has been successfully incorporated into the British Army's regular live-fire exercises in Africa. David Oliver reports from Kenya.

Final Word
Robert Zanzalari, associate director of the US Army's Communications-Electronics Research, Development and Engineering Center (CERDEC), talks to Scott R Gourley about the organisation's work in cyber warfare and the challenges faced in meeting requirements from a variety of units.

Nov/Dec 2014
• Maritime ISR
• MOTS battle management system
• Defence biometrics
• Tactical communications support
Jan/Feb 2015
(AFCEA West, IDEX, Aero India, Avalon)
• Maritime EW
• Tactical communications
• Next-generation power
• Land C2
Mar/Apr 2015
(LIMA, AUSA Winter, Sea-Air-Space, LAAD, Interpol World, IDEF)
• Border surveillance
• Vehicle digitisation
• Ground-based radar
• SATCOM

May/Jun 2015
(IMDEX, UDT Europe, Paris Air Show)
• Maritime radars
• Airborne surveillance
• Direction finding
• Underwater communications

Jul/Aug 2015
(MSPO)
• Intelligent EO/IR
• Airborne early warning
• Soldier modernisation
• COMINT
Sep/Oct 2015
(AUSA Annual, DSEi, Modern Day Marine, ADEX)
• Software-defined radios
• Cyber warfare
• Ruggedised computing
• Maritime C2
Nov/Dec 2015
(Defense and Security, Dubair Airshow, AOC Annual)
• Mobile ad-hoc networking
• Air defence networks
• Jamming
• Data management
Shephard Media is delighted to announce that our range of defence, aerospace and security magazines are now available through dedicated Apps for both Android and Apple devices.

Optimised for mobile viewing, the App allows readers to download and view each issue offline, and provides additional content such as interactive links, slideshow galleries, animations, video and more.

The first issue in each App is free to download and all issues will soon be available free to access for Shephard Plus subscribers using their existing Shephard Plus login details.

We hope you enjoy this great new way to access your favourite magazines.