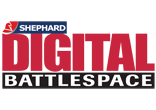 Subscribe
Digital Battlespace is the only dedicated publication delivering news, information and analysis for the global C4ISR community. The bi-monthly publication and dedicated online news service extend Shephard's existing services to the global C4ISR community, and reinforce the success of the company's related handbooks and events.
The DB team delivers timely news, analysis and comment on the pressing issues facing the C4ISR community. The magazine is delivered to a hand-picked audience of government and military decision-makers and opinion leaders throughout the globe and the audience keep in touch with issues on a day to day basis through the dedicated www.digital-battlespace.com portal.
Through Shephard's team of in house journalists and expansive, global network of dedicated correspondents, DB covers the widest possible range of issues of concern to the C4ISR practitioners, covering everything from sensor development to network generation, through concepts of operation to procurement practices.
Whether you are an expert wanting to know the challenges facing the C4ISR community, or a company wanting to reach the right decision-makers, DB is the only magazine that you can rely on to deliver.
Editorial Comment
Andrew White analyses a changing concept of operations involving C4ISR technology in light of ongoing crises in Syria and Northern Iraq.

News
• Rockwell Collins hands over first Gen III HMDS for F-35 programme
• Swiss soldier modernisation suite set for field tests
• Japan looks to upgrade C4ISR as threat environment intensifies

SPECIAL REPORTS
Data protection acts
As cyber threats continue to become more widespread and penetrative, the demand for appropriate security products and services remains high. Joyce de Thouars analyses the market.

Protective instincts
In the never-ending cycle of threat and countermeasure development in the airborne EW domain, the focus is shifting from IR to RF. Claire Apthorp reports on the latest generation
of defensive aids.

COMMAND AND CONTROL
The age of exploration
The US Army showcased its latest intelligence networking capabilities during the annual Enterprise Challenge event in Arizona in July. Scott R Gourley assesses some of the key
technologies on display.

Breaking the silence
As a result of multiple internal conflicts and Western interventions, Africa has been gradually building its communications infrastructure through industry expansion and annual exercises, Angus Batey reports.

COMPUTERS
Rough ideas
Achieving a balance between processing power and toughness is what rugged computer developers must confront with each iteration of their products. Peter Donaldson tracks down the latest advances in the market which are providing increasing levels of both.

ISR
The personal touch
The indigenous population within a conflict zone can often provide valuable information to military planners and tacticians. Andrew White examines the impact of the 'human terrain' on today's counter-insurgency operations.

Final Word
As the US Army realigns resources to train personnel to operate in cyberspace, Scott R Gourley spoke to instructors at the Military Intelligence Center's Noncommissioned Officer Academy about the issues surrounding network warfare training.

Nov/Dec 2014
• Maritime ISR
• MOTS battle management system
• Defence biometrics
• Tactical communications support
Jan/Feb 2015
(AFCEA West, IDEX, Aero India, Avalon)
• Maritime EW
• Tactical communications
• Next-generation power
• Land C2
Mar/Apr 2015
(LIMA, AUSA Winter, Sea-Air-Space, LAAD, Interpol World, IDEF)
• Border surveillance
• Vehicle digitisation
• Ground-based radar
• SATCOM

May/Jun 2015
(IMDEX, UDT Europe, Paris Air Show)
• Maritime radars
• Airborne surveillance
• Direction finding
• Underwater communications

Jul/Aug 2015
(MSPO)
• Intelligent EO/IR
• Airborne early warning
• Soldier modernisation
• COMINT
Sep/Oct 2015
(AUSA Annual, DSEi, Modern Day Marine, ADEX)
• Software-defined radios
• Cyber warfare
• Ruggedised computing
• Maritime C2
Nov/Dec 2015
(Defense and Security, Dubair Airshow, AOC Annual)
• Mobile ad-hoc networking
• Air defence networks
• Jamming
• Data management
Shephard Media is delighted to announce that our range of defence, aerospace and security magazines are now available through dedicated Apps for both Android and Apple devices.

Optimised for mobile viewing, the App allows readers to download and view each issue offline, and provides additional content such as interactive links, slideshow galleries, animations, video and more.

The first issue in each App is free to download and all issues will soon be available free to access for Shephard Plus subscribers using their existing Shephard Plus login details.

We hope you enjoy this great new way to access your favourite magazines.