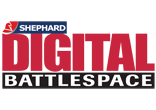 Subscribe
Digital Battlespace is the only dedicated publication delivering news, information and analysis for the global C4ISR community. The bi-monthly publication and dedicated online news service extend Shephard's existing services to the global C4ISR community, and reinforce the success of the company's related handbooks and events.
The DB team delivers timely news, analysis and comment on the pressing issues facing the C4ISR community. The magazine is delivered to a hand-picked audience of government and military decision-makers and opinion leaders throughout the globe and the audience keep in touch with issues on a day to day basis through the dedicated www.digital-battlespace.com portal.
Through Shephard's team of in house journalists and expansive, global network of dedicated correspondents, DB covers the widest possible range of issues of concern to the C4ISR practitioners, covering everything from sensor development to network generation, through concepts of operation to procurement practices.
Whether you are an expert wanting to know the challenges facing the C4ISR community, or a company wanting to reach the right decision-makers, DB is the only magazine that you can rely on to deliver.
Comment
Editor Tim Fish asks whether the long-awaited SDR revolution could finally be at hand.

News
• Qualification for new Canadian soldier suite
• US Army HMS Manpack lifts off

Soft talking
The advent of the software-defined radio and associated waveforms has resulted in cost and efficiency savings for military forces. Tim Fish charts the technology's history and explores the next stages in its development.

Information overload?
Naval forces must balance the need for effective and timely intelligence dissemination with ensuring personnel are not overwhelmed with too much data. Claire Apthorp reviews some of the C2 systems entering service around the world.

At full strength
The rugged computer sector moves quickly in the military sphere, albeit not quite at the pace of its commercial counterpart, with companies looking to innovate to secure contracts. Andrew White provides a round-up of market developments.

On the hunt
The asymmetric threat of IEDs persists and continues to evolve despite the drawdown in Iraq and Afghanistan. Jonathan Tringham examines how industry is attempting

Down under rising
C4I modernisation programmes under way in Australia and New Zealand are looking to significantly boost the capabilities of the two nations. Gordon Arthur gives an overview of current efforts.

Preventative measures
The US DoD recently released its 2015 Cyber Strategy, focusing on deterrence rather than protection, as was the emphasis of the 2011 plan. Nick Watts looks at some specific elements as well as the wider implications.

Final Word
Gary Martin, the new US Army PEO C3 – Tactical, explains to Tim Fish how his organisation has continued to deliver despite the continuation of sequestration, and expects to field capability enhancements to 75 units by the end of 2015.
Nov/Dec 2014
• Maritime ISR
• MOTS battle management system
• Defence biometrics
• Tactical communications support
Jan/Feb 2015
(AFCEA West, IDEX, Aero India, Avalon)
• Maritime EW
• Tactical communications
• Next-generation power
• Land C2
Mar/Apr 2015
(LIMA, AUSA Winter, Sea-Air-Space, LAAD, Interpol World, IDEF)
• Border surveillance
• Vehicle digitisation
• Ground-based radar
• SATCOM

May/Jun 2015
(IMDEX, UDT Europe, Paris Air Show)
• Maritime radars
• Airborne surveillance
• Direction finding
• Underwater communications

Jul/Aug 2015
(MSPO)
• Intelligent EO/IR
• Airborne early warning
• Soldier modernisation
• COMINT
Sep/Oct 2015
(AUSA Annual, DSEi, Modern Day Marine, ADEX)
• Software-defined radios
• Cyber warfare
• Ruggedised computing
• Maritime C2
Nov/Dec 2015
(Defense and Security, Dubair Airshow, AOC Annual)
• Mobile ad-hoc networking
• Air defence networks
• Jamming
• Data management
Shephard Media is delighted to announce that our range of defence, aerospace and security magazines are now available through dedicated Apps for both Android and Apple devices.

Optimised for mobile viewing, the App allows readers to download and view each issue offline, and provides additional content such as interactive links, slideshow galleries, animations, video and more.

The first issue in each App is free to download and all issues will soon be available free to access for Shephard Plus subscribers using their existing Shephard Plus login details.

We hope you enjoy this great new way to access your favourite magazines.