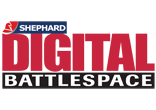 Subscribe
Digital Battlespace is the only dedicated publication delivering news, information and analysis for the global C4ISR community. The bi-monthly publication and dedicated online news service extend Shephard's existing services to the global C4ISR community, and reinforce the success of the company's related handbooks and events.
The DB team delivers timely news, analysis and comment on the pressing issues facing the C4ISR community. The magazine is delivered to a hand-picked audience of government and military decision-makers and opinion leaders throughout the globe and the audience keep in touch with issues on a day to day basis through the dedicated www.digital-battlespace.com portal.
Through Shephard's team of in house journalists and expansive, global network of dedicated correspondents, DB covers the widest possible range of issues of concern to the C4ISR practitioners, covering everything from sensor development to network generation, through concepts of operation to procurement practices.
Whether you are an expert wanting to know the challenges facing the C4ISR community, or a company wanting to reach the right decision-makers, DB is the only magazine that you can rely on to deliver.
Comment
Editor Tim Fish looks at some current initiatives aimed at uniting government, military and industry capabilities in the cyber defence arena.

News 
Singapore cyber agency starts work
Ricoh unveils new surveillance system
BriteCloud EAD system deployed from Gripen
Rockwell launches TruNET SD radios

Height advantage?
Funding issues mean that Western air forces are struggling to sustain – let alone upgrade or replace – the airborne ISR platforms used to such great effect in Afghanistan and Iraq. Angus Batey investigates how some innovative thinking may overcome this dilemma.

Exploring the terrain
As ground vehicles become more sophisticated in terms of the equipment they carry, systems developers are faced with the problems of ballooning SWaP demands and ensuring affordable upgrade paths. Claire Apthorp considers some solutions offered by industry.

Getting your fix
Knowing exactly where enemy combatants are is vital for successful mission execution. Andrew White examines the role played by direction-finding technology in the

Ocean waves
The high level of functionality once only found in naval surveillance radars on large surface combatants such as cruisers, frigates and destroyers is migrating to smaller vessels such as corvettes and OPVs, discovers Tom Withington.

Turn it on again
NATO's Joint Electronic Warfare Core Staff is emerging from a transformation process that has seen it reborn as a so-called MoU organisation. Richard Scott finds out what has changed, and provides an update on its plans for ambitious equipment recapitalisation.

Testing the waters
Research is now under way to ramp up the capabilities of underwater wireless networking, an area that is severely lacking compared to its above-ground counterpart. Peter Donaldson speaks to some of those involved with pushing the technology further.

Final Word
Threats and challenges in the cyber security domain are changing and require a flexible and cooperative approach. Tim Fish talks to Tom Lash, CTO at Leidos Integrated Systems Group, about trends and innovations in this area.
Nov/Dec 2014
• Maritime ISR
• MOTS battle management system
• Defence biometrics
• Tactical communications support
Jan/Feb 2015
(AFCEA West, IDEX, Aero India, Avalon)
• Maritime EW
• Tactical communications
• Next-generation power
• Land C2
Mar/Apr 2015
(LIMA, AUSA Winter, Sea-Air-Space, LAAD, Interpol World, IDEF)
• Border surveillance
• Vehicle digitisation
• Ground-based radar
• SATCOM

May/Jun 2015
(IMDEX, UDT Europe, Paris Air Show)
• Maritime radars
• Airborne surveillance
• Direction finding
• Underwater communications

Jul/Aug 2015
(MSPO)
• Intelligent EO/IR
• Airborne early warning
• Soldier modernisation
• COMINT
Sep/Oct 2015
(AUSA Annual, DSEi, Modern Day Marine, ADEX)
• Software-defined radios
• Cyber warfare
• Ruggedised computing
• Maritime C2
Nov/Dec 2015
(Defense and Security, Dubair Airshow, AOC Annual)
• Mobile ad-hoc networking
• Air defence networks
• Jamming
• Data management
Shephard Media is delighted to announce that our range of defence, aerospace and security magazines are now available through dedicated Apps for both Android and Apple devices.

Optimised for mobile viewing, the App allows readers to download and view each issue offline, and provides additional content such as interactive links, slideshow galleries, animations, video and more.

The first issue in each App is free to download and all issues will soon be available free to access for Shephard Plus subscribers using their existing Shephard Plus login details.

We hope you enjoy this great new way to access your favourite magazines.