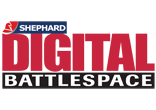 Subscribe
Digital Battlespace is the only dedicated publication delivering news, information and analysis for the global C4ISR community. The bi-monthly publication and dedicated online news service extend Shephard's existing services to the global C4ISR community, and reinforce the success of the company's related handbooks and events.
The DB team delivers timely news, analysis and comment on the pressing issues facing the C4ISR community. The magazine is delivered to a hand-picked audience of government and military decision-makers and opinion leaders throughout the globe and the audience keep in touch with issues on a day to day basis through the dedicated www.digital-battlespace.com portal.
Through Shephard's team of in house journalists and expansive, global network of dedicated correspondents, DB covers the widest possible range of issues of concern to the C4ISR practitioners, covering everything from sensor development to network generation, through concepts of operation to procurement practices.
Whether you are an expert wanting to know the challenges facing the C4ISR community, or a company wanting to reach the right decision-makers, DB is the only magazine that you can rely on to deliver.
Comment
Editor Tim Fish marks the end of an airborne EW era in the USN.

News
• USAF GPS III competition heats up
• US Army approves WIN-T 2 production
• Boeing chosen for Aussie battlefield comms
• New Zealand outlines C4ISR plans

A new perspective
Advances in military EO/IR technology have been relatively slow in relation to actual operational requirements. Andrew White considers how government agencies and industry are looking to tackle this through new products and approaches.

Controlling influence
A greater number of nations are now equipping themselves with airborne early warning capabilities to ensure air, ground and naval superiority. Tom Withington examines some of the platforms and subsystems being procured around the world.

Channel hopping
A new generation of COMINT systems is entering service, aimed at sifting through the cluttered electromagnetic environment of the urban combat zone. Jonathan Tringham reviews

Forward march
A number of soldier modernisation efforts are under way around the globe that vary in size, ambition and goals. Grant Turnbull examines the progress being made and the next milestones on the horizon.

Agency work
Cyber threats from China and North Korea are focusing minds on this domain in Asia-Pacific. Gordon Arthur looks at the organisations and offensive and defensive capabilities being established and fielded around the region.

Evolving enemies
The cyber threat to governments and key infrastructure is becoming greater, not only in terms of potency, but in the range of possible attacks. Nick Watts investigates how Europe in particular is responding and what nations are leading the way in securing their assets and information.

Call of Duty
Approaching his one-year anniversary as US Army Project Manager for Tactical Radios, Colonel James Ross spoke with Scott R Gourley about activities within the systems portfolio as well as future plans for the service's tactical radio capability.
Nov/Dec 2014
• Maritime ISR
• MOTS battle management system
• Defence biometrics
• Tactical communications support
Jan/Feb 2015
(AFCEA West, IDEX, Aero India, Avalon)
• Maritime EW
• Tactical communications
• Next-generation power
• Land C2
Mar/Apr 2015
(LIMA, AUSA Winter, Sea-Air-Space, LAAD, Interpol World, IDEF)
• Border surveillance
• Vehicle digitisation
• Ground-based radar
• SATCOM

May/Jun 2015
(IMDEX, UDT Europe, Paris Air Show)
• Maritime radars
• Airborne surveillance
• Direction finding
• Underwater communications

Jul/Aug 2015
(MSPO)
• Intelligent EO/IR
• Airborne early warning
• Soldier modernisation
• COMINT
Sep/Oct 2015
(AUSA Annual, DSEi, Modern Day Marine, ADEX)
• Software-defined radios
• Cyber warfare
• Ruggedised computing
• Maritime C2
Nov/Dec 2015
(Defense and Security, Dubair Airshow, AOC Annual)
• Mobile ad-hoc networking
• Air defence networks
• Jamming
• Data management
Shephard Media is delighted to announce that our range of defence, aerospace and security magazines are now available through dedicated Apps for both Android and Apple devices.

Optimised for mobile viewing, the App allows readers to download and view each issue offline, and provides additional content such as interactive links, slideshow galleries, animations, video and more.

The first issue in each App is free to download and all issues will soon be available free to access for Shephard Plus subscribers using their existing Shephard Plus login details.

We hope you enjoy this great new way to access your favourite magazines.