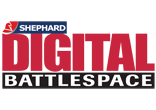 Subscribe
Digital Battlespace is the only dedicated publication delivering news, information and analysis for the global C4ISR community. The bi-monthly publication and dedicated online news service extend Shephard's existing services to the global C4ISR community, and reinforce the success of the company's related handbooks and events.
The DB team delivers timely news, analysis and comment on the pressing issues facing the C4ISR community. The magazine is delivered to a hand-picked audience of government and military decision-makers and opinion leaders throughout the globe and the audience keep in touch with issues on a day to day basis through the dedicated www.digital-battlespace.com portal.
Through Shephard's team of in house journalists and expansive, global network of dedicated correspondents, DB covers the widest possible range of issues of concern to the C4ISR practitioners, covering everything from sensor development to network generation, through concepts of operation to procurement practices.
Whether you are an expert wanting to know the challenges facing the C4ISR community, or a company wanting to reach the right decision-makers, DB is the only magazine that you can rely on to deliver.
Editorial Comment

News
• Space missions priority for allied partners
• BAE Systems unveils new C4ISR products
• Industry responds to USSOCOM C4ISR wish list


SPECIAL REPORTS
Finger on the pulse?
With electromagnetic events capable of causing major damage to a nation's power grid and communications infrastructure, Andrew White asks if governments are devoting enough effort to providing effective protection.
COMMAND AND CONTROL
Getting it together
With armoured vehicles now functioning as nodes within a networked battlespace, one often unpublicised aspect is ensuring that all crew members within the hull have access to the platform's full range of communications capabilities. Peter Donaldson reports.
COMMUNICATIONS
Taking it higher
Full networking of airborne platforms for voice and data presents unique challenges, and is regarded by many militaries as work in progress. Claire Apthorp explores the transferable technologies that are speeding up the process.
COMPUTERS
Right before your eyes
Ever more sensor technology is being integrated into the helmets worn by military pilots. Beth Stevenson rounds up some key programme developments from around the industry.
ISR
Looking up
A valuable asset in-theatre as well as for national security, the medium-range ground-based air surveillance radar is seeing continual improvements in capability and coverage by manufacturers. Tom Withington takes a look at the latest developments.
The right direction
With the anticipated shift to urban operations, which present a challenging and congested environment for land EW capabilities, industry is striving to develop systems that are both multifunctional and capable of operating in this terrain. Giles Ebbutt provides an overview.
Target audience
CSgt Alan Boyle of the British Army's 15 Psychological Operations Group speaks to Angus Batey about both the perceived and actual roles his unit undertakes, as well as the challenges it faces post-Afghanistan.
Nov/Dec 2013
(Dubai Airshow, MILCOM, Maritime Surveillance Aircraft)
• Airborne EW
• Battlefield communications
• Cyber security
• Signals intelligence
Jan/Feb 2014
(DGI Europe, Singapore Airshow, AUSA Winter, Defexpo, AFCEA West, EW Asia 2014)
• Defence mapping
• SATCOM
• Battle management systems - land
• Information sharing - air
Mar/Apr 2014
(FIDAE, Defence Services Asia, SOFEX)
• Asian tactical communications
• Border security
• Remote viewing
• Naval SIGINT

May/Jun 2014
(IDEB, EW Europe, UDT Europe, ILA Berlin, Eurosatory)
• Urban terrain awareness
• Generic vehicle architectures
• Soldier modernisation
• European communications

Jul/Aug 2014
(Farnborough Air Show, Asian Air Power)
• Airborne communications
• Vehicle intercoms
• Ground-based radar
• Land EW
Sep/Oct 2014
(African Aerospace & Defence Exposition)
• African communications modernisation
• Airborne EW
• Ruggedised computing
• Mobile ad-hoc networking
Nov/Dec 2014
(Euronaval, Airshow China, Indo Aerospace)
• Maritime ISR
• MOTS battle management system
• Defence biometrics
• Tactical communications support
Shephard Media is delighted to announce that our range of defence, aerospace and security magazines are now available through dedicated Apps for both Android and Apple devices.

Optimised for mobile viewing, the App allows readers to download and view each issue offline, and provides additional content such as interactive links, slideshow galleries, animations, video and more.

The first issue in each App is free to download and all issues will soon be available free to access for Shephard Plus subscribers using their existing Shephard Plus login details.

We hope you enjoy this great new way to access your favourite magazines.