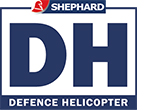 Subscribe
Nov/Dec 2015
(Dubai Airshow, I/ITSEC)
•    Night vision
•    Simulation
•    Medevac operations
•    Avionics
Jan/Feb 2016
(Singapore Airshow, AUSA Global Force, DefExpo)
•    ASEAN helicopter procurement
•    Naval helicopters
•    EO/IR
•    Rockets and missiles
Mar/Apr 2016
(DIMDEX, FIDAE, DSA, Quad A)
•    Helicopter upgrades
•    ASW
•    Scout helicopter procurement
•    DVE
May/Jun 2016
(SOFEX, Sea-Air-Space, SOFIC, ILA Berlin, Eurosatory)
•    Guns
•    Special operations
•    Communications
•    Engines
 
Jul/Aug 2016
(Farnborough International Airshow)
•    Blades
•    Training
•    Avionics
•    MRO
Sep/Oct 2016
(MSPO, AAD, ADAS, Naval Warfare Asia, Modern Day Marine, AUSA Annual)
•    Night vision
•    Self-protection
•    Utility helicopters
•    Cockpit upgrades
Nov/Dec 2016
(I/ITSEC, Indo Defence)
•    Sensor systems
•    Medevac
•    HMDs
•    Optionally piloted helicopters
Now well into its fourth decade, Defence Helicopter's unrivalled reporting is respected and read by those involved in military and parapublic aviation. From the strategists to the pilots who fly the missions, from airframe researchers and developers to weapons and equipment users and designers. We also feature 'after-action' reports from those who were there, read by those who may soon take their place. DH informs, analyses and provides the facts.
Complementing the magazine's expanded editorial coverage is www.Rotorhub.com, a major daily news and information resource for both the civil and the military communities. Shephard provides the international helicopter community with its most comprehensive portfolio of specialist information services and an array of cost-efficient sales and marketing opportunities.
EDITORIAL COMMENT
Moving with the times

NEWS
• Brazil certifies weaponised Fennecs...
• ...and new armament for Thai AS550 C3e
• Vikhr-1 ATGMs for Russian Ka-52 fleet
• Pakistan boosts Viper order
• AVX reports FVL progress
SOARING AMBITION
The complex nature of today's overlapping security challenges around the world mean ever increasing demands for special operations forces and their air support, particularly when dealing with Islamist extremist movements in the Middle East and Africa and hybrid war threats along NATO's eastern flank.
TURBINE BOOST
Completely new dedicated military engines are rare beasts as they invariably need kick-starting by defined service requirements. However, the US Army has taken an important step towards a new generation of powerplants for its attack and utility fleets.
ARMAMENT ADVANCE
While recent emphasis has been placed on emerging rockets and missiles, an increasing number of real-world scenarios have served to emphasise the continuing importance of helicopter cannon and machine gun systems.
WORLDWIDE CHALLENGE
Providing cost-effective logistical support for helicopters supplied to allied nations under the US FMS programme requires many agencies to work together.
SIBERIAN SUPPLY
Russian manufacturer U-UAP is still finding new ways to update its latest production models of the venerable Mi-8/17 family.
INTERFERENCE THEORY
Use of SATCOM on helicopters has traditionally been restricted due to the difficulties of transmitting through turning main rotor blades. Has this hurdle now been overcome?
WAITING PERIOD
Vintage Soviet-era Mi-24V and Mi-25 heavy attack helicopters have been subjected to four decades of Afghanistan's hot climate and high-intensity conflicts. Now, the Afghan Air Force has a skeleton fleet, with several platforms indefinitely grounded and awaiting overhaul.
PARTING SHOT: IN THE JUNGLE 
Capt Steven Howard, second in command of the UK's 7 Flight Army Air Corps in Brunei, speaks to David Oliver about the unit's support role in military exercises in the Brunei jungle and its ad-hoc support to the country's government.
Shephard Media is delighted to announce that our range of defence, aerospace and security magazines are now available through dedicated Apps for both Android and Apple devices.

Optimised for mobile viewing, the App allows readers to download and view each issue offline, and provides additional content such as interactive links, slideshow galleries, animations, video and more.

The first issue in each App is free to download and all issues will soon be available free to access for Shephard Plus subscribers using their existing Shephard Plus login details.

We hope you enjoy this great new way to access your favourite magazines.