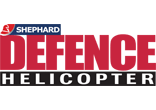 Subscribe
Nov/Dec 2015
(Dubai Airshow, I/ITSEC)
•    Night vision
•    Simulation
•    Medevac operations
•    Avionics
Jan/Feb 2016
(Singapore Airshow, AUSA Global Force, DefExpo)
•    ASEAN helicopter procurement
•    Naval helicopters
•    EO/IR
•    Rockets and missiles
Mar/Apr 2016
(DIMDEX, FIDAE, DSA, Quad A)
•    Helicopter upgrades
•    ASW
•    Scout helicopter procurement
•    DVE
May/Jun 2016
(SOFEX, Sea-Air-Space, SOFIC, ILA Berlin, Eurosatory)
•    Guns
•    Special operations
•    Communications
•    Engines
 
Jul/Aug 2016
(Farnborough International Airshow)
•    Blades
•    Training
•    Avionics
•    MRO
Sep/Oct 2016
(MSPO, AAD, ADAS, Naval Warfare Asia, Modern Day Marine, AUSA Annual)
•    Night vision
•    Self-protection
•    Utility helicopters
•    Cockpit upgrades
Nov/Dec 2016
(I/ITSEC, Indo Defence)
•    Sensor systems
•    Medevac
•    HMDs
•    Optionally piloted helicopters
Now well into its fourth decade, Defence Helicopter's unrivalled reporting is respected and read by those involved in military and parapublic aviation. From the strategists to the pilots who fly the missions, from airframe researchers and developers to weapons and equipment users and designers. We also feature 'after-action' reports from those who were there, read by those who may soon take their place. DH informs, analyses and provides the facts.
Complementing the magazine's expanded editorial coverage is www.Rotorhub.com, a major daily news and information resource for both the civil and the military communities. Shephard provides the international helicopter community with its most comprehensive portfolio of specialist information services and an array of cost-efficient sales and marketing opportunities.
Comment

News
OEM refutes Afghan MD 530F criticisms
South Korean Apache deliveries imminent
Sikorsky reveals details on Raider progress
Egypt selects the Ka-52

Stable work
Dutch forces have been instrumental in helping the UN's stabilisation mission in Mali. Erwan de Cherisey provides an overview of its helicopter detachment that, among other missions, has provided an essential medevac capability.

Game plans
The Royal Canadian Air Force has been embracing more advanced simulation capabilities as part of its overall helicopter training efforts. Scott R Gourley visited the service's CH-147F training facility in Ontario to find out more.

Extreme views
Successful fusion of multiple active and passive sensors in effective and affordable packages is one aim of the night vision community. Peter Donaldson looks at industry's progress in achieving new levels of situational awareness for pilots.

Ring out the old
Some 62 Bell UH-1Ns, which have been in US service since the early 1970s, are finally set to retire. Jim Dorschner outlines where these machines are currently stationed, the missions being undertaken and what the contenders might be to take their place.

Developing capabilities
Although Brazil has ambitious military helicopter acquisition and upgrade plans, recent financial setbacks have added doubt on their future. Iñigo Guevara canvasses some of these programmes and considers which are likely to be completed, cut or delayed.

Expansion mode
Russia has embarked on an ambitious recapitalisation and growth plan for its army aviation branch, while reforming its organisational structure. Alexander Mladenov examines recent frontline developments.

Tail Spin
Capt Adrian Orchard, commanding officer of Royal Naval Air Station Culdrose, talks to Patrick Allen about the multirole capabilities of the base's helicopter fleet.
Shephard Media is delighted to announce that our range of defence, aerospace and security magazines are now available through dedicated Apps for both Android and Apple devices.

Optimised for mobile viewing, the App allows readers to download and view each issue offline, and provides additional content such as interactive links, slideshow galleries, animations, video and more.

The first issue in each App is free to download and all issues will soon be available free to access for Shephard Plus subscribers using their existing Shephard Plus login details.

We hope you enjoy this great new way to access your favourite magazines.