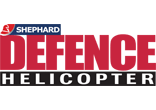 Subscribe
Nov/Dec 2015
(Dubai Airshow, I/ITSEC)
•    Night vision
•    Simulation
•    Medevac operations
•    Avionics
Jan/Feb 2016
(Singapore Airshow, AUSA Global Force, DefExpo)
•    ASEAN helicopter procurement
•    Naval helicopters
•    EO/IR
•    Rockets and missiles
Mar/Apr 2016
(DIMDEX, FIDAE, DSA, Quad A)
•    Helicopter upgrades
•    ASW
•    Scout helicopter procurement
•    DVE
May/Jun 2016
(SOFEX, Sea-Air-Space, SOFIC, ILA Berlin, Eurosatory)
•    Guns
•    Special operations
•    Communications
•    Engines
 
Jul/Aug 2016
(Farnborough International Airshow)
•    Blades
•    Training
•    Avionics
•    MRO
Sep/Oct 2016
(MSPO, AAD, ADAS, Naval Warfare Asia, Modern Day Marine, AUSA Annual)
•    Night vision
•    Self-protection
•    Utility helicopters
•    Cockpit upgrades
Nov/Dec 2016
(I/ITSEC, Indo Defence)
•    Sensor systems
•    Medevac
•    HMDs
•    Optionally piloted helicopters
Now well into its fourth decade, Defence Helicopter's unrivalled reporting is respected and read by those involved in military and parapublic aviation. From the strategists to the pilots who fly the missions, from airframe researchers and developers to weapons and equipment users and designers. We also feature 'after-action' reports from those who were there, read by those who may soon take their place. DH informs, analyses and provides the facts.
Complementing the magazine's expanded editorial coverage is www.Rotorhub.com, a major daily news and information resource for both the civil and the military communities. Shephard provides the international helicopter community with its most comprehensive portfolio of specialist information services and an array of cost-efficient sales and marketing opportunities.
EDITORIAL COMMENT
Mid-life modernisations

NEWS
• Canada extends life of Griffon and Cormorant
• Russia confirms Egyptian Ka-52 order
• TH-67s heading to new home in South America
• Russian Helicopters poised for partial privatisation

ACTIVITY CENTRE
Regional tensions and the availability of funding have made Asia-Pacific a key target market for many helicopter manufacturers.

PROVIDING GUIDANCE
Plug-in kits that convert 'dumb' rockets into precision weapons are moving out of the experimental phase and seeing operational use, taking their place alongside more traditional air-launched missiles.

SENSORS AND SENSITIVITY
The sensor payload sector is booming, and EO/IR systems are now getting more powerful, smarter and helping reduce crew workloads.

BACK ON BOARD
In late 2015, Defence Helicopter visited CFB Petawawa in Ontario to learn about Canada's recent experiences with the Chinook helicopter platform.

VERSATILE VARIETY
Helicopters have been critical to naval operations for decades, covering missions from combat to surveillance to ASW.

IT'S COMPLICATED
The state of the Russian engine industry has become rather complex following tensions with neighbouring Ukraine and has presented a number of organisational and technological challenges.

TAIL SPIN
PLAN OF ATTACK
Andrew Pillado, director of business development at MD Helicopters, speaks to Tony Skinner about new contract announcements for the company, the controversy surrounding recent public criticisms by an Afghan pilot and what 2016 holds.
Shephard Media is delighted to announce that our range of defence, aerospace and security magazines are now available through dedicated Apps for both Android and Apple devices.

Optimised for mobile viewing, the App allows readers to download and view each issue offline, and provides additional content such as interactive links, slideshow galleries, animations, video and more.

The first issue in each App is free to download and all issues will soon be available free to access for Shephard Plus subscribers using their existing Shephard Plus login details.

We hope you enjoy this great new way to access your favourite magazines.