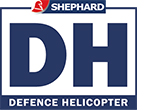 Subscribe
Now well into its fourth decade, Defence Helicopter's unrivalled reporting is respected and read by those involved in military and parapublic aviation. From the strategists to the pilots who fly the missions, from airframe researchers and developers to weapons and equipment users and designers. We also feature 'after-action' reports from those who were there, read by those who may soon take their place. DH informs, analyses and provides the facts.
Complementing the magazine's expanded editorial coverage is www.Rotorhub.com, a major daily news and information resource for both the civil and the military communities. Shephard provides the international helicopter community with its most comprehensive portfolio of specialist information services and an array of cost-efficient sales and marketing opportunities.
Nov/Dec 2015
(Dubai Airshow, I/ITSEC)
•    Night vision
•    Simulation
•    Medevac operations
•    Avionics
Jan/Feb 2016
(Singapore Airshow, AUSA Global Force, DefExpo)
•    ASEAN helicopter procurement
•    Naval helicopters
•    EO/IR
•    Rockets and missiles
Mar/Apr 2016
(DIMDEX, FIDAE, DSA, Quad A)
•    Helicopter upgrades
•    ASW
•    Scout helicopter procurement
•    DVE
May/Jun 2016
(SOFEX, Sea-Air-Space, SOFIC, ILA Berlin, Eurosatory)
•    Guns
•    Special operations
•    Communications
•    Engines
 
Jul/Aug 2016
(Farnborough International Airshow)
•    Blades
•    Training
•    Avionics
•    MRO
Sep/Oct 2016
(MSPO, AAD, ADAS, Naval Warfare Asia, Modern Day Marine, AUSA Annual)
•    Night vision
•    Self-protection
•    Utility helicopters
•    Cockpit upgrades
Nov/Dec 2016
(I/ITSEC, Indo Defence)
•    Sensor systems
•    Medevac
•    HMDs
•    Optionally piloted helicopters
EDITORIAL COMMENT
Keeping your options open
NEWS
• Afghanistan to shift to US-built helicopters
• Russia deploys Ka-31SV to Syria
• Z-10 comes out in force
• Armed Z-11WB makes debut
• Experimental helicopter hits 218kts
• Afghan MD 530Fs proving worth, says NATO
DUSTOFF DUTY
The aeromedical mission of the US Army has grown from humble beginnings more than 70 years ago into a sophisticated, world-class programme.
PACIFIC POTENTIAL
The market for military helicopters in Asia and Australasia remains resilient, with equipment recapitalisation cycles, increasing defence budgets and expanding mission sets pushing rotorcraft to the forefront of procurement activity.
SYMBOL OF SUCCESS
Helmet-mounted displays for rotorcraft are a rapidly evolving technology, but industry must strike a balance between increasingly sophisticated hardware while keeping things as simple as possible for the operator.
MAN OR MACHINE
A need for flexibility in piloting missions has seen the rise of both optionally piloted and optimally manned systems.
SENSORY AWARENESS
Rotorcraft crew requirements for improved situation awareness are being met by a range of integrated and high-definition sensor systems.
REVITALISED RENAISSANCE
International success with models new and old shows there is still life left in the Hind attack helicopter family, as the decades-old platform's rebirth continues.
TAIL SPIN
UP AND AWAY
Richard Kretzschmar, Future Vertical Lift programme manager at the US Army Program Executive Office Aviation, discusses the current status of the programme with Beth Maundrill.
Shephard Media is delighted to announce that our range of defence, aerospace and security magazines are now available through dedicated Apps for both Android and Apple devices.

Optimised for mobile viewing, the App allows readers to download and view each issue offline, and provides additional content such as interactive links, slideshow galleries, animations, video and more.

The first issue in each App is free to download and all issues will soon be available free to access for Shephard Plus subscribers using their existing Shephard Plus login details.

We hope you enjoy this great new way to access your favourite magazines.