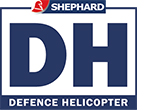 Subscribe
Nov/Dec 2015
(Dubai Airshow, I/ITSEC)
•    Night vision
•    Simulation
•    Medevac operations
•    Avionics
Jan/Feb 2016
(Singapore Airshow, AUSA Global Force, DefExpo)
•    ASEAN helicopter procurement
•    Naval helicopters
•    EO/IR
•    Rockets and missiles
Mar/Apr 2016
(DIMDEX, FIDAE, DSA, Quad A)
•    Helicopter upgrades
•    ASW
•    Scout helicopter procurement
•    DVE
May/Jun 2016
(SOFEX, Sea-Air-Space, SOFIC, ILA Berlin, Eurosatory)
•    Guns
•    Special operations
•    Communications
•    Engines
 
Jul/Aug 2016
(Farnborough International Airshow)
•    Blades
•    Training
•    Avionics
•    MRO
Sep/Oct 2016
(MSPO, AAD, ADAS, Naval Warfare Asia, Modern Day Marine, AUSA Annual)
•    Night vision
•    Self-protection
•    Utility helicopters
•    Cockpit upgrades
Nov/Dec 2016
(I/ITSEC, Indo Defence)
•    Sensor systems
•    Medevac
•    HMDs
•    Optionally piloted helicopters
Now well into its fourth decade, Defence Helicopter's unrivalled reporting is respected and read by those involved in military and parapublic aviation. From the strategists to the pilots who fly the missions, from airframe researchers and developers to weapons and equipment users and designers. We also feature 'after-action' reports from those who were there, read by those who may soon take their place. DH informs, analyses and provides the facts.
Complementing the magazine's expanded editorial coverage is www.Rotorhub.com, a major daily news and information resource for both the civil and the military communities. Shephard provides the international helicopter community with its most comprehensive portfolio of specialist information services and an array of cost-efficient sales and marketing opportunities.
EDITORIAL COMMENT
Black Hawk's second life

NEWS
• US Army steps closer to next-generation scout
• Thai army buys, and eyes, Russian helicopters
• MD launches new attack helicopter
• AW159 wins in the east... again
• Russia's war in Syria
MAXIMISING YOUR ASSETS
Responding to a rapidly evolving environment, NATO rotary-wing forces continue to upgrade platforms in order to satisfy demands for enhanced interoperability, lethality and communications.
CHALLENGING THE PRIORITY
Submarine proliferation, a shift from blue-water to littoral operations and the increased use of unmanned systems are changing the demands navies place on their rotary-wing ASW assets.
SCOUTS WITH A STING
A variety of armed observation helicopters developed predominantly from light civil platforms are now available for delivery to militaries around the world.
EAST MEETS WEST
China's new attack helicopter, the CAIC Z-10, was developed in strict secrecy between the mid-1990s and the late 2000s. DH takes a close look at the history of the programme and current developments.
DREAM OR REALITY
Recent technological advances in degraded visual environment (DVE) solutions are seeking to eliminate the numbers of deaths and accidents related to brownouts during combat missions.
AT THE CROSSROADS
Turkish Army aviation is in the challenging situation of modernising its attack helicopter fleet in the middle of a period of internal and regional instability.
FLYING IN THE BOX
DH visited the US Army's National Training Center to see how helicopter crews can learn from being part of a wider exercise with ground troops and other units.
PARTING SHOT
PROGRAMME IN PRACTICE
Wing Commander Andrew Gray, European Defence Agency helicopter programme manager, spoke to DH about the agency's training and exercises, and fostering future collaboration between countries on tactics.
Shephard Media is delighted to announce that our range of defence, aerospace and security magazines are now available through dedicated Apps for both Android and Apple devices.

Optimised for mobile viewing, the App allows readers to download and view each issue offline, and provides additional content such as interactive links, slideshow galleries, animations, video and more.

The first issue in each App is free to download and all issues will soon be available free to access for Shephard Plus subscribers using their existing Shephard Plus login details.

We hope you enjoy this great new way to access your favourite magazines.