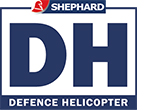 Subscribe
Now well into its fourth decade, Defence Helicopter's unrivalled reporting is respected and read by those involved in military and parapublic aviation. From the strategists to the pilots who fly the missions, from airframe researchers and developers to weapons and equipment users and designers. We also feature 'after-action' reports from those who were there, read by those who may soon take their place. DH informs, analyses and provides the facts.
Complementing the magazine's expanded editorial coverage is www.Rotorhub.com, a major daily news and information resource for both the civil and the military communities. Shephard provides the international helicopter community with its most comprehensive portfolio of specialist information services and an array of cost-efficient sales and marketing opportunities.
Nov/Dec 2015
(Dubai Airshow, I/ITSEC)
•    Night vision
•    Simulation
•    Medevac operations
•    Avionics
Jan/Feb 2016
(Singapore Airshow, AUSA Global Force, DefExpo)
•    ASEAN helicopter procurement
•    Naval helicopters
•    EO/IR
•    Rockets and missiles
Mar/Apr 2016
(DIMDEX, FIDAE, DSA, Quad A)
•    Helicopter upgrades
•    ASW
•    Scout helicopter procurement
•    DVE
May/Jun 2016
(SOFEX, Sea-Air-Space, SOFIC, ILA Berlin, Eurosatory)
•    Guns
•    Special operations
•    Communications
•    Engines
 
Jul/Aug 2016
(Farnborough International Airshow)
•    Blades
•    Training
•    Avionics
•    MRO
Sep/Oct 2016
(MSPO, AAD, ADAS, Naval Warfare Asia, Modern Day Marine, AUSA Annual)
•    Night vision
•    Self-protection
•    Utility helicopters
•    Cockpit upgrades
Nov/Dec 2016
(I/ITSEC, Indo Defence)
•    Sensor systems
•    Medevac
•    HMDs
•    Optionally piloted helicopters
EDITORIAL COMMENT
Dangerous skies

NEWS
• India to upgrade dilapidated Ka-28s
• Kuwait buys 30 H225Ms
• Exercise Jaded Thunder 2016 tests SOF mettle
• International operator opts for armed Black Hawk
• T129 nears full weaponisation
• AW149 now a 'butterfly with sting'
JACK OF ALL TRADES
Although it is little more than two years since the Merlin HM2 entered service with the Royal Navy, the type has already demonstrated its versatility across a broad range of taskings well away from UK shores.
FROM PISTOLEROS TO DRAGONS
US Army aviation units in Iraq continue to play an important role in the country, with a varied fleet of helicopters being used to assist in the war against Daesh.
PLATFORM PRESERVATION
In conflict zones with no defined battle lines, where anti-aircraft weapons are numerous, robust self-protection suites for helicopters are vital.
HELM IMPROVEMENT
Cockpit upgrades spring from a direct need to add capability or deal with obsolescence. In either case, they can give older helicopters a new lease of life.
A WIDER PICTURE
A helicopter pilot's night vision could owe more to technology from the Lockheed Martin F-35 Lightning II fighter jet than traditional goggles in the future.  
MODERNISATION THEORY
In the face of domestic insurgency and an increasingly belligerent China, updating or replacing military helicopter fleets in the Philippines is a matter of increasing urgency.
TAIL SPIN
REPLACING THE BIG IRON
RAdm G Dean Peters, USN Program Executive Officer for Air ASW, Assault and Special Mission Programs, talks to Tony Skinner about replacing ageing CH-53 models with the new King Stallion.
Shephard Media is delighted to announce that our range of defence, aerospace and security magazines are now available through dedicated Apps for both Android and Apple devices.

Optimised for mobile viewing, the App allows readers to download and view each issue offline, and provides additional content such as interactive links, slideshow galleries, animations, video and more.

The first issue in each App is free to download and all issues will soon be available free to access for Shephard Plus subscribers using their existing Shephard Plus login details.

We hope you enjoy this great new way to access your favourite magazines.