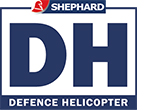 Subscribe
Nov/Dec 2015
(Dubai Airshow, I/ITSEC)
•    Night vision
•    Simulation
•    Medevac operations
•    Avionics
Jan/Feb 2016
(Singapore Airshow, AUSA Global Force, DefExpo)
•    ASEAN helicopter procurement
•    Naval helicopters
•    EO/IR
•    Rockets and missiles
Mar/Apr 2016
(DIMDEX, FIDAE, DSA, Quad A)
•    Helicopter upgrades
•    ASW
•    Scout helicopter procurement
•    DVE
May/Jun 2016
(SOFEX, Sea-Air-Space, SOFIC, ILA Berlin, Eurosatory)
•    Guns
•    Special operations
•    Communications
•    Engines
 
Jul/Aug 2016
(Farnborough International Airshow)
•    Blades
•    Training
•    Avionics
•    MRO
Sep/Oct 2016
(MSPO, AAD, ADAS, Naval Warfare Asia, Modern Day Marine, AUSA Annual)
•    Night vision
•    Self-protection
•    Utility helicopters
•    Cockpit upgrades
Nov/Dec 2016
(I/ITSEC, Indo Defence)
•    Sensor systems
•    Medevac
•    HMDs
•    Optionally piloted helicopters
Now well into its fourth decade, Defence Helicopter's unrivalled reporting is respected and read by those involved in military and parapublic aviation. From the strategists to the pilots who fly the missions, from airframe researchers and developers to weapons and equipment users and designers. We also feature 'after-action' reports from those who were there, read by those who may soon take their place. DH informs, analyses and provides the facts.
Complementing the magazine's expanded editorial coverage is www.Rotorhub.com, a major daily news and information resource for both the civil and the military communities. Shephard provides the international helicopter community with its most comprehensive portfolio of specialist information services and an array of cost-efficient sales and marketing opportunities.
EDITORIAL COMMENT
Desert deals

NEWS
• Return of the Battle Hawk
• UAE to receive helicopter simulators
• Aussie Tiger achieves FOC… finally
• Bell's tough talk on attack programmes
• Ukraine advances Mi-24PU2 upgrade
• German heavy contenders weigh in 
EASTERN EXPANSION
Growth in the East Asia region has led to most militaries there investing heavily in helicopter platforms, either produced indigenously or acquired overseas.
RESCUE REHEARSAL
DH provides an overview of the most recent iteration of the multinational Exercise Argonaut, held in Cyprus.
FACING PROBLEMS
The Future Airborne Capability Environment is a major initiative that could finally overcome the issues that have previously hampered open-architecture avionics efforts.
KEEPING THE BLADES TURNING
Complex machines such as attack helicopters require innovative maintenance solutions in today's tight budgetary environment. 
SECURITY MEASURES
While a number of defence procurement plans have been put on hold due to fiscal constraints, acquisition of rotorcraft and provision of a new base are indicative of the priority the Malaysian government places on security in east Malaysia.
STAYING OUT ALL NIGHT
New technology from Elbit Systems could change the face of night flying.
ON ROCKY GROUND
Helicopters are crucial for navigating the rough and mountainous terrain of the Sahara and Atlas, but modernisation of the Royal Moroccan Air Force fleet has long been overlooked. Signs are now emerging that some well-overdue attention may be on its way.
TAIL SPIN
SKAsAC SUNDOWN
Capt Steven Howard, second in command of the UK's 7 Flight Army Air Corps in Brunei, speaks to David Oliver about the unit's support role in military exercises in the Brunei jungle and its ad-hoc support to the country's government.
Shephard Media is delighted to announce that our range of defence, aerospace and security magazines are now available through dedicated Apps for both Android and Apple devices.

Optimised for mobile viewing, the App allows readers to download and view each issue offline, and provides additional content such as interactive links, slideshow galleries, animations, video and more.

The first issue in each App is free to download and all issues will soon be available free to access for Shephard Plus subscribers using their existing Shephard Plus login details.

We hope you enjoy this great new way to access your favourite magazines.