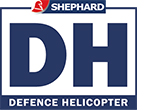 Subscribe
Now well into its fourth decade, Defence Helicopter's unrivalled reporting is respected and read by those involved in military and parapublic aviation. From the strategists to the pilots who fly the missions, from airframe researchers and developers to weapons and equipment users and designers. We also feature 'after-action' reports from those who were there, read by those who may soon take their place. DH informs, analyses and provides the facts.
Complementing the magazine's expanded editorial coverage is www.Rotorhub.com, a major daily news and information resource for both the civil and the military communities. Shephard provides the international helicopter community with its most comprehensive portfolio of specialist information services and an array of cost-efficient sales and marketing opportunities.
Jan/Feb 2017
Features
Naval helicopters
Night vision – Part 1
Communications
Missiles and rockets

Event distribution
IDEX (Abu Dhabi, UAE)
Avalon (Geelong, Australia)
AUSA Global (Huntsville, AL, USA)
LIMA (Langkawi, Malaysia)
Aero India (Bengaluru, India)

Mar/Apr 2017
Features
US Army upgrades
Light/scout attack
Self-protection
Avionics

Event distribution
Sea-Air-Space (National Harbor, MD,
USA)
LAAD (Rio de Janeiro, Brazil)
Quad A MSS (Nashville, TN, USA)
IDEF (Istanbul, Turkey)
AHS (Fort Worth, Texas)

May/Jun 2017
Features
Special forces
Guns
EO/IR systems
ASW

Event distribution
IMDEX (Singapore)
SOFIC (Tampa, FL, USA)
CANSEC (Ottawa, Canada)
Future Helicopter Technology (Rome, Italy)
Paris Air Show (Paris, France)

Jul/Aug 2017
Features
Training platforms procurement
HMDs
MRO – Part 1
Crew safety

Event distribution
MAKS (Moscow, Russia)
MSPO (Kielce, Poland)
DSEI (London, UK)
AFA (National Harbor, MD, USA)
Modern Day Marine (Quantico, VA, USA)

Sep/Oct 2017
Features
DVE
Engines
Ground support
Night vision – Part 2

Event distribution
Pacific (Sydney, Australia)
AUSA Annual (Washington, DC, USA)
Seoul ADEX (Seoul, South Korea)
Defence & Security (Bangkok, Thailand)

Nov/Dec 2017
Features
Cockpit upgrades
Blades
Utility helicopters
Fly-by-wire

Event distribution
Dubai Airshow (Dubai, UAE)
I/ITSEC (Orlando, FL, US)
Gulf Defence (Kuwait)

Jan/Feb 2018
Features
Anti-submarine warfare
Guns
MRO – Part 2
CSAR

Event distribution
Singapore Airshow (Singapore)
DefExpo 2018 (India)
EDITORIAL COMMENT
State of the nation
NEWS
• Myanmar Air Force bulks up on helicopters
• Germany to deploy Tiger and NH90 to Mali
• RAF Kabul crash cause revealed
• Thai Army puts faith in Leonardo
• Serbia signs for nine H145Ms
MODEL MASTERPLAN
The USN's MH-60R programme is looking ahead to mid-life upgrades and an eventual successor to help the platform move with the times.
INDIGENOUS DRIVE
China has struggled under Western embargoes to raise its rotary game and is casting off foreign assistance to produce models domestically.
TAKING BACK THE NIGHT
Developments in NVGs have allowed African, Eastern European and Central American countries to reap the benefits of the technology once enjoyed only by Western nations.
EYES ON THE SKY
Widely used by commercial operators, automatic helicopter flight tracking technology is increasingly emerging into the military domain.
TARGETING STRATEGIES
A number of the world's militaries are on the cusp of more advanced attack capabilities as their helicopter fleets adopt the latest in missile technology.
PARALLEL LINES
China appears to have developed two helicopters simultaneously, taking both the Z-10 and Z-19 models into service within a short time of each other.
TAIL SPIN
MISSILE MANAGEMENT
Col David Warnick, US Army Project Manager for Joint Attack Munition Systems within the Program Executive Office Missiles and Space, speaks to Beth Maundrill about the Joint Air-to-Ground Missile programme.
Shephard Media is delighted to announce that our range of defence, aerospace and security magazines are now available through dedicated Apps for both Android and Apple devices.

Optimised for mobile viewing, the App allows readers to download and view each issue offline, and provides additional content such as interactive links, slideshow galleries, animations, video and more.

The first issue in each App is free to download and all issues will soon be available free to access for Shephard Plus subscribers using their existing Shephard Plus login details.

We hope you enjoy this great new way to access your favourite magazines.