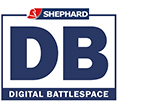 Subscribe
Digital Battlespace is the only dedicated publication delivering news, information and analysis for the global C4ISR community. The bi-monthly publication and dedicated online news service extend Shephard's existing services to the global C4ISR community, and reinforce the success of the company's related handbooks and events.
The DB team delivers timely news, analysis and comment on the pressing issues facing the C4ISR community. The magazine is delivered to a hand-picked audience of government and military decision-makers and opinion leaders throughout the globe and the audience keep in touch with issues on a day to day basis through the dedicated www.digital-battlespace.com portal.
Through Shephard's team of in house journalists and expansive, global network of dedicated correspondents, DB covers the widest possible range of issues of concern to the C4ISR practitioners, covering everything from sensor development to network generation, through concepts of operation to procurement practices.
Whether you are an expert wanting to know the challenges facing the C4ISR community, or a company wanting to reach the right decision-makers, DB is the only magazine that you can rely on to deliver.
EDITORIAL COMMENT
Power tools

NEWS
• Steps towards European waveform
• New SIGINT for UK special forces
• Plans for future GPS III emerge
• Hornets brought back to life
• Taiwan to create cyber force against China
• Thales presents Synaps radio family
DISMOUNTED DEVELOPMENTS
While full 'future soldier' suites have not yet been deployed en masse in Western militaries, an incremental approach is seeing an ever greater number of networked   ISR tools being added to the infantryman's inventory.
UNITED TACTICS
Tactical operators in the air, on the ground and at sea face agile and increasingly technically capable adversaries across the spectrum of conflict, and need every  edge that advanced networking can give them.
IN THE PICTURE
The need for a detailed, precise view of circumstances across platforms is crucial. Vehicle crews are now reaping the benefits of recent evolutions in situation wareness.
SATELLITE SERVICE
SATCOM programme requirements show that military forces are looking to go ever faster, smaller and lighter when it comes to their desired capabilities. European radar manufacturers are maturing new shipborne active phased-array radar systems designed to support the long-range detection and tracking of ballistic missile threats.
THINKING OF THE ENVIRONMENT
Whether it is a flight data recorder, communications node or any other integrated device, airborne C4ISR systems must be rugged enough to cope with the growing number of harsh environments militaries are subjecting them to. 
PARTING SHOT
MORE WITH LESS
As armed forces look to renew their C4ISR capabilities, industry is being pushed to provide multi-functional capabilities. Bill Keirnan, director of business development for ISR systems at L-3 Linkabit, talks to Beth Maundrill about the trends and challenges multifunctionality raises.
Nov/Dec 2015
(EW Saudi Arabia, AOC Annual)
• Mobile ad-hoc networking
• Air defence networks
• Jamming
• Data management
Jan/Feb 2016
(DefExpo)
• Earth observation GEOINT
• Air defence radar
• Displays/handheld
• Naval BMS
Mar/Apr 2016
(DSA)
• Naval radar
• Asian tactical comms
• SATCOM
• Special mission aircraft

May/Jun 2016
(SOFIC, CANSEC, ILA Berlin, Eurosatory
• Connectors
• COMINT
• Defence IT Infrastructure
• Urban terrain awareness

Jul/Aug 2016
(Farnborough International Airshow)
• Soldier modernisation
• Tactical air networks
• SATCOM Part 2
• Ruggedised computing Part 1
Sep/Oct 2016
(Milcom, Euronaval, EW Asia, Indo Defence, Radar)
• Naval C2
• Ruggedised computing Part 2
• SIGINT
• GEOINT
Nov/Dec 2016
(AOC Annual, I/ITSEC)
• EW – jamming
• Army battle management
• EO/IR
• Sub surface comms
Shephard Media is delighted to announce that our range of defence, aerospace and security magazines are now available through dedicated Apps for both Android and Apple devices.

Optimised for mobile viewing, the App allows readers to download and view each issue offline, and provides additional content such as interactive links, slideshow galleries, animations, video and more.

The first issue in each App is free to download and all issues will soon be available free to access for Shephard Plus subscribers using their existing Shephard Plus login details.

We hope you enjoy this great new way to access your favourite magazines.