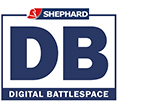 Subscribe
Digital Battlespace is the only dedicated publication delivering news, information and analysis for the global C4ISR community. The bi-monthly publication and dedicated online news service extend Shephard's existing services to the global C4ISR community, and reinforce the success of the company's related handbooks and events.
The DB team delivers timely news, analysis and comment on the pressing issues facing the C4ISR community. The magazine is delivered to a hand-picked audience of government and military decision-makers and opinion leaders throughout the globe and the audience keep in touch with issues on a day to day basis through the dedicated www.digital-battlespace.com portal.
Through Shephard's team of in house journalists and expansive, global network of dedicated correspondents, DB covers the widest possible range of issues of concern to the C4ISR practitioners, covering everything from sensor development to network generation, through concepts of operation to procurement practices.
Whether you are an expert wanting to know the challenges facing the C4ISR community, or a company wanting to reach the right decision-makers, DB is the only magazine that you can rely on to deliver.
EDITORIAL COMMENT
Stable development

NEWS
• Raytheon targeting tech enters production
• F-15C to demonstrate new IRST
• Russian radios get smart
• Singapore commissions new SDRs
• Singapore's IAI radar revealed
• Japan fields new comms after 12 years

IN THE CITY
The future operating environment will be heavily weighted towards military operations in urban terrain, according to a UK MoD forecast covering the next 20 years.
CAMERA READY
The capabilities of any military platform, whether ship, aircraft or ground vehicle, are mostly dependent on the equipment it carries. For those with an ISR role, EO/IR systems are needed for the search, tracking and identification of targets.
RADIO ACTIVITY
Listening in to work out who is talking to whom, where they are, what kind of equipment they are using, whether they represent a threat and what they are saying is all in the realm of communications intelligence.
DIGITAL WHEELS
Digital architectures for land platforms are fast becoming a top priority for armed forces around the world as they look to procure new vehicles or upgrade existing fleets.
CLOSE CONNECTION
Connectors are the interface between the cables and the instruments they serve. In addition to different voltages and current flow, each instrument can use different electrical signal processes to provide the best and highest quality flow of data to the other units that need it.
COMPUTER COVER
The pace of change in the IT sector brings great potential benefits to the world's militaries, but it also raises significant challenges to established procurement and deployment processes.
PARTING SHOT
MAKING WAVES
Established in 2012, the US Joint Tactical Networking Center ensures that waveforms and wireless communication products remain interoperable and secure. Tim Fish talks to the director, Jeff Mercer, about its work.
Nov/Dec 2015
(EW Saudi Arabia, AOC Annual)
• Mobile ad-hoc networking
• Air defence networks
• Jamming
• Data management
Jan/Feb 2016
(DefExpo)
• Earth observation GEOINT
• Air defence radar
• Displays/handheld
• Naval BMS
Mar/Apr 2016
(DSA)
• Naval radar
• Asian tactical comms
• SATCOM
• Special mission aircraft

May/Jun 2016
(SOFIC, CANSEC, ILA Berlin, Eurosatory
• Connectors
• COMINT
• Defence IT Infrastructure
• Urban terrain awareness

Jul/Aug 2016
(Farnborough International Airshow)
• Soldier modernisation
• Tactical air networks
• SATCOM Part 2
• Ruggedised computing Part 1
Sep/Oct 2016
(Milcom, Euronaval, EW Asia, Indo Defence, Radar)
• Naval C2
• Ruggedised computing Part 2
• SIGINT
• GEOINT
Nov/Dec 2016
(AOC Annual, I/ITSEC)
• EW – jamming
• Army battle management
• EO/IR
• Sub surface comms
Shephard Media is delighted to announce that our range of defence, aerospace and security magazines are now available through dedicated Apps for both Android and Apple devices.

Optimised for mobile viewing, the App allows readers to download and view each issue offline, and provides additional content such as interactive links, slideshow galleries, animations, video and more.

The first issue in each App is free to download and all issues will soon be available free to access for Shephard Plus subscribers using their existing Shephard Plus login details.

We hope you enjoy this great new way to access your favourite magazines.