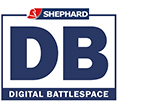 Subscribe
Digital Battlespace is the only dedicated publication delivering news, information and analysis for the global C4ISR community. The bi-monthly publication and dedicated online news service extend Shephard's existing services to the global C4ISR community, and reinforce the success of the company's related handbooks and events.
The DB team delivers timely news, analysis and comment on the pressing issues facing the C4ISR community. The magazine is delivered to a hand-picked audience of government and military decision-makers and opinion leaders throughout the globe and the audience keep in touch with issues on a day to day basis through the dedicated www.digital-battlespace.com portal.
Through Shephard's team of in house journalists and expansive, global network of dedicated correspondents, DB covers the widest possible range of issues of concern to the C4ISR practitioners, covering everything from sensor development to network generation, through concepts of operation to procurement practices.
Whether you are an expert wanting to know the challenges facing the C4ISR community, or a company wanting to reach the right decision-makers, DB is the only magazine that you can rely on to deliver.
EDITORIAL COMMENT
Solutions bring new problems
NEWS
• South Korea mulls extra AEW&C aircraft
• Gladius looks to future technology
• Will GD open up Bowman for Morpheus transition?
• US Army to expand cyber protection
• Belarus unveils new air surveillance radar
EYES ABOVE THE SURFACE
The advent of non-hull penetrating optronic mast systems has opened up new opportunities to submarine designers and operators alike.
CONVERGING WORLDS
While the jamming and counter-jamming industries look to employ the latest technological advancements to overcome one another, some manufacturers are pushing combined capabilities.
FORWARD PLANNING
A unified battle management system is crucial in achieving successful operations in-theatre.
SCANNING THE SEABED
The introduction of AUVs to the military mainstream is driving the development of enhanced sonar payloads to perform seabed mapping and object classification.
TACTICAL TRICKS
The unique nature of the contemporary operating environment in Israel continues to provide the IDF with stringent mission requirements in the area of tactical communications.
MULTITUDE OF NETWORKS
With NATO encountering a growing number of cross-cultural challenges, a fusion of its ISR assets is needed.
PARTING SHOT
EDGE OF THE FUTURE
With the UK's Morpheus programme looming on the horizon, software and systems provider Systematic is positioning itself to offer software that can integrate with existing and potential future communications systems. Tim Fish talks to Helen Birchall, senior manager of business development at the company.
Nov/Dec 2015
(EW Saudi Arabia, AOC Annual)
• Mobile ad-hoc networking
• Air defence networks
• Jamming
• Data management
Jan/Feb 2016
(DefExpo)
• Earth observation GEOINT
• Air defence radar
• Displays/handheld
• Naval BMS
Mar/Apr 2016
(DSA)
• Naval radar
• Asian tactical comms
• SATCOM
• Special mission aircraft

May/Jun 2016
(SOFIC, CANSEC, ILA Berlin, Eurosatory
• Connectors
• COMINT
• Defence IT Infrastructure
• Urban terrain awareness

Jul/Aug 2016
(Farnborough International Airshow)
• Soldier modernisation
• Tactical air networks
• SATCOM Part 2
• Ruggedised computing Part 1
Sep/Oct 2016
(Milcom, Euronaval, EW Asia, Indo Defence, Radar)
• Naval C2
• Ruggedised computing Part 2
• SIGINT
• GEOINT
Nov/Dec 2016
(AOC Annual, I/ITSEC)
• EW – jamming
• Army battle management
• EO/IR
• Sub surface comms
Shephard Media is delighted to announce that our range of defence, aerospace and security magazines are now available through dedicated Apps for both Android and Apple devices.

Optimised for mobile viewing, the App allows readers to download and view each issue offline, and provides additional content such as interactive links, slideshow galleries, animations, video and more.

The first issue in each App is free to download and all issues will soon be available free to access for Shephard Plus subscribers using their existing Shephard Plus login details.

We hope you enjoy this great new way to access your favourite magazines.