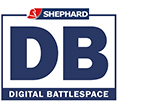 Subscribe
Digital Battlespace is the only dedicated publication delivering news, information and analysis for the global C4ISR community. The bi-monthly publication and dedicated online news service extend Shephard's existing services to the global C4ISR community, and reinforce the success of the company's related handbooks and events.
The DB team delivers timely news, analysis and comment on the pressing issues facing the C4ISR community. The magazine is delivered to a hand-picked audience of government and military decision-makers and opinion leaders throughout the globe and the audience keep in touch with issues on a day to day basis through the dedicated www.digital-battlespace.com portal.
Through Shephard's team of in house journalists and expansive, global network of dedicated correspondents, DB covers the widest possible range of issues of concern to the C4ISR practitioners, covering everything from sensor development to network generation, through concepts of operation to procurement practices.
Whether you are an expert wanting to know the challenges facing the C4ISR community, or a company wanting to reach the right decision-makers, DB is the only magazine that you can rely on to deliver.
EDITORIAL COMMENT
Battle for bandwidth
NEWS
• US intel cell aids largest anti-Daesh air strike
• Deal reached for Qatari early warning radar
• Terma and CET Group form partnership
• Additional radars targeted for Kuwait
• Waving through better urban comms
SUBTERRANEAN COMMS BLUES
Operations underground present serious communications challenges, and new technologies are emerging to meet this need.
DIGITAL STRIKE
EW capabilities have drastically improved in recent times, and have become a vital element on today's battleground.
TRACKING THE TARGET
Radar/EO tracking and fire control systems continue to find favour among many of the world's navies.
THROUGH THE WALL
Advances in ultra-wideband radar technology are helping soldiers identify enemy targets and rescue trapped civilians.
MIND THE GAP
A growing requirement for SATCOM has seen an increase in both military and commercial services.
WARNING SIGNS
Specific needs in the Asia-Pacific region are being met by small fleets of sophisticated AEW aircraft.
PARTING SHOT
ANALYSE THIS
Video analytics play an important role in the IDF. Joe Charlaff speaks to Maj Nitzan Malca, head of the operational video section in its C4I technology division, about the benefits that this capability brings.
Jan/Feb 2017
Features
Asia-Pacific aircraft BMS
Middle East military communications
Naval fire control
SATCOM – Part 1

Event distribution
IDEX (Abu Dhabi, UAE)
Avalon (Geelong, Australia)
AUSA Global (Huntsville, AL, USA)
Satellite 2017 (Washington, DC, USA)
Aero India (Bengaluru, India)

Mar/Apr 2017
Features
Border surveillance – EO/IR
GEOINT systems
ELINT technology
Tactical communications

Event distribution
LIMA (Langkawi, Malaysia)
Sea-Air-Space (National Harbor, MD, USA)
LAAD (Rio de Janeiro, Brazil)
IDEF (Istanbul, Turkey)

May/Jun 2017
Features
SATCOM 2 – Part 2
Soldier modernisation
Night and thermal vision
Airborne radar technology

Event distribution
IMDEX (Singapore)
MilSatCom Asia-Pacific (Singapore)
SOFIC (Tampa, FL, USA)
UDT Europe (Bremen, Germany)
CANSEC (Ottawa, Canada)
EW Europe (London, UK)
Paris Air Show (Paris, France)
MilSatCom USA (Arlington, VA, USA)

Jul/Aug 2017
Features
COMINT
GEOINT
Naval C2
Land BMS

Event distribution
MSPO (Kielce, Poland)

Sep/Oct 2017
Features
Soldier headsets
Naval radar programmes
Land C2
Mobile ad-hoc networking

Event distribution
DSEI (London, UK)
AFA Air, Space & Cyber
(National Harbor, MD, USA)
Modern Day Marine (Quantico, VA, USA)
AUSA Annual (Washington, DC, USA)
Seoul ADEX (Seoul, South Korea)
Milcom (TBC)

Nov/Dec 2017
Features
SATCOM – Part 3
EO/IR
Airborne C2
Jamming technology

Event distribution
Global MilSatCom (London, UK)
Defence & Security (Bangkok, Thailand)
Dubai Airshow (Dubai, UAE)
I/ITSEC (Orlando, FL, USA)
AOC Annual (Washington, DC, USA)
Gulf Defence (Kuwait)

Jan/Feb 2018
Features
Cyber
EW
Rugged systems
Border surveillance

Event distribution
Singapore Airshow (Singapore)
DefExpo 2018 (India)
Shephard Media is delighted to announce that our range of defence, aerospace and security magazines are now available through dedicated Apps for both Android and Apple devices.

Optimised for mobile viewing, the App allows readers to download and view each issue offline, and provides additional content such as interactive links, slideshow galleries, animations, video and more.

The first issue in each App is free to download and all issues will soon be available free to access for Shephard Plus subscribers using their existing Shephard Plus login details.

We hope you enjoy this great new way to access your favourite magazines.