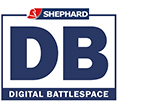 Subscribe
Digital Battlespace is the only dedicated publication delivering news, information and analysis for the global C4ISR community. The bi-monthly publication and dedicated online news service extend Shephard's existing services to the global C4ISR community, and reinforce the success of the company's related handbooks and events.
The DB team delivers timely news, analysis and comment on the pressing issues facing the C4ISR community. The magazine is delivered to a hand-picked audience of government and military decision-makers and opinion leaders throughout the globe and the audience keep in touch with issues on a day to day basis through the dedicated www.digital-battlespace.com portal.
Through Shephard's team of in house journalists and expansive, global network of dedicated correspondents, DB covers the widest possible range of issues of concern to the C4ISR practitioners, covering everything from sensor development to network generation, through concepts of operation to procurement practices.
Whether you are an expert wanting to know the challenges facing the C4ISR community, or a company wanting to reach the right decision-makers, DB is the only magazine that you can rely on to deliver.
EDITORIAL COMMENT
Keep R&D running

NEWS
• Thales dissolves JV with Hanwha
• USAF amends new radar contract
• Japanese communications satellite damaged
• OSI to supply NZ frigate upgrade radar
• DyNAMO data sharing tests begin
EFFECTIVE COMMUNICATION
The contemporary operating environment continues to throw up evolving challenges for special operations forces seeking to successfully execute missions in increasingly congested and contested theatres.
COMPATIBLE INTERESTS
Development of naval C2 systems has long pushed for wider interoperability with other armed forces and the ability to integrate unmanned systems seamlessly. Recent months have witnessed significant milestones for some of the world's leading navies.
MULTIPLE CHOICE
While providing crucial support to EW, ELINT needs to modernise to stay relevant in a developing market of receiver systems.
ARRAY OF BENEFITS
Developments in the hardware and software of airborne radar show that scanned arrays are evolving to match the threats of the future.
MAPPING THE FUTURE
Situation awareness in the field is reliant on relevant and up-to-date mission data being available to the tactical operator in a way that is easy to access and customised to suit the mission at hand.
TOUGH LOVE
The battlefield has become an increasingly digitised environment. The computers used by soldiers share some similarities with the devices used in other industries and even with civilian systems. However, there is a wide array of unique demands made in the military sphere.
PARTING SHOT
UNDER CONTROL
Underwater communication has always had significant challenges to overcome, but BAE Systems Electronic Systems is engaged in a programme that hopes to open up the seas to UUVs. Tim Fish talks to Geoff Edelson, director of maritime systems and technology, about the company's latest effort.
Nov/Dec 2015
(EW Saudi Arabia, AOC Annual)
• Mobile ad-hoc networking
• Air defence networks
• Jamming
• Data management
Jan/Feb 2016
(DefExpo)
• Earth observation GEOINT
• Air defence radar
• Displays/handheld
• Naval BMS
Mar/Apr 2016
(DSA)
• Naval radar
• Asian tactical comms
• SATCOM
• Special mission aircraft

May/Jun 2016
(SOFIC, CANSEC, ILA Berlin, Eurosatory
• Connectors
• COMINT
• Defence IT Infrastructure
• Urban terrain awareness

Jul/Aug 2016
(Farnborough International Airshow)
• Soldier modernisation
• Tactical air networks
• SATCOM Part 2
• Ruggedised computing Part 1
Sep/Oct 2016
(Milcom, Euronaval, EW Asia, Indo Defence, Radar)
• Naval C2
• Ruggedised computing Part 2
• SIGINT
• GEOINT
Nov/Dec 2016
(AOC Annual, I/ITSEC)
• EW – jamming
• Army battle management
• EO/IR
• Sub surface comms
Shephard Media is delighted to announce that our range of defence, aerospace and security magazines are now available through dedicated Apps for both Android and Apple devices.

Optimised for mobile viewing, the App allows readers to download and view each issue offline, and provides additional content such as interactive links, slideshow galleries, animations, video and more.

The first issue in each App is free to download and all issues will soon be available free to access for Shephard Plus subscribers using their existing Shephard Plus login details.

We hope you enjoy this great new way to access your favourite magazines.