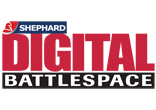 Subscribe
Digital Battlespace is the only dedicated publication delivering news, information and analysis for the global C4ISR community. The bi-monthly publication and dedicated online news service extend Shephard's existing services to the global C4ISR community, and reinforce the success of the company's related handbooks and events.
The DB team delivers timely news, analysis and comment on the pressing issues facing the C4ISR community. The magazine is delivered to a hand-picked audience of government and military decision-makers and opinion leaders throughout the globe and the audience keep in touch with issues on a day to day basis through the dedicated www.digital-battlespace.com portal.
Through Shephard's team of in house journalists and expansive, global network of dedicated correspondents, DB covers the widest possible range of issues of concern to the C4ISR practitioners, covering everything from sensor development to network generation, through concepts of operation to procurement practices.
Whether you are an expert wanting to know the challenges facing the C4ISR community, or a company wanting to reach the right decision-makers, DB is the only magazine that you can rely on to deliver.
EDITORIAL COMMENT
Keeping up with the times

NEWS
• F-16 upgrade looks to increase RSAF flexibility
• Gulf states receive Patriot upgrades
• Philippines hunts for C4ISTAR and radars
• SDSR outlines defence against cyber attacks
• USSOCOM EW contracts awarded for C-130Js

WATCH THIS SPACE
Effective collection and dissemination of geospatial intelligence has never been richer. However, a number of emerging concepts, implementations and technological developments could push capabilities even further.

IN THE MIX
Sophisticated threat environments and a proliferation of different platform types using multiple standards are complicating the transmission of data between airborne combat, support and ISTAR assets. What options are in the pipeline to get these aircraft talking to each other?

WARNING SIGNS
The re-emergence of the RF threat in the airborne arena has sparked an upsurge in interest in a new generation of radar warning receiver systems.

SCREENING PROCESS
With commercial industry launching new versions of handheld devices every few months, the knock-on effect has been militaries around the world utilising these developments in their own modernisation programmes.

SKY SEARCHERS
Air defence radar has become a mainstay in the toolkit of deployed forces, helping provide early warning of incoming battlefield threats.

INTERVIEW
XPRESS DELIVERY
With a number of governments now looking to commercial satellite operators for their military SATCOM, Inmarsat is working closely with a several countries to provide bespoke capabilities from its Global Xpress constellation. Beth Maundrill talks to Andy Start, president of the company's Global Government business unit, about this trend.
Nov/Dec 2015
(EW Saudi Arabia, AOC Annual)
• Mobile ad-hoc networking
• Air defence networks
• Jamming
• Data management
Jan/Feb 2016
(DefExpo)
• Earth observation GEOINT
• Air defence radar
• Displays/handheld
• Naval BMS
Mar/Apr 2016
(DSA)
• Naval radar
• Asian tactical comms
• SATCOM
• Special mission aircraft

May/Jun 2016
(SOFIC, CANSEC, ILA Berlin, Eurosatory
• Connectors
• COMINT
• Defence IT Infrastructure
• Urban terrain awareness

Jul/Aug 2016
(Farnborough International Airshow)
• Soldier modernisation
• Tactical air networks
• SATCOM Part 2
• Ruggedised computing Part 1
Sep/Oct 2016
(Milcom, Euronaval, EW Asia, Indo Defence, Radar)
• Naval C2
• Ruggedised computing Part 2
• SIGINT
• GEOINT
Nov/Dec 2016
(AOC Annual, I/ITSEC)
• EW – jamming
• Army battle management
• EO/IR
• Sub surface comms
Shephard Media is delighted to announce that our range of defence, aerospace and security magazines are now available through dedicated Apps for both Android and Apple devices.

Optimised for mobile viewing, the App allows readers to download and view each issue offline, and provides additional content such as interactive links, slideshow galleries, animations, video and more.

The first issue in each App is free to download and all issues will soon be available free to access for Shephard Plus subscribers using their existing Shephard Plus login details.

We hope you enjoy this great new way to access your favourite magazines.