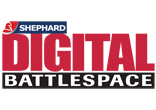 Subscribe
Digital Battlespace is the only dedicated publication delivering news, information and analysis for the global C4ISR community. The bi-monthly publication and dedicated online news service extend Shephard's existing services to the global C4ISR community, and reinforce the success of the company's related handbooks and events.
The DB team delivers timely news, analysis and comment on the pressing issues facing the C4ISR community. The magazine is delivered to a hand-picked audience of government and military decision-makers and opinion leaders throughout the globe and the audience keep in touch with issues on a day to day basis through the dedicated www.digital-battlespace.com portal.
Through Shephard's team of in house journalists and expansive, global network of dedicated correspondents, DB covers the widest possible range of issues of concern to the C4ISR practitioners, covering everything from sensor development to network generation, through concepts of operation to procurement practices.
Whether you are an expert wanting to know the challenges facing the C4ISR community, or a company wanting to reach the right decision-makers, DB is the only magazine that you can rely on to deliver.
Comment
Editor Tim Fish discusses the challenges surrounding protection of buildings, vessels and aircraft from EMP threats.

News
• INS deal for South Korean howitzers
• Indonesia employs NEC for cyber security
• Russia readies EW systems for export
• French Army gets MASA SWORD licence

Casting the net
Providing reliable tactical communications in forward areas with no fixed infrastructure or SATCOM coverage is one of the core C4ISR challenges facing modern militaries. Andrew White explores how MANET technology can fulfil this requirement.

Jam sessions
A new wave of electronic attack systems is confronting the issue of suppressing enemy communications while ensuring minimal collateral disruption to allied capabilities. Peter Donaldson reports on recent developments.

Coming together
Through its Command Post Computing Environment project, among other efforts, the US Army is attempting to simplify command post infrastructures, deliver integrated information and improve user experiences. Scott R Gourley looks at the progress being made.

Full spectrum
To effectively neutralise the wide range of airborne threats active in today's military theatres, modern air C2 systems are becoming increasingly networkcentric, with a growing emphasis on interoperability with other systems and flexible communications, finds Jonathan Tringham.

Best mates
The cables and connectors industry is needing to innovate to ensure people, vehicles and buildings remain protected, while capability and weight requirements are met. Beth Maundrill examines how companies are responding.

Crossing boundaries
Ensuring the plethora of sensors and end users in the modern networked battlefield can communicate and share data with each other requires the use of common software and protocols. Grant Turnbull examines current industry and national efforts to 'de-stovepipe' C4ISR.

Final Word
Richard Thurston, international business development director at L-3 National Security Solutions, talks to Nick Watts about his work on the UK's Cyber Growth Partnership campaign in the US.
Nov/Dec 2014
• Maritime ISR
• MOTS battle management system
• Defence biometrics
• Tactical communications support
Jan/Feb 2015
(AFCEA West, IDEX, Aero India, Avalon)
• Maritime EW
• Tactical communications
• Next-generation power
• Land C2
Mar/Apr 2015
(LIMA, AUSA Winter, Sea-Air-Space, LAAD, Interpol World, IDEF)
• Border surveillance
• Vehicle digitisation
• Ground-based radar
• SATCOM

May/Jun 2015
(IMDEX, UDT Europe, Paris Air Show)
• Maritime radars
• Airborne surveillance
• Direction finding
• Underwater communications

Jul/Aug 2015
(MSPO)
• Intelligent EO/IR
• Airborne early warning
• Soldier modernisation
• COMINT
Sep/Oct 2015
(AUSA Annual, DSEi, Modern Day Marine, ADEX)
• Software-defined radios
• Cyber warfare
• Ruggedised computing
• Maritime C2
Nov/Dec 2015
(Defense and Security, Dubair Airshow, AOC Annual)
• Mobile ad-hoc networking
• Air defence networks
• Jamming
• Data management
Shephard Media is delighted to announce that our range of defence, aerospace and security magazines are now available through dedicated Apps for both Android and Apple devices.

Optimised for mobile viewing, the App allows readers to download and view each issue offline, and provides additional content such as interactive links, slideshow galleries, animations, video and more.

The first issue in each App is free to download and all issues will soon be available free to access for Shephard Plus subscribers using their existing Shephard Plus login details.

We hope you enjoy this great new way to access your favourite magazines.