Home

>

News

>

IDEX 2023: EDGE details core business strategies after Milrem acquisition
IDEX 2023: EDGE details core business strategies after Milrem acquisition
EDGE believes its 'organic expansion' can include further acquisitions and mergers if the technology is a right fit.
A week after announcing the acquisition of a majority stake in Estonia's Milrem Robotics, EDGE showcased three of its UGVs and eight other uncrewed solutions at IDEX 2023.
Edge director for international business Miles Chambers told Shephard at the show that the company is focusing on three core strategic areas: autonomous systems; precision-guided munitions; and EW.
'In addition to that, we have a lot of continued investment and capability in conventional equipment such as armoured vehicles or navy vessels,' he added.
Nevertheless, the company's main focus is on autonomous capabilities, with the number of such systems exhibited at its stand clearly underlining this.
Chambers said a lot of new platforms have been launched and exhibited at the show that expand on existing ranges.
'Moving across other domains and we are taking [our] autonomous capability and looking at how we grow into areas like UGVs,' he said.
'With that, we are identifying key industry leaders in that domain as a way of accelerating our own capability in terms of UGVs, which is why we looked at the collaboration with Milrem in taking taking a strategic stake in the organisation.'
Asked how EDGE's own UGV systems can coexist with the additional Milrem platforms, Chambers said they complement each other.
'They have certain capabilities in a segment of UGV, which is not necessarily overlapping with what we are doing, but we are absolutely looking at merging these capabilities and technologies,' he explained.
Chambers also emphasised the importance of keeping the pre-acquisition Milrem team intact and engaged with future operations.
What EDGE will bring to the table, he said, is additional identified requirements from other markets where Milrem had not been engaged. This could happens in the context of joint programmes.
'Also, [we are] looking at how other capabilities in different areas of EDGE that make sense in terms of integrating those to more platforms – be that loitering munitions, EW capability – [can] provide a turnkey solution in the market,' Chambers said.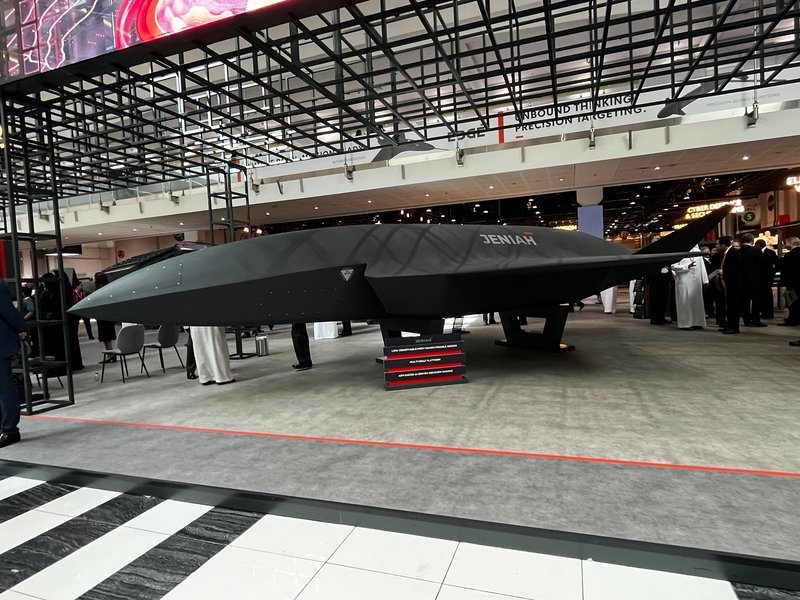 The JENIAH combat UAS with a 'a substantial payload, extended range, and capable of operating at high speed'. (Photo: author)
Talking about EDGE's future, he said the company's approach to mergers and acquisitions is always about identifying companies with great tech, regardless of the size of a given organisation.
'I think that is naturally a part of EDGE's organic growth and expansion into the market,' Chambers elaborated. 'One way is to grow in size in terms of expanding and export sales, which we are doing aggressively if we just look at the domestic market, internationally.
'But the other way of growth and expansion is through acquisition, and when we do that, we make sure that those technologies are a good fit for the organisation, and that bring capability into the group.'
At the same time, through such acquisitions EDGE also brings value to those organisations and companies.
EDGE is currently exports to more than 20 countries around the world.
On the first day of IDEX, the company announced an approximately $1 billion contract which will see group company Abu Dhabi Ship Building (ADSB) build a fleet of 71m corvettes for the Angolan Navy.
Other uncrewed systems displayed by EDGE at the show include the JENIAH combat UAS with a 'a substantial payload, extended range, and capable of operating at high speed', according to a datasheet released by the company.
Shephard's IDEX and NAVDEX 2023 coverage is sponsored by: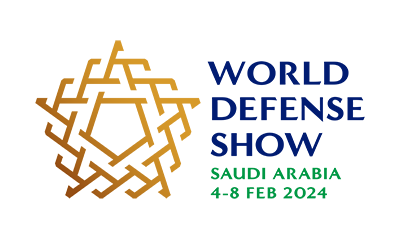 More from IDEX and NAVDEX 2023 | View all news