Home

>

News

>

Germany's potential SCAF exit for GCAP unpacked
Germany's potential SCAF exit for GCAP unpacked
The leaked information about Germany leaving the Future Combat Air Systems (FCAS/SCAF) project and joining the rival Global Combat Air Programme (GCAP) hints at the growing complexities and tensions within the Franco-German partnership.
French President Emmanuel Macron and then German Chancellor Angela Merkel first announced plans in July 2017 for the Future Combat Air System (FCAS/SCAF), which included a sixth-generation fighter jet and a range of associated weapons, such as UAS, remote carriers and other technologies.
Rumours first reported by The Times suggest that Germany is contemplating leaving its €100 billion (US$106 billion) future combat jet project with France to potentially join a rival effort, the Global Combat Air Programme (GCAP). Experts have cautioned against interpreting this leak as the ultimate collapse of the partnership, however, emphasising the ongoing complexities of negotiations.
James Black, assistant director of defence and security and European lead at the think tank Rand Europe, believes that while it would not be surprising if Germany looked outside of SCAF for a better deal, the suggestion should be taken with a great deal of scepticism.
Related Articles
Belgium joins FCAS programme at Paris Air Show 2023
Saudi Arabia's bid to join GCAP: divisions, financial clout and geopolitical stakes
Italy doubles GCAP combat air funding to over $8 billion in latest defence budget
'It is no secret that negotiations between Paris and Berlin on the requirements, funding, industrial workshare and export arrangements for SCAF have been tense at times, spilling over into public at several points,' Black remarked when speaking to Shephard.
For more than a year, both parties have been grappling with the challenge of reaching a consensus on the future phases of SCAF development. Frictions in defence cooperation tend to emerge over IP rights or distributional issues related to workshare in joint procurement ventures.
Berlin has committed a substantial €40 billion (U$43.2 billion) investment for SCAF. Nevertheless, the project has encountered several setbacks, including delays and disagreements concerning design and financial aspects.
Some reports have attributed responsibility to France's Dassault, as the company remained persistent in a prolonged dispute regarding intellectual property rights. Meanwhile, other sources have pointed fingers at Airbus for pushing for a greater share of the work in the Dassault-led project, contending that it should enjoy 'equal standing' alongside the French company.
Franco-German relationship and defence projects
Black pointed out that despite the close partnership between the two EU countries, Germany had had a track record of working more closely on fighter jets with the UK and Italy (Tornado and Eurofighter). In contrast, France has typically pursued such efforts alone, making the country less experienced in collaborative programmes in the air domain.
'Germany has also frustrated its French partner with its decision to acquire F-35 from the US to fulfil its dual-capable nuclear role within NATO – a move that has been decried by French industry as incompatible with SCAF's goal of boosting European strategic autonomy,' Black added.
It is also conceivable, Black said, that a possible consideration of Germany leaving SCAF and joining GCAP could be interpreted within the framework of negotiation tactics employed by different parties aiming to enhance their bargaining power in potential agreements.
'The threat of departing SCAF may simply be an attempt by some on the German side to pressure French and Spanish counterparts into accepting Berlin's demands for its role within that programme,' he explained.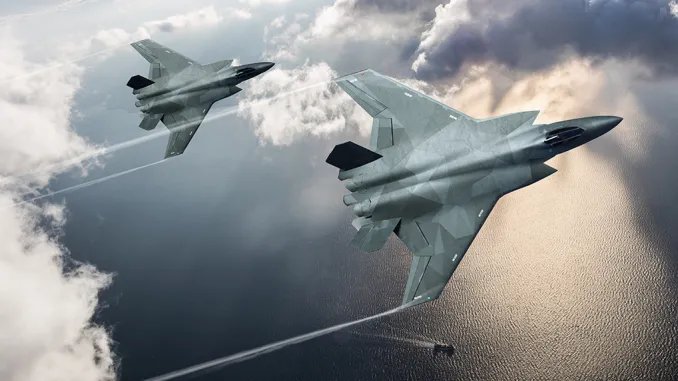 Joining GCAP would appear to be challenging for Germany, especially as a Tier 1 partner. (Photo: BAE Systems) 
Black added that while the leak indicates continuing tension within the 'complex and highly political negotiations', it does not necessarily signal the collapse of the partnership.
Isabella Antinozzi, research analyst for defence, industries and society at the Royal United Services Institute (RUSI), agreed. 
'My take is that it's not necessarily a false leak,' Antinozzi said. 'It's not an unfounded decision, but for now I wouldn't exclude that it's come out to make headlines and, thereby, gain more leverage in conversations with France.'
A breakdown in the SCAF collaboration between France and Germany could also have a knock-on effect on relations and willingness to partner in other defence project, Black said. This could include the Main Ground Combat System (MGCS) programme that aims to improve the mobility and protection of both country's main battle tank fleets. 
Potential prospects for SCAF and GCAP
The SCAF project has often been considered Europe's largest defence project. It was originally meant to unify Europeans after the migration crisis and Britain's decision to leave the EU.
However, Germany's potential choice to join the Italy-Japan-UK-run programme could be fuelled by a number of issues. Berlin and Paris have been growing increasingly divergent on a range of issue, spanning from energy and air defence, to diplomatic conventions.
France has also criticised Scholz's Sky Shield Initiative, the Germany-led project that seeks to create a European air and missile defence system through a common acquisition of such equipment. Berlin might also be facing frustration due to the anticipated delays in the development of the fighter jet component within the SCAF programme.
Initial plans to replace France's Rafale and the German and Spanish Eurofighters with the sixth-generation jet were scheduled for 2040. But Eric Trappier, CEO of Dassault Aviation, said last December that due to delays, the programme 'is likely headed for the 2050s'.
Antinozzi said that sources close to the matter claim Germany has been 'waiting for the French to give them an excuse to leave' the programme, but joining GCAP would not be so simple.
'It's quite easy to understand why the Germans are unhappy with the French, but I don't think joining GCAP would be that easy,' she explained. 'It would most certainly be impossible to join as a Tier 1 partner – from my understanding, there is no other room at the top table.'
As seen above, negotiations for large-scale projects such as GCAP and SCAF are time-consuming. Including a new member in the GCAP alliance would inevitably prolong decision-making and impede programme progress. Additionally, as Shephard reported previously, Japan has shown limited interest in involving new partners in the effort and wants to focus on a steady pace forward and a secure alliance.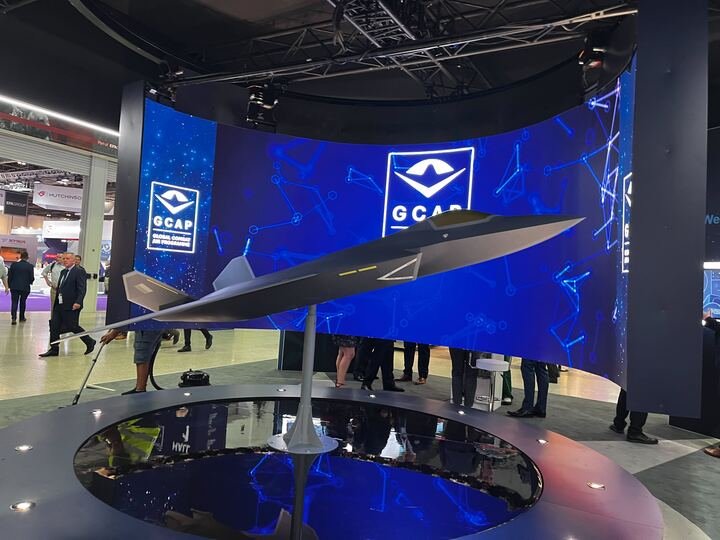 FCAS/SCAF and GCAP could be brought closer to each other through a European air combat standardisation. (Photo: Author) 
A source who requested anonymity due to the sensitive nature of the matter told Shephard that the Japanese are not entirely content about Italy's participation in the programme. 
'They're apparently still dissatisfied with Italy's budget allocation even after the latest announcement [that increased the county's GCAP budget],' the source revealed. 'They think it's something positive, but does not [necessarily justify equal workshare].' 
Black also noted that locking down requirements, joint venture arrangements and workshare early on is critical to hitting ambitious delivery timelines in SCAF and GCAP.
'Certainly, there have been questions raised about the prudence and realism of Europe hosting two competing future combat air programmes – further dividing its already fragmented and limited financial, technological and industrial resources,' he explained.
'There's also a pressing need to ensure interoperability between future European and NATO air forces. As such, there is both a political and practical imperative to collaborate or at very least de-conflict between the two programmes in future where possible.'
The two future air fighter programmes could be brought closer to each other through a European air combat standardisation.
Germany's arms export ban to Saudi Arabia
The Times' report additionally mentioned that, in preparation for a potential agreement, the German chancellor has reportedly been in talks to resolve Berlin's opposition to supplying Eurofighter Typhoon jets to Saudi Arabia, a move that the UK deemed a critical strategic imperative.
Asked whether Berlin could use the arms embargo to 'strongarm' London into a GCAP agreement, Black said: 'All parties look to exercise leverage to secure sovereign advantage when entering into any multinational defence programme. Germany's reluctance around exporting arms to Saudi Arabia and others has been both a source of tension with the UK and its partners on Eurofighter, and a concern for the French and Spanish on SCAF as they think ahead to the likely exportability of SCAF's products.'
He added that there is sizable pressure from both the UK and France to clarify the German approach to current and future arms exports.
Shephard's Dubai Airshow 2023 coverage is sponsored by:
More from Dubai Airshow 2023 | View all news