Home

>

News

>

IMDEX 2023: Trio of naval programmes bolster Singaporean naval capabilities
IMDEX 2023: Trio of naval programmes bolster Singaporean naval capabilities
The Singaporean Navy will be bolstered over the next decade with programmes for three new classes of vessels, including multi-role combat vessels, multi-mission ships and new submarines.
Worth almost $7 billion in total, the development of the new naval capabilities over the next decade will see submarine deliveries beginning this year, multi-role combat vessels entering service from 2028 and a contract for the multi-mission ships in 2027 or 2028.
The Multi-Role Combat Vessels will replace the Singaporean Navy's class of six Victory-class corvettes with an equal number of ships. Saab and ST Engineering have been selected to design and build future vessels.
In the late 2020s, the Joint Multi-Mission Ships (JMMS) will replace the four in-service Endurance-class LPDs. Singapore is courting domestic and foreign solutions for the effort.
Related Articles
Singapore launches Invincible-class submarine
Singapore selects Saab and ST Engineering for Multi-Role Combat Vessel
Brunei receives a first ex-Singaporean patrol vessel
Finally, having placed a contract for the first two new Invincible-class (Type 218SG) SSKs in 2013 and a 2017 order for two more, the first submarine is expected for delivery in 2023. The last of the four boats are scheduled for delivery in 2025.
In the short term, the RSN also seeks to acquire a pair of ocean patrol vessels to complement those ships already conducting constabulary missions.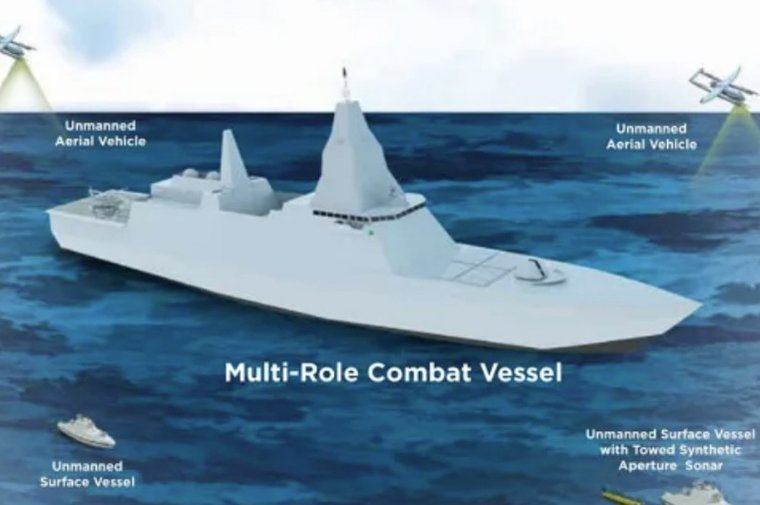 An image of the concept for Singapore's new Multi-Role Combat Vessel. (Image: Singapore MINDEF)
Multi-Role Combat Vessels
With its Victory-class corvettes retiring in 2025, Singapore is pressing ahead with a programme for six new Multi-Role Combat Vessels, selecting Saab and ST Engineering to build the ships earlier this year.
Conceived as more motherships than conventional platforms, the ships will host UAVs, USVs, and UUVs.
Under a contract signed in March 2023, it emerged that the first of the vessels would be delivered in 2028.
ST Engineering is responsible for the procurement and integration of platform equipment and government-furnished equipment.
The six ships will be built at ST Engineering's Singapore facility. Shephard Defence Insight estimates that construction work will begin next year to achieve the 2028 entry into service for the first ship.
Singapore's Defence Science and Technology Agency (DSTA) and Saab will co-develop and design the future Multi-Role Combat Vessel.
This three-way arrangement is not out of the ordinary for Singapore, having procured its six Independence-class Littoral Mission Vessels in a similar manner.
Joint Multi-Mission Ships
Singapore announced its plans to replace its current LPDs with a new class of vessels, the Joint Multi-Mission Ships, in 2014.
The Singaporean MoD requires larger ships capable of projecting helicopter assets and performing humanitarian assistance and disaster relief (HADR) operations.
The future JMMS will reportedly have twice the displacement of the Endurance-class ships, putting it in the realm of 17,000t.
Potential contenders for the programme include ST Engineering's Endurance 170 LHD and foreign designs akin to the Dokdo, Hyuga, or Mistral classes.
Should Singapore opt for a 17,000t ship, Shephard Defence Insight estimates it would be unlikely to procure more than two due to operational requirements and personnel needs.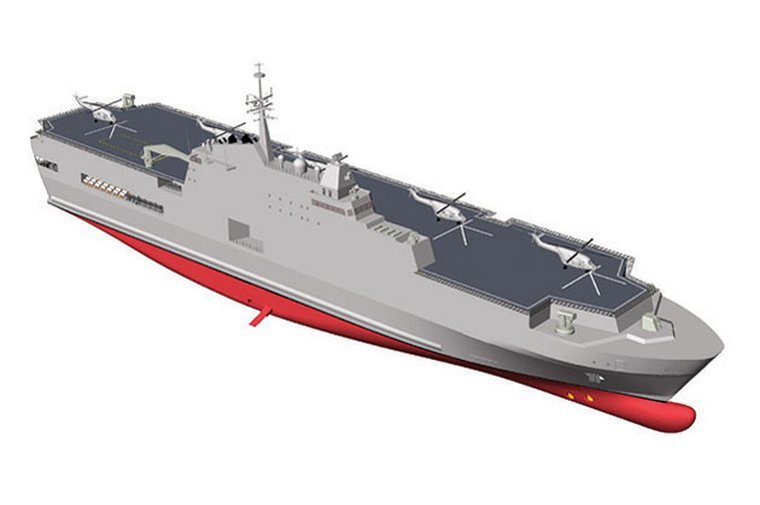 ST Engineering's Endurance 170 LHD design is larger than the existing Endurance-class ships. (Photo: ST Engineering)
Shown at IMDEX 2017, ST Engineering's Endurance-170 LHD design can operate as a multipurpose command and support vessel for a wide range of maritime operations.
The Endurance-170 has a whole load displacement of 19,000t and measures 170m long, with a beam of 30m and a draft of 6m.
With Singapore procuring the F-35B fighter, it has been speculated that future vessels could be used to operate the short take-off vertical landing (STOVL) fighter.
Singapore is unique because it is the only customer with no plans to deploy the F-35B from ships. Singapore opted for the F-35B, considering the nation's space constraints and to reduce airfield dependency.
Invincible-class submarines
Germany's ThyssenKrupp Marine Systems (TKMS) Is building four Invincible-class Type 218SG submarines for Singapore based on Type 214 and Type 216 designs.
The new submarines are replacing the Challenger class bought from Sweden in the 1990s. Singapore also bought two more ex-Swedish Navy Vastergotland-class boats in the 2010s, renaming them the Archer-class.
The first boat, Invincible, was laid down in 2014 and is currently undergoing sea trials ahead of its expected commissioning this year. The subsequent boats, Impeccable, Illustrious, and Inimitable, will be delivered in 2024 and 2025.
| | |
| --- | --- |
| | |
| Title | Invincible Class (Type 218SG) |
| Categories | Vessels |
| Subcategories | Submarines: conventional, attack |
| Suppliers | ThyssenKrupp Marine Systems |
| Region | EUROPE |
| Manufacturer Country | GERMANY |
| Total Ordered | 4 |
| Total Delivered | U |
| Unit Cost (US$) | 450000000.00 |
| First Delivery Date | 2023 |
| Out Of Service Date | U |
| Status | In production |
| Length 1 (overall) | 70m |
| Width 1 (overall) | 6.3m |
| Weight 1 (overall) | 2,200t |
| Speed 1 (maximum) | 15kt |
| Crew | 28 |
| Depth 2 (draft) | U |
| Range 1 (overall travel) | U |
| Depth 1 (overall) | U |
| Passengers | U |
✅ This data has been verified by the same team that brings you Defence Insight. Want to learn more?
The boats are custom-designed to operate in Singapore's shallow and busy tropical waters. The design features an X-rudder for better shallow water manoeuvrability and a jointly-developed Atlas Elektronik-ST Engineering combat management system.
Each boat will have a submerged displacement of 2,200t and be powered by an air-independent propulsion system.
More from IMDEX Asia 2023 Show News