Home

>

News

>

Exclusive: Royal Navy Second Sea Lord on ships, the defence command paper, and the future Indo-Pacific presence
Exclusive: Royal Navy Second Sea Lord on ships, the defence command paper, and the future Indo-Pacific presence
The UK Royal Navy's Second Sea Lord VAdm Martin Connell said it shouldn't be a surprise that adjustments must be made ahead of a hotly anticipated new Defence Command Paper and praised the progress made by HMS Tamar and Spey in reinforcing the UK's commitment to the Indo-Pacific.
In an exclusive interview at IMDEX Asia 2023 Singapore, the VAdm said while the Integrated Review (IR) Refresh reinforced the 2021 IR, it recognised the impact of the war in Ukraine and the lessons learned from it.
'The Defence Command will bring up to speed what we need to do to have the force that the UK Armed Forces needs, not just today but what it will need in 2030 to 2035,' VAdm Connell explained.
'I think there will be a recognition that we can make judgments at time of a strategic review, which we did a few years ago. And it's reassuring that most of those judgments hold true two, three years later.
Related Articles
IMDEX 2023: Aeronautics sees growing interest in maritime UAV integration
IMDEX 2023: Fincantieri seeks to satisfy conditions for Indonesian FREMM frigate deal
Abeking & Rasmussen prepares to hand over Indonesian minehunters
'But we shouldn't be surprised that with the rate of change of technology, that we have to make adjustments in terms of the military use, how we need to adapt, and I think that's what the Integrated Review refresh has said.'
The Second Sea Lord added that we were in an 'unstable world', which has consequences for the UK Armed Forces and the RN.
He added: "In the Royal Navy, we've got to balance some of the challenges, and there are challenges in the supply chain, through COVID and globally, as a result of the war in Ukraine. You've got to manage strategic programmes such as building warships, and submarines, as well as exploiting opportunities to procure capability as quickly as we can.
'That's what we're doing as a Royal Navy. There are capabilities we're bringing in service fairly rapidly. And then we're also the custodians of strategic programmes such as submarines.'
One subject of contention for the RN has been conflicting reports about the Type 32 frigate programme, announced as part of the 2021 IR and billed as an asset to grow the fleet and support operations of the UK's Future Commando Force (FCF).
Asked how important it was for the RN to get the platform, Connell said: 'I don't particularly worry about different number types, Type 31, Type 32, Type 33; Let's not worry what we're calling a class of ship, what I do worry about is getting the capabilities into the navy to meet the demands and expectations of what we're expected to do.
'And you probably won't be surprised to hear that as a Second Sea Lord, I want to get new capabilities and new ships online as quickly as we can.'
He added: 'That's why I say to our partners building Type 31, Babcock, that we want you to hit schedule milestones we've agreed so that we can get those ships into service operation as quickly as possible. And I say to our partners BAE systems that I want Type 26 to be in service as quickly as possible.'
The UK RN has already retired two Duke-class Type 23 frigates, HMS Montrose and Monmouth in-line with the 2021 IR, with the Second Sea Lord saying the UK had got a good return on investment out of the two vessels during their service lives.
'Decisions on the specifics of the Type 32 will be made in the fullness of time. I'm focused on the two frigate programmes we've got underway and that's exciting for us as a navy to have two new frigates coming online in the next few years.
'I think many of my fellow Chiefs and Deputy Chiefs of Navy would be envious of the fact we've got two new classes coming online. I'm keen that we get an answer on Type 32 quickly, but that's a political judgement in some ways.'
One of the key aspects of the original IR was the UK's 'tilt' to the Indo-Pacific, which saw a major deployment of the UK's Carrier Strike Group in 2021 followed by the forward deployment of two Batch 2 River-class HMS Tamar and Spey to the region.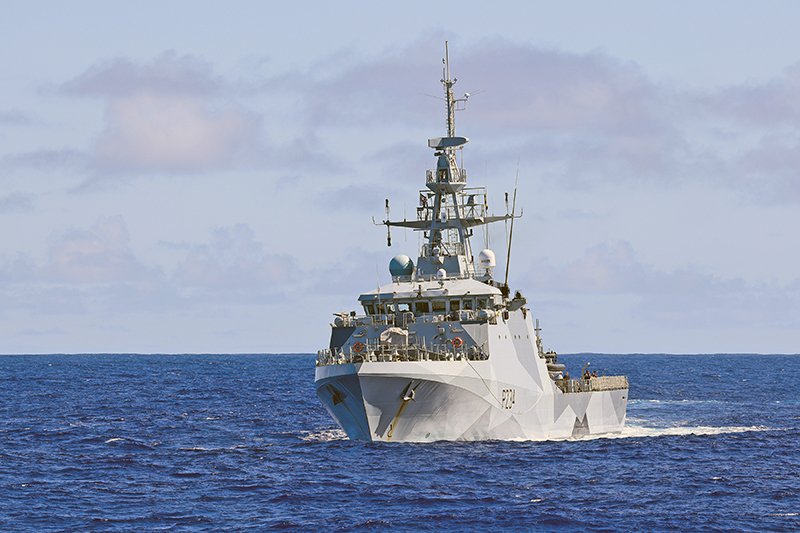 HMS Spey has been operating in the region since 2021, giving the UK RN a persistent presence in the Indo-Pacific. (Photo: UK MoD/ Crown Copyright)
However, the RN has come under criticism from some corners that the service lacks the required hull numbers to make a meaningful contribution to the region.
Connell agreed that this critique may have been valid in the past, but it was less valid now since the deployment of the OPVs and the Carrier Strike Group deployment.
The VAdm said that since the CSG (Carrier Strike Groups) 21 deployment, many partner nations had said it had been ambitious from the outset to go to the Indo-Pacific during the Covid pandemic – adding it was not something many nations would consider doing.
He added: 'We said at the time it wasn't going to be a one-off, that as we build our carrier strike capability, we would be back in this part of the world, and we will.
'We timed it so that we deployed HMS Tamar and Spey at the end of CSG 21. We did so knowing that we didn't have all the pieces in place that we would wish to have, but we did so knowing that we can manage that, and I'm delighted with the progress Spey and Tamar have made out here.'
Connell said two OPVs had 'rekindled' important relationships with some of the smaller nations in the region and offered new opportunities.
Under the AUKUS agreement, the RN will bolster its Indo-Pacific footprint in the coming years with the routine deployment of Astute-class submarines as part of a rotational force out of Australia.
The Second Sea Lord said: 'There have also been the political and economic arrangements since, such as the CPTPP recently. Then there's more to come, in terms of how we might employ the Type 31 in this part of the world when it comes online; how we might deploy a Littoral Response Group to this part of the world when conditions allow and when we return here with the Carrier Strike Group.
'It is building over time. It isn't just flicking a switch, and everything's here, but we do have that persistent presence now. We take the five powers defence arrangements [FPDA] exercises very seriously, even when we haven't got a ship here, we will have people here involved.'
In an example of this, Connell said personnel were currently participating in Exercise Bersama Shield, an annual FPDA effort.
'I would say that our commitment has improved within this region, and it will continue to improve over the next few years.' the VAdm added.
He explained that the service had seen positive feedback from personnel on the structure of the OPV deployment to the region and highlighted learnings the RN had made in terms of supporting ships at reach and maintaining them without having to return them to the UK.
'It's been a success story would be my scorecard on this one, but there's still a bit more room for improvement and that will help us pivot to Type 31 forward deployment.'
The IR discussed plans to augment or replace the OPVs in the region with the Type 31 frigate when it enters service. Connell explained that questions were being asked as to how the navy can be used to support the objectives of the UK in the region working across government.
'Colleagues I'm speaking to in this part of the world say we would really welcome an enhanced UK presence. Just from a maritime domain awareness perspective to have the Royal Navy operating here is as well received.
'There are capabilities that we can fill, and it will build on what we've been doing multi-crewing and supporting OPVs. We will learn from that for Type 31.' He explained.
With maritime trade being so vital to the world economy and so much of it flowing through the Indo-Pacific, disruption can have an impact on people's everyday lives.
Connel said: 'It's really important to the UK's economy that trade can flow unhindered through this part of the world. I don't think it's realistic for us to just expect nation-states in this part of the world to do that on their own - we have a role to play as well.'
He added: 'There isn't just one framework that is the solution here. It's over 50 years since the Five Power Defence Arrangements were put in place. I'm not sure when that was put in place, they would consider it could still be working well 50-plus years on. Well, it is.
'It's reassuring, certainly to our partner nations, that we continue to exercise. It also means we can work better bilaterally, there's a trilateral AUKUS arrangement that is strong now.
'We've got a good bilateral relationship with Japan. I see that going from strength to strength, not just in the air domain with GCAP (Global Combat Air Programme), as we've got a strong maritime relationship now. I think there are bilateral opportunities, trilateral opportunities and multilateral opportunities and The Royal Navy's got a part to play in all of those.'
The UK is not the only country in Europe turning its maritime gaze to the region, as Germany has deployed a frigate to the Indo-Pacific and an Italian OPV is attending IMDEX as part of a wider regional tour.
France also maintains a naval presence in the region due to its geographic footprint and exclusive economic zone.
Asked how European partners could collaborate in the Indo-Pacific, Connell said: 'As navies we routinely operate together already, and we don't take that for granted.
We try and look for opportunities well in advance, either through the convening opportunity an exercise might bring... and we also look to cooperate where we can in terms of task group deployments.'
The VAdm cited CSG 21 as an example bringing together forces from the UK, the US and the Netherlands.
'Interoperable is one thing, interchangeable is something else. That should be our ambition to be interchangeable with our closest partner nations be they European or global.
'The UK and France have routinely worked together on deployments, and we'll continue to do so. That was recently backed up by our Ministers agreeing routine carrier deployments, and I'm delighted about that.
'We continue to work with United States on carrier deployments, both in planning them, looking for those opportunities, and also where necessary integrating.'
Another strength the RN can offer, he added, was the integration of people and not just assets.
Connell concluded: 'I've been in the navy for nearly 36 years now. There is a sense that the Royal Navy is back in this region. I've been in and out of this region on and off throughout my career as a sub-lieutenant, a lieutenant, a lieutenant commander, a commander, a captain. It's not as though we're just arrived.
'Many of us have been schooled in working in this part of the world throughout our career. It's quite heartening to be able to return back out here and reconnect with old friends.'
More from IMDEX Asia 2023 Show News