Home

>

News

>

SOF Week 2023: Bounce Imaging showcases solutions to be deployed in confined space scenarios
SOF Week 2023: Bounce Imaging showcases solutions to be deployed in confined space scenarios
The low size, weight and power devices are designed to enable users to explore challenging environments without exposing them to risky situations.
The supplier of 360° tactical cameras, Bounce Imaging, is showcasing solutions to be deployed in confined space scenarios at the SOF Week exhibition in Tampa (Florida).
The low size, weight and power (SWaP) devices are designed to enable users to explore challenging environments without exposing them to risky situations.
The Recce360 Mini is a baseball-sized solution with real-time panoramic video stitching and stabilisation that connects to any Android Team Awareness Kit (ATAK), Android, or iOS devices.
Related Articles
SOF Week: Teledyne FLIR unveils voice command capability for Black Hornet 3
SOF Week: Northrop Grumman targets US services for the supply of Jackal turbojet loitering munition
SOF Week: USSOCOM seeks commercial solutions for contested environments
Recce360 TW, meanwhile, is fitted with similar features to the Recce360Mini but with additional MANET capabilities via an embedded Trellisware module.
Both Recce360 Mini and Recce360 TW are 360° throwable camera systems. Many users can use them simultaneously by enabling them to look in different directions while recording in all directions for later viewing.
For the two systems, video is stabilized even if the camera is flying through the air. This feature enables operators to figure out where in the room something you see is.
Speaking to Shephard, Francisco Aguilar, CEO at Bounce Imaging, explains that those solutions are extremely intuitive to use and provide 'unmatched situational awareness in a range of environments that drones and robots can't cover'.
'It is also low-cost enough that it is practical to deploy it at the squad level or lower,' he pointed out.
As they can be plugged into ATAK, Android and iOS platforms, those cameras only require an app to be operated without needing a separate viewer.
Recce products are also compatible with several communications/radios, such as 163, Trellisware, MPU5, 4G, Fenix battlefield 4G/5G and Silvus as well as with displays and platforms such as IVAS headsets and Common Operating Picture systems.
Aguilar stressed that they are rugged and reliable and 'can be used in a truly vast number of ways' with a 'little additional weight/size/complexity'.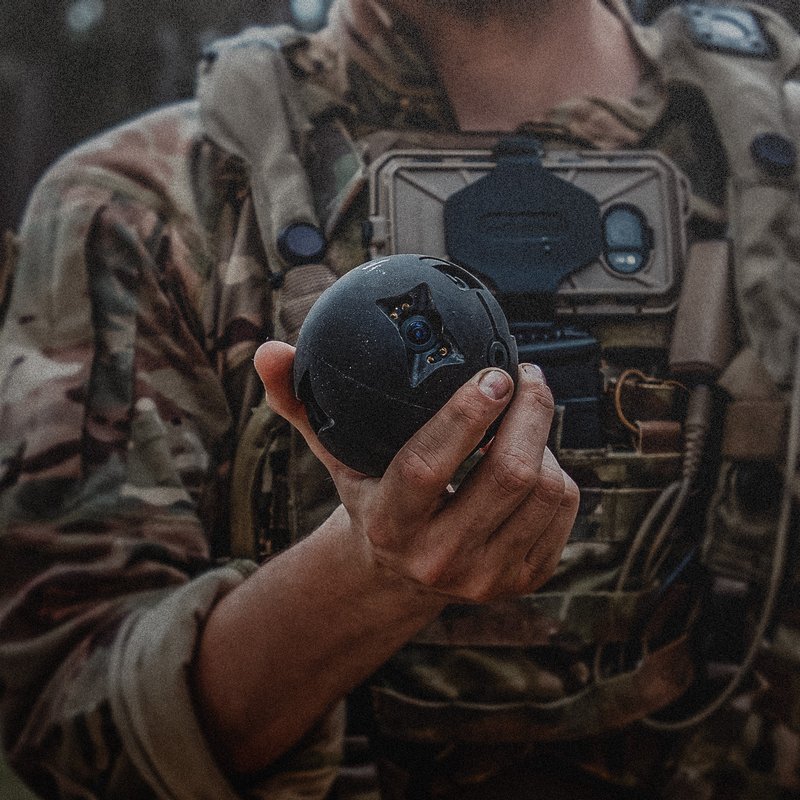 Bounce Imaging solutions can be deployed in a range of environments that drones and robots can't cover. (Photo: Bounce Imaging)
It includes being thrown through a window or downstairs, attached to a polecam to conduct tunnel inspection and on a cable to magnet mounting for surveillance to provide 360° visibility for vehicles.
Urban combat/close-quarters room clearing, barricaded subjects and confined space surveillance like attic or stairwell clearing are some of the scenarios it can be used in.
Other use cases include deployment as a payload from a robot or a drone, deep inspection of subterranean areas or ships using a hard line for communications and training in virtual reality (VR) using its captured 360-degree video.
Recce systems can also be deployed in low-light and near-infrared illumination. Another capability of those solutions is the two-way audio, which allows for speaking with people near the camera and comes with pre-recorded commands in a dozen languages.
Apart from Recce cameras, Bounce Imaging also provides the Land Shark, which is a stabilized 360° K9 camera system with extended range and multiple communications configurations, and the Heat Seeker, which is a thermal pole camera attachment that works with our Recce systems to provide 220° of thermal video at high frame rates.
More from SOF Week 2023
USSOCOM Commander Gen Bryan P Fenton has highlighted the importance of relationship-building between US SOF and their Ukrainian counterparts since 2014.

The Commander of Special Operations Command - Korea provides an update at SOF Week 2023.

As the inaugural SOF Week draws to a close, the head of the Global SOF Foundation reflects on a successful event.

AeroVironment has introduced the Puma VTOL kit, designed for plug-and-play integration into Puma 2 AE and Puma 3 AE small uncrewed aircraft systems.

US Special Operations Command's next Technical Experimentation event will evaluate Ryvid's electric motorcycles.

Among the vendors on the show floor at SOF Week 2023 was CACI International Inc.