Home

>

News

>

Israeli defence firms strengthen Gulf ties at IDEX 2023
Israeli defence firms strengthen Gulf ties at IDEX 2023
Following the Abraham Accords, Israeli and Gulf defence firms have forged ever closer bonds.
Israeli defence companies were ever-present in Abu Dhabi for the IDEX defence show, showcasing equipment and signing deals with Gulf partners.
The relationship between Israel and most Gulf countries has dramatically shifted since the Abraham Accords' signing in 2020.
Negotiated by the US under the Trump administration, the agreement normalised relations between the UAE, Bahrain and Israel and opened the door for cooperation on all things defence.
Related Articles
Israeli-UAE partnership to develop C-UAS solution
IDEX 2023: Israeli firm showcases balloon intelligence system for UAE
NAVDEX 2023: UAE buys Indonesian support ship in $400 million deal
Speaking to Shephard ahead of the Emirati defence exhibition, Rafael Advanced Defense Systems' Naval Warfare Systems Directorate VP Ran Tavor said the company was constantly working on building the relationship with the UAE and developing trust.
Just before IDEX, on 16 February, Rafael announced it had opened up a new facility in the UAE to explore opportunities in the region.
Since pen hit paper on the Abraham Accords, the Israeli company has sought to formalise regional partnerships in the Gulf. These efforts commenced at the last Dubai Air Show in 2021.
Steadicopter, an Israeli manufacturer of rotary-wing UAS, has also forged ties with the UAE, signing a deal with Emirates Defense Technology (EDT) to adapt the Eagle family of systems to meet emerging requirements from within the UAE.
At IDEX, the Black Eagle 50H was shown in a new configuration, offering benefits for intelligence missions and protecting land and maritime borders.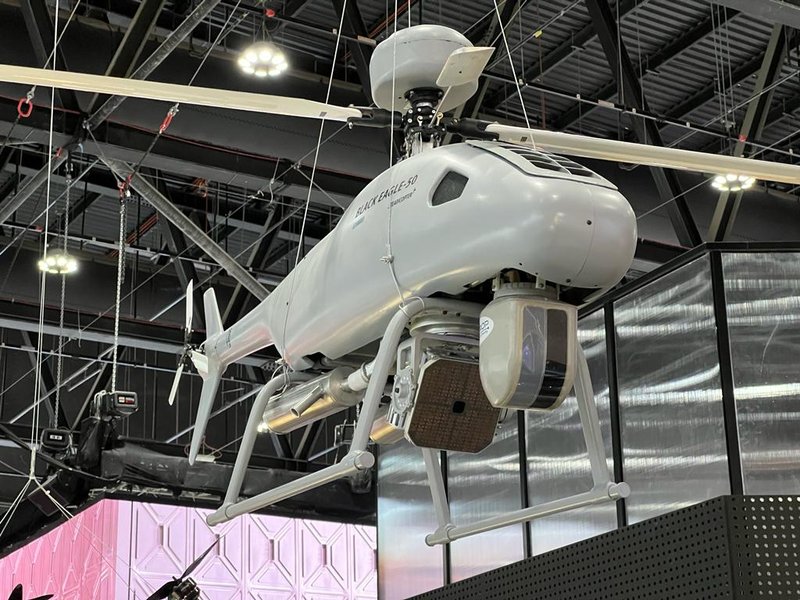 Steadicopter's Black Eagle 50 UAS was showcased on EDT's stand at IDEX. (Photo: Author)
Speaking to Shephard, Noam Lidor, VP of sales, marketing and business development at Steadicopter, said the Abraham Accords were 'very significant', highlighting that the Israeli firm was showcasing its systems on EDT's stand.
Lidor added that there was 'an excellent relationship' between the UAE and Israel.
In a press release ahead of IDEX, EDT CEO and owner Mohamed Bin Jabr Al Suwaidi said: 'As EDT continues to serve its customers with innovative, novel, unique, tailor-made solutions, we had scouted Steadicopter and its Eagle family - a platform of solutions which fits synergistically with other solutions manufactured in the region,'
Al Suwaidi added that the Emirati firm had found Steadicopter's systems to 'meet the highest standards and needs of our customers' and was proud to launch them in the UAE.
The Steadicopter VP said rotary-wing UAS are a crucial technology in the Gulf due to the challenges of maritime and land borders.
Meanwhile, at NAVDEX, the EDGE conglomerate, Abu Dhabi Ship Building (ADSB) and Israel Aerospace Industries demonstrated joint a uncrewed surface vessel.
The demonstration was heralded as a historic first for Israel and the UAE, presenting the jointly produced autonomous vessel fitted with sensors, sonar and imaging systems.
The presentation of the system came around a year after the trio signed a commercial cooperation.
Under the agreement, ADSB would design the platform and integrate sensors and C2 systems. IAI would develop and supply autonomous control systems and integrate dedicated sensors into the boat's control unit.
IAI president and CEO Boaz Levy said: 'The unmanned maritime vessel we are exhibiting represents a historic moment: for the first time, cooperation between Israel and the United Arab Emirates has resulted in an advanced technological product which includes autonomous systems and robotics.
'This joint realisation is taking place in the UAE, and incorporates the very best technological knowledge of EDGE and ADSB, specialists in maritime and commercial activities, together with Israel Aerospace Industries.'
Military applications for autonomous vessels include ISR, border and coastal surveillance, mine warfare and anti-submarine warfare, among others.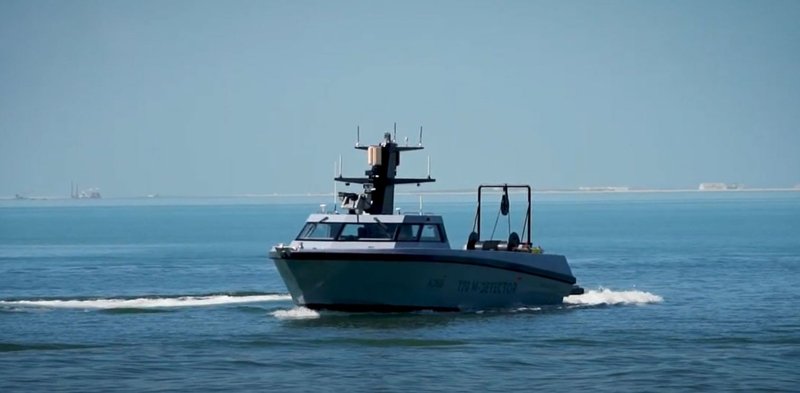 The joint EDGE-ADSB-IAI vessel has autonomous capabilities. (Photo: IAI)
ADSB CEO David Massey said the leading regional shipbuilder was pleased to have worked with partners to develop a 'cost-effective autonomous inshore and harbour protection mine countermeasure (MCM) vessel which minimises risks to personnel and can be put into production according to customer specifications significantly faster than larger vessels'.
He added: 'Strengthening strategic partnerships to enhance our capabilities is a strategic priority for both ADSB and EDGE for the wider benefit of our customers both locally and globally.'
During the week, IAI signed an MoU with technology solutions and services company Etimad Holding Group to further collaborate on current and future projects.
IAI said the MoU strengthened defence and security ties between the two.
Khaled Al Ali, chairman and CEO of Etimad, said: 'The IDEX exhibition is an important opportunity for national companies to discuss ways of cooperating with regional and international companies operating in the same sector.'
Commenting on the MoU, Levy said IAI had developed a close relationship with Etimad, enabling it to leverage collaboration and offer solutions to customers.
Al Ali added: 'We hope that the cooperation agreement signed today with IAI will benefit everyone, and that IDEX will open new horizons for cooperation with other international defence companies.'
Shephard's IDEX and NAVDEX 2023 coverage is sponsored by: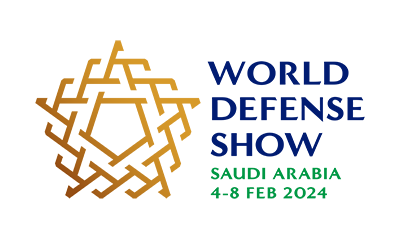 More from IDEX and NAVDEX 2023 | View all news