Home

>

News

>

NAVDEX 2023: Rafael showcases maritime UAS defence with Typhoon RWS
NAVDEX 2023: Rafael showcases maritime UAS defence with Typhoon RWS
The Israeli defence company has improved its Typhoon RWS with the ability to defeat small and medium UAS.
At NAVDEX 2023, Israel's Rafael Advanced Defense Systems is showcasing enhancements to its Typhoon remote weapon station designed to help defeat swarming attacks from UAS and surface vessels.
Speaking to Shephard, the head of Rafael's Naval Warfare Systems Directorate VP Ran Tavor said the company had spotted an operational gap for defending against swarms.
The upgraded Typhoon Mk30-C, counter-UAS, next generation Naval Remote Weapon Station (NRWS), being offered as an option to existing customers, sees the weapon changed from a 25mm gun to a 30mm one, allowing it to fire airburst ammunition.
Related Articles
Rafael provides naval warfare suite for the Shaldag Mk V
Rafael and Hensoldt to go after German Typhoon EW ambitions
Rafael prepares for stormy seas with Typhoon weapon system export
Rafael has also sought to make the system more accurate, allowing it to counter UAS in scenarios where air burst ammunition might not be available.
Tavor said the upgraded Typhoon RWS could take down UAS in one or two bursts of ten rounds, adding that increasing the magazine size meant more targets could be engaged.
The system has also received computer vision improvements to help classify surface threats and defeat maritime swarm attacks.
The danger of USVs was highlighted last year when Ukraine launched an attack on Russian naval forces using a mix of aerial and maritime uncrewed systems.
The computer vision enhancements are also designed to improve situational awareness of the host vessel.
Tavor said an ASEAN customer had already selected the Typhoon 30mm. The RWS sports an NGC Mk44S Bushmaster 30mm gun for this customer.
The Typhoon Mk30-C system can fire all NATO standard ammunition with adjustable rates of fire, up to 200 rounds per minute.
Its magazine holds 190/380 ready rounds.
The combination of air burst munitions and 70 degrees of elevation allows the RWS to defeat small and medium UAS and loitering munitions.
Although the customer country has not been specified, Shephard Defence Insight lists four Asian countries as potential export customers: the Maldives, the Philippines, Singapore and Sri Lanka.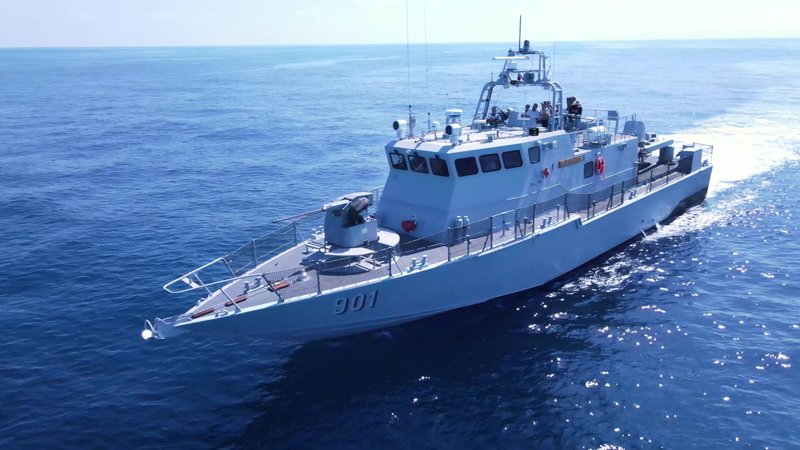 The Phillipine's Shaldag MkVs carry a host of Rafael systems. (Photo: Rafael)
Five of the Philippines' nine Shaldag MkV fast attack craft will be equipped with the Typhoon 30mm system, and the other four will carry Rafael's Spike NLOS missiles.
At NAVDEX, Rafael is also touting how Spike NLOS can be used to convert patrol boats and OPVs into missile boats, improving lethality.
Tavor said the weapon could be used in a scouting mode, surveying an area before striking a target.
The missile is passive, using an E0/IR seeker which can compare targets against a threat library, something Tavor said reduced risks of collateral damage.
Shephard understands Rafael is in the final stages of discussions to supply the Typhoon 30mm system to a tier-one customer.
More from IDEX and NAVDEX 2023 | View all news