Home

>

News

>

IDEX 2023: Ukrainian industry highlights loitering munitions and UAVs
IDEX 2023: Ukrainian industry highlights loitering munitions and UAVs
Ukraine's defence industry highlighted a number of systems at IDEX, including UAVs and a loitering munition, as well as the Neptune missile system reportedly used in the sinking of the Russian cruiser Moskva.
At IDEX 2023, Ukrainian industry is showcasing several systems, including a loitering munition already in service with the country's armed forces and several types of UAV.
The RAM 2 system is billed as being able to deploy within ten minutes and has a 'return to home' feature.
According to the National Association of Ukrainian Defense Industries (NAUDI), the weapon system is produced in Ukraine and is in active service. A representative described the system as 'cost-effective' compared to comparable platforms.
RAM 2 has a tactical range of 30+km and has maximum combat load of 3kg.
It can carry several different warhead types, including thermobaric, high-explosive anti-tank (HEAT) and high-explosive fragmentation payloads.
Elsewhere on NAUDI's stand, the PD-2 UAS from Ukrspec Systems was also on show. The ITAR-free design has an 1,100km range and a flight endurance of eight-plus hours.
Able to carry 7kg of payload, a NAUDI product sheet says the system is designed to conduct 'various missions in wide geographic range'.
The PD-2's airframe configuration can be rapidly changed from vertical take-off and landing (VTOL) fixed-wing to a conventional fixed-wing configuration with a chassis or a conventional fixed-wing configuration without a chassis and vice-versa.
In VTOL form, the PD-2 can take off without a runway and land on the deck of a ship, while the chassis-less conventional form uses a launch catapult and recovery parachute.
Also on display from Ukrspec Systems was the Shark UAV, which offers autonomous ISR capabilities.
The UAV features an encrypted data link and can determine target co-ordinates as part of real-time reconnaissance missions.
A NAUDI product sheet said the system offers low noise visibility.
The aircraft is catapult-launched. The system's configuration includes the UAV, camera system, launcher, ground control station, software and tracking antenna.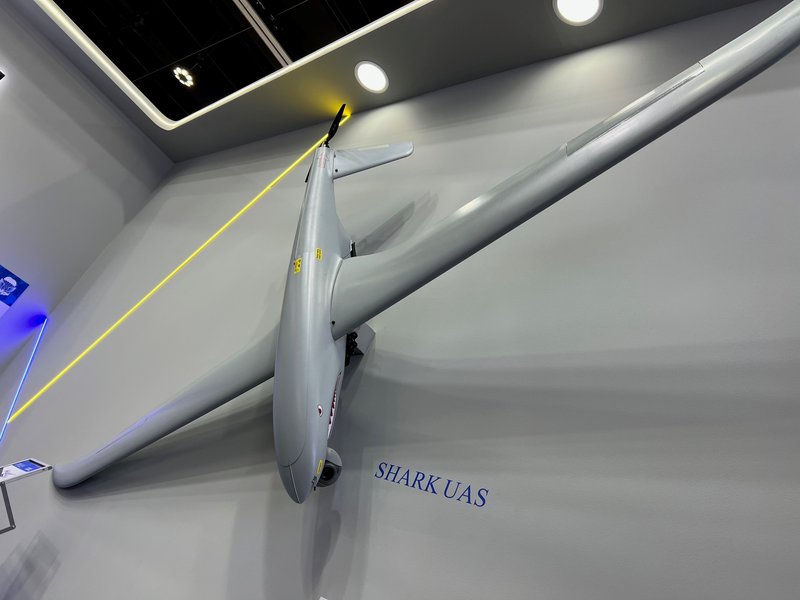 The Shark UAV on display at the NAUDI stand offers autonomous ISR capabilities according to the manufacturer. (Photo: Harry Lye)
The NAUDI stand also featured a model of the Neptune anti-ship missile (AShM) launcher. The missile was reportedly used in the 2022 attack on the Russian Slava-class cruiser Moskva.
The AShM has a range of up to 300km and uses an active radar seeker, and up to eight waypoints can be plotted on a missile's flight path, according to a NAUDI product sheet.
Designed by the Ukrainian state design bureau LUCH, the Neptune system comprises a mobile command post, a self-propelled tube launcher, an R-360 missile in transport and launch containers, transport/loading vehicle; transport vehicles and other ground equipment.
More from IDEX and NAVDEX 2023 | View all news