Home

>

News

>

IMDEX 2023: Singapore shares MRCV design details
IMDEX 2023: Singapore shares MRCV design details
Singapore's new Multi Role Combat Vessel is designed to be a 'mothership' for various types of uncrewed systems, the navy has revealed.
The Republic of Singapore Navy (RSN) has lifted the curtains on its Multi Role Combat Vessel (MRCV) design, sharing that it will be the first of its kind to be an 'unmanned systems mothership'. 
It has engaged Saab Kockums and Odense Maritime Technology (OMT) to provide the basic design by the end of 2023, before ST Engineering dives into detail in work 2024 as well as the construction phase.
The MRCV will replace six Victory-class missile corvettes, with the first vessel due for 2028 delivery.
Related Articles
Singapore selects Saab and ST Engineering for Multi-Role Combat Vessel
South Korea launches first of Chungnam-class frigates
IMDEX 2023: Trio of naval programmes bolster Singaporean naval capabilities
The Defence Science and Technology Agency (DSTA) remains the project manager and system integrator.
OMT is part of the team that presented the design for the Type 31 frigate, and is also responsible for the Danish Navy's Iver Huitfeldt-class frigates, both between 5,700 and 6,600t.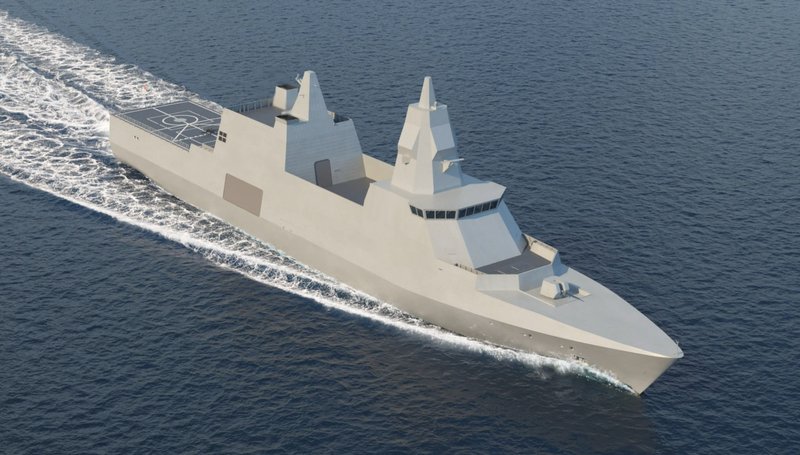 Saab Kockums and Odense Maritime Technology (will provide the basic design by the end of 2023 with ST Engineering picking up detail work in 2024. (Image: MINDEF)
While the project remains to be in the design stage, Maj James Lim of the MRCV project office told Shephard the MRCV will be 'a little larger' than the frigates, which are 3,200t, and need to be stable enough to operate multiple uncrewed systems. 
An Initial rendering also shows the MRCV with two stern ramps to deploy and retrieve large RHIB-sized craft.
The RSN has also already selected the OEMs for the self-defence suites (Thales, MBDA and Leonardo), without providing specifics.
Based on the RSN's past requirements it is likely that the ship will be equipped with Leonardo's 76mm main gun, 12.7mm Hitrole remote weapon systems, MBDA's Mica-VL or even the Aster-15/30 anti-aircraft missile, and a new Thales multi-function radar, likely the APAR or Sea Fire systems.
Lim said offensive weapons are still 'a work in progress' and the RSN is also deliberating whether the hosted uncrewed systems will possess 'response capabilities'.
He added that the RSN could not design type-specific platforms and instead will focus on modular vessels that are flexible and can react to current and future maritime threats, while at the same time solving Singapore's future manpower shortages.
More from IMDEX Asia 2023 Show News