Home

>

News

>

India to strengthen China and Pakistan borders with final S-400 SAM system deliveries
India to strengthen China and Pakistan borders with final S-400 SAM system deliveries
India's full acquisition of its S-400 Triumf surface-to-air missile (SAM) systems has been fast approaching its final stages, as officials from India and Russia prepare work on finalising the delivery schedule for the last two squadrons.
As India has deployed its three existing S-400 Triumf surface-to-air (SAM) squadrons along the borders with China and Pakistan, officials from India and Russia are reportedly set to meet soon to discuss the final delivery schedule for the remaining two missile squadrons. 
New Delhi approved the Indian Air Force's purchase of five S-400 systems, including 6,000 missiles, for about US$6 billion in December 2018, with two platforms pending delivery. The initial plan was to have all the S-400 systems arrive by the end of 2024, but India has expressed concerns about potential delays. 
'The three squadrons have already been operationalised in important sectors,' Indian news agency ANI quoted defence sources. 'While one unit is looking at both China and Pakistan, one each has been earmarked for China and Pakistan fronts.'
Related Articles
Russian deliveries of S-400 to India proceed
Turkish air defence system could pave way back to US fighter jet programmes
Turkiye's strong desire to buy F-16 from US persists, defying previous statements
Although ANI has previously been criticised for having served as a propaganda tool for the incumbent central government, the quotes are consistent with Russia's messaging. Even with its primary focus on the Ukraine conflict, Moscow appears to be committed to delivering the ordered S-400 SAM systems to India as scheduled, as confirmed by the nation's defence export authority.
'The production of S-400 Triumf anti-aircraft missile systems [are] being carried out according to schedule,' Russian news agency Interfax quoted Dmitry Shugaev, head of Russia's Federal Service for military-technical cooperation, as saying at the end of summer.
'The delivery of the equipment of the S-400 Triumf system will be expected to be completed within the agreed time frame,' Shugaev said.
How can India buy both Russian and Western defence technologies?
Türkiye has been denied Western military technology, notably US-produced fighter jet platforms, because it decided to purchase S-400 SAM systems from Russia. Even as Turkish President Recep Tayyip Erdogan has sent the ratification protocols for Sweden's NATO accession to parliament, Ankara's $20 billion deal for new Lockheed Martin F-16s from the US remains uncertain.
As Shephard has reported extensively, Turkey has requested to buy 40 F-16 Block 70/72 fighters and nearly 80 modernisation kits for its existing F-16 fleet from the US, with technical talks between the two sides ongoing since last October.
Ankara's first choice was the F-35A, but it was kicked out of the programme in 2019 after procuring Russian S-400 air defence missile systems. The main reason was that operating Russian intelligence collection platforms, such as the S-400's radar system, could compromise the stealth capabilities of the F-35 fighter jet. 
While Turkey has been dealing with the consequences of a procurement decision made four years ago, India will have access to both US and Russian defence technologies.
India, the world's biggest arms importer, has continued to use Russian technology for traditional arms. In recent years, New Delhi has been actively pursuing efforts to diversify its imports and, where possible, replace them with domestically manufactured or non-Russian equipment.
The South Asian country has selected the Dassault Rafale M fighter jet for its navy. As an extension of the Indo-French partnership, the countries have agreed to explore a new submarine project, as well as the co-development of fighter and helicopter engines.
In a major push for India-US defence cooperation, the US Congress cleared GE Aerospace's agreement with state-owned Hindustan Aeronautics Limited to produce fighter jet engines for the Indian Air Force (IAF) in the summer of 2023.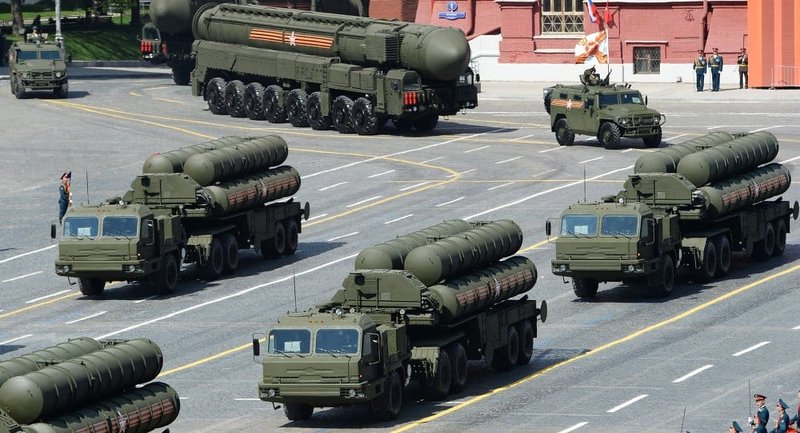 Having Russian intelligence collection platforms, such as the S-400's radar system, could compromise the F-35's stealth capabilities. (Photo: Russian MoD)
The distinct treatment of these nations can be attributed to varying sensitivities concerning technology transfer, as outlined by RUSI senior research fellow Dr Justin Bronk.
'At the heart of it, the basic answer is that the F-414 engine is not considered nearly as sensitive in technology transfer terms as the F-35 or various sensor, datalink and software elements on the latest F-16V,' Bronk told Shephard.
'While the US is far from happy that India has purchased the S-400 and continues to rely heavily on Russia for a range of core military capabilities like the Su-30MKI fleet and T-90, F-414 is not considered to be as serious a risk of technology compromise as F-35 or advanced F-16s,' Bronk added.
This strategic approach also aligned with the US's aim of strengthening economic and security ties with India within the context of the intensifying US-China rivalry, positioning India as a crucial partner in Washington's Indo-Pacific strategy.
'While there are limits to the extent to which US-Indian security ties can strengthen because of New Delhi's strong tradition of nonalignment, there has been room to enhance strategic cooperation in ways that benefit both the national security of each democracy, as well as strengthen the stability of the Indo-Pacific region,' the US Institute of Peace wrote in a recent paper.
As Dubai Airshow 2023 approaches, only the Russian state-run aerospace agency Roscosmos has been confirmed as a participant from the country. Nevertheless, this marks a notable shift from the previous major trade show in the UAE, the February IDEX meeting, during which Russian participation was unofficial.
More from Dubai Airshow 2023 | View all news