Home

>

News

>

IMDEX 2023: Saildrone 'well equipped' to support Asia-Pacific needs
IMDEX 2023: Saildrone 'well equipped' to support Asia-Pacific needs
Saildrone is aggressively scaling to meet global demand for its uncrewed surface vehicles (USVs).
US USV manufacturer Saildrone says the company is well equipped to support maritime challenges in Asia-Pacific, speaking ahead of IMDEX Asia 2023 in Singapore.
While unable to discuss contracts, Saildrone programme manager for maritime domain awareness/ISR and DoD projects Adam Watters told Shephard the USV maker was 'currently in high demand' and is 'aggressively scaling' to meet the needs of global customers.
In April, it was announced that Austal Australia and Saildrone had entered into an exclusive teaming agreement for manufacturing the 20m Surveyor USV in Australia for Indo-Pacific deployments.
Related Articles
Austal Australia converts patrol boat into unmanned vessel
USVs abound at NAVDEX 2023 as firms look to fill plethora of naval requirements
Saildrone details ISR-focused 10m USV, Voyager
The deal with Austal Australia follows a 2022 agreement with Austal USA to construct the Surveyor USV at the latter's Mobile, Alabama shipyard.
The Surveyor is designed for deep ocean mapping and ISR above and below the surface in an autonomous, uncrewed package.
Watters said: 'Saildrone vehicles are significantly lower cost than crewed vessels and can be deployed within a region at scale without increasing risk to personnel.
'The vehicles are security-hardened, and the data is transmitted in real-time, ensuring they are valuable to customers but not valuable targets to bad actors.' All are crucial requirements for operating in contested waters.
'Saildrone vehicles are equipped with visual detection fused with AIS and radar to deliver a comprehensive look at the maritime domain.
'They can stay at sea for months at a time without the need for a "mother ship", and feature automatic collision avoidance and back-up propulsion, in addition to wind propulsion, for high-traffic areas.' Watters added.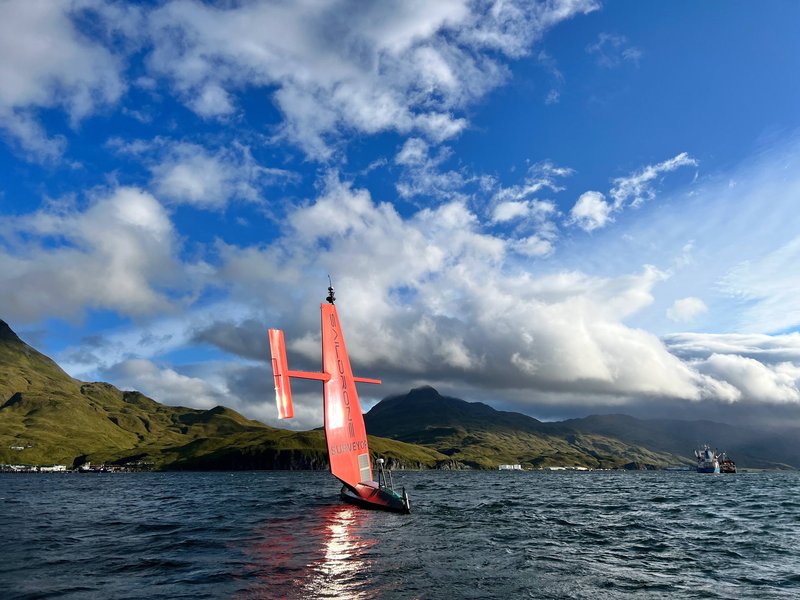 Saildrone's Surveyor generates a maritime picture by fusing data from a range of sensors. (Photo: Saildrone)
In the Indo-Pacific, Saildrones can support a range of maritime missions, including investigating illegal, unreported and unregulated (IUU) fishing, human and drug trafficking, environmental crime and ensure the safety of navigation through ocean mapping.
Austal is well equipped to build hulls for the Saildrone thanks to its aluminium fabrication, a material both the US and Australian arms of the shipbuilder are well versed in dealing with from work on government programmes.
Ocean mapping has traditionally been performed by crewed surface ships; however, Saildrone says its capabilities offer a cheaper, more environmentally friendly option.
The Surveyor features a Kongsberg EM 304 MkII echo-sounder offering multibeam bathymetry down to depths of 11,000m.
Surveyor manufacturing will begin in Australia later this year, and Austal USA began building the first Generation 2 Surveyors in April.
Saildrone's ISR capabilities utilise a proprietary machine learning model trained against a database of maritime imagery captured over seven years' worth of missions.
The USV is capable of automatically recognising and classifying objects.
The masthead of a Saildrone carries a 360-degree optical camera system, which is fused with radar AIS and acoustics to develop a maritime picture.
Watters said: 'Saildrone vehicles are the "eyes and ears" of the ocean, expanding the area local authorities can cover with real-time alerts of illegal activity far from shore.'
More from IMDEX Asia 2023 Show News