Vrgineers to showcase F-15E fighter simulator that could replace live training at IT2EC 2023
Vrgineers and Razbam Simulations have developed a transportable F-15E pilot simulator that offers high levels of immersion and will soon allow for one-to-one training.
Vrgineers and Razbam Simulations have completed development of the new F-15E Strike Eagle pilot simulator and the partners will showcase it at the upcoming IT2EC 2023 trade show in Rotterdam, Netherlands.
The Eagle trainer uses Vrgineers' Portable Trainer and XTAL3 VR headset alongside Razbam's F-15E software model.
The concept allows air forces to train cooperation and mission rehearsals using an affordable solution.
Related Articles
Vrgineers draws on pilot experience to develop mixed reality headset
Vrgineers showcases Apache and F-35 classroom trainer at I/ITSEC 2022
Vrgineers XTAL virtual reality headset goes wireless
The Portable Trainer can be set up in under 30 minutes, it is easily transportable but still offers a high level of immersion due to the Czech company's 4K resolution head-mounted display (HMD).
CEO and co-founder of Vrgineers Marek Polcak said: 'We estimate that till 2030 every pilot will have one of these trainers at their disposal anytime and can use it from home, connecting to the centralised synthetic training environment using a secured VPN to continue exercise despite any restriction such as we saw during COVID.'
He added that the trainer's fidelity and level of detail 'allow practically anyone to become a skilled F-15 pilot'.
Many will disagree with the above statement, as replacing live exercises, especially for fast jet pilots, does not seem to be on major air forces' agenda. 
However, synthetics are finally being introduced to a large extent to augment traditional pilot training methods.
For instance, the Royal Air Force (RAF) opened its new synthetic training system Gladiator in February 2023 – well over a year later than expected.
Initial integrations will include the Typhoon, F-35, Airseeker (RC-135 Rivet Joint) and Joint Fires Synthetic Trainer, with other platforms scheduled to join in due course, the RAF said. 
The service explicitly stated that synthetic training will not take the place of live-flying events, but 'will complement it, enabling each training activity to be completed in the most effective environment'.
Then Chief of the Air Staff ACM Sir Mike Wigston said Gladiator will help UK services 'to trial, test and practise their tactics in a secure environment, linked across all operational domains.'
That said, Vrgineers is currently working on a mixed-reality (MR) version of the F-15E trainer that will allow full 1:1 training that the company will aim to showcase at I/ITSEC at the end of this year.
The current F-15E trainer 'is not suitable for procedural training due to the lack of needed features for muscle memory training', the company said.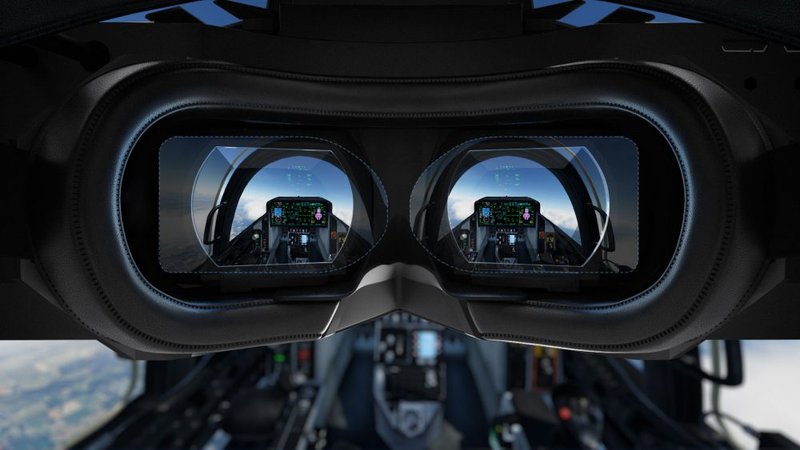 The Portable Trainer offers a high level of immersion due to Vrgineers' 4K resolution head-mounted display. (Photo: Vrgineers) 
'The integration we did with Vrgineers simulators enables all the features of our model to become an ultimate training solution and offers a cost-efficient solution to all F-15E air forces and operators,' CEO and founder of Razbam Simulations Ronald Zambrano said.
The Vrgineers/Razbam F-15E Portable Trainer uses physical Strike Eagle throttle and stick replicas. The rest of the instrumental panel and cockpit are virtual.
All switch and knob manipulation is replicated by hand tracking of the trackball allowing a pilot to access the full capabilities.
The F-15E model also integrates the new TALON AI, a co-pilot AI capable of handling tactical tasks such as locking the target and navigation.
At Rotterdam, Vrgineers will also demonstrate a combination of XTAL 3 and the Advanced Realtime Tracking-manufactured SMARTTRACK3/M MR pilot trainer integrated into an F-35-like Classroom Trainer.
Shephard's IT2EC 2023 coverage will start on 17 April, with all show-related news free to view for three weeks. Stay tuned for the latest military training and simulation developments from Rotterdam.
More from IT²EC 2023 | View all news