NATO, Latvia team up to test 5G for military comms solutions
A Latvian-NATO operational technology exploration scheduled for October will involve trials with virtual and augmented realities, uncrewed vehicles, sensors and applications within a tactical 5G bubble.
In order to improve the capabilities of its member states, NATO is partnering with the Latvian MoD to conduct trials with 5G for military solutions. The two parties have signed an MoU to enable NATO to use the Latvian National Armed Forces 5G test environment for defence innovations at Camp Ādaži.
An operational technology exploration event is scheduled for late October to evaluate the alliance's latest R&D initiatives as well as novel capabilities and next-generation telecommunications networks.
The experiments will cover the use of virtual reality (VR) and augmented reality (AR), uncrewed vehicles, sensors and applications within a tactical 5G bubble. NATO will also test 5G technologies in telehealth services.
Related Articles
DoD to investigate further use of 5G
NATO countries seek joint acquisition of armoured engineer vehicles
Over half of NATO members to miss the mark on defence spending
European countries test use of mixed reality in combat vehicles
The goal is to evaluate 5G's ability to provide ultra-reliable and low-latency connections enhancing situational awareness and lethality of troops in future conflicts.
VAdm Guy Robinson, Chief of Staff to Supreme Allied Commander Transformation claimed that 'in signing this agreement, NATO will have the opportunity to validate new concepts and develop requirements in an operational environment that will support NATO's digital transformation and multi-domain operations ambitions'.
In preparation for the operational technology exploration event, the Alliance Next Generation Communications Technologies Event Planning Session was held in Riga, in June.
Conducted by the Latvian MoD, in collaboration with Latvia's National Armed Forces and Latvian Mobile Telephone (LMT), the planning session gathered a team of experts at the headquarters of LMT to refine the upcoming technology trial's scenario and technical execution.
It included a visit to the Ādaži 5G military testbed to inspect the physical infrastructure available for the experiment and perform system interconnectivity tests.
Established in November 2020, Camp Ādaži features a mobile 5G base station with a standalone network, which can be transported, set up and launched based on testing needs. The site results from a joint effort between LMT, the Latvian National Armed Forces and the MoD.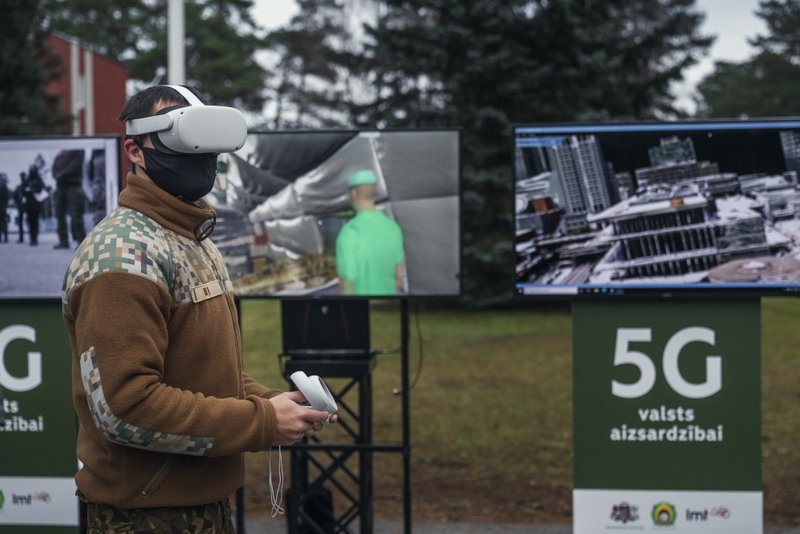 Camp Ādaži features a mobile 5G base station with a standalone 5G network. (Photo: LMT)
Speaking to Shephard, a spokesperson for LMT stressed that it is Europe's first 5G military test environment for defence innovations, provides a 'state-of-the-art' structure and allows for experimenting with various defence systems and platforms.
The official pointed out that 'the 5G military testbed has been the site of multinational force training, experiments and demonstrations' involving NATO, the European Defence Fund (EDF), the European Defence Industrial Development Programme (EDIDP) and defence technology innovators.
It hosted, for instance, tests with AR and VR battlefield solutions in NATO's first operational 5G experiment in 2022; the 2021 NATO Coalition Warrior Interoperability Exercise (CWIX); and the use of AR and VR in medical training with NVIDIA, Exonicus and Lightspace Technologies in 2020.
In terms of uncrewed systems, Camp Ādaži held last year demonstrations for the US DoD of UGVs in close to real-life conditions and battlefield information management systems.
Autonomous, smart, military solutions were also tested and demonstrated in the site in 2021 as part of the EDIDP Integrated Modular Unmanned Ground System (iMUGS) Consortium.
Ināra Mūrniece, Latvian Minister of Defence, stressed that the country has developed 'great innovation capabilities' and has globally recognised experts 'with a wide spectrum of competencies as well as highly developed infrastructure for testing future command and control solutions'.
Shephard's DSEI 2023 coverage is sponsored by:

More from DSEI 2023 | View all news
With the satellite industry at a pivotal juncture, Intelsat is investing in advanced technologies like 5G and optical communications, striving to enhance worldwide connectivity and address emerging governmental needs.

From its emergence as a ground-breaking design in the 1950s to its widespread deployment in diverse operations worldwide, the Chinook continues to leave an indelible mark on the aviation landscape. Shephard sums up the latest developments and tells you everything you need to know about the workhorse of many armies and air forces in the 2020s.

Controp Precision Technologies unveiled its Smart Vision AI software for enhancing the level of autonomy and automation for a variety of surveillance and reconnaissance missions at DSEI 2023.

Babcock has signed an MoU with propulsion experts Cosworth to investigate the use of hybrid power systems in military vehicles and will begin with integrating a Catalytic Generator (Cat Gen) into a 70 Series Toyota Land Cruiser.

DSEI 2023 took place in the shadow of the largest European land war in more than seven decades and a growth in conversations about artificial intelligence (AI) with limited UK immediate defence programme opportunities; many of the new products and exhibitors' announcements reflected this.

Israeli UAS developer SpearUAV introduced a submarine-launched capsule option for its Viper 750 UAV at DSEI 2023.