Home

>

News

>

Orbiting the Future: How New Satellite Technologies are Revolutionising Global Communications
Orbiting the Future: How New Satellite Technologies are Revolutionising Global Communications
With the satellite industry at a pivotal juncture, Intelsat is investing in advanced technologies like 5G and optical communications, striving to enhance worldwide connectivity and address emerging governmental needs.
Brought to you in partnership with Intelsat
In an era where global communication is not just a luxury but a necessity, the satellite industry finds itself at a crucial crossroads. The global satellite communication market is undergoing significant growth, with various market reports forecasting demand to almost double in the next five years.
Recent developments in satellite technology and the interplay between Low Earth Orbit (LEO) and Geostationary Earth Orbit (GEO) satellites are also reshaping the landscape of satellite communication, explains David Wajsgras, CEO of Intelsat.
Joining Intelsat after some 15 years with Raytheon, Wajsgras now leads a company with a strong focus on serving global governments, militaries, and intelligence communities with satellite communications.
Discussing the landscape of the satellite market, Wajsgras expands on Intelsat's position: "The industry is global. We're a satellite operator, so we design satellites and have manufacturing companies build them for us. We then launch and operate these satellites for global connectivity… we have the largest fleet of GEO satellites in the world with 58 in orbit."
Rory Welch, Vice President of Global Government and Satellite Services for Intelsat, adds, "We have been supporting many international government customers for years. Given the global situations like those in Russia and Ukraine, there is an increased demand for enhanced connectivity solutions. Intelsat aims to provide satellite connectivity solutions tailored to the specific needs of these nations."
When asked about recent trends, Wajsgras points to the increasing interest in LEO satellites. Since its inception in 1964, Intelsat has primarily dealt with GEO satellites. However, the wider trend towards LEO has shifted the company's focus.
"Traditionally, the industry operated with GEO satellites, but now there's a significant entrance of LEO operators. Both GEO and LEO have their advantages and challenges. The key is to make them work seamlessly together to offer ubiquitous connectivity."
Regarding market demands, Wajsgras notes that integration and interoperability have become essential elements to communication. With diverse regions and countries adopting different terminology for multi-domain operations (MDO), consistent and secure communication has become the linchpin for future battlefield operations.
Intelsat is collaborating with various technology companies to develop cross-compatible platforms that allow for seamless data transfer between different satellite systems.
"Different countries have different terminology for MDO, but it's all about interoperability; it's all about making all these different pieces of equipment fit and operate together seamlessly, as efficiently as possible and as securely as possible," Wajsgras explains.
"And very few companies truly understand how all of this comes together and how you can communicate more seamlessly, anywhere on the globe."
Rory Welch comments on this point, stating, "Our long experience working with the US government is invaluable. Many friendly governments look to the US as a leader in innovative solutions. Intelsat has successfully translated these capabilities to cater to allies and other friendly nations, often adapting the solutions to address their specific requirements."
Delving into their offerings, Wajsgras emphasised Intelsat's upward movement in the strategic technology domain. Their investments in 5G, virtualisation, and software-defined networks aim to elevate communication efficiency, speed, and security.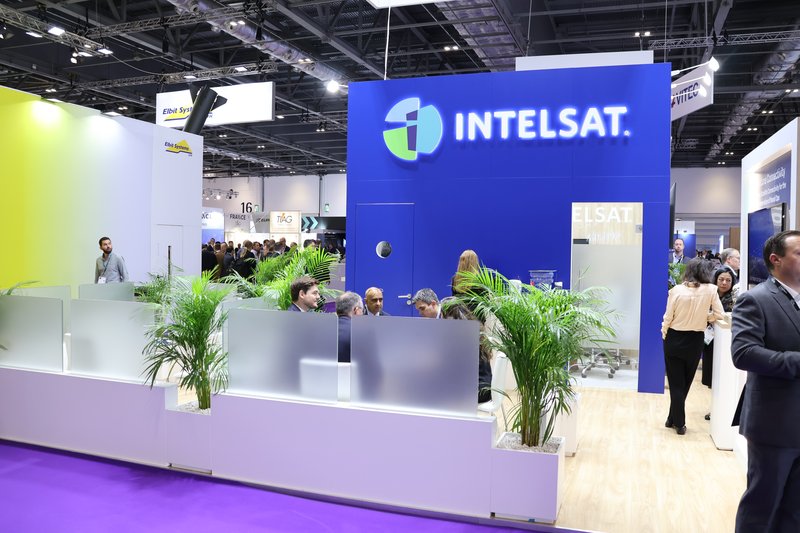 In the near future, optical communications are also on the horizon, with the potential to revolutionise satellite communication speeds and security.
"We're moving up the technology chain, investing in 5G, virtualisation, and software-defined networks. This approach aims to enhance communication speed, quality, and security. Optical communication is also a significant focus for us because it offers faster communication with a higher security profile than traditional RF."
For example, on 12 September, Intelsat announced the signing of a partnership with Aalyria for the development of a new optical technology that will transfer record amounts of data between ground and space.
Wajsgras further elaborates on the concept of virtualisation in satellite communications, explaining: "Virtualisation is about making something software-based behave like hardware. So instead of having a physical appliance, it's all embedded in the software."
Welch highlights other areas of innovation; "We're building a future network that is going to be interoperable between commercial and government networks. We have a global network fabric that ties all satellite constellations together. That future network will be much more resilient, flexible, useful, and easier to access for our government customers."
Further, with multiple governments worldwide looking to develop sovereign satellite networks, Welch explains that Intelsat has broadened its satellite services offerings and can assist in the building, launching and operating of new constellations.
Reflecting on the future, Wajsgras expresses optimism: "The demand for connectivity is real and growing. The need for faster data and global communication drives our industry. The world has regions of instability, and we need to ensure that our industry supports our countries and allies. The satellite communications industry is poised to lead this endeavour."