I/ITSEC 2022: HII enhances human-machine teaming training for US Army
HII's crewed-uncrewed teaming training system has been tested with the US Army's Apache, but it can operate with any autonomous system with the right equipment to receive data.
Huntington galls Industries (HII) showcased its crewed-uncrewed teaming (MUM-T) training solution at I/ITSEC 2022 in Orlando, Florida between 28 November and December 1.
At the tradeshow, the company demonstrated how it connected a General Atomics MQ-1C Gray Eagle UAS simulation device with an AH-64 Apache simulator for the US Army's Redstone Arsenal (RSA) post.
The system consists of various multipurpose displays and sensor systems for targeting.
Related Articles
Vrgineers showcases Apache and F-35 classroom trainer at I/ITSEC 2022
I/ITSEC 2022: Red Hawk jet trainer to be digital platform from day one
'Our application shows a Military Specifications situational awareness icon and a UAS flying around in a pattern,' HII modernisation lab and technical lead Stephen J Spicer told Shephard.
Pilots can turn the simulated UAS's laser targeting on, while users can inject various targets from HII's list of target entities.
The connection between UAS and the Apache can be established on three different levels, the representative said. Level two, which is available for the Apache D model, only allows the helicopter to receive video from the UAS.
However, this task is not as simple as dialling in a radio, Spicer said.
'It requires practice repetition from the crew member to get to those devices to do that. Our system allows crew members to practice those wartime missions and functions inside of a training environment,' he added.
Level three involves the pilot taking control of the UAS while airborne.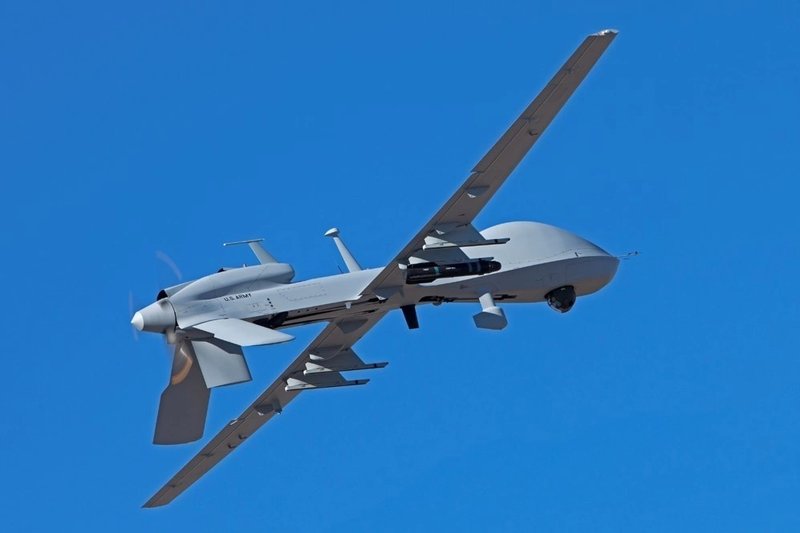 HII connected a General Atomics MQ-1C Gray Eagle UAS simulation device with an AH-64 Apache simulator. (Photo: US DoD)
'Level four also allows them [the pilots] to then take control of the UAV and the sensor as well. And that includes turning the laser on from the UAV. That's a great feature as an attack platform. And that is a real utility here,' another company delegate explained.
Levels three and four are only available for the latest Apache E models.
HII said that the US Army has already tested the system with a real Apache helicopter.
'But this will work with not just army aircraft, it'll work with ground vehicles or with anything that has the right antenna to receive information,' Spicer said.
The whole MUM-T training system that HII showed in Orlando goes into one pelican case. Depending on the customer, it can be scaled up with additional capabilities.
The US Army, however, requested an affordable and deployable solution, the HII representatives said.
More from I/ITSEC 2022 Show Portal
The Shephard Media news team looks at all the developments in the military training and simulation world, and discovers the trends and challenges in seabed warfare.

Leonardo is developing the Smart Chair system in its Battle Lab that allows for advanced pilot training for multi-domain scenarios and can potentially 'replicate a sixth-generation fighter jet cockpit'.

Boeing's T-7A Red Hawk simulator and maintenance training system will allow pilots and ground crew to train in novel ways as soon as the platforms are delivered.

Saab has increased training activities across core markets, opened combined training centres and is set to grow its business further.

CAE believes the future of training technologies will be fundamentally driven by bringing different industries together and no single company can exist in a vacuum - an approach that defence should adopt too.

The US Army's Project Manager Synthetic Environments is overseeing two major re-bid programmes.