Aeralis reveals new aircraft design at DSEI 2023
The new aircraft design mark a significant shift in Aeralis' approach, with notable changes in exterior configuration and a new wing architecture that enhances manoeuvrability.
Aeralis officially showcased new designs of the first variants of its modular jet aircraft on the first day of DSEI 2023, including the Advanced Jet Trainer which will be the first to enter production.
Aeralis officials said during a press conference that this next-generation design of the common core fuselage (CCF) will serve as the backbone of the company's future aircraft fleet.
Since Aeralis's modular aircraft project was first revealed, industry could see the same digital mock-ups, virtually unchanged. However, a recent review prompted the company to implement some notable changes in the external design.
Related Articles
Aeralis and Inzpire take fast jet training to new heights
DSEI 2023: GCAP sixth-gen fighter makes industrial and technological progress
DSEI 2023: BAE ready to transfer CV90 upgrade work from Sweden to Netherlands
The new light jet aircraft will have a wing architecture consisting of an inner and an outer section that is said to provide manoeuvrability at both low and high speeds.
While the previous design was closer to a legacy jet trainer, the new one gives the aircraft a 'shark-like' look.
Aeralis was able do make such a significant alteration as the aircraft is an entirely digitally engineered platform. This means every test required for the aircraft's design, development and production can be run through a digital ecosystem. 
Aeralis said that flexibility was also at the forefront when working out the new design. As a result, the aircraft supports multiple configurations that include advanced jet trainer, aggressor, companion, ISTAR and tanker options.
The CCF is shared across all variants, but mission-specific capabilities and performance trade-offs can be achieved with the addition of module sets such as cockpit, wings, engine nacelle and empennage. According to the manufacturer, this approach can boost commonality across all configurations by 85%.
The new aircraft will be sleeker, providing room for additional fuel supply, electronic capabilities and overall performance improvements.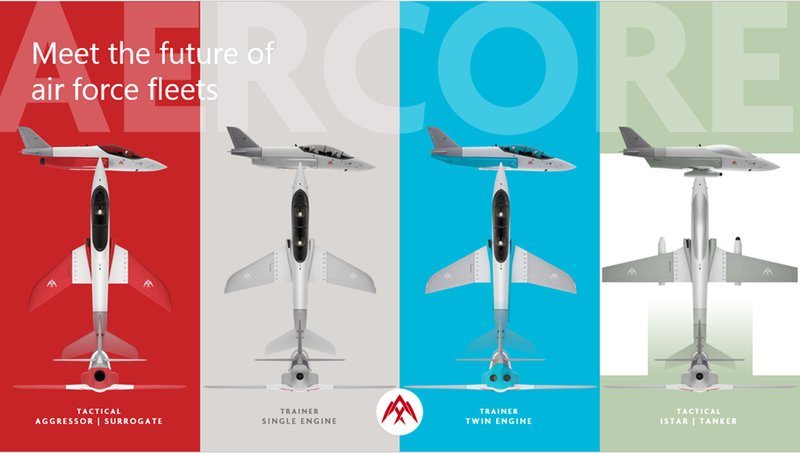 The CCF is shared across all aircraft, but mission-specific capabilities and performance trade-offs can be achieved with the addition of module sets. (Image: Aeralis) 
Changes to the fuselage design and new wings will remove the need for bespoke landing gear seen in the previous iteration, Aeralis officials said. This development means the aircraft will use commercial off-the-shelf landing gear which increases maintainability and should reduce the aircraft's through-life costs.
'The modular design provides the Aeralis jet with maximum flexibility whilst including a first-of-a-kind design to enhance aircraft performance. I look forward to quickly progressing the aircraft to its next stage,' Aeralis's founder and CEO Tristan Crawford said.
In the middle of July, company officials told Shephard that it will start conducting physical tests for the aircraft alongside digital work, but as of now, Aeralis has not showcased a physical airframe. 
Shephard's DSEI 2023 coverage is sponsored by:

More from DSEI 2023 | View all news