Home

>

News

>

As the Ukraine war passes the 18-month mark, how are NATO's factories meeting the artillery challenge?
As the Ukraine war passes the 18-month mark, how are NATO's factories meeting the artillery challenge?
NATO is rapidly increasing its supply of equipment to Ukraine in a number of key areas including tube artillery and, crucially, its ammunition. Shephard analyses how the alliance's members are stepping up to this challenge after years of industrial neglect.
Despite the march of technological progress, field artillery (FA) is still the only source of firepower available on a 24/7 basis in all weather conditions, something close air support cannot accomplish.
While FA is traditionally used for suppressive fire, careful design of the 155mm projectile and fitting a precision guidance kit (PGK) can provide step-changes in accuracy. This means less projectiles are needed to neutralise a target, which reduces the logistics burden.
This capability is vital in the defence of Ukraine, and some members of NATO have provided ammunition from reserve or prepositioned stock to meet the immediate need. But now, production lines in NATO are basically on a war footing.
Related Articles
DSEI 2023: Hanwha highlights UK industrial benefits of K9 Thunder British Army artillery bid
DSEI 2023: New Slovak artillery system begins firing trials
Ukraine shows combat-tested armament at DSEI 2023
How many artillery rounds has the US sent to Ukraine?
Some artillery systems deployed by Ukrainian forces are firing over 100 projectiles a day, and Russia itself could be expending anything from 30,000 to 100,000 rounds every 24 hours, plus numerous artillery rockets.
The largest supplier of ammunition in NATO is unsurprisingly the US with its major ammunition factories being government-owned and contractor-operated.
Until recently, the US produced around 10,000 high explosive (HE) rounds every month but this is being rapidly stepped up and now running at around 25,000 rounds a month, with a further step change due in mid FY2024 to 50,000 with the ultimate goal being 85,000 in the longer term.
In addition to these quantities of basic HE projectiles, factories are also turning out modular charge systems and other specialist natures, guided and unguided.
By mid-2023 the US had supplied Ukraine with over two million rounds of 155mm plus more than 7,000 Raytheon M982-series Excalibur precision guided munitions.
The US has also been able to source ammunition for Russian artillery calibres used by Ukraine including 50,000 152mm, over 50,000 130mm and 40,000 122mm projectiles plus 60,000 122mm rockets.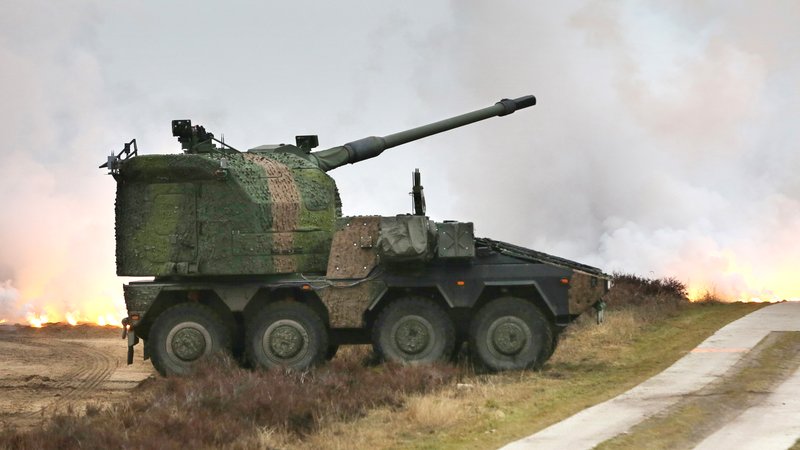 Above: Germany is to provide Ukraine with 18 Krauss-Maffei Wegmann RCH 155 systems based on the ARTEC Boxer MRAV platform. (Photo: KMW)
Some European members of NATO are also stepping up their ammunition production with NAMMO of Norway deciding as early as 24 February 2022 to commit €50 million for raw materials such as explosives, energetics and steel without any firm orders in place.
NAMMO aims to double its artillery and missile production, and its investment is now over 15 times more than during a typical financial year before the war.
What are the challenges of ramping up ammunition production?
Stepping up production not only means obtaining raw materials but taking on more people to increase shift capacity, as well as ordering new machines which can have a lead time of 12 to 36 months, so this is no small undertaking.
While there is a NATO Joint Ballistic Memorandum of Understanding for 155mm rounds with a 23-litre chamber, there is still a wide range of different projectiles and charges, let alone fuzes, manufactured in many NATO countries and the introduction of 155mm 58 and 60cal ordnance with larger chamber sizes could further complicate this picture.

Until recently the main calibre of artillery weapons in Ukraine have been the Russian 122mm and 152mm, although Kyiv had made the decision to move to the 155mm standard before the invasion.
NATO members have rushed significant quantities of conventional 105mm and 155mm tube artillery systems to Ukraine as well as M270 Multiple Launch Rocket Systems (MLRS) and the more agile M142 High Mobility Artillery Rocket System (HMARS) which is still in production.
Tube artillery systems supplied to Ukraine are varied and this author has counted at least 13 different variations, covering tracked, wheeled and towed howitzers.
The crews for these have to be trained and vital spare parts secured. During peacetime training, these guns are used with care and fire very few rounds.
When deployed for extended periods wear and tear takes place which means that weapons must be withdrawn for repair. Gun barrels can easily wear out when used at maximum range with top charge.
What artillery systems have been donated to Ukraine?
While some weapons supplied to Ukraine were nearing the end of their lives, others are almost brand-new and will have to be replaced eventually by their donor armies.
Denmark, for example, will replace its 19 Nexter CAESAR 8x8 systems supplied to Ukraine with 19 Elbit ATMOS 155mm systems as well as placing a $305 million contract for 20 Precise & Universal Launching System (PULS) artillery rocket launchers which will be based on a Scania truck chassis.
Denmark did deploy the older M270 MLRS but these were phased out of service many years ago as they launched Phase 1 unguided rockets which contained 644 sub-munitions that did not meet the Ottawa convention.
Germany has placed contracts with Krauss-Maffei Wegmann for 12 PzH 2000 155mm/52cal systems to replace those supplied to Ukraine – luckily the production line is still alive as 24 have recently been completed for Hungary. There is an option on an additional 18 in three lots of six for Germany.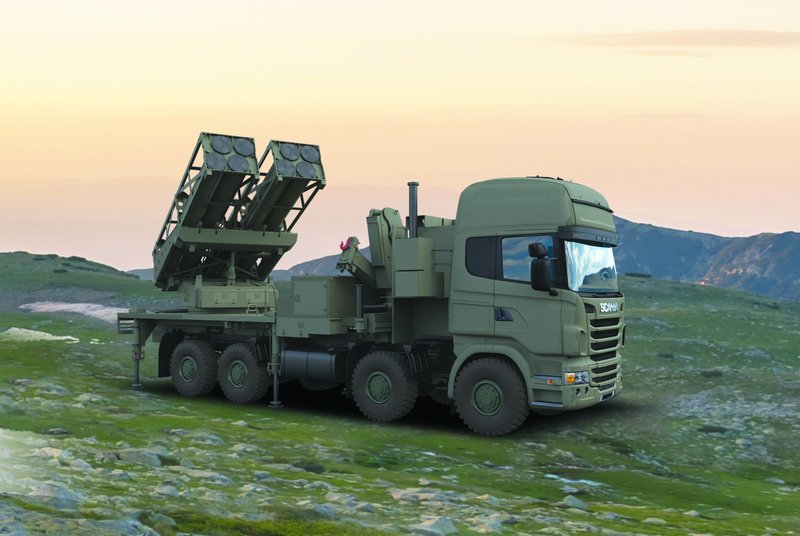 Above: The Royal Netherlands Army will get 20 Elbit Precise & Universal Launching Systems (PULS) for installation on a Scania truck. This is shown here deployed with two pods each of four missiles. (Photo: Elbit Systems)
The Netherlands also ordered a batch of ten Elbit PULS as its 22 M270 MLRS were phased out many years ago.
There was a State Department possible Foreign Military Sale to the Netherlands worth $670 million for 20 M142 HIMARS but this was not taken up.
Some European countries are also enhancing their artillery capability. Sweden for several years was without any artillery and the joint procurement of 48 BAE Systems Archer systems on a Volvo 6x6 all-terrain platform with Norway collapsed.
In the end Sweden took delivery of all 48 Archers as well as placing an order for an additional 24 based on a Rheinmetall MAN Military Vehicles HX chassis, bringing the fleet up to 72 units.
In the short term 14 Archers on the Volvo chassis are being transferred to the UK to plug an AS90 capability gap. Sweden is also expected to order artillery rocket systems.
When the dust of this conflict eventually settles, many rounds will have been produced, delivered and fired, and the artillery capabilities of most European armies will look radically different.
This story originally appeared in Shephard's monthly Decisive Edge: Land newsletter. This delivers expert insights and in-depth coverage of the latest defence industry developments. Don't miss out on the opportunity to be among the first to read these exclusive stories as soon as they publish by signing up to our newsletters here.
Shephard's DSEI 2023 coverage is sponsored by:

More from DSEI 2023 | View all news