Home

>

News

>

F-16 fighter jet backlog will increase before production rate can improve
F-16 fighter jet backlog will increase before production rate can improve
Lockheed Martin is facing a backlog of F-16 aircraft that is set to increase as the list of countries that want the jet grows. However, the company is convinced it can increase production rates significantly throughout 2023.
Jordan has become the latest country to sign an agreement to purchase F-16 Block 70 (F-16V) fighter jets.
The Royal Jordanian Air Force (RJAF) has signed an agreement to acquire a dozen aircraft from the US to modernise its ageing air force.
Jordan initially signed a Letter of Offer and Acceptance (LOA) for eight fighter jets last year, which was extended to 12 through an additional LOA signed in the middle of January, Lockheed Martin VP of F-16 programmes and Greenville Site lead Danya Trent told Shephard.
Related Articles
Bahrain to receive first batch of F-16Vs in 2024
Elbit bags another F-16 training centre contract
Turkish-US F-16 deal remains in deadlock
These LOAs follow Jordan's FMS approval from the US State Department to buy 12 F-16C Block 70 and four F-16D Block 70 platforms plus associated equipment, in a package estimated at $4.21 billion.
A statement published on the Jordanian Armed Forces website noted that the latest agreement comes within the framework of enhancing the defence capabilities and military deterrence of Jordan, increasing the level of combat readiness and joint operations and strengthening frameworks of cooperation with the US.
Jordan currently operates 43 F-16A and 18 F-16B aircraft, which form the backbone of the RJAF combat fleet. The F-16Vs would provide it with a significant upgrade in capability.
According to Shephard Defence Insight, the Block 70 configuration includes advanced avionics, an APG-83 AESA radar, a modernised cockpit, conformal fuel tanks, an Automatic Ground Collision Avoidance System and extended structural service life of 12,000h.
But how fast Lockheed Martin can build the aircraft for Jordan and other customers remains to be seen, as the company is currently wrestling with a backlog of 128 fighters. Trent said that these jets will be built in Greenville, South Carolina.
'Bulgaria has also signed an LOA for an additional eight jets for its fleet. Once these [the Jordanian and the Bulgarian deals] are finalised, the backlog will increase to 148,' she added.  
'We have multiple jets in work for Bahrain, Slovakia and Bulgaria. The full production process, including upfront supply chain work, flight tests and delivery to the customer is a multi-year process, consistent with other aviation manufacturing industries.'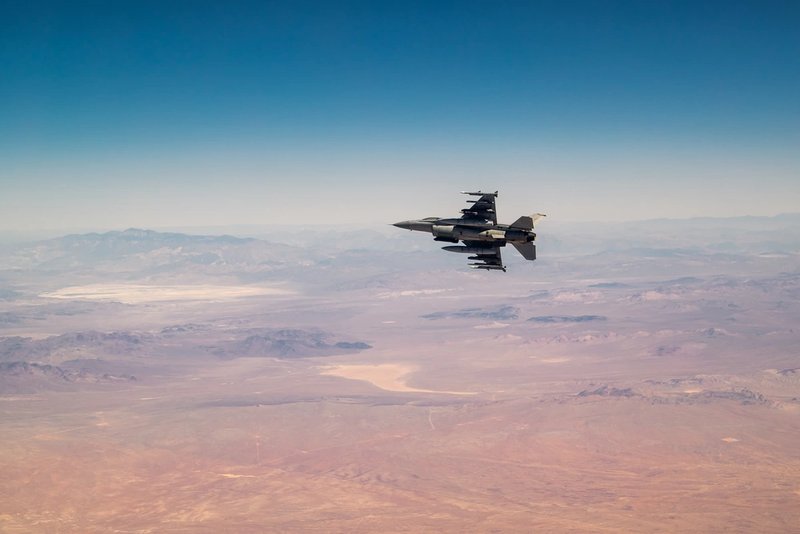 Lockheed Martin is currently wrestling with a backlog of 128 F-16 fighter jets. (Photo: US DoD) 
Bahrain is under contract for the Block 70 under a $1.12 billion deal for 16 aircraft and expects to receive its first batch of four aircraft by the first half of 2024, with flight tests set to begin in early 2023.
When asked if Lockheed Martin could deliver the first batch of four F-16s to Bahrain on schedule, Trent said: 'F-16 production in Greenville, South Carolina, continues to make significant progress with multiple aircraft in work. In fact, the first Bahrain Block 70 F-16 successfully completed its first flight on 24 January.'
'Delivery to the US government (DD-250) is scheduled in the first quarter of 2023, followed by a flight test at Edwards Air Force Base, California.'
She added that additional details would need to be provided by the Royal Bahrain Air Force or the US government.
The test flight of the F-16 on 24 January that Trent referred to was also the first flight of the Block 70 configuration.
We continue to take proactive measures in partnership with the US Government, our suppliers, and our international partners to maximize production efficiency.— Danya Trent, Lockheed Martin VP of F-16 programmes and Greenville Site lead.
The total flight time on this sortie was around 50 minutes and included airworthiness checks, covering the engine, flight control and fuel system, as well as basic aircraft handling.
A Lockheed Martin spokesperson recently said that the production rate of the F-16 Block 70/72 will increase significantly throughout 2023.
Asked by Shephard how the company would achieve this, Trent explained: 'We continue to take proactive measures in partnership with the US government, our suppliers, and our international partners to maximise production efficiency, including adding tooling and other resources to meet current programme needs and future opportunities for new production F-16s.'
She added that Lockheed Martin 'knows the importance of getting this much-needed aircraft and its advanced 21st century security capabilities to the warfighter.'
Although the potential $20 billion sale of F-16 jets to Turkey is still in a deadlock, this would add another 40 aircraft to the backlog if approved by Congress.
More from IDEX and NAVDEX 2023 | View all news