USMC invests in the future of training
A brand new Marine Corps Wargaming and Analysis Center (MCWAC) at Marine Corps Base Quantico in Virginia should enhance training and support future planning.
The USMC has broken ground on the Marine Corps Wargaming and Analysis Center (MCWAC) at Marine Corps Base Quantico in Virginia. The new 100,000ft² (9,290m²) facility will house a range of training and simulation technologies to train and assist the USMC in conducting operational training and planning.
'This new wargaming facility represents the Marine Corps' undying effort to support the future Marine,' said Lt Col Raymond Feltham, programme manager for Wargaming Capability at Marine Corps System Command (MCSC). 'MCWAC will offer innovative capabilities that will prepare them for battle against an ever-evolving threat.'
The decision to build the MCWAC followed planning and researching by MCSC, the Marine Corps Warfighting Lab, Operations Analysis Directorate, and Capabilities Development Directorate to produce a facility that will drive USMC Force Design 2030 concepts.
Developing the new centre will see the USMC soliciting help from several partners including the USN and industry, said Col Robert Bailey, portfolio manager for Command Element Systems at MCSC.
He said that MCWAC will also provide a critical asset to the joint force and senior leadership that has been currently unavailable in the National Capital Region. The location facilitates participation in wargames by joint, interagency and multinational organisations.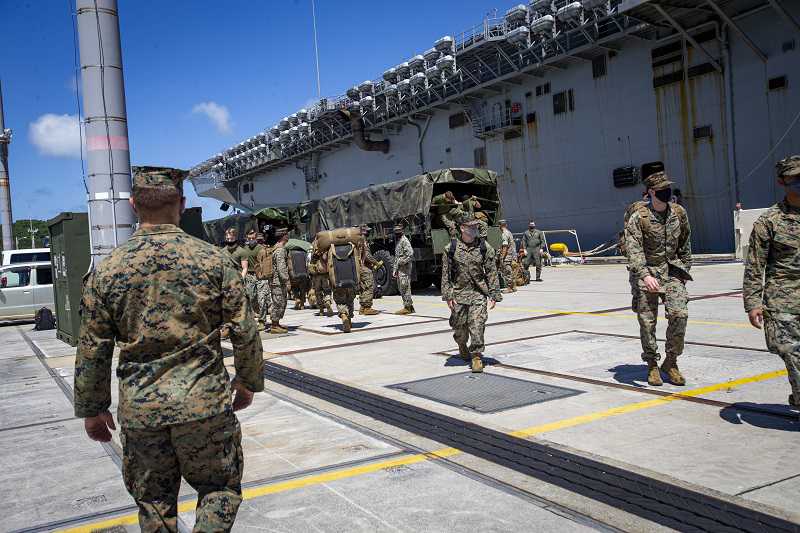 A USMC Marine Expeditionary Unit (MEU) prepares for deployment. (Photo: DVIDS)
Feltham believes collaboration among Marine Corps organisations, other services and industry serve a critical role in bringing this next-generation capability to the warfighter. This will be overseen and managed by the Wargaming Capability Program Office, which will oversee the delivery of future wargaming capabilities with the Marine Corps Warfighting Lab running the exercises.
The programme office will also provide acquisition support for the facility throughout its lifecycle.
'The programme office has partnered with a number of other organization such as the Naval Surface Warfare Center at Dam Neck and Naval Surface Warfare Center in Panama City for wargaming and modelling and simulation subject matter expert support,' added Feltham.
In its efforts to meet Force Design 2030, the USMC said it intends to work closely with industry to use '21st century capabilities' to 'identify issues, consider objectives, and scope and analyse problems'. These '21st century capabilities' include using AI, machine learning and data-driven algorithms instead of the current human-driven approach that uses SMEs.
The USMC believes that its new approach will provide it with improved 'data collection and consolidation, resulting in larger amounts of information and lessons-learned that the Corps can share throughout the Department of Defense'.
Once completed, MCWAC expects to support at least 20 major wargames annually, including two simultaneous large-scale events with up to 250 participants.
The Marine Corps anticipates that MCWAC will open in 2024 and reach full operating capability in 2025.
More from I/ITSEC 2021 News