IFTS gains traction as Japan joins the club
Japan has become the third nation to join Leonardo's International Flight Training School after the Qatari and German air forces.
The Japan Air Self-Defense Force (JASDF) has signed an agreement to send pilots to the Leonardo International Flight Training School (IFTS) in Lecce-Galatina airbase to conduct Phase IV advanced jet training. Japan is the third country to agree to send pilots to Lecce following Qatar and Germany.
The agreement was signed virtually in Rome on 26 October by the Italian Air Force Chief of Staff, Gen Alberto Rosso and his JASDF counterpart, Gen Shunji Izutsu.
IFTS is a joint initiative between the Italian Air Force and Leonardo that also includes an industrial partnership between Leonardo and CAE for maintenance/support of the aircraft fleet and synthetic training equipment.
Leonardo said that Japanese interest in IFTS 'was consolidated after a series of discussions and initiatives that culminated in a visit to the 61st Wing at Lecce-Galatina Air Force Base in September 2020'.
The newly signed technical arrangement is expected to see a gradual increase in JASDF student pilot intake in future years. Leonardo said that there is also a possibility that JASDF instructors could be welcomed into the school 'to work side-by-side with Italian colleagues, in an approach that favours the exchange of experiences, the optimization and standardization of procedures, to benefit all the operators in the sector'.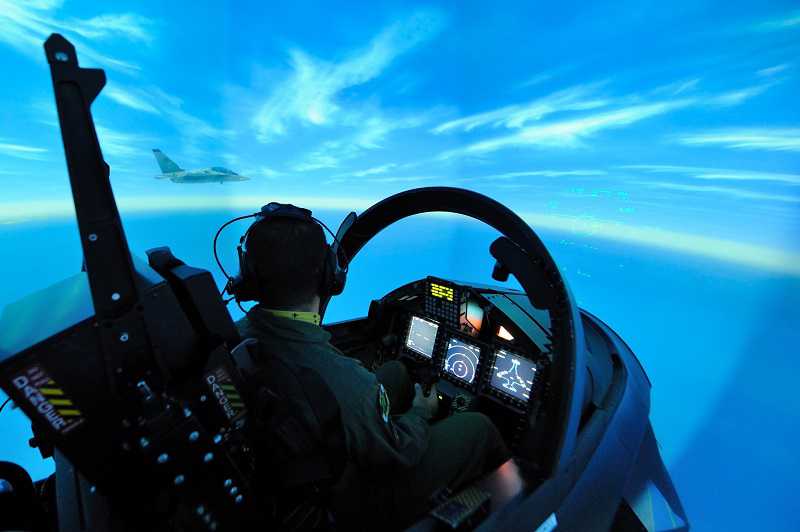 The M-346 Full Mission Simulator at IFTS is made by CAE. (Photo: Leonardo)
Gen Rosso said that 'this is another important step in the collaboration between our Air Forces: we are already cooperating with great success in many areas, for example having common platforms such as the F-35 aircraft and the KC-767 tanker'.
The next phase for IFTS will see a new campus open in 2022 at Decimomannu in Sardinia. Leonardo said that IFTS training would then be conducted at both airbases.
Decimomannu will be capable of hosting students, technical staff and feature accommodation as well as recreational areas and the Ground Based Training System (GBTS). IFTS will operate a fleet of 22 M-346 aircraft (designated T-346A by the Italian Air Force).
Although Leonardo has not disclosed the number of students that Japan intends to send to IFTS, there is no doubt that with Japan joining Qatar Emiri Air Force and German Air Force students, the training school is gaining critical mass.
This could not come at a better time for Leonardo as NATO begins its deliberations on the location of training centres for its NATO Flying Training in Europe (NFTE) project.
More from I/ITSEC 2021 News