General Atomics helps train Marines for MQ-9A Reaper as service struggles to meet UAV operator requirements
General Atomics is conducting high-level training exercises with the US Marine Corps using its MQ-9A Reaper as the service experiences training problems under arrangements that could lead to a potential long-term partnership.
General Atomics Aeronautical Systems (GA-ASI) is working with the USMC on a series of service-level training exercises (SLTE) using a company-owned MQ-9A Reaper UAS to support the Marine Air-Ground Task Force Training Command (MAGTFCT).
SLTE 2-23 is being conducted near Twentynine Palms, California, with participation from joint forces. General Atomics began flying the MQ-9A on 3 February, with a combination of company and VMU-3 pilots and sensor operators.
The USMC said the MQ-9A enabled it to begin integrating Group 5 uncrewed aircraft into the Marine Air-Ground Task Force for the first time.
Related Articles
Reaper UAV tests new SATCOM capability
US lacks clear plan to meet amphibious ship requirements, Marine Corps chief says
BAE Systems tests rocket laser guidance kits for anti-drone role
'GA-ASI is always ready and willing to support the USMC exercises,' said its VP of DoD strategic development, Patrick Shortsleeve. 'We know that being able to utilise an actual MQ-9A is critical to the success of these exercises and helps the USMC ramp up their training programme.'
This exercise appears to be a response to a problem the USMC recently identified and talked about publicly only a week ago.
According to the USN's FY2022 Budget Estimates documents, $233.69 million is requested by the corps to acquire six Marine Group 5 UAS. Funding for the contract was announced in July 2022 when GA-ASI revealed that it had been awarded a deal for eight MQ-9A ER variants as part of the ARES ID/IQ contract.
Based on Lt Gen Smith's March 2021 comments, Shephard Defence Insight forecasts that the USMC will acquire an additional six RQ-9A units to achieve its fleet size of 18 Reapers.
However, the corps is struggling to train its officers on how to operate the UAVs.
On 28 March, testifying before the Senate Appropriations subcommittee on defence, USMC Commandant Gen David Berger admitted the marines have been relying on the USAF for Reaper training.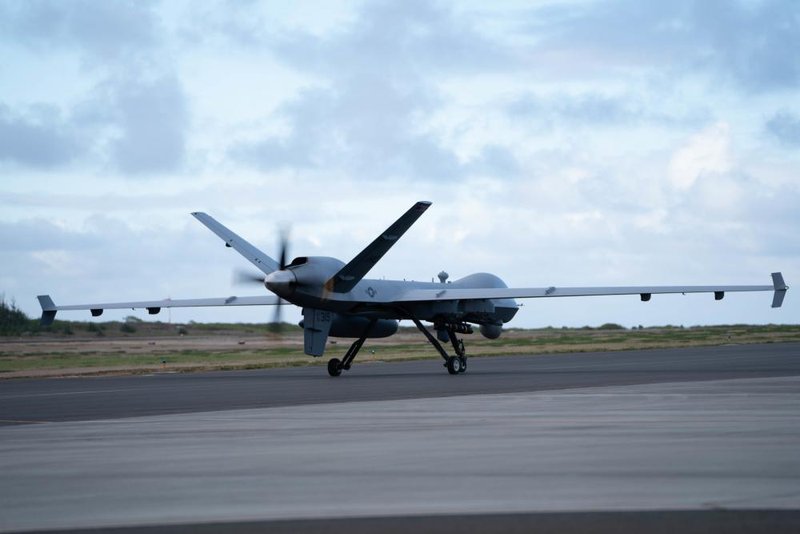 The USMC is struggling to train its crews on how to operate the MQ-9 Reaper. (Photo: USD DoD)
Berger said this approach will not get the service the number of qualified personnel it needs to operate the number of MQ-9s it desires, adding that the USMC's demand for the GA-ASI-manufactured aircraft will not change.
He suggested two solutions. The first is to contract industry to help train marines – the most obvious option would be General Atomics and the MAGTFCT-run exercises could serve as test runs for such a route.
The second option, Berger said, is to set up a 'naval school for unmanned pilots'.
'We don't know yet what that would cost, where we would put it, the instructor base, all that sort of thing. But it's pretty clear that relying on the air force… is not going to meet the requirement going forward,' he said.
The SLTE programme consists of a series of exercises, including live-fire integrated training, marine littoral regiment training and force-on-force warfighting.
MAGTFTC executes the SLTE Program, which includes simulated and live-fire armed exercises, to enhance readiness of the fleet marine forces and support the marine corps' responsibilities to national security.
The USMC and GA-ASI are yet to confirm whether these training exercise are laying the groundworks for a potential future partnership or are only a one-off effort by the manufacturer.
More from IT²EC 2023 | View all news