Home

>

News

>

ROK Navy commissions its second KSS-III submarine
ROK Navy commissions its second KSS-III submarine
The second of South Korea's KSS-III Batch 1 conventional submarines has formally entered service.
The Republic of Korea Navy (ROKN) commissioned its second KSS-III Batch 1 diesel-electric submarine, ROKS Ahn Mu, on 20 April. This is South Korea's largest submarine type to date.
The handover ceremony of SS-084 took place at Daewoo Shipbuilding and Marine Engineering's (DSME) shipyard in Okpo.
RAdm Kim Tae-Hoon, director of the domestic submarine programme at the Defense Acquisition and Program Administration (DAPA), commented: 'By successfully commissioning ROKS Ahn Mu today, we have proven our technical abilities in submarine building. Today's commissioning will serve as momentum to greatly improve the capabilities on upcoming submarines including KSS-III Batches 2 and 3.'
The 3,358t ROKS Ahn Mu is scheduled to begin its first operational deployment early next year, following around eight months of performance evaluations and crew training.
Its keel had been laid on 17 April 2018, and it was launched on 10 November 2020.
The type is 83.5m long, has a beam of 9.6m and is 14.7m high. Equipped with air-independent propulsion (AIP) featuring hydrogen fuel cells, its maximum speed is 20kt and with a range of 10,000nm.
Fitted with six vertical launching system (VLS) cells, it can fire missiles such as Hyunmoo-4-4 submarine-launched ballistic missiles (SLBM). These missiles are faster and have a larger warhead than cruise missiles.
They also have six air turbine pump torpedo launchers, which rely on Babcock technologies.
The first-of-class ROKS Dosan Ahn Changho (SS-083) was commissioned on 13 August 2021. The third and final Batch 1 submarine, Shin Chaeho, will be delivered to the ROKN in April 2024. Different to the first two, this one is being constructed by Hyundai Heavy Industries (HHI); its launch occurred on 28 September 2021.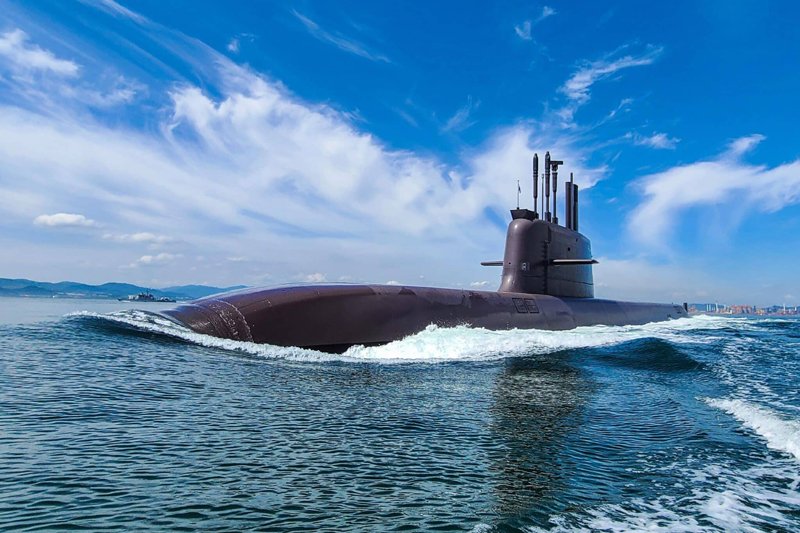 This is the South Korean navy's first KSS-III conventional submarine, which gives it an underwater ballistic missile capability. (Photo: ROKN)
On 16 August 2022, the ROKN confirmed that ROKS Dosan Ahn Changho had operationally deployed for the first time. This was the first time a combat-ready South Korean submarine armed with SLBMs had gone to sea.
KSS-I and KSS-II submarines followed ThyssenKrupp Marine System designs from Germany, whereas the larger KSS-III is an indigenous design. In fact, DAPA claims 76% of KSS-III components are indigenous.
The ROKN will receive nine KSS-III submarines in total, with Batches 2 and 3 progressively adding new capabilities.
In fact, the keel of the first KSS-III Batch 2 submarine was laid on 30 March at DSME's Okpo shipyard. DSME had been awarded the construction contract in October 2019, and first steel was cut in May 2021. It should be launched in 2025, and commissioned into the ROKN two years later after extensive operational trials.
Improvements in Batch 2 include a more advanced combat management system and sonar, and the installation of a ten-cell VLS that permits a wider range of missiles to be launched.
South Korea has emerged as an important submarine builder, having also constructed three Nagapasa-class boats for the Indonesian Navy. However, Indonesia has reneged on a deal to buy three more from South Korea, plus Korean media have reported defects on all nine Son Won-il-class/KSS-II boats.
A report submitted late last year by Shin Wonsik, a National Assembly member of the People Power Party, listed discolouration in inverter module cables on seven submarines, plus two functional defects in inverter modules themselves since 2019. These inverter modules are produced by Siemens, and each submarine has 12 of them.
Because of such issues, ROKS An Jung-geun had to be towed back to port after breaking down at sea in January 2021.
Analysis by Siemens and the Agency for Defense Development concluded that cable discolouration was probably caused by dehydrogenation due to chemical reaction. They also claimed the issue was not mission-critical.
DAPA reported that it had paid Siemens KRW7.1 billion ($5.3 million) to replace all inverter module cables. As of October 2022, three submarines had been repaired and one was in progress. However, the process is slow as it takes some six months for parts to be shipped to Germany, repaired and then returned.
Finally, LIG Nex1 was awarded a contract on 30 November 2022 to provide ultra-thin linear sensors for future KSS-III submarines and UUVs to enhance their anti-submarine warfare capabilities.
More from IMDEX Asia 2023 Show News