Home

>

News

>

France's Technamm to unveil new special forces vehicles
France's Technamm to unveil new special forces vehicles
Inspired by lessons learned in Ukraine, the 4x4 Technamm Fennec 2 is looking for its first customers, while the Masstech Commando has already been ordered by France and Jordan
Technamm, one of the main vehicle suppliers to French special forces, will unveil two new models at the SOFINS show in Bordeaux next week. 
The Fennec 2 is derived from the civilian 4x4 Suzuki Jimny and could be used both for SOF and border surveillance missions, the main focus of one of its prospective customers. 
Technamm wanted to add more power to a vehicle model developed four years ago, following 'discussions we had at Eurosatory with Ukrainians who are looking for small, heavily armed and manoeuvrable vehicles' explained the company's president, Dominique Croizat.
Related Articles
Indian military wants hundreds of 4x4 light vehicles
Jordan establishes Middle East's first drone and electronic warfare test range
France adds L3Harris sensor turret to A400M for special forces missions
'The circular turret can hold a 12.7mm machine gun and a Spike missile, or an AT4 rocket launcher,' he added. A 7.62mm or 5.56mm weapon can be mounted in the right front position, served by one of the three crew.
Technamm has reinforced the entire structure, in particular the axles and shock absorbers, while increasing the power from 110 to 150hp by adding a turbo. Maximum weight is 2,400kg, with an empty weight of 1,400kg. 
Flexible tubes can be used to bring air conditioning under the bulletproof vests of each of the three crew members.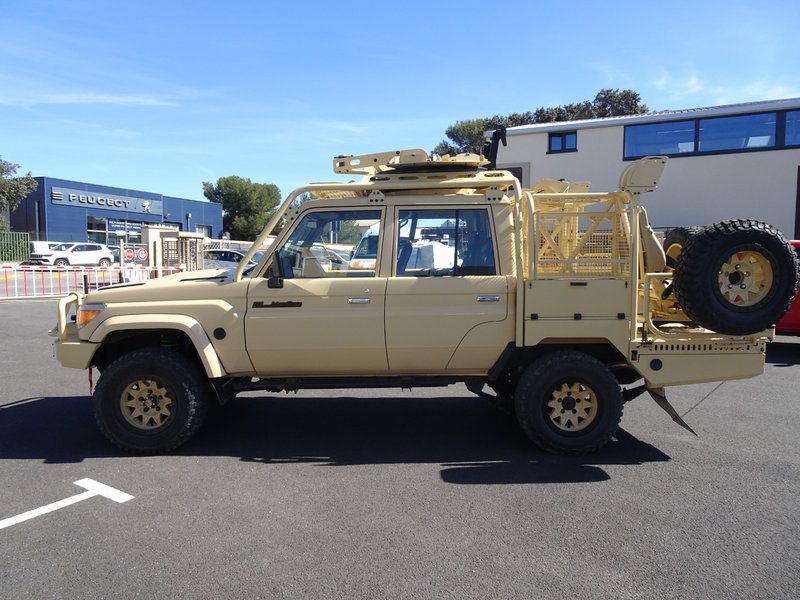 The Masstech Commando is on order for French and Jordanian forces. (Photo: via author)
Technamm will also present for the first time the Masstech Commando. This has been ordered by France for its air force commando units (with four vehicles already acquired against a requirement for 18), and by Jordan (ten examples with an estimated need for 40 in the long term) in return for French use of an air base since 2015 to fly missions against IS in Iraq and Syria.
The vehicle has a four-seater cabin and a position that can accommodate a seated shooter firing a 7.62mm weapon over the rear arc. A 12.7mm machine gun or 7.62mm M134 minigun can be fitted on the roof turret mount. 
The two current customers will start receiving vehicles from the end of the year.
More from SOF Week 2023
USSOCOM Commander Gen Bryan P Fenton has highlighted the importance of relationship-building between US SOF and their Ukrainian counterparts since 2014.

The Commander of Special Operations Command - Korea provides an update at SOF Week 2023.

As the inaugural SOF Week draws to a close, the head of the Global SOF Foundation reflects on a successful event.

AeroVironment has introduced the Puma VTOL kit, designed for plug-and-play integration into Puma 2 AE and Puma 3 AE small uncrewed aircraft systems.

US Special Operations Command's next Technical Experimentation event will evaluate Ryvid's electric motorcycles.

Among the vendors on the show floor at SOF Week 2023 was CACI International Inc.