Home

>

News

>

DSEI 2023: Sentinel UAS offers solution for communications relay and black holes
DSEI 2023: Sentinel UAS offers solution for communications relay and black holes
UK company Drone Evolution is showing for the first time its tethered UAS, Sentinel, and outlined future plans for the system as a radio relay as well as surveillance asset.
The company's heritage in the field is in tethering UAVs and while work on Sentinel began only in early 2022 testing has been taking place over the past six months with demonstrations to the UK MoD and also under the eye of a US DoD representative.
As it stands, the quadcopter Sentinel UAV has been tested to an altitude of 50m and while it has achieved a height of 100m this altitude remains in the test and evaluation phase. The UAV still uses GPS to hold its position and part of the next phase would be to eliminate that or provide an alternative with other systems.
There are a number of advantages for a tethered UAS over a conventional mast including the greater height which can be achieved and its lighter weight compared to a mast system as well as taking up less space on a vehicle and needing less personnel and time to set up and take down.
Related Articles
DSEI 2019: Drone Evolution launches 'unjammable' drone tech
Work is still being done to establish how the system operates in difficult meteorological conditions particularly as regards wind speeds, according to Drone Evolution communications director Toby Townrow, but the UAV has been fitted with what the company describes as 'the highest wind resistance motors we can on this [UAV] so each motor has a 9kg lift.'
'However, they are not lifting much as the [UAV] doesn't weigh very much so that is really designed to give maximum wind resistance. The wind resistance on this drone will be very high compared to what you might think of on a smaller UAV.'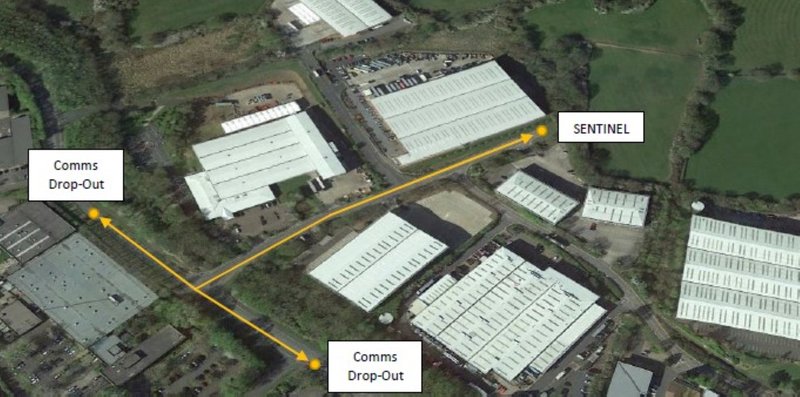 During an evaluation, Sentinel was able to provide a relay to combat a communications blackspot. (Image: Drone Evolution)
As part of the presentation to the UK MoD its potential as a communications node was demonstrated but it could also be used for base security with one concept of operations noted by Townrow being to have a system at each corner of the site to provide surveillance and communications.
'One of the things which has been discussed… is border security post-[Ukraine] war, that is obviously going to be a big concern of whatever the negotiated settlement is, there'll be a lot of that.'
An evaluation of Sentinel's capability was conducted in May to demonstrate its ability to fill a communications 'black hole'. The UAV was fitted with a Persistent Systems MPU5 MANET radio deployed in an urban location in Redditch, UK.
According to the assessment, the straight-line distance from Sentinel to the blackspot was measured as 1.8km and going from zero communication to full coverage took approximately five minutes.
A key feature of the Sentinel UAS is its power supply. The company has created its own ground system that can take power directly from a 12v, 24v or 48v source using a standard commercial or military vehicle with a 24V alternator.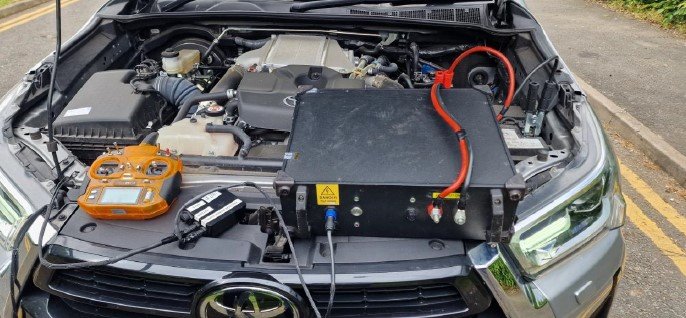 Sentinel can be powered via a car battery. (Photo: Drone Evolution)
Testing has been done on High Mobility Transport Jackal and MRZR special operations vehicles, feeding power directly to the UAV without an inverter or generator required, removing the need to take a generator or more fuel.
The ground power supply box has two connectors which will provide up to 4kw off the vehicle meaning a steady supply and the ability to charge other equipment or batteries, and also that the UAS can operate for hours or run silent on batteries if required.
Communication with the UAV and payload occurs in one of three ways: first where data is sent via RF and the tether is singularly used for power; secondly a more secure version which has 10MBPS with data over power; and the third iteration would be control over tether with fibre optic cable. In the latter option the company has completed tests to 20m but is looking to achieve higher altitudes.
In terms of further development, Townrow said plans were underway for greater integration with vehicles.
'We are working with a client, a designer of systems, about incorporating it into Generic Vehicle Architecture [standard], so if you are in a tank or vehicle, you stay in the vehicle, push a button and it launches. We are looking at doing a demonstration in October on that in conjunction with the partner.'
Shephard's DSEI 2023 coverage is sponsored by:

More from DSEI 2023 | View all news