Home

>

News

>

MARSS reveals plans for new counter-drone UAV and roadmap for Interceptor
MARSS reveals plans for new counter-drone UAV and roadmap for Interceptor
MARSS expects to begin testing its Interceptor Medium Range (MR) UAS against Class 2 UAVs later this year in Cornwall UK and has revealed details on the Interceptor Short Range (SR) UAS with soldier-carried deployment system.
The Interceptor MR was launched as a concept in March 2022 during the World Defense Show in Riyadh, Saudi Arabia and development since then has seen the company integrate much of the target identification and intelligence of its NiDAR C-UAS system into the Interceptor MR.
The Interceptor SR is a scaled-down version of Interceptor MR and is about half the size but only one-sixth of the weight. While the larger system is designed to protect static sites, whether military or critical civilian infrastructure and linked to NiDAR, Interceptor SR is designed to operate from a vehicle or by a dismounted soldier using a launcher.
Both versions have a hardened front section and are designed to provide kinetic force by colliding with a UAV at a high-speed. In the case of Interceptor MR, which has weight of 8kg, that speed is 288km/h. Both systems have four rotors for VTOL operation but transition to forward flight in pursuit of a target.
Related Articles
NiDAR includes kinetic C-UAS countermeasures
WDS 2022: MARSS targets Middle East market for C-UAS interceptor
MARSS launches containerised C2 centre for counter-UAS
MARSS' head of research and development and project lead on Interceptor, Stephen Scott, said the company had looked at other UAV options before pursuing the development when it decided none could fit the parameters of what it was looking for.
The concept of operations for Interceptor MR is for it to remain in an environmentally sealed container until a threat was detected and then be deployed with an operator in the loop from launch to impact.
'We have taken the machine learning that we have in NiDAR, all the intelligent parts and baked that into the Interceptor, taken that software that traditionally runs on a server and essentially managed to compress it down into processors on the aircraft,' Scott said.
'We are still in the development phase but have achieved a high level of maturity and we have held demonstrations throughout this year and will into next year and we are seeing strong interest from militaries.'
Under the concept of operations Interceptor MR would deploy in a battery of six or more to address military scenarios but with Interceptor SR, operating on a vehicle, that could be up to 12 depend on the platform, whether crewed or uncrewed.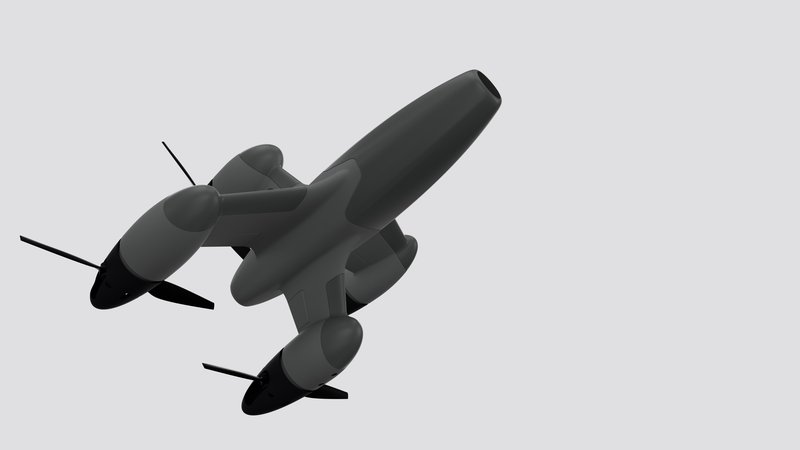 The Interceptor SR is in the early stages of development. (Image: MARSS)
The infantry rifle-style launcher for Interceptor SR is made from carbon fibre to keep it light at 3kg and is fitted with what Scott said is a 'proprietary optical system with NiDAR intelligence for target identification and it can receive target information from the battlefield network'.
Interceptor MR has a wingspan of 90cm and a length of 80cm while it can achieve an altitude of 6,500ft and a range of 5km. It can carry a payload of <1kg and has a battery charge time of 20mins.
Interceptor SR has a wingspan of 40cm, a length of 25cm and weight of 1.5kg while it can achieve an altitude of 1640ft, maximum speed of 216km/h and a range of 1km.
Shephard's DSEI 2023 coverage is sponsored by:

More from DSEI 2023 | View all news