UV Online
Enhanced Fire Scouts reach Southeast Asia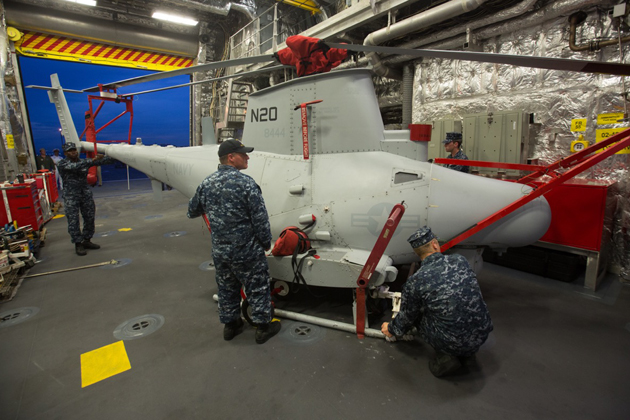 USS Coronado, an Independence-class Littoral Combat Ship (LCS), arrived in Singapore on 16 October with two enhanced Northrop Grumman MQ-8B Fire Scouts and a Sikorsky MH-60S aboard.
This was the first time both platforms and variants had operated as a composite element on an LCS. They are assigned to HSC-23 'Wildcards'.
Lt Cdr Evan Young, the HSC-23 Detachment 4 officer in charge, said, 'This hasn't been done before, so we'll launch the Fire Scout and MH-60 simultaneously and see the integration we can do…with the ship.'
Young heads a detachment that includes four aircrew, 16 maintainers and five pilots qualified on both platforms.
The enhanced MQ-8B is fitted with a commercial off-the-shelf Telephonics AN/ZPY-4(V)1 maritime radar, giving the Fire Scout radar detection capabilities that were not present in the USS Fort Worth deployment to Singapore last year. 
The Fire Scout is used mainly for surveillance and to build a recognised maritime picture for the LCS. 
'We can also [have a] hunter-killer mentality using the Fire Scout to find, identify and track targets, and take them out with the MH-60S,' Young said. 
'It's a force multiplier as we can operate the Fire Scout at the ship's radar operating limit, turn on the AN/ZPY-4 radar and extend the maritime picture, or pass the information for a Harpoon engagement.'
As part of the LCS surface warfare package, the MH-60S can be armed with AGM-114 Hellfire missiles, GAU-21 12.7mm machine guns or M240D 7.62mm machine guns.