US Navy has bold plans for future aviator training
The USN has published its vision for future aviation training that covers the gamut of live, virtual and constructive training — but achieving its goal will present a massive challenge.
The USN recently released an unclassified version of its 'Navy Aviation Vision 2030-2035' report with a significant focus on training.
Like all good military documents, the report started by acknowledging the threat analysis provided in the US government's earlier 'National Defense Strategy' document. In particular, it noted 'a complex global security environment characterised by overt challenges to the current international order and the resurgence of long-term, strategic competition among nations'.
To win in this 'Great Power Competition', the report stated that the USN must generate 'future readiness across the force' and achieve 'revolutionary training – to form the framework of Navy Aviation's future'.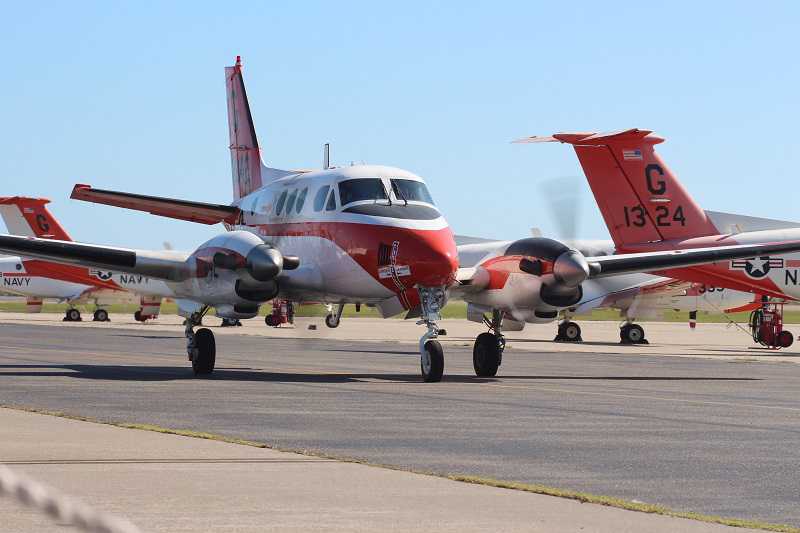 T-44C multi-engine training aircraft will be replaced under the METS project. (Photo: Trevor Nash)
After highlighting specific threats from China — specifically, the increase in naval ships and aircraft, longer-range weapons and information warfare — the report addressed how the USN can achieve 'Revolutionary Training' within a fiscal environment that will 'remain constrained'.
Without proper and sufficient training, the USN report warned that 'future capabilities and efforts to ensure readiness will be less effective'.
It added: 'As Navy Aviation's platforms, weapons, and sensors are modernised, so too, must training keep pace with the threat environment.
'Initiatives to ensure high-end training include: Chief of Naval Air Training (CNATRA) recapitalisation [fleet renewal]; Naval Aviation Training Next (NATN); shifting Carrier Qualification (CQ) training to the Fleet Replacement Squadrons (FRS); Fleet Surrogate strategy; LVC training; distributed simulator training; and enhanced Air Wing Fallon facilities.'
The onus for these changes mainly falls upon CNATRA, which is asked with bringing training 'from the industrial to the information age'.
Ongoing projects overseen by CNATRA include Project Avenger, a trial within T-6B training wings to move to a 'competency-based approach'. Avenger allows students to 'move at the pace of their individual capabilities', the USN report noted, as opposed to the current approach that 'moves students along largely as a group as they meet minimal acceptable standards'.
Another programme is Project Hellcat, described by the USN as 'a T-6B intermediate syllabus for selected Strike students that will focus on angle-of-attack approaches, division formation, basic fighter manoeuvre set ups, and strike concepts' to better prepare students for conversion to the F/A-18 and F-35.
A third CNATRA initiative is Project Corsair, a T-45C syllabus modification that is currently under development and planned for introduction in late 2021.
On the rotary-wing front, CNATRA is also working on the TH-73 Advanced Helicopter Training System syllabus that will be introduced in early 2022; and the Multi-Engine Training System (METS) as the T-44 replacement that will be developed with NATN concepts and is scheduled for introduction in FY2025.
Unmanned training will see the 'first Air Vehicle Officers (AVO) be trained at VT-4 in Pensacola in FY22,' the 2030-2035 vision document added. Upon earning their wings, 'they will usher in a new era for Warrant Officers who will ultimately operate the MQ-25A starting in FY24'.
With the USN now beginning to receive the TH-73A to replace the TH-57B/C, METS should arrive in the mid-2020s for multiengine aircraft training and the T-45C replacement — the Undergraduate Jet Training System (UJTS) —arrives in the late 2020s for strike fighter tactics training.
UJTS is expected to enable more complex training than the current T-45C, with an improved embedded training system to provide a better-trained student to the strike conversion phase at the FRS.
Under the heading of Fleet Surrogates and Adversaries, the report acknowledged that simulators 'are an outstanding training aid' but the need for live flight training is still required as 'a requirement to develop and demonstrate skills'.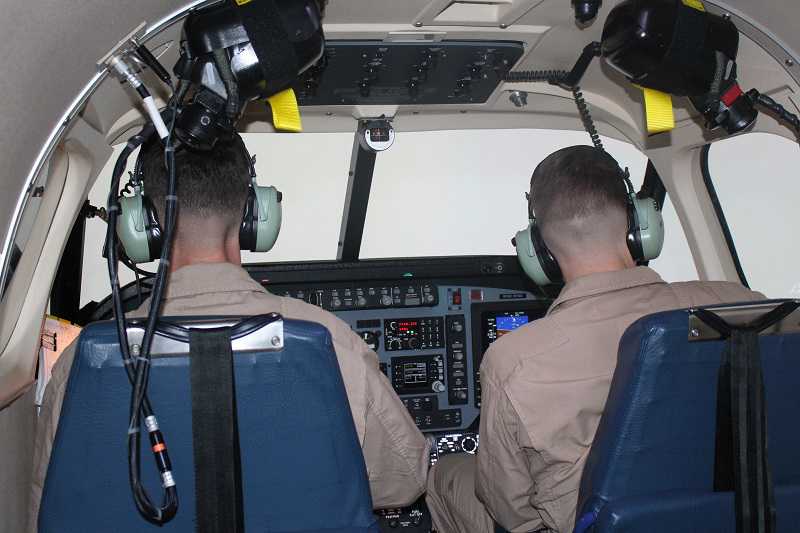 A T-44C flight trainer at NAS Corpus Christi. (Photo: Trevor Nash)
The idea of surrogates is to use the UJTS aircraft to emulate aspects of the fleet's strike aircraft through large, reconfigurable multifunction displays and embedded training systems combined with I-LVC.
The USN 2030-2035 plan stated that 'actual flight time and training can be accomplished at a fraction of the cost — potentially for as little as 15% of the cost of fleet aircraft — while simultaneously reducing some of the flight burden on fleet aircraft'.
Turning to adversaries, the report says that similar to the fleet surrogates, 'UJTS can potentially be used to fulfil some of the adversary requirements of Naval Aviation. LVC capabilities, planned to grow considerably over the coming years, coupled with podded or integrated emulation systems capable of providing appropriate waveforms [that] will enable these aircraft to replicate 4th and 5th-generation threats.
'While not necessarily capable of the kinematics of those threats, the replication capabilities with the substantial O&S (Operating & Support) savings derived from replacing legacy F-5 adversary aircraft, make this adversary variant a win/win for Naval Aviation.'
Considering distributed training, the USN plans to operate LVC exercise control centres on the Atlantic and Pacific seaboards. The Navy Continuous Training Environment (NCTE) will integrate the Tactical Combat Training System Increment II to provide distributed I-LVC training from these two sites.
The USN stated: 'By 2035, all series simulators for the F/A-18, EA-18, E-2, F-35, P-8, MH-60, and MQ-25 will be integrated into the NCTE to allow for distributed training from the unit level up to the strike group level. A balance of tactical operational flight trainers and low-cost trainers will be utilised to increase capacity as well as shorten the concurrency window between an aircraft and its associated trainer's software loads.'
The US Naval Aviation Warfighting Development Center (NAWDC) at NAS Fallon in Nevada is the home for Naval Aviation air combat training and tactics development. Its primary mission is integrated training, both live and virtual, of air wings in the final phase of the Optimized Fleet Response Plan.
'As Navy Aviation's platforms, weapons, and sensors are modernised, so too, must training keep pace with the threat environment.' — Navy Aviation Vision 2030-2035
The focus at Fallon is on TTPs tailored 'to fight and win the high-end fight against peer competitors', the USN noted in its report. To properly prepare aircrew for the anticipated threat, NAWDC continually updates the threat emulators at NAS Fallon as well as 'Air Wing Fallon (AWF) syllabi, and its training systems and facilities'.
NAWDC is exploring options to expand the FRTC airspace and utilise adjacent range areas as required.
Following its planned IOC in 2022, NAWDC's Integrated Training Facility (ITF) will provide, 'the ability to conduct the full scope of AWF integrated training at the security levels required to employ the full capabilities of the CVW [Carrier Air Wing] and train for the high-end fight,' the USN stated.
It added: 'It is planned that the new ITF will integrate with other Navy sites through the NCTE as well as the US Air Force to allow full joint mission rehearsal, integrated strike group air defence training, AWF mission rehearsal, weapons and tactics instructor support, TTP development, Combatant Commander (CCDR) mission rehearsal, and unit-level training.'
The USN certainly has a vision for how it wants to train its aviators in the future. The complex nature of any training enterprise means that all of the constituent parts must be integrated and able to operate together. That fulfilment of that desire demands major investments and seamless technical integration.
It will also demand an almost dictatorial command and staff management system that can survive the posting in and out of staff officers to the programme without losing accrued knowledge. Clearly, CNATRA will have a large part to play in delivering this vision, as will the Naval Air Warfare Center Training Systems Division.
More from I/ITSEC 2021 News