Thales set to expand training portfolio with RUAG S&T acquisition
RUAG is selling its S&T business to Thales to concentrate on the space sector, while the French company's training portfolio is boosted.
Swiss defence and aerospace company RUAG announced on 16 November that it is in 'exclusive negotiations' with Thales to divest its simulation and training business. According to RUAG, 'Thales has the strong intention to take over the entire business activities as well as all 500 employees of RUAG S&T'.
Perhaps best known for its activities in the laser-based Tactical Engagement Simulation Systems (TESS) sector, RUAG also produces virtual small arms trainers (VSAT) through its RUAG Defence France business (previously GAVAP). The latter has also produced cabin simulators for the French Army's Scorpion programme.
RUAG's French connection was reinforced further in 2017 when it was awarded a contract by Thales to provide TESS equipment for the French Army military operations in urban terrain (MOUT) facility at Sissonne and its combat training centre at Mailly-le-Camp.
As well as its French subsidiary, RUAG S&T has offices in Germany and the UAE.
It must be said that apart from sales to the Swiss Army, and a number of smaller contracts with customers such as the Polish special forces, RUAG's TESS offering has not been adopted as widely as the company expected. Although high in quality, its high price often militated against it.
According to André Wall, RUAG International's CEO, the sale of the S&T business 'brings us an important step closer to our goal of becoming a pure space company'.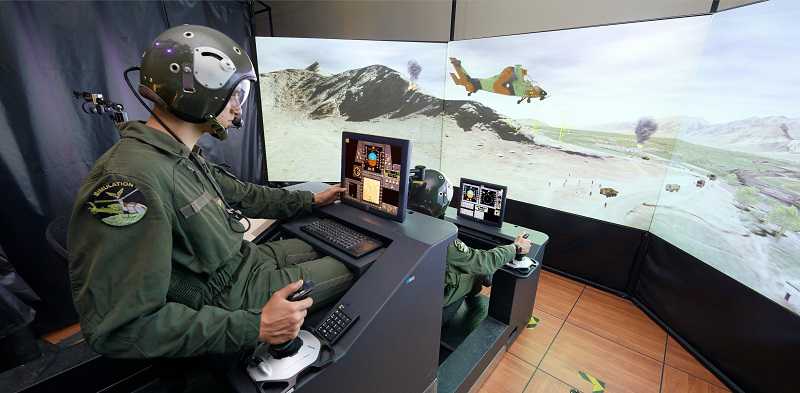 One key area for Thales is rotary-wing simulation. (Photo: Thales)
As for Thales, its Training & Simulation business comprises a broad portfolio that includes rotary-wing simulation, live TESS-based training, command and staff training, VSAT and virtual training for ground vehicles. The T&S business unit has around 1,000 employees with industrial sites in France, the UK, Germany and Australia as well as joint ventures and training sites in the USA, Middle East and Europe.
No financial details of the deal have been released, and approval is expected in early 2022.
On the surface, this looks like a good acquisition for Thales. Shephard understands that RUAG S&T had been on the market for some time and so one would imagine Thales has acquired the company for a competitive price.
In terms of fit, Thales is acquiring a number of sophisticated TESS products such as RUAG's Gladiator and C-IED training equipment, securing greater access to the Swiss defence market and removing a VSAT competitor in the process.
The champagne corks are likely to be popping in Paris.
More from I/ITSEC 2021 News