Exercise Iron Titan clears new UK Apache for frontline duty
Exercise Iron Titan focused on improving interoperability, tactics and C2 procedures while evaluating new equipment.
Exercise Iron Titan, a recently completed event held in England and Wales, saw the largest number of UK land personnel and equipment for two decades participating in a broad-ranging exercise putting equipment and tactics to the test.
The event brought together the training of the 3rd (United Kingdom) Division's (3 (UK) Div) support elements and involved 8,000 troops.
The division consists of 1st Deep Reconnaissance Brigade Combat Team (BCT), 12th Armoured BCT, 20th Armoured 9 BCT, 7 Signal Group and 101st Operational Sustainment Brigade, 7th Air Defence Group and 25 (Close Support) Engineer Group, 4 Military Intelligence Battalion and 7 Military Intelligence Battalion.
Related Articles
British Army starts AH-64E attack helicopter flight tests
Although the total event ran for six weeks, the main part ran from 18 September to 6 October and saw the first regiment flying the British Army's new Apache AH-64E attack helicopter, which has been declared ready for frontline duty.
Three Regiment Army Air Corps (3 Regt AAC) was put through its paces testing every aspect of the unit, from its logistics and C2 procedures, to the maintenance and operation of the Apache AH-64E attack helicopter in the field.
Across the exercise, 3 Regt AAC deployed from its base at Wattisham Flying Station in Suffolk to set up temporary facilities at Nesscliffe in Shropshire, and then moved down to Eaglescott and Chivenor in Devon.
Strike missions by the AH-64Es were planned and executed on simulated enemy positions as far apart as Otterburn in Northumberland and Lydd in Kent.
The exercise also had an emphasis on interoperability with other nations which is especially important as 3(UK) Div is enhanced to operate under NATO Allied Rapid Reaction Corps.
Ghost Troop, 2nd Cavalry Regiment (United States) was fully integrated into the Royal Lancers Battlegroup, the reconnaissance capability of the 1st Deep Recce Strike Brigade Combat Team, for the exercise.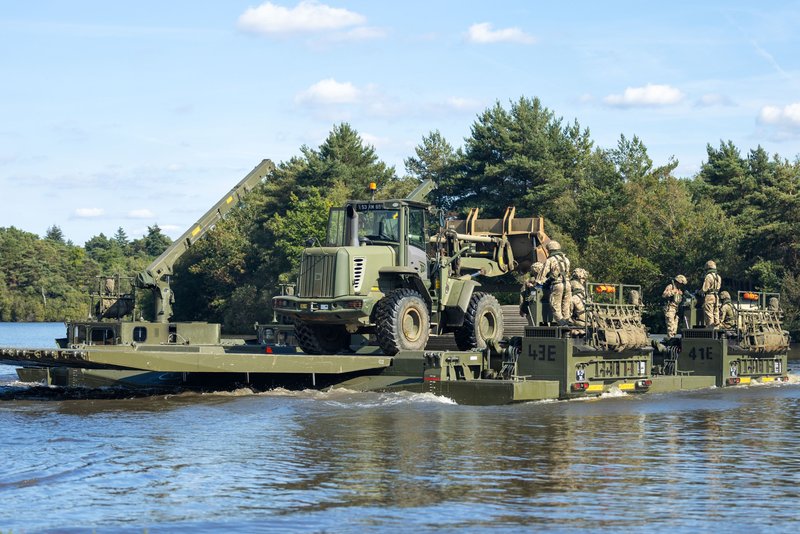 Exercise Iron Titan involved 8,000 soldiers. (Photo: British Army) 
Lieutenant Colonel Robin Davies, commanding officer of the Royal Lancers, said: 'Working with Ghost Troop on Exercise Iron Titan has provided a great opportunity for us to prove tactical-level interoperability between ourselves and the US Army.
'We have formed friendships and trust that are enduring and will be essential if we are called upon to fight side by side under a NATO banner in the future.'
UK UAV manufacturer Evolve Dynamics supported the exercise with its tethered Sky Mantis UAS which has been designed to provide extended ISTAR. The system was used to support a mobile squadron of the 101 Operational Sustainment Brigade.
The system can operate in radio silent mode with all data and controls going over the tether cable, while providing long-range ISTAR and forward-operating base protection, streaming daylight 30X zoom HD video, and long-wave infrared thermal to local and remote C2 centres.
More from I/ITSEC 2023 | View all news