AWE 21 highlights CTTP potential benefits
The latest Army Warfighting Experiment in the UK highlighted industry innovations that are set to power collective training in the future.
Held at Copehill Down within the Salisbury Plain Training Area (SPTA), Army Warfighting Experiment 21 (AWE 21) had special significance this year as the British Army's Collective Training Transformation Programme (CTTP) Outline Business Case is due to go through the MoD Investment Appraisals Committee in mid-2022.
According to the British Army, AWE 21 was held 'to harness technology to prepare for complex future warfare. It has been designed to experiment with and showcase next-generation Collective Training Systems to inform future Army and wider Defence force development decisions'.
In essence, the £1 billion- ($1.38 billion-) plus Category A CTTP is looking to transform the management and delivery of training within the British Army through a closer relationship with industry. The overall project has six sub-projects: management of the training system; connectivity; data exploitation; audience, actors, adversaries, enemies and specialists (A3ES); synthetics; and enhanced urban facilities.
The British Army received 95 applications from industry and a large number of these companies deployed their products and services to Copehill Down for AWE 21. These companies included Saab, Improbable Defence, Babcock, 4C Strategies and Bohemia Interactive Simulations.
The CTTP project team is working closely with the British Army Land Warfare Centre (LWC) and Collective Training Group (CTG) 'to make sure that we and the programme stay abreast of the incremental improvements in training that they are delivering on a daily basis', explained Brig Phil Kimber, CTTP Programme Director.
'It's a great challenge for the programme to have a moving baseline of improvement as CTG seek to squeeze out every last drop out of capability from in-service training systems,' added Kimber.
As part of CTTP, the British Army is running what it refers to as Training Capability Pathfinder Projects (TCPP). One of these is the Single Synthetic Environment (SSE) Technology Demonstrator programme, for which Improbable Defence is prime contractor.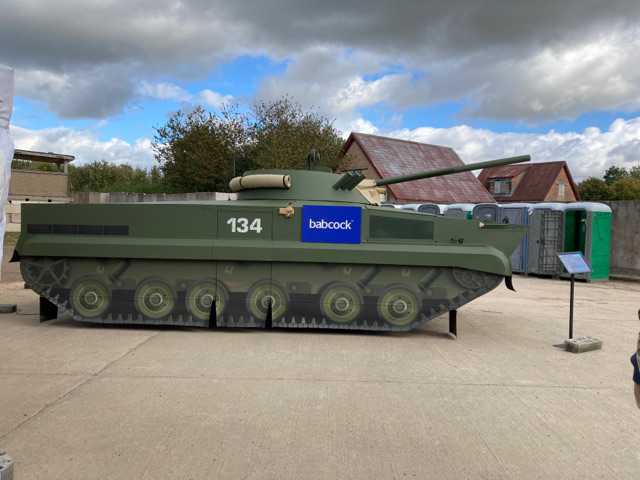 Babcock's replica BMP-3 at AWE 21. (Photo: Babcock)
Another key component under the CTTP umbrella is Project Deep Dive – Enhanced Urban Facilities (EUF). The British Army said that this project 'will allow the development, practice and validation of urban fighting skills from Sub-Unit to Battlegroup operating in a Brigade context'.
It added: 'EUF will focus its enhancements on a national site at Copehill Down Village, and a number of regional sites, options include; Longmoor, Eastmere (STANTA), Cielini (SENTA), Whinny Hill, and Caerwent.'
As part of AWE 21, Babcock showcased a new product that was aimed at the EUF requirement. This modular, above ground, subterranean training solution could fill a training gap that the British Army has recognised for many years.
Babcock said that its solution is a 'safe, flexible, realistic and challenging subterranean environment for soldiers - a key Army training requirement – which can either enhance existing urban training facilities or be delivered at point of need wherever the soldiers are'.
In addition to the subterranean training system, Babcock was also showing a surrogate BMP-3 vehicle simulator that is carried by a 4x4 vehicle. The full-scale BMP features accurate thermal and sound signatures.
The company also unveiled its Training Insight Model (TIM) that has been designed to gather and analyse the numerous data sources that are generated in the digitally-enabled training environment.
According to Babcock, TIM 'integrates existing, new and real-time data to create a profile of each team member as well as the team overall'. Analysis and interpretation of indicators via data science and machine learning 'helps trainers to deliver key training insights to soldiers undertaking training, their commanders and to the designers of collective training activity', the company added.
Brig Kimber highlighted that CTTP presents a number of challenges, not least of which is allowing organic improvements in collective training to continue while potential replacements are being studied. The other issue is that training does not exist in a vacuum and it is intrinsically linked to threats, operational doctrine and emerging battlefield technologies.
Perhaps the real challenge will be for the MoD procurement agency DE&S, to develop a procurement model that provides industry with the time and space to continue to innovate and deliver cutting edge training solutions over time.
This is going to be a difficult project to manage but its success will have immense benefits for the way the British Army trains in the future and, more importantly, its operational capability.
More from I/ITSEC 2021 News