Home

>

News

>

Dutch warships' mid-life upgrade to de-risk systems for future air defence frigate
Dutch warships' mid-life upgrade to de-risk systems for future air defence frigate
The Royal Netherland's Navy (RNLN's) four De Zeven Provincien-class (LCF) frigates are near to completing a series of upgrades that will enable the ships to operate effectively until replacements are delivered, with the refit informing future requirements.
As well as receiving systems needed for a life extension the LCF frigates will also be installed with new weapons and sensors that will eventually be used on the new Future Air Defender (FuAD) warship that will replace the LCFs in the 2030s.
A spokesperson from the Dutch MoD (MoD) told Shephard: 'The requirements for FuAD are being drawn up. It is likely that an evolution of systems that are now fitted on LCF will be fitted on FuAD.'
According to the spokesperson, HNLMS Evertsen (F805) is in refit and will be the last ship to complete its Mid-Life Upgrade (MLU) – also known as the Instandhoudingsprogramma LCF (IP-LCF). Evertsen is scheduled to return to service in 2025.
'The ships undergo the upgrade during a routine yard maintenance period which for frigates is done by the navy yard in Den Helder. Equipment required for the upgrade will be contracted via individual suppliers,' the spokesperson said.
The total cost of the IP-LCF is slated at €206.9 million ($221 million). Meanwhile the LCF: Material Seaworthiness (LCF: Materiële Zeewaardigheid) upgrade ranges from €50-250 million and LCF: Electronic Warfare (LCF: Elektronische oorlogvoering) upgrades are also slated at €50-250 million. After upgrade the ships will have an expected lifetime up to 2032-2035.
The MLU includes the installation of a new Combat Management System and Platform Management System. But Evertsen is the first to have a new 127/64 LW Vulcano medium-calibre gun installed.
The spokesperson confirmed that the other three LCF ships, HNLMS De Zeven Provincien (F802), HNLMS Tromp (F803) and HNLMS De Ruyter (F804) will also get the gun in due course. The new 127mm gun is replacing the older 127/54 Compact gun.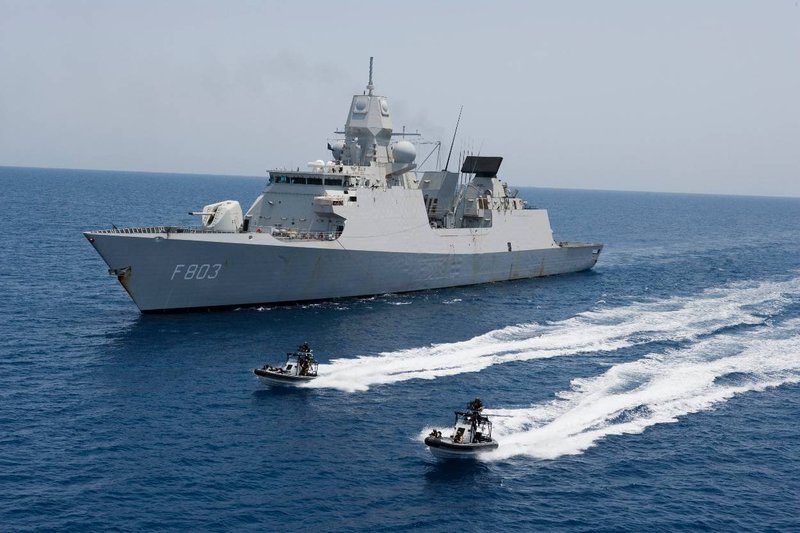 Commissioned from 2002-2005 the four 144m-long 6,050t De Zeven Provincien-class frigates have been the backbone of major RNLN deployments for the past two decades. (Photo: Dutch MoD)
Meanwhile the spokesperson said that the Tomahawk land attack cruise missile system will be trialled aboard one of the LCF frigates in 2024. The decision to acquire a maritime strike capability was confirmed in a requirements A-Letter to the Dutch Parliament in April.
Further upgrades are expected with the addition of the latest variants of the Evolved Sea Sparrow Missile (ESSM) and Active Phased Array Radar (APAR) fire control radar under a second MLU programme for two of the frigates, likely to be De Ruyter and Evertsen. Both will get these additional upgrades later this decade. De Ruyter completed the IP-LCF in early 2023 and will return to service in 2024.
'This programme is focused on keeping the LCF operationally relevant until FuAD will come into service,' the spokesperson explained, 'The ships 3rd and 4th in line for upgrade will receive ESSM Block 2 and APAR Block 2. LCF 3 and 4 will also be fitted with RAM systems.'
This will give the LCF enhanced air defence capabilities. ESSM Block 2 will replace the existing Block 1 system providing a more capable missile to defend against air attacks and allow it to better respond to threats detected by the APAR. The RIM-116 Rolling Airframe Missile from Raytheon will replace the ships' existing Goalkeeper close-in-weapon system from Thales giving a more advanced close in defence capability.
Furthermore, to enable a new ballistic missile defence capability, all LCFs will be fitted with SMART-L MM/N L-band radar. This work is under way with the last ship installation to be completed in 2025.
Shephard's DSEI 2023 coverage is sponsored by:

More from DSEI 2023 | View all news
With the satellite industry at a pivotal juncture, Intelsat is investing in advanced technologies like 5G and optical communications, striving to enhance worldwide connectivity and address emerging governmental needs.

From its emergence as a ground-breaking design in the 1950s to its widespread deployment in diverse operations worldwide, the Chinook continues to leave an indelible mark on the aviation landscape. Shephard sums up the latest developments and tells you everything you need to know about the workhorse of many armies and air forces in the 2020s.

Controp Precision Technologies unveiled its Smart Vision AI software for enhancing the level of autonomy and automation for a variety of surveillance and reconnaissance missions at DSEI 2023.

Babcock has signed an MoU with propulsion experts Cosworth to investigate the use of hybrid power systems in military vehicles and will begin with integrating a Catalytic Generator (Cat Gen) into a 70 Series Toyota Land Cruiser.

DSEI 2023 took place in the shadow of the largest European land war in more than seven decades and a growth in conversations about artificial intelligence (AI) with limited UK immediate defence programme opportunities; many of the new products and exhibitors' announcements reflected this.

Israeli UAS developer SpearUAV introduced a submarine-launched capsule option for its Viper 750 UAV at DSEI 2023.