Home

>

News

>

Corvette collaboration – how Europe is pooling skills and funds in a time of need
Corvette collaboration – how Europe is pooling skills and funds in a time of need
When it comes to security, NATO tends to make the headlines more often than the EU. Yet since the war in Ukraine broke out, there has been a quiet but determined strengthening of purely European defence. And it starts with budgets.
Over the past decade several heads of state and experts questioned the existence of NATO. Current events would seem to offer irrefutable proof that the alliance is not a Cold War dinosaur, however.
European defence's popularity has been on a similar rollercoaster ride. And though its rise has been a much quieter affair, it is noteworthy because it sheds light on a critical way of doing naval business on the old continent – financial burden-sharing.
Why do European countries need to collaborate on naval procurement?
What is new here is that several European countries are now stretching their navies across multiple theatres of operation, and although budgets have seen a significant uptick, that is not enough.
Related Articles
Naviris and Navantia to conduct EPC studies
Romania quietly joins European Patrol Corvette effort
Romania cancels Gowind corvette buy, but needs swift new solution for Black Sea security
Similarly, several countries may be lacking the experience and know-how to shape the navies they need. And with a war on their doorstep, the pressure of time is on.
The Romanian Navy is a great example. Its fleet is now ageing significantly, with some ships commissioned in the late 1980s and early 1990s. Just as importantly, the country has not built an indigenous ship in over 20 years, leaving little room for doubt concerning its industrial capabilities.
Yet in its 2020-2024 National Defence Strategy, it was already clear that Romania was acutely aware of the need to update its armed forces.
The government has now launched an important fleet upgrade, with two important programmes ongoing: new corvettes and new submarines. And while the SSK contract remains to be awarded, Romania recently decided to participate in the European Patrol Corvette (EPC) programme.
The EPC objective is to design and develop a prototype for a new class of ship, which allows hosting several systems and payloads, in order to accomplish, with a modular and flexible approach, a large number of tasks and missions.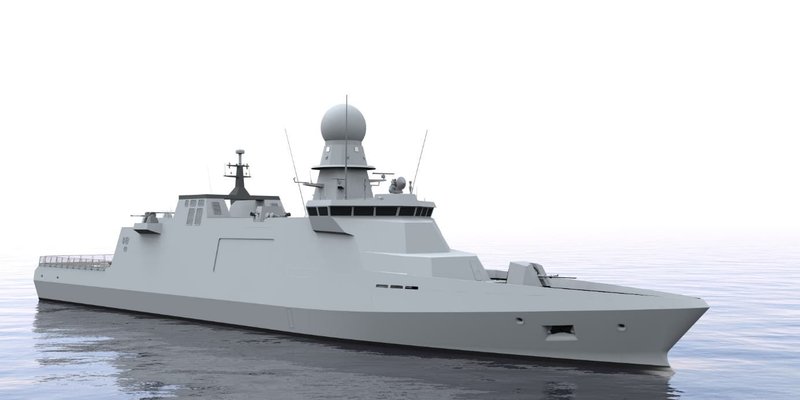 Above: Romanian participation in the EPC programme will spread the financial burden and give local industry involvement in R&D work. (Image: Naval Group)
'Considering the EPC objective, this project represents a viable long-term option for our fleet modernisation process and will complement the ongoing acquisition efforts,' an MoD spokesperson told the author in a written statement. 'Furthermore, this option is based on comprehensive development actions that are financially supported by the European Defence Fund (EDF) and will bring results after 2027.'
Finally, the programme offers the country a guarantee that Romanian industry will be involved in the R&D activity co-funded by the EDF.
How does the European naval industry benefit from collaboration?
Evidently, the possibility to participate in the European programme will help Romania not only to share the financial burden of the R&D that will go into this new, common project. It will also provide an opportunity to boost its industrial base, again thanks to European funds.
In fact, signs of the industrial benefits of a more common, cooperative European bloc are visible in several European companies.
During a visit by the author to MBDA's Fusaro site on 12 July, research and technologies and HW engineering Italian operations director Giacomo Sabino presented the company's ongoing programmes. One thing was evident: MBDA is involved in several European cooperation efforts, of which at least three are naval (FSAF/PAAMS munitions, the Aster anti-air missile and the FLAADS/CAMM missile family).
'Many of these systems can be rather complex to develop, especially when one looks at the speed at which threats and countermeasures evolve,' Sabino told the author, 'so the ability to pull together the knowledge and expertise of several different countries, together with the European funds, is a significant asset for companies like MBDA.'
European cooperation programmes have been ongoing for some time, but as the war in Ukraine continues and the continent's security is increasingly challenged, these provide the right framework to pull resources together – financial, human and technical. This is a critical asset at a time where threats evolve faster than ever before.
This story originally appeared in Shephard's monthly Decisive Edge: Air newsletter. This delivers expert insights and in-depth coverage of the latest defence industry developments. Don't miss out on the opportunity to be among the first to read these exclusive stories as soon as they publish by signing up to our newsletters here.
Shephard's DSEI 2023 coverage is sponsored by:

More from DSEI 2023 | View all news
With the satellite industry at a pivotal juncture, Intelsat is investing in advanced technologies like 5G and optical communications, striving to enhance worldwide connectivity and address emerging governmental needs.

From its emergence as a ground-breaking design in the 1950s to its widespread deployment in diverse operations worldwide, the Chinook continues to leave an indelible mark on the aviation landscape. Shephard sums up the latest developments and tells you everything you need to know about the workhorse of many armies and air forces in the 2020s.

Controp Precision Technologies unveiled its Smart Vision AI software for enhancing the level of autonomy and automation for a variety of surveillance and reconnaissance missions at DSEI 2023.

Babcock has signed an MoU with propulsion experts Cosworth to investigate the use of hybrid power systems in military vehicles and will begin with integrating a Catalytic Generator (Cat Gen) into a 70 Series Toyota Land Cruiser.

DSEI 2023 took place in the shadow of the largest European land war in more than seven decades and a growth in conversations about artificial intelligence (AI) with limited UK immediate defence programme opportunities; many of the new products and exhibitors' announcements reflected this.

Israeli UAS developer SpearUAV introduced a submarine-launched capsule option for its Viper 750 UAV at DSEI 2023.