Home

>

News

>

Insight: Why the CV90 infantry fighting vehicle is making a clean sweep of Nordic markets
Insight: Why the CV90 infantry fighting vehicle is making a clean sweep of Nordic markets
Shephard Defence Insight explores the evolution of BAE Systems Hägglunds' CV90 IFV from its inception in the late 1980s to the latest CV90 MkIV, detailing the order history and upgrade packages of its ten European customers.
Snapshot
Initially developed in the late 1980s and entering full-rate production in 1993, BAE Systems Hägglunds' Combat Vehicle 90 (CV90) has since entered service with nine European countries spanning five iterations of the platform culminating in today's MkIV.
Designed and developed for operations in snow and wetlands, the CV90 combines high levels of mobility, protection and firepower with a modular design that can be utilised for other roles, including air defence, reconnaissance, and combat service support.
First purchased by Sweden in 1993, the CV90 is now also operated by Norway, the Netherlands, Switzerland, Finland, Estonia, Slovakia, and the Czech Republic.
Related Articles
Rheinmetall receives order for IFV ammunition
DSEI 2023: BAE ready to transfer CV90 upgrade work from Sweden to Netherlands
DSEI 2023: BAE Systems readies new versions of Armored Multi Purpose Vehicle with European exports in mind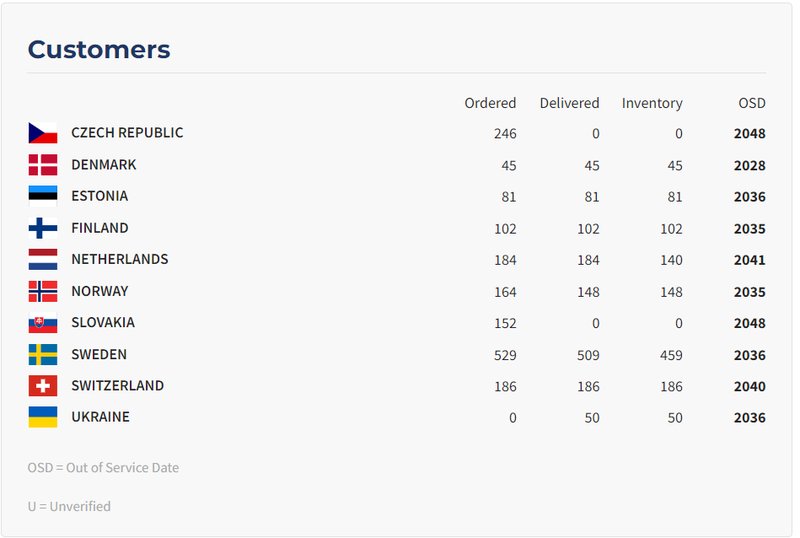 What are the differences between different generations of the CV90?
Mk0
Developed in the late 1980s to meet Sweden's demand for an IFV capable of operating in the cold and wet climates of the Nordic sub-Arctic, the CV90 Mk 0 would enter production in 1993.
A joint venture between FMS, Hägglunds and Bofors, the CV90 Mk0 featured an unstabilised Bofors 40mm cannon and conventional electric system. Fitted for, but not using, an appliqué armour system, the Mk0 prioritised high reliability and ease of maintenance. Featuring the largest capacity of any CV90, the Mk0 could fit eight fully equipped soldiers alongside its crew.
Upgrades to the Mk0 would continue over the next decade, with the main gun becoming gyro-stabilised in 1997.
MkI
The CV90 MkI or CV9030N was developed alongside improvements to Sweden's Mk0. As the first export of the CV90, the MkI featured upgrades to the turret armour and mantle, additional armour on the hull, a new 30mm main gun and an improvement to the rear troop area with the addition of an extra cupola for access or emergency exit.
Improvements to the gun and integration of gyro-stabilisation made the CV90 MkI the most accurate IFV at the time, a key contributor to Norway's decision to order 104 CV9030Ns in 1994, beating the US Bradley, British Warrior, and Austro-Spanish ASCOD.
Despite reducing passenger capacity by one in exchange for the new cupola, the MkI saw significant improvements to mobility, reliability, lethality, ergonomics, durability and survivability over even upgraded Mk0s.
Norwegian deliveries would begin in 1996 and be completed in 2000.
MkII
The result of continued development of the Mk0 and MkI, the MkII was the first CV90 version to be partly digitised, featuring a built-in health and usage monitoring system (HUMS). Notable upgrades to the main weapon system (a transition to the Mk44 Bushmaster II 30mm chain autocannon) and a slight increase in hull size resulted in the CV90 MkII beating out its competition in two separate procurement programmes, with Switzerland and Finland ordering the vehicle in 2000.
Switzerland purchased a total of 186 CV9030CHs for $424 million with deliveries running from 2001 to 2005, whilst Finland ordered 57 CV90FINs delivered between 2003 and 2007. Finland placed a second order for MkIIs in 2004 with a further 47 vehicles delivered between 2006 and 2007.
MkIII
The MkIII offered a significant upgrade to the MkII based on use in Afghanistan. Fully digitised and featuring an electronic architecture, the weapon system was also upgraded to a 35/50mm Bushmaster III cannon with an integrated muzzle ammunition programmer and a number of different firing scenarios depending on target setup.
Mobility improvements through upgrades to suspension and a better power-to-weight ratio compensated for the increased gross vehicular weight caused by the new weapon system and protection. Following issues raised by early operators of the CV90 after use in Afghanistan, survivability improvements were made focussing on mine protection and top attack.
The Netherlands would be the first to buy the MkIII in 2004, ordering 104 CV9035NLs with delivery between 2007 and 2012. A further 45 CV9035DK MkIIIs would be ordered by Denmark in 2005, with delivery between 2008 and 2010. Estonia would eventually purchase 44 ex-Dutch CV9035NLs in 2014, with delivery completed in 2015.
What is the configuration of the latest version of the CV90?
In January 2018, BAE Systems launched a new variant of its IFV family, the CV90 MkIV, which was offered to the Czech Army as part of an ongoing competition to replace its fleet of Soviet-era BVP-2s.
The MkIV features upgrades to mobility, lethality, engine and payload. Similar to predecessor versions, the MkIV is a tracked IFV with a hydraulic rear aft door for access into the vehicle. A gross vehicular weight of 35-37t makes it heavier than previous versions, but upgrades to engine and transmission result in an overall improvement in mobility and agility.
A crew of three, driver, commander, and gunner, situated towards the front, can support and transport up to eight fully equipped infantry soldiers in the rear.
Protection
The D-series turret is made from all-welded steel with appliqué armour and is designed to offer greater internal volume for improved ergonomics.
At DSEI 2021, the D-series sported an Elbit Iron Fist Light Decoupled APS, a Saab UTAAS gunner's sight and an Elbit Electro-Optic Aiming System (EOPS) retractable mast-mounted sensor package for the commander.
Mobility
The MkIV features a new Allison 3040MX automatic transmission. Active damping for the suspension is installed as standard, and customers also have the option to install Soucy composite rubber tracks.
It is also possible to uprate the 860hp Scania V8 diesel engine to 1,000hp.
Armament
In December 2019, BAE Systems carried out a successful test firing of a Rafael Spike LR missile from a launcher integrated on the CV90. With a maximum range of 2,000m, this weapon could be used against both armoured and large aerial targets, such as attack helicopters.
BAE Systems showcased its D-series turret for the CV90 for the first time at DSEI 2021. This can accommodate a range of medium-calibre weapon systems, including the Northrop Grumman 35mm Bushmaster III dual-feed cannon or a 50mm cannon. It can also be armed with a 7.62mm coaxial machine gun and a retractable pod for two Rafael Spike LR2s.
MBDA announced in mid-December 2022 that it had completed integration trials with a CV90 firing the AKERON MP anti-tank missile. Mounted on the roof of the turret, the missile has a range of approximately 4,000m and is capable of both command guidance operating and fire and forget.
C4I
Featuring NGVA-compliant digital electronic architecture and an upgraded cooling system for the powerpack, the CV90 MkIV also integrates BAE Systems iFighting technology designed to aid with target recognition and prioritisation.
Which countries operate the CV90?
Norway
Norway was the first export customer for the CV90, placing a $241 million order for 104 CV9030 Mk I variants in April 1994. Designated Stormpanservogn (armoured assault vehicle) CV9030N, these replaced M113-derived NM-135 tracked APCs then in service with the Norwegian Army. Deliveries were carried out between 1996 and 2000.
These CV9030s were assembled in Norway by Hägglunds Moelv (now CHSnor), a subsidiary of Hägglunds (now BAE Systems Hägglunds). The turrets were also manufactured in Norway by Kvaerner Eureka.
Two variants of the CV9030 were purchased by Norway: an IFV and a command vehicle equipped with extra radios, computers and a map table in the rear compartment.
Compared to Swedish CV90s, Norway's differed in several respects. Most notably, the turret was armed with a Northrop Grumman Mk44 Bushmaster II 30mm automatic cannon linked to a Saab UTAAS digital FCS. The smaller calibre cannon allowed more ammunition for the main armament to be carried with a total of 600 rounds of 30mm ammunition stowed within the vehicle.
Other changes included additional appliqué armour on the lower front hull, turret front and sides of the vehicle, a hatch above the rear troop compartment and an uprated 606hp engine to cope with the increased weight.
Norway also purchased IBD Deisenroth Engineering (now Rheinmetall Protection Systems) Modular Expandable Armor System (MEXAS) composite armour kits to provide increased protection against HEAT warheads.
17 of Norway's CV9030s were modernised to the CV9030NF1 standard in 2002. Designed for NATO peacekeeping operations, these were equipped with IBD Deisenroth Advanced Modular Armor Protection - Mine (AMAP-M) mine-protection kits, an RVC-01 rear view camera and an air-conditioning system.
Part of Norway's CV9030 fleet was deployed to support combat operations in Afghanistan beginning in 2007.
In 2010, Norway began to trial Soucy's CRT on some CV9030Ns and deployed two of them fitted with this track system for trials in Afghanistan in December of that year.
After nearly 20 years in service, Norway initiated an upgrade programme for its CV9030N fleet. This was awarded to BAE Systems, which announced in June 2012 that it had been awarded a £500 million ($750 million) contract to upgrade Norway's existing CV9030Ns to MkIIIb standard and produce new MkIIIbs to bring the Norwegian fleet up to a total of 144.
Whereas Norway originally only operated two variants of the CV9030N, the new 144-vehicle fleet consists of six variants. These comprise 74 CV9030 SPV IFVs, 21 CV9030 OPV reconnaissance vehicles, 15 CV9030 STRILED command vehicles, 16 CV90RWS STING engineering vehicles, 16 CV90RWS Multi-BK multi-role vehicles (these can be used either as logistics vehicles or mortar carriers) and two driver training vehicles.
While the IFV, command and reconnaissance variants are based upon 100 newly manufactured hulls produced by BAE Systems as part of this programme, the other variants use upgraded CV9030N Mk I hulls. 37 spare CV9030N Mk I hulls that were left over from the upgrade programme were sold to Estonia under an agreement announced in January 2016.
BAE Systems completed the first pre-production CV9030N Mk IIIb in February 2014. One year later, the first series-production example was handed over to Norway in February 2015.
Although deliveries of all 144 vehicles were initially planned to have been completed between 2015 and 2017, the final delivery did not occur until April 2019.
BAE Systems carried out the upgrade in collaboration with Norwegian industry. The latter was led by Kongsberg Defence & Aerospace and included Thales Norway, Vinghøg (now Rheinmetall Norway) and Ritek. FLIR also received a $11 million contract from BAE Systems in July 2011 to deliver ThermoSight LIRC sighting systems as well as SA90 and DV55 driver vision/situational awareness thermal imaging systems for this upgrade.
As a result of the upgrade, all of Norway's 144 CV90s are now at the CV90 Mk IIIb standard. Compared to the CV9030N Mk I, these upgraded vehicles have Soucy CRTs, a Kongsberg Protector RWS armed with a 12.7mm heavy machine gun mounted on the turret roof, new optics, cameras for 360° situational awareness, an Augmenti AWARE BMS and capacity to accommodate a UAS.
Other elements of the upgrade programme include improving the baseline armour, replacing the MEXAS composite armour with Rheinmetall Protection Systems AMAP and installing Kongsberg's Integrated Combat Solution that incorporates new C4I systems, sensors and a digital architecture.
All CV9030N MkIIIbs have been delivered to the Norwegian Army, but there have reportedly been issues with the integration of the Vingtaqs II 6m sensor mast into the reconnaissance variant. As a result, the Norwegian government has reportedly taken legal action against Rheinmetall Norway and BAE Systems and is seeking an alternative sensor mast to equip this variant.
Norway planned to upgrade more CV9030Ns beginning in 2024, but in May 2020 it was announced that this upgrade programme would be expedited to support Norwegian industry in the wake of the 2020 pandemic.
According to the new plans, the Norwegian MoD was to invest NOK600 million ($63.155 million) to upgrade 20 more CV9030N hulls and deliver them to the Norwegian Army between 2022 and 2023.
BAE Systems announced it had received a contract worth more than $50 million for these 20 vehicles in February 2021. These will be split into 12 CV90RWS STING engineering variants and eight CV90RWS Multi-BK multi-role variants.
In May 2022, BAE Systems announced the first four CV90s from this project had been delivered to the Norwegian MoD, a delivery date one or two months later than originally planned. While BAE Systems will be responsible for refitting the hulls, Norwegian company Ritek will carry out the final assembly and provide logistics support and training.
Sweden
Swedish CV9040 IFVs are armed with a Bofors 40mm gun, but all export customers have selected 30 or 35mm cannon. The latest CV9035 MkIII standard provides improved capabilities in the following areas: 35mm Bushmaster III cannon; commander's independent hunter-killer sight; third-generation TI cameras for gunner and commander; integration of higher levels of protection, including bomblet and mine protection; integration of BMS and defensive aids; high-speed Ethernet data bus; and increased payload with growth potential.
In Swedish service, the CV90 is designated as Strf90A and Strf90B.
In January 2014, the Swedish government approved a major upgrade to bring 288 of the army's CV90s to the Strf90D standard, which will extend the life of the vehicles until 2030. Known as the Renovation and Life Extension (RENO) programme, this will include installation of a new BMS. Ultimately, the Swedish Army plans to implement the RENO upgrade on all of its CV90s.
In May 2016, it was announced that the Swedish government had awarded BAE Systems a contract to refurbish 262 CV90s for the Swedish Army. Under the modernisation programme, the company the company will refurbish the vehicles' chassis, upgrade survivability and turrets, and enhance combat system performance.
The delivery of the 100th upgraded vehicle was announced by BAE Systems in August 2020. The remaining 188 were originally intended to be upgraded by the Swedish military's own workshops, but in 2019 these plans were changed and the responsibility reverted back to industry.
In November 2021, BAE Systems confirmed that it had received a contract worth approximately SEK500 million ($57.516 million) to overhaul part of Sweden's Strf90A. The refurbished vehicles will be delivered between 2023 and 2024, but it is unclear what the work will involve.
The Swedish MoD announced in November 2022 a $90 million addition to its CV90 RENO upgrade programme introducing two new CV90 variants into service. Scheduled for delivery between 2023 and 2027, the Forward Maintenance vehicle will provide critical frontline support, repair and recovery for other vehicles whilst the Combat Engineer meanwhile will improve the ability to carry out route clearance and deny enemy forces mission-critical mobility.
These two new specifications are expected to apply to existing platforms within the RENO programme. Defence Insight estimates that the $90 million contract will fund approximately 27 units split equally between the Combat Engineer and Forward Maintenance variants.
The two new variants will be delivered by BAE Systems' Swedish joint venture HB Utveckling and brings the total number of CV90 variants up to 17. BAE Systems Hägglunds announced in April 2023 it had contracted Norwegian manufacturer Ritek to produce the two new variants. Delivery is expected to take place between 2023 and 2027.
In January 2023, the Swedish Defence Material Administration placed an order for an additional 20 CV90-based twin 120mm Mjölner self-propelled mortar systems worth about $30 million.
According to BAE Systems Hägglunds, a burst rate of 16rpm can be achieved with a sustained rate of 6rpm.
Estonia
In October 2014, Estonia signed a EUR113 million ($150.159 million) contract with the Netherlands for 44 surplus CV9035NLs and six surplus ARVs based on the Leopard 1 MBT hull. Prior to being delivered, the second-hand vehicles were checked and overhauled if necessary.
The first batch of 12 CV9035NLs and one ARV was delivered in October 2016. As of June 2019, Shephard reported that approximately 30 of the CV9035NLs had been handed over to Estonia. Although deliveries were expected to have been completed in 2018, the Estonian MoD did not announce receipt of all 44 CV9035NLs until April 2019.
Support for the CV9035NL fleet was not included in the contract signed in October 2014. Instead, in April 2017 BAE Systems was awarded a separate contract to maintain the CV9035NL in cooperation with Estonian company Milrem LCM (now Milworks).
As well as the IFVs, Estonia also had a requirement for vehicles that could support units in the 1st Infantry Brigade by performing specialised roles, such as C2.
After a tender was initiated in June 2014, an offer to purchase 37 surplus CV9030N MkI hulls from Norway was accepted in January 2016. Norway had previously removed the turrets from these hulls as part of an upgrade programme to bring its CV90 fleet up to 144 vehicles. All 37 hulls had been delivered to Estonia by 2017.
Worth EUR635,000 ($703,000), the deal did not include an overhaul or upgrade for the surplus hulls, though it did cover the delivery of some spare parts.
Instead, Estonia launched a separate tender to select a contractor to upgrade and convert these hulls to several specialised variants. The winning bidder would have been expected to convert 31 of the hulls to roles such as C2 or armoured ambulance, while the remaining six will be configured as 120mm mortar carriers. A budget of EUR30 million ($35.444 million) was allocated to this programme.
By May 2018, four bidders had responded: BAE Systems Hägglunds, FFG, Bristol Trust and a teaming of Joint Depots and Scania Estonia. However, by the end of 2018, all bids were rejected and the tender was cancelled as none of the bidders were deemed to have met the requirements.
The upgrade programme was subsequently restarted after January 2019 and awarded to a consortium of Go Craft, Scania Estonia and Milrem Robotics in August 2021.
Worth EUR29.3 million ($34.732 million), the contract will cover refurbishment of all 37 surplus CV9030N MkI hulls and conversion of 31 to various specialised variants, including fire support, engineering and antitank vehicles.
These upgraded vehicles will be equipped with a Kongsberg RS4 Protector RWS. A contract to procure these systems was announced by Kongsberg in December 2021.
Netherlands
The Dutch Army is modernising at least 122 of its fleet of 144 CV9035NLs under a EUR500 million ($584 million) upgrade programme.
Originally, 141 CV9035NL IFVs and eight driver training vehicles were to receive the upgrade, but, due to the high price of BAE Systems Hägglunds offer, this was reduced to only 122 IFVs and six training vehicles.
According to the finalised contract announced in January 2021, 122 CV90s will be upgraded, with an option to upgrade 19 more to bring the rest of the fleet up to the same standard.
An initial batch of four vehicles is to be upgraded by BAE Systems Hägglunds before Netherlands-based Van Halteren Metaal begins series production. The manufacturer demonstrated the first test version of the upgraded CV90 in September 2022.
Deliveries are scheduled to take place between 2023 and 2026.
As part of this upgrade, it has decided to equip some of the CV9035NL fleet with Elbit Systems' Iron Fist APS, making it the first western European country to adopt a hard-kill APS. BAE Systems Hägglunds was awarded a contract to carry out the integration work in September 2019, although it could not confirm how many of the CV9035NLs in service with the Netherlands will be upgraded with the new system.
The upgrade will involve the addition of CRT from Soucy, new of which was announced in October 2020.
The older E-35 turret of the Dutch CV90s will be upgraded with elements from BAE Systems' D-series turret. This includes integrating a Bushmaster III 35mm cannon and 7.62mm coaxial machine gun, a fourth-generation digital architecture incorporating cyber protection from Clavister, an Elbit EOPS for the commander and ATGM launchers (most likely for the Rafael Spike LR2 which has been integrated on the D-series turret).
The first two upgraded CV90s were unveiled at BAE Systems Hägglunds facility in Sweden in early October 2022, four months ahead of schedule.
Switzerland
Between 2002 and 2005, Switzerland received 186 CV9030CH IFVs in four different variants. The CV9030CH is based on the CV90 MkII design and is known as the Schützenpanzer 2000 in Swiss service.
In November 2020, BAE Systems Hägglunds announced that it had received a contract from the Swiss Federal Office for Defence Procurement to perform a mid-life upgrade on all 186 of Switzerland's CV9030CH IFVs. This will extend the life of these vehicles until at least 2040.
Known as the NUV programme, this upgrade will involve the replacement of obsolescent optical, electrical and electronic subsystems. Active damping technology will be fitted to the suspension and cameras will be installed around the vehicle to provide enhanced situational awareness.
BAE Systems Hägglunds will cooperate with Swiss industry to perform the upgrade. One of its partners will be RUAG, which announced that it received a subcontract for the programme in November 2020.
Two sample vehicles will be produced in Sweden and delivered to the Swiss Army in 2022, followed by five pre-production vehicles upgraded in Switzerland by RUAG. If successful, RUAG will upgrade the rest of the fleet by 2025.
Finland
Finland announced that it had signed a EUR33 million ($39.095 million) contract with BAE Systems Hägglunds to upgrade its CV9030FIN fleet in June 2021. The contract is believed to cover the upgrade of two prototype vehicles, three pre-production test series vehicles and six series-production vehicles, with an option to upgrade the remaining 91 vehicles.
The upgrade will involve improvements to the CV90's maintainability, safety, software and technology to extend its service life to 2035 ahead of a more substantial mid-life upgrade programme expected to be carried out in the 2030s.
Work on the upgrade programme will take place between 2022 and 2026.
Czech Republic
The Czech Republic has been interested in CV90 since 2017 when it launched its IFV programme. Although this was cancelled in July 2022, the Czech government has announced that it will negotiate the purchase of CV90s with the Swedish government. A total of 210 units will be procured for the Czech Army. The Czech MoD has announced that it was willing to coordinate procurement efforts with Slovakia.
On 21 December 2022, the Czech Republic signed a memorandum with Sweden and Britain's BAE Systems to purchase 210 CV90s. The deal has been confirmed to be worth up to $2.3 billion, with further details undisclosed. Defence Insight expects delivery to begin in late 2023 with an estimated completion by the end of the decade.
The Czech MoD announced on 24 May 2023 it had received approval and funding from the government and subsequently signed a contract with BAE Systems Hägglunds for 246 CV90 vehicles in a contract worth €2.51 billion according to the Czech government, $2.2 billion according to BAE Systems and $2.05 billion according to the Swedish government.
Slovakia
On 28 June 2022, the Slovakian MoD announced that it had selected the CV90 under the PBV programme which aimed to acquire 125 vehicles. A production contract is expected to be signed in Q4 2022, and the total programme value stands at $1.73 billion.
In a contract worth $1.37 billion, the Slovak MoD and BAE Systems confirmed the purchase of 152 CV90 MkIVs on 12 December 2022 to be delivered by 2026. A further 71 will be procured between 2027 and 2030 in the second phase of the programme.
Ukraine
Sweden announced in January 2023 its intention to donate 50 CV90s to Ukraine as part of a $419 million package. All 50 platforms are expected the IFV variant armed with a 40mm automatic cannon.
In June 2023, Ukraine announced it had signed a Joint Declaration on Cooperation in the Procurement and Operation of Tracked Infantry Combat Vehicles alongside the Czech and Slovak Republics.
Designed to foster collaboration and coordination between the three countries, Ukraine appears to follow Slovakia and the Czech Republic in procuring the CV90 MkIV IFV.
Having already received the 50 CV90s as military aid donations from Sweden from January 2023 and benefiting from the support of a Join Declaration on Cooperation, Shephard forecasts an order of up to 1,000 vehicles for an estimated $9.21 billion in Q4 2023 with a probability of 50%.
This article was created using data and analysis from Shephard's Defence Insight market intelligence tool. For more information or to request a demo, visit our information page here.
Shephard's DSEI 2023 coverage is sponsored by:

More from DSEI 2023 | View all news