Home

>

News

>

US Army explores NASCAR technology
US Army explores NASCAR technology
The US Army and USMC continue to evaluate the benefits of employing technology derived from NASCAR motor racing.
Familiar with the challenging environment of NASCAR racing tracks, Hendrick Motorsports has been applying its experience to develop solutions for military users.
One example is the Silent Tactical Energy Enhanced Dismount (STEED) cart, which is undergoing trials with the US Army and USMC.
STEED is an all-terrain, zero-emissions and electric payload platform which can carry up to 226kg for ranges of 24-48km (depending on the cargo).
Rhegan Flanagan, director of government programmes at Hendrick Motorsports, explained to Shephard that STEED has the ability to export power for expeditionary units.
Its batteries can supply power on a 72h mission and be recharged via solar energy or connected to any type of vehicle.
At first glance, STEED resembles a simple two-wheeled cart but it is more complex than that, being manually guided by a single operator using a thumb throttle. The cart can carry a variety of payloads such as heavy weapons, breaching equipment, UGVs, UAVs, power supplies, food, water and ammunition.
'It is a versatile platform and can be customised to many different mission sets,' Flanagan claimed. She added that, whether soldiers need to switch into different types of fighting, STEED would enable them to maintain mobility.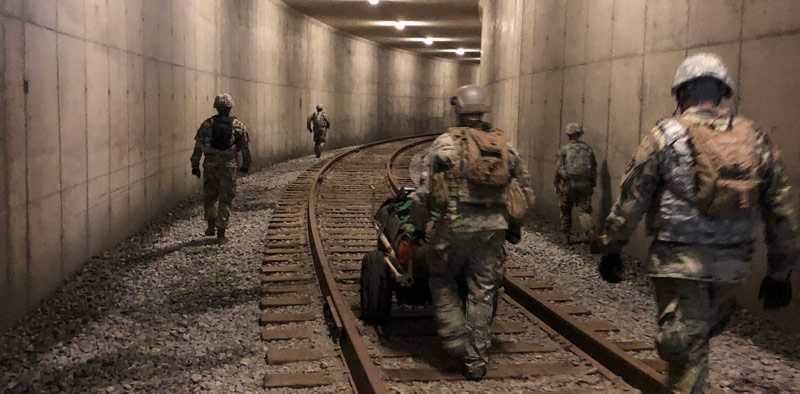 STEED can be deployed on subterranean scenarios including tunnels and caves (photo - Hendrick Motorsports)
In terms of manoeuvrability, Hendrick Motorsports developed STEED to be deployed on hills, forests, stairs, tunnels, over rocks and rubble as well as in dense urban terrain and subterranean environments such as tunnels and caves.
STEED is also fully submersible and transportable via UH-60, MRZR, COTS pickup truck and Light Medium Tactical Vehicle (LMTV), in addition to being towable and air-droppable in a rugged case.
In the US Army, the cart has undergone tests with airborne, Stryker Brigade Combat Team Infantry, medical and artillery units.
Because trials will continue in 2022, a US Army spokesperson told Shephard that no further details are available on soldier feedback.
Flanagan pointed out that STEED has actually been combat-validated by the US Army to minimise the physical burden on infantry, enabling troops to enhance performance in dismounted operations and increase lethality in close combat.
She added that army trials in recent years with STEED 'proved out that it reduced the mission time by 65% and increased payload capacity by 400%'.
STEED is also being evaluated by the USMC as part of its Expeditionary Advanced Base Operations (EABO) concept, which focuses on a form of expeditionary warfare that involves the employment of mobile, low-signature, operationally relevant and relatively easy-to-maintain forces. The cart was also deployed in a USMC Integrated Training Exercise.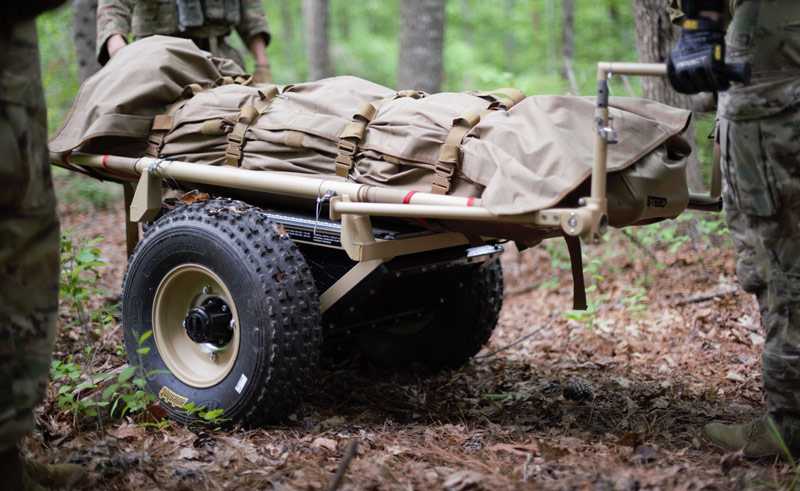 STEED is being tested by the USMC and US Army. (Photo: Hendrick Motorsports)
Based on feedback from this exercise and other trials, Hendrick Motorsports has worked to tailor STEED to fit the needs of frontline troops.
'We are really comfortable in putting whatever innovation and R&D developments in the hands of the guys that are actually going to be using it,' Flanagan pointed out.
Rapid diagnostic and remedial action is essential for a NASCAR team with races held on a weekly basis. Flanagan notes that Hendrick Motorsports routinely has to identify problems, figure out solutions, manufacture and test them and get them back in the racing vehicles in a 72h timeframe.
'It has to be really fast, and it makes our engineers really think outside the box in everything,' Flanagan explained.
Hendrick Motorsports began developing and providing defence products in 2012. These include the chassis structure for the GM Defense Infantry Squad Vehicle (ISV) and new seats for AH-64 Apache helicopter crews.
Flanagan noted that research in recent years had found that more comfortable driver seating improved safety and performance in NASCAR races. 'We are taking some of those same concepts and translating them over to the Apache seat,' she said.
This article was changed on 29 November to clarify the role of Hendrick Motorsports in the ISV programme.
More from Land Warfare
An unnamed customer will receive Oerlikon Skyguard 3 air defence systems by 2024.

The latest in a slew of Indian Army RfIs is seeking domestically designed and built 4x4 lightly armoured reconnaissance vehicles.

Singapore's defence minister provided updates on artillery, tracked carriers, submarines and the country's new Digital and Intelligence Service.

France is ploughing ahead with its 2022 schedule for the Furious UGV development programme, with the DGA procurement agency awarding Safran a second-phase contract.