Home

>

News

>

What can the UK do to stop former pilots helping China?
What can the UK do to stop former pilots helping China?
While new legislations and penalties may help deter some former Royal Air Force pilots from training Chinese personnel, the UK should realise it has played a role in alienating its retirees and needs to better look after its people, experts say.
As many as 30 former RAF pilots have been recruited by China to train its air force how to fight against Western fighter jets and helicopters, recent media reports have revealed.
The retired UK personnel are being used to help understand the way in which Western planes and pilots operate, information which could be vital in the event of a conflict.
The pilots involved have experience and knowledge of Eurofighter Typhoons, Jaguars, AV-8B Harriers and Tornados but not with the F-35.
Officials claim that Beijing has persuaded the retired pilots with lucrative contracts that included £240,000 ($271,000) annual salaries.
China has been actively seeking ways to acquire Western companies and gain valuable information for the past few years. Now, as Beijing has managed to develop advanced jets such as the Chengdu J-20, it is only missing the expertise of air forces with decades of flight experience.
The company that helped recruit instructors for the PLA was identified as the Test Flying Academy of South Africa, a training institution well known for training Chinese pilots through a series of strategic partnerships.
Talking to Shephard on current RAF issues, Conservative MP and Chair of the Defence Select Committee Tobias Ellwood said: 'Though I support stripping these defectors of British citizenship, we need to do a better job of looking after our defence people, not offer them money to quit, as it has been reported some RAF pilots have been to ease the backlog.
'This is utterly wrong-headed – we don't need fewer pilots on the waiting list, we need more pilots getting qualified.'
There is no indication that any of the recruited personnel have breached the Official Secrets Act or that they have committed any crime, but UK ministers are not satisfied and want to change the law to prevent any further RAF pilots from training the PLA.
'There are many national and international acts and laws that (relatively) clearly define what is allowed and what is crossing the line.'— Henry Poole, Starlite Aviation head of training.
'We are going to put into law that once people have been given that warning it will become an offence to go forward and continue with that training,' the Armed Forces Minister James Heappey told Sky News.
But regulations and laws will not necessarily be sufficient to deter people, Henry Poole, head of training at flying training provider Starlite Aviation, told Shephard.
He said: 'There are many national and international acts and laws that (relatively) clearly define what is allowed and what is crossing the line; these are going to be different dependant on the nationality, location of the individual and/or training institution.'
Poole, who is ex-UK military himself, believes the issue lies with the insufficient frequency with which such regulations are updated, and they are unable 'to keep up with changing security threats, variable international relationships or the type of knowledge transfer taking place.'
Starlite Aviation closely works with the South African Chief Directorate for Conventional Arms Control (CDCAC) to ensure the school's training courses are approved for international students, Poole said.
He argued that although teaching tactics, techniques and procedures (TTPs) might be a grey area, a professional military aviator should understand where the line of national security is, and thus not cross it without understanding the legal and moral implications.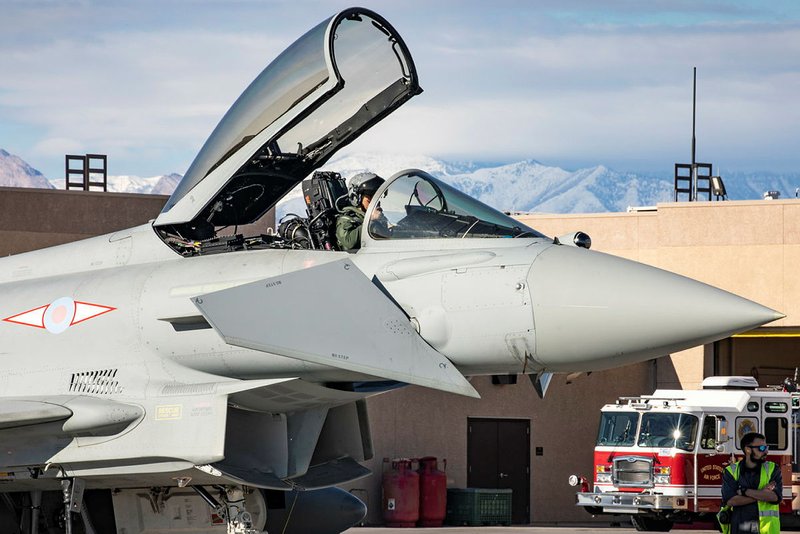 China has been actively seeking ways to acquire Western companies to gain valuable information for the past years. (Photo: UK Crown Copyright)
'Are you teaching pilots to fly safer, display better mission command and airmanship? If so, I feel this is within bounds, but if you are teaching a potential adversary of the UK (or SA) to be superior in a peer-peer engagement, then you have very much crossed the line,' Poole added.
Ironically, the UK itself very much struggles to train its own pilots.
On 6 October, the Armed Forces Minister submitted written answers to Ellwood's questions concerning RAF flying training. This revealed that there are nearly 300 service personnel currently on pre-flying training or on hold in between various stages of the Military Flying Training System (MFTS).
Heappey said 'there have always been planned holds in the flying training pipeline and the number of pilots holding before starting flying training has decreased since 2019,' but admitted that the impact of COVID-19 and the Integrated Review has increased the number of pilots waiting.
'The more pilots we get qualified, the more instructors we will have and vice versa.'— Tobias Ellwood MP, Chair of the UK Defence Select Committee.
As to how the MoD is looking to improve fighter pilot training capacity, Heappey said his department is 'working with allies and partners to examine whether UK pilots could be trained overseas, or where we might pool our resources to mutual benefit.'
Ellwood is not fully satisfied with this. 'I am glad the minister concedes that there are hundreds of pilots doing desk jobs in defence whilst waiting for training slots, but I am not sure he appreciates that there is a compound effect at play here – the more pilots we get qualified, the more instructors we will have and vice versa,' he told Shephard.
He added: 'News in recent days of former RAF pilots working as contractors for the PLA teaching Chinese pilots British tactics and doctrine just adds to what I am saying.
'Rather than being forced into pooling our resources, I would like to see the UK in a position to give spare pilot training places to international pilots, as we do in other training establishments across the military.'
Poole said that he realises that when service personnel leave the force, 'they can feel somewhat abandoned by an organisation they gave so much to. I can see how they might see this as a justification to benefit personally from their skill sets.'
He echoed Ellwood's words on looking after people better in British defence organisations, saying they could openly recognise that their skills are valuable and that aviators can remain useful into their 50s and 60s.
More from Defence Notes
The past 14 days have seen another wave of announcements of military assistance for Ukraine, including support from the US, UK, Norway and Germany.

Improving the welfare of personnel is critical to tackling recruitment and retention challenges.

The Portuguese MoD is working on updated versions of its National Defence Strategic Concept and Military Programming Law. The new documents will define the country's priorities and shape future acquisition and modernisation programmes.

Elbit Systems UK has stopped work on the Royal Navy's Dreadnought Crew Training programme and its role on Project Selborne is under negotiation with the government.

The US is to establish a new central office with oversight of acquisition, integration and interoperability of the DoD-wide Joint All Domain Command and Control (JADC2) effort.