Home

>

News

>

Western reinforcement helping Ukraine protect itself, UK defence exports director says
Western reinforcement helping Ukraine protect itself, UK defence exports director says
Western equipment sent to Ukraine is helping reinforce Ukraine in its defence against Russia's invasion, the head of the UK's Defence and Security Exports agency told Shephard.
Western allied military capabilities are having a clear effect in Ukraine, according to UK Defence and Security Exports (DSE) director Mark Goldsack.
'I think that's visible to the layman observer through the various electronic media and the news report as much as it is to any specialist observer.' Goldsack explained to Shephard.
UK DSE, a directorate within the Department for International Trade (DIT), has worked closely with the UK MoD to support the UK's government-wide response to the Russian invasion of Ukraine, helping to coordinate the supply of military and humanitarian aid into the country.
To date, the UK has flowed more than £2.3 billion ($2.8 billion) worth of aid into Ukraine and established a £25 million innovation fund to help Kyiv bolster its coastal defence, artillery and aerial capabilities.
On 21 July, the UK furthered its support to Ukraine, announcing the supply of more artillery pieces, drones, and anti-tank weapons. The UK is also training Ukrainian soldiers and Sailors in the UK.
As part of its support for Kyiv, the UK has supplied Ukraine with 6,900 NLAW, Javelin, Brimstone and other ATGMs; 16,000 artillery rounds; six Stormer armoured vehicles carrying Starstreak anti-air missile launchers and 'hundreds' of missiles.
On top of this, London has provided maritime Brimstone missiles, M270 Multiple Launch Rocket Systems (MLRS), 120 armoured vehicles and other equipment such as helmets, body armour and night-vision devices.
Beyond helping Ukraine by providing military aid, DSE is also supporting MoD and other departments working to aid civil resilience, mine clearance, and the provision of humanitarian assistance to Kyiv.
The UK also convened conferences of friendly nations to source equipment and materiel to aid the Ukrainian defence.
Describing DSE and the UK's broader efforts, Goldsack said: 'We've been supporting Ukraine and supporting companies working in Ukraine, working with our colleagues in the MoD over quite a wide range of cross-domain activity.'
The defence exports boss added that the UK had worked very deliberately across government departments and with international partners to ensure that aid was supplied promptly.
Goldsack added that questions were being raised about how to mature relationships with Ukraine to build on the immediate supply of equipment and help fill longer-term requirements.
Asked about the challenges of balancing long-term support with helping to fill immediate requirements, Goldsack said the UK was constantly reconciling the 'here and now' with the coherence of long-term planning.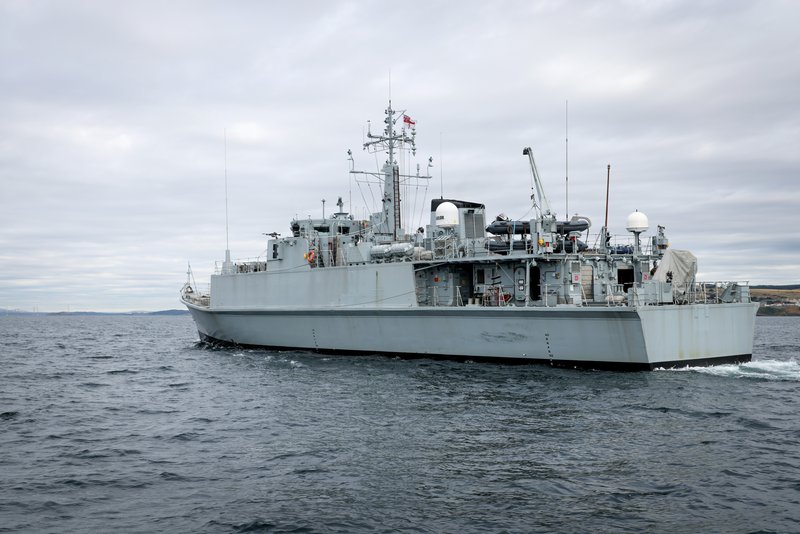 Ukrainian sailors have been trained by the RN to operate Sandown-class MCMVs. (Photo: UK MoD/ Crown Copyright)
Before the invasion, the Ukrainian Parliament ratified an agreement with the UK to improve the country's maritime capabilities under the Ukrainian Naval Capabilities Enhancement Projects (UNCEP).
In March, Shephard reported work under the programme was still on.
UNCEPs provided Ukraine access to UK Export Finance (UKEF) agency loans to purchase two former RN Sandown-class minehunters, eight fast attack missile craft – at least one of which would be built in the UK, the regeneration of naval bases and the supply of missiles.
Goldsack did not comment on the specifics on UNCEPS but told Shephard that work was ongoing.
In recent weeks, Ukrainian sailors have been training in Ukraine, learning to operate minehunters.
Mines have become an acute threat in the war as Ukraine tentatively looks to resume grain exports following an agreement with Russia to allow the passage of ships carrying the foodstuff.
'The sanctions programme has been designed to paralyse the way the military-industrial complex works in Russia so that we can slow down and mitigate to some extent the aggression.'— UK DSE director Mark Goldsack
Another aspect of the UK's support has been a massive package of sanctions designed to hobble the Russian economy and its defence industry.
Goldsack said: 'The sanctions programme has been designed to paralyse the way the military-industrial complex works in Russia so that we can slow down and mitigate to some extent the aggression.'
Thousands of individuals and companies have been sanctioned, and controls have been placed on exporting dual-use equipment used in civil and military systems.
Another element of the UK's approach is helping countries reliant on Russian military exports to decouple themselves, Goldsack said.
He explained: 'This is more about how you remove dependencies on a regime that exploits them on you than it is about anything else.
'That move presents us with a number of occasions and a number of discussions now where we can help countries potentially do that.'
The director would not comment on specific countries the UK was talking to, citing security and commercial concerns.
Goldsack added that the backdrop against which defence and security export relationships were set against now had a sharp contrast 'about what works and what doesn't'.
Furthering this, the DSE director explained that the UK had made no secret since the publication of the 'Defence and Security Industrial Strategy' in March 2021 that the country was looking to increase its workings with global friends and partners not just Eurocentrically but also in the Indo-Pacific — a region Goldsack called incredibly important.
A key pillar of UK DSE's work is ensuring the industrial base in the UK is deep enough to reach into global markets and allow for the long-term provision of systems for the UK's own defence procurement needs.
As a single customer, Goldsack said the UK was not big enough in its own right to sustain a full-spectrum defence economy, emphasising the need for partnerships and cooperation.
'It [the UK] needs to work with its allies and friends to provide a broad enough common user group for each of these capabilities. And so, when it comes to bringing that proposition to life, what are we offering?
'Well, I think what we offer is a genuine partnership, and we've always been famed for our training offer when we partner with countries, but it's also recognising that in today's world, all of our partners, because of the size, scale, economic impact of any defence project, everybody needs to see a win-win.' Goldsack explained.
He said the UK has a broad set of offers, including how its defence industry can share design, creation and R&D work to develop solutions that have value locally and for customer nations.
More from Defence Notes
Silent Sentinel will provide its Jaegar platforms with an advanced cold-starter kit for Sweden.

The US Air Force is facing up to more KC-46 tanker woes.

Much as UK Prime Minister Liz Truss wants to project strong British power on the global stage, investment in much-needed capabilities is jeopardised by the fragile economic situation.