Home

>

News

>

Research paper points to a Russian 'ghost navy' providing logistical support
Research paper points to a Russian 'ghost navy' providing logistical support
Russia has been using commercial vessels to move military equipment to avoid controls, according to a report from NATO Defense College and RUSI.
Russia has been using commercial cargo ships to circumvent regulations on maritime transit through the Bosporus Strait since the beginning of Russia's invasion of Ukraine, according to a report from NATO Defense College and RUSI.
The NATO Defense College publication Outlook 1/2023: Ghost ship: Russia's secret naval fleet focused on SPARTA IV 'being used as a military ship, based on capability and ownership data, as well as satellite imagery indicating that it has loaded and transported military equipment to Russia'.
The report linked ownership of the vessel to OBL-Shipping LLC, the technical manager of the ship, and to the Chief Directorate for Troop Accommodations JSC.3 which is a former shareholder of OBL-Shipping.
The report drilled deep into unclassified satellite imagery of the ship and its movements, including when stationary at port side which includes imagery of what is being unloaded.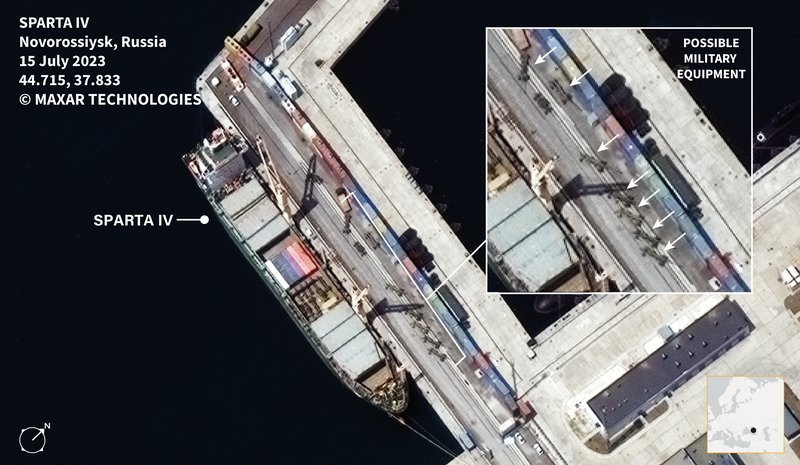 Possible military vehicles in Novorossiysk beside SPARTAN IV. (Photo: Maxar Technologies and RUSI Open Source Intelligence and Analysis)
The report stated: 'The SPARTA IV's capacity to transport military vehicles and links to the Russian MoD are only pieces of circumstantial evidence, but two sources offer proof that Russia has consistently used the SPARTA IV as a reliable – and allegedly "civilian" – vessel for sensitive maritime logistical operations.
'[Those sources are] the positioning of the ship through its tracker and the location of the ship in satellite and regular imagery.'
The report analysed imagery from the ship at dockside in Tartus, Syria and Novorossiysk on the Black Sea east of Crimea and noted return trips between the two sites between January 2023 and June 2023.
'Satellite imagery over Tartus on 26 February 2023 seems to show 17 vehicles, some of which with measurements (approximately 8m in length by 2.5m in width) compatible with those of a KAMAZ-5350.46 [six-wheel drive truck],' the report noted.
It concluded: 'The SPARTA IV is being used as a military ship, based on capability and ownership data as well as satellite imagery indicating that it has loaded and transported military equipment to Russia.'