Home

>

News

>

Insight: Is the Bayraktar TB2 UAV living up to expectations?
Insight: Is the Bayraktar TB2 UAV living up to expectations?
Sold to well over 20 countries and combat-proven in Nagorno-Karabakh, Ukraine and elsewhere, the Bayraktar TB2 has been an export success for its Turkish manufacturer. Shephard Defence Insight analyses the aircraft's design and capabilities and reviews in depth who is buying it and why.
Snapshot
The Bayraktar TB2, or Bayraktar-2, is a medium-altitude long-endurance (MALE) UAV developed and manufactured by Baykar. The platform can conduct ISR and armed attack missions and has a payload capacity of 150kg.
Several customers operate the platform. Azerbaijan used the UCAV extensively in the 2020 Armenia−Azerbaijan conflict over Nagorno-Karabakh, and Ukraine utilised it effectively following Russia's invasion on 24 February 2022.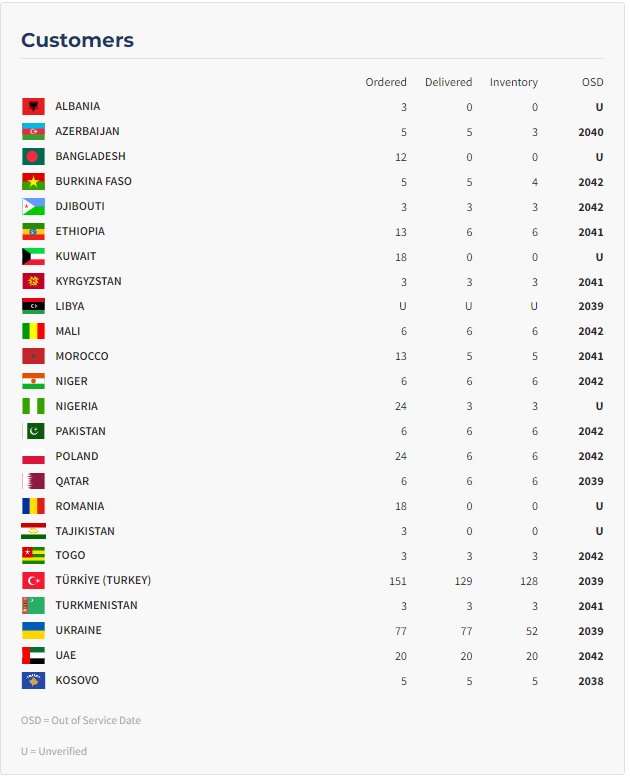 Additional information
Development & Production
How many TB2s can be built in a year?
According to Haluk Bayraktar, in September 2022, Baykar could manufacture 200 Bayraktar TB2s a year. However, due to the platform's success in the export market, Baykar has sought to increase its production capacity to 500 TB2s annually. To achieve this, the company announced a TRY600 million (then equivalent to $110 million) investment in 2019 to open a new factory in 2027. According to a presidential decision published in the Turkish Official Gazette in 2019, Baykar's production rate will double once the new factory is operational.
Related Articles
Baykar ramps up TB2 production capacity, pins faith in Ukraine
Baykar unveils Kemankeş mini cruise missile to augment TB2 drone's strike capability
Will TB2s be built in Ukraine?
Baykar is also looking to continue and expand its collaboration with Ukraine. As Ukrainian President Volodymyr Zelenskyy confirmed in September 2022, he and Haluk Bayraktar discussed this commitment and the 'details of the construction of the Baykar factory in Ukraine', a process which would also see numerous Ukrainian components being used in the production line.
For his company's commitment to Ukraine, Bayraktar was awarded the Ukrainian Order of Merit by Zelenskyy. A month later, Bayraktar told Reuters at the SAHA Defence Expo that Baykar and Ukraine had completed the architectural design for the Ukrainian factory and that the company was pushing for the factory to be open "within two years", despite Russia's invasion.
What are the TB2's main design features and subsystems?
Configuration
The TB2 has a twin-boom design. Four missile hardpoints are located underneath the wings of the platform, two on each side. A central ISR payload is located at the front of the fuselage.
Mobility and propulsion
The TB2 holds the record in Turkish aviation history for endurance (27 hours 3 minutes) and altitude (27,030ft). A 100hp internal combustion engine powers it.
Control and communication
The onboard avionic suite enables the TB2 to autonomously taxi, take off, land and navigate at cruising speed. While operating autonomously, the TB2 is monitored from a GCS. This GCS also allows operators to control the platform manually.
The mobile GCS that accompanies the TB2 is encompassed within a container. It features a pilot console, a data terminal and a remote display terminal. It is consistent with NATO ACE III shelter standards, features powerful communication antennas and can be transported on the back of a flat-bed vehicle.
What payloads can the TB2 carry?
With a payload capacity of 150kg, the platform can conduct ISR and armed attack missions. The user can fit ISR payloads, including an EO/IR/LD camera or a multi-mode AESA radar to the UAV. In addition, the system has four hard points for missiles.
Indigenously developed Rokestan MAM-L and MAM-C missiles are listed on Baykar's website as weapons that can be fitted to the TB2; an MAM-L-equipped TB2 was used in the Blue Homeland training exercise in March 2021.
The ISR payloads and Bakyar Real-Time Imagery Transmission System (BGAM) provide high-resolution, non-delay live broadcasts to be monitored by multiple users simultaneously. BGAM is a web-based application that allows users to watch live broadcasts securely on a network or tablets using the mobile application via the internet.
Turkmenistan displayed the TB2 fitted with an Argos-II HDT EO/IR camera system manufactured by Hensoldt. In February 2022, the Presidency of Defense Industries (SSB) chairperson Ismail Demir said the SSB had successfully delivered another batch of TB2s to Turkey. Interestingly, he noted that the drones were fitted with Aselsan's Common Aperture Targeting System (CATS). Morocco and Ukraine's TB2s are reportedly fitted with Wescam's MX-15D sensor.
At the SAHA Expo 2022, Baykar signed a contract with Roketsan to integrate the Sungur air defence missile system on its drones, especially the TB2 and Akinici. Haluk Bayraktar told Deutsche Presse-Agentur that Baykar was conducting tests with the missile system, which he believed would be used to 'engage drones' and 'other enemy aircraft'. The Daily Sabah noted that the integration of the missile system on the TB2 and Akinici could lead to the creation of a low-cost air patrol concept for eliminating threats such as enemy UAS, particularly kamikaze drones.
At Teknofest 2023, Baykar unveiled the Kemankeş, a turbojet-powered munition that has been designed to be air-launched from Baykar UAVs, such as the Akinci, TB2, and TB3. On 15 June 2023, Baykar released a video showing the platform launching from a TB2 in its first motor-operated firing test.
What is the flyaway unit cost of the TB2
Bespoke
According to the Polish Government's 24 May 2021 contract announcement, one bespoke TB2 system costs approximately $76 million. This gives each unit a gross cost of $11.17 million. 20% can be subtracted from this value to account for various support and training costs, resulting in an estimated flyaway unit cost of bespoke TB2s of $8.94 million.
This price has been used for this article since the Government of Poland officially announced it. In contrast, the others were generated from calculations based on the total contract value of the respective contracts.
Military off-the-shelf (MOTS)
Several countries have purchased the TB2 at a substantially lower price because they have acquired MOTS models. For example, the below-mentioned $70 million contract value of Morocco's purchase of 13 units alongside support equipment and services had an estimated total cost per unit of $5.38 million and a flyaway unit cost of $4.31 million. Equally, TB2s in the 2018 Ukrainian contract had a similar estimated flyaway unit cost below the $4 million mark.
Which countries are acquiring the TB2?
Albania
In early June 2021, Albania's Interior Minister visited Bayraktar facilities in Turkey. After the visit, he revealed Albanian was evaluating the possibility of procuring the TB2. Later in June, it was reported that the Albanian government had allocated an additional budget of around $9 million to procure the TB2, although no contract had officially been awarded yet.
In September 2022, the Albanian President, Edi Rama, reaffirmed his nation's commitment to acquiring the Turkish UCAV. Finally, Baykar announced that it had signed a procurement contract with Albania on 20 December 2022. Rama stated that the three TB2s acquired would be used to help police in peacetime, but they will 'always be ready' to defend Albania if required.
Angola
Turkish President Recep Tayyip Erdoğan announced in October 2021 that Angola had requested to buy an unnamed Turkish-made combat UAV, confirming that defence ministers of both countries would hold further talks regarding the potential sale. Shephard believes the procurement programme is likely to be for the TB2.
Azerbaijan
Azerbaijan extensively used the TB2s it procured in early 2020 in the conflict over Nagorno-Karabakh that year. Various Armenian ground-based air defence systems, armoured vehicles and artillery systems appear to have been destroyed by the platform. According to the Oryx blog, the TB2s in Azerbaijan's possession destroyed at least 548 Armenian targets during the conflict, with the confirmed loss of just two drones.
In September 2022, border conflicts with Armenia continued. The Armenian MoD announced on 14 September that Azerbaijani UAVs had been used in the direction of Jermuk, with Oryx adding that these platforms, most likely the TB2, had destroyed two Armenian S-300 SAM systems.
Bangladesh
Since 2017, the Bangladesh Air Force (BAF) and army have been interested in a MALE UAV. Since July 2022, several reports have circulated claiming that Bangladesh had acquired the TB2; the Turkish ambassador to Bangladesh even confirmed the deal.
However, Lt Col Abdullah Ibn Zayed, director of the military's Inter-Services Public Relations branch, more recently acknowledged that the procurement is 'under process'. Based on the evidence, Shephard believes this deal is most likely signed. A contract worth $64.56 million for 12 MOTS units is estimated to have been awarded.
Burkina Faso
According to DefenceWeb, Burkina Faso reportedly acquired five TB2 units in 2022, which were delivered between April and May of that year. Since then, several videos have emerged of the aircraft being utilised against terrorists in the country.
Official confirmation of an acquisition came on 23 March 2023, when Defence Minister Kassoum Coulibaly and Chief of General Staff David Kabre officially presented the new aircraft to the country's military.
In June 2023, Military Africa reported that a TB2 belonging to the Burkinabe Air Force had crashed around 140km southeast of the capital, near Tenkodogo.
Djibouti
On 27 June 2020, Baykar shared several images on social media showing two TB2s with Djibouti national markings being carried on large trucks in the country's independence day parade. Before the parade, industry or government officials had not disclosed a TB2 order from Djibouti. TB2s are usually exported in groups of three, suggesting that even though the country showed only two units, a third presumably was also delivered.
Ethiopia
According to an article published by Reuters on 14 October 2021, unnamed Turkish officials stated that Ethiopia requested to purchase an unknown quantity of Bayraktar TB2 aircraft, spare parts packages and training. Neither Ethiopia's military government nor Bayraktar has confirmed this.
Despite the lack of official confirmation, on 15 November 2021, Africa Intelligence reported that Ethiopia had signed a contract, with six TB2 units being delivered to Ethiopia in 'recent weeks', suggesting October 2021. In June 2022, footage of the Ethiopian Army's Bayraktar TB2 was captured at a graduation ceremony for military pilots.
Based on the country's GDP and comparative contracts, Shephard forecasts Ethiopia is procuring 13 units from Baykar, leaving seven more to be delivered in 2022.
Finland
Although not inevitable, it seems likely that the Finnish Defence Force (FDF) is seeking to procure a combat MALE UAS in the coming years, a process that has been in the works since a 2017 governmental defence report.
In June 2022, the Finnish defence minister suggested his country could purchase these UAVs from Turkey, a potential deal linked with Finland's application to NATO.
Iraq
Cuma Inad Sadan, the Iraqi Defence Minister, announced in August 2021 that the country had agreed to purchase an unknown number of Bayraktar TB2 units and some other Turkish equipment. Discussions between senior Baykar personnel and Iraqi officials were reported to have occurred during IDEF 2021.
However, December 2021 reports contradict these earlier announcements. The Daily Sabah reported on 9 December that Baykar had not yet signed a contract due to the political implications of Turkey selling its products to a neighbouring nation with which it does not have strong relations.
Japan
After years of not operating armed UAVs, Japan's position towards them is changing. Belatedly, the MoD has realised the importance of armed UAVs, notably after observing their significant impact in both the Nagorno-Karabakh conflict and the Ukraine-Russia war. This policy change came with the Japanese Defence Ministry's record ¥5.59 trillion ($40.7 billion) budget request for FY2023.
As reported by Shephard in September 2022, since no domestic armed UAVs have been adequately developed, the Japanese MoD has decided to trial imported loitering munitions and possibly the TB2 from FY2023, intending to operate them from FY2025 onwards. The Japan Self-Defense Forces (JSDF) would use these platforms for inland defence, mainly in the Nansei Islands. Shephard has forecast a procurement programme in the unlikely event that Japan acquires the TB2.
Kosovo
On 26 February 2022, Baykar announced on Twitter that its Ozdeminir National UAV R&D and Production Campus had been visited by Vjosa Osmani, President of the Republic of Kosovo. The president, holding a model of a Baykar Akinci, posed for a photograph in front of a TB2.
Over a year later, on 16 July 2023, the MoD of the Republic of Kosovo announced that Prime Minister Albin Kurti had inaugurated several Bayraktar TB2 drones, confirming that a procurement had occurred. At the time of the announcement, the Anadolu Agency reported that five TB2s were delivered to Kosovo in May 2023, in time for the Defender Europe 23 exercise.
Kyrgyzstan
On 21 October 2021, Kamchybek Tashiev, Deputy Prime Minister of Kyrgyzstan and the State Committee for National Security chairperson, announced Kyrgyzstan had purchased an unknown amount of TB2 units from Baykar. Shephard estimates three units were acquired. In December 2021, Baykar delivered the TB2 drones to Kyrgyzstan.
On 31 March 2022, footage emerged of the TB2 being utilised by Kyrgyzstan for the first time in exercises that involved stationary targets being destroyed by a Roketsan MAM-L fired from the Turkish aircraft. Six months later, the TB2 was utilised in live combat during clashes on the Kyrgyzstan-Tajikistan border in September 2022, with both sides using the TB2 against one another. According to Crimea News Agency, a Kyrgyz TB2 hit a Tajik T-72 tank.
Kuwait
On 18 January 2023, Baykar announced that it had signed a $370 million export contract with Kuwait for the TB2. According to the announcement, negotiations between Baykar and the Kuwaiti MoD began in 2019, with the company even demonstrating the drone in the Eastern Arabian country in July 2019. Both Baykar and the Kuwaiti Army reaffirmed the contract in June 2023.
According to Turkish defence media outlet Savunmasanayist, $90 million of the $370 million was spent on 18 TB2 drones, $180 million on Roketsan's combat-proven MAM-L smart munitions and the remaining $100 million on 1,800 mini-smart munitions, three GCS and a comprehensive training and support package.
Latvia
Following a visit to the Baykar National UAV R&D and Production Center in Ankara on 7 June 2021, the Latvian Minister of Defence, Artis Pabrikis, posted messages on Twitter and Facebook that indirectly suggested Latvia was considering purchasing an unknown quantity of TB2 systems.
In the context of Russia's invasion of Ukraine, Pabriks reasserted Latvia's interest in acquiring the TB2 in an interview with Nikkei Asia in March 2022. He told the media outlet that Latvia 'is interested in acquiring from Turkey the kind of armed drones Ukraine's military has been using against invading Russian forces'. He added, 'Bayraktar is [on] our horizon.'
Based on this information, Shephard has forecasted a Latvian procurement programme for the system.
Libya
- Second Libyan Civil War -
In 2019 and 2020, the Government of National Accord (GNA) used TB2 units against the Libyanian National Army (LNA). Al Marsad reported in March 2020 that nearly '20 Bayraktar TB2 drones have either [been] downed or destroyed at Libyan airports to date', suggesting that the country used at least a few dozen. Al Jazeera later confirmed a significant number were in operation during the last two years of the Second Libyan Civil War.
- Possible Future Procurement -
In October 2022, various Libyan media outlets reported that the country was eyeing up a possible procurement from Baykar, possibly the TB2 or the Akinici. These reports came on the back of Abdulhamid Dbeibah, the Interim Prime Minister of Libya, visiting Turkey in October 2022 and signing a military cooperation agreement with the Turkish Defence Minister, Akar Hulusi. The deal strengthened the alliance, which began in 2019 and will result in Turkey assisting in augmenting Libya's military capability. Later that month, Dbeibah visited Haluk Bayraktar at the SAHA Expo 2022.
Mali
On 22 December 2022, Joseph Dempsey, a research associate at IISS, tweeted photographs showing a TB2 adorned with the Malian flag being inspected by military personnel, indicating a procurement programme had occurred.
A few months later, on 16 March 2023, transitional President Col Assimi Goita officially handed over three TB2s and four L-39s to the Air Force at Bamako's International Airport, according to DefenceWeb. The registration numbers given to the UAVs were TZ-04D, TZ-05D and TZ-06D, indicating that six UAVs have been acquired in total.
Morocco
- First Batch -
In April 2021, the Morocco Royal Armed Forces (FAR) signed a MAD626 million ($70 million) procurement contract with Baykar to supply 13 TB2 platforms. In this contract, the 13 units will be accompanied by four GCS, a configurable simulation system and a digital system for tracking and storing information.
According to information published by the Daily Sabah, the FAR received the first batch of TB2s in September 2021, with the drone being sighted in Morocco for the first time in November 2021. The entire order is planned to be fully delivered by the end of 2022.
- Second Batch -
In the last three months of 2021, Reuters and Africa Intelligence reported that the FAR was preparing to purchase a second batch of at least six TB2 units from Baykar.
- Payload -
It was reported in May 2021 that the first batch of TB2s would be equipped with Canadian-made Wescam MX-15D optronics, a subsystem confirmed to be on Morocco's TB2 due to published direct transfer permits between Canada and Turkey. Shephard believes this payload will likely be fitted to the potential second batch too.
Niger
Following a telephone conversation between the Presidents of Turkey and Niger, Turkey's presidential Directorate of Communications released a statement on 18 November 2021 that said Niger would acquire, among other equipment, the TB2.
In March 2022, the President of Niger's Twitter account announced Mohamed Bazoum and others had attended two meetings in Turkey with representatives from Baykar and Havelsan. The meeting appears to have been successful, as the statement revealing this also confirmed that Niger had purchased 'several TB2 drones to strengthen its air fleet as part of the strategy to fight terrorism and secure [its] borders'. It also revealed that deliveries would occur 'in the coming months', suggesting a mid-2022 delivery.
In May 2022, Mena Defence reported that the Niger Air Force had received an estimated six units on 20-21 May. The TB2s were reportedly delivered to Niamey airport by a Ukrainian air cargo company on board an Il-76. Due to Niger's finances and the March 2022 assertion that all deliveries would be completed 'in the coming months', Shephard believes only six units were ordered.
Nigeria
On 11 October 2021, the governor of Nigeria's Zamfara State stated that several companies had signed a memorandum of understanding (MoU) with the Nigerian government. One of these companies is believed to be Baykar, likely to supply the country with its Bayraktar TB2.
However, this procurement programme was not confirmed for some time, despite the Turkish President, Recep Tayyip Erdoğan, visiting Nigeria on 20 October 2021. In February 2022, African Intelligence reported that the deal was being held up by sanctions the US and Canada imposed on key parts of the TB2.
Evidence that Nigeria had acquired the drone finally appeared in September 2022, when photos of the TB2 adorned with the Nigerian flag appeared online. Times Aerospace reported in February 2023 that some units had already been delivered. Shephard forecasts that 24 units have been ordered.
Pakistan
On 14 January 2022, the Pakistani government unveiled its first-ever National Security Policy. As reported by Shephard, the policy emphasised 'brotherly ties' with Turkey and committed Pakistan to more robust economic and defence cooperation with Ankara. Part of this saw the Pakistan Air Force (PAF) acquiring an unknown quantity of TB2s.
On 7 April 2022, TB2s and two GCS were seen on satellite imagery at the PAF's Murid air base. Typically, one GCS is capable of handling up to three UAVs. This information indicates that the PAF had taken delivery of at least two TB2s and had acquired up to six units.
Poland
A 19 May 2021 tweet by Mariusz Błaszczak, head of the Polish MoD, contained a photograph of a model of the TB2 with a caption stating, 'Good news coming soon... stay tuned.' On 22 May 2021, three days later, he appeared on Polskie Radio 24 and announced that 24 units, four systems, had been purchased by Poland, and deliveries would begin in 2022. News of the procurement programme was officially followed by an announcement from the Government of Poland on 24 May 2021.
These units are Polish-configured Bayraktar TB2s. Błaszczak clarified in a June 2021 interview that the systems were to be configured to Polish-specific requirements; he stated that Poland was not 'procuring a product that comes straight from the production line'. In the same interview, he confirmed that the procurement was not part of either the Gryf or Zefir programmes.
In addition, the contract included MAM-L missiles, MAM-C missiles, SAR radars, GCS, simulators, training packages and spare parts. In April 2023, for the first time in Polish history, these missiles were fired from an uncrewed platform, the TB2, at a training ground in Ustka.
In late November 2021, Poland also announced it would be integrating two Leonardo Osprey 30 AESA radar systems onto its under-construction TB2 drones on a trial basis.
On 28 October 2022, the first six UAVs were delivered by Baykar to 12 Unmanned Aerial Vehicle Base, Mirosławiec. This delivery is on schedule with the timeline Błaszczak asserted in May 2021.
Qatar
The Qatar Armed Forces have purchased six TB2 UAVs from Turkey through a procurement programme that was announced at DIMDEX 2018. The deliveries of six platforms, three GCS and one simulator were completed in 2019.
Romania
On 1 September 2022, local Romanian media reported that the country's MoD had requested parliament to acquire 18 Bayraktar TB2s, logistical support and training packages from Baykar for a reported $300 million.
Hours after these reports circulated, Romania's Defence Minister confirmed they were true. The ministry expanded on the rumours, clarifying that the TB2s would be destined for its ground forces as part of its military growth plans, in line with NATO targets.
On 25 April 2023, the Romanian MoD released documents that evidenced the TB2 purchase. The contract award confirmed that 18 drones would be acquired, split into three systems of six units, for $321 million. It also included an initial logistical support package, training, and auxiliary equipment.
Rwanda
Based on its experience fighting rebels in the Mozambican province of Cabo Delgado, the Rwandan Defence Force (RFF) has hightailed a need for it to acquire a UAV. Defence media outlets report that the country wishes to procure a minimum of 12 drones which are rumoured to be Baykar's TB2.
Serbia
In April 2022, within the interlocking context of Russia's 2022 invasion of Ukraine and the Serbian plan to strengthen the Serbian Air Force and Air Defence, the country's president, Aleksandar Vučić, stated that Serbia would acquire the TB2, with Turkish President Recep Tayyip Erdoğan reportedly agreeing to supply it.
Following Erdoğan's visit to Serbia in September 2022, Vučić reaffirmed his nation's commitment to acquiring the UAV. However, Serbia's desire to replace its ageing Soviet-eta MiGs will likely take priority over a TB2 acquisition programme.
Slovakia
On 13 April 2022, Slovakia's Defence Minister, Jaro Nad, tweeted that the Slovakian procurement programme for MALE UAV procurement was 'moving forward'.
In the tweet, Nad said he had shared a 'good talk' with Baykar representatives and attached a photo of a TB2 model featuring Slovakian insignia. In addition, Nad also stated that 'discussions with other drone producers [were also] ongoing', showing Slovakia is still considering other bidders.
Tajikistan
On 28 April 2022, the Turkish news outlet Daily Sabah reported that Tajikistan had acquired the TB2 amid its border disputes with Kyrgyzstan.
According to the outlet, the Kyrgyz Minister of Foreign Affairs, Zheenbek Kulubaev, confirmed his neighbouring countries' purchase of the UCAV. Shephard forecasted the reported contract was for three MOTS units, costing Tajikistan an estimated $16.14 million.
In September 2022, the UAV was used by both sides during the Kyrgyzstan-Tajikistan border conflict, with Tajik TB2s reportedly destroying a Kyrgyz truck-mounted AA system.
Togo
Following a meeting between the Turkish and Togolese presidents in October 2021, an acquisition deal for the Bayraktar TB2 was signed. Togo hoped to use the platform in its ongoing struggle against jihadist fighters.
As highlighted by Military Africa, on 1 July 2022, open-source flight information tracked a TB2 drone operating in southern Burkina Faso and northern Togo, indicating that it is likely a Togolese-owned UAV. Shephard estimates that Togo acquired three MOTS TB2s for $16.14 million.
Turkey
According to the Turkish Ministry of National Defence (MoND), in 2018, Turkey planned to procure as many as 151 Bayraktar TB2s. The first customer of the system, the country has been acquiring it through a procurement programme since 2014, with the TB2 carrying out missions successfully within the Turkish Armed Forces, Gendarmerie and the Turkish National Police.
According to Turkish defence media, 98 TB2 units had been delivered to various Turkish defence customers by the beginning of December 2019; this number had increased to 107 by May 2020. In July 2021, it was reported that a Turkish TB2 crashed in northern Iraq, reducing Turkey's inventory to an estimated 106.
In February 2022, the Presidency of Defense Industries (SSB) chairperson Ismail Demir said the SSB had successfully delivered another batch of UAVs to the Turkish Armed Forces. He specified the drones were armed with Aselsan's CATS. Assuming this batch of UAVs numbers 22 platforms, the annual pre-pandemic delivery rate to Turkey, Shephard estimates Turkey's TB2 inventory currently sits at 128 units.
During the July/August 2021 wildfires in Turkey, TB2s belonging to the General Directorate of Security, the Turkish Naval Forces and Baykar were operated in support of the General Directorate of Forestry and the fire services. The platforms provided high-altitude overwatch over the affected area and detected heat sources, costing significantly less per flight hour than crewed counterparts.
Turkmenistan
During its 30th Anniversary parade on 27 September 2021, Turkmenistan unveiled three Bayraktar TB2 units fitted with MAM-L and MAM-C missiles and Argos-II HD/HDT camera systems. Baykar tweeted photographs of the TB2s featuring the Turkmenistan flag on the same day, confirming the procurement programme.
UAE
- Contracted -
Turkey and the UAE are actively taking significant steps to overcome historical disputes. One avenue of this rapprochement is through military purchases. Following unsubstantiated rumours of an earlier purchase in September 2022, the Middle East Eye reported that Turkey and UAE had been negotiating a $2 billion deal to acquire 120 Bayraktar TB2s since March 2022. The procurement programme was later confirmed, and deliveries have occurred.
- Selected -
Reuters reported in September 2022 that, during these negotiations, 20 units had been delivered to the UAE. Leaving another 100 units that the UAE may acquire through a programme in the future. If it does, several components will be produced in the UAE in factories Baykar will open in the country.
Ukraine (Pre-Invasion)
- Army -
The Ukrainian Army purchased 12 TB2 units in January 2019 for a reported $69 million. Deliveries began in June 2019, and the UCAVs were first flown by the Ukrainian military on 9 April 2021, following two years of training with the platform. On 26 October 2021, the Armed Forces of Ukraine announced it had utilised its TB2 drones to destroy a pro-Russian separatist D-30 howitzer installation in Donbas.
- Navy -
According to Ukrainian Navy Commander RAdm Oleksiy Neizhpapa, in January 2021, the Ukrainian Navy signed a contract to acquire Baykar's TB2 platform. Between September and November 2021, various members of the Ukrainian Armed Forces and government announced the country would purchase a batch of 24 Bayraktar TB2 units from Baykar.
On 15 July 2021, the Navy accepted the first batch of TB2s, an estimated eight drones. Following the outbreak of the Russo-Ukrainian War in March 2022, Ukraine's Defence Minister Oleksii Reznikov stated that it had received a new batch of combat-ready TB2s. The Daily Sabah later reported that this batch consisted of 16 UAVs; therefore, it was presumably an accelerated delivery of the navy's order.
- Inventory -
On 4 February 2022, Ukraine's Air Force Command revealed in an interview with AI Monitor that, at the time, Ukraine possessed 20 TB2 UAVs. Presumably, these were the army's 12 units and the navy's eight, as mentioned above.
Ukraine (During Invasion)
- Delivery of Old Orders -
On 2 March 2022, Ukraine's Defence Minister Oleksii Reznikov stated that Ukraine was receiving help from many countries and confirmed it had already received a 'new batch' of combat-ready TB2s. Later, the Turkish Deputy Foreign Minister, Yavuz Selim Kıran, stated that the TB2s were not given as aid from Turkey, stressing they were 'products purchased by Ukraine'. In May 2022, the Daily Sabah confirmed that 16 units had been delivered in March 2022, units that had been ordered on 27 January 2022.
- Baykar Aid -
In addition to accelerated orders, as seen above, Baykar has aided Ukraine enormously since the Russo-Ukrainian War began. According to Oryx, Baykar has donated at least 20 TB2s off its own back and refused to accept payment for an additional five crowdfunded units - freeing up $32 million that Lithuania, Poland and Ukraine raised. In August 2023, GDH Defence reported that Baykar had given another unit to Ukraine to mark Ukraine's Independence Day on 24 August 2023. Further, the company has sold another estimated 15 units at half price.
In addition to supplying material, Baykar is cooperating with Ukraine to establish joint training and maintenance centres for Turkish UCAVs and a production facility in Ukraine. This process dates back to before the war. In August 2023, the Daily Sabah reported that it had already purchased a plot of land in Ukraine for a production facility. 
The following month, Ukrainian President Volodymyr Zelenskyy confirmed he and Haluk Bayraktar discussed this commitment and the 'details of the construction of the Baykar factory in Ukraine', a process which would also see numerous Ukrainian components being used in the production line. Bayraktar told Reuters at the SAHA Defence Expo 2022 that Baykar and Ukraine had completed the architectural design for the Ukrainian factory and that the company were pushing for the factory to be open "within two years", despite Russia's invasion. 
Months later, in January 2023, according to Ukraine's ambassador to Türkiye, the legal framework for establishing the production facility was completed.
In August 2022, Baykar CEO Haluk Bayraktar spoke about the Russo-Ukrainian War, stating that 'money is not a priority' and stressing that 'Ukraine is subjected to an unfair, aggressive and unreasonable attack'. For his company's commitment to Ukraine, Bayraktar was awarded the Ukrainian Order of Merit by Zelenskyy.
- Crowdfunding -
In May 2022, a crowdfunding campaign launched by Laisves TV in Lithuania raised $5.4 million in three and a half days to purchase military drones. Ukraine's ambassador to Lithuania told Laisves TV that this marked the first time ordinary people raised money to buy 'something like a Bayraktar'. 
On 2 June 2022, Baykar announced that it would provide one TB2 unit at no cost to Lithuania to be passed to Ukraine. It also requested that Lithuania's donations for the UAV be passed as humanitarian aid to Ukraine. The unit is painted in the colours of the Lithuanian and Ukrainian flags and was reportedly delivered in early July 2022. The founder of Laisves TV spent a proportion of the crowdfunding total on four EOS C VTOL aircraft, costing €660,000.
On 24 July 2022, the Ukrainian MoD announced on Twitter that due to the fundraising of Slawomir Sierakowski and the people of Poland, zł22.5 million had been raised to buy a TB2 drone. Again, Baykar provided this drone for free.
In July 2023, Baykar announced that following another crowdfunding campaign, this one from the Come Back Alive Foundation, it would donate three TB2s to Ukraine, refusing payment for the production of the aircraft. Instead, Baykar asked for the raised funds to be 'remitted instead to the struggling people of Ukraine'.
- Inventory and Losses -
As stated above, Ukraine possessed 20 TB2s at the start of the conflict. Based on the Daily Sabah's May 2022 assertion, a further 16 units were delivered in March 2022. Speaking to Nikkei Asia in April 2022, defence industry analyst Arda Mevlutoglu estimated Ukraine's TB2 inventory was between 24 and 40, which aligned with the Daily Sabah's reported delivery total and Shephard's estimate that 36 units had been delivered at that time.
As mentioned above, as reported by Oryx, Baykar has given at least 20 units as aid, refused payment for another five units and sold 15 at half price, totalling an estimated 40 TB2 units given to Ukraine since the start of the Russo-Ukrainian War. When added to the drone given by Baykar to mark Ukraine's Independence Day in August 2023, Shephard estimates Ukraine has received 77 TB2s.
At the beginning of the war, Russia falsely reported it had eliminated Ukraine's TB2 fleet. Twenty-one days into the conflict, on 17 March, photos released by the Russian MoD evidenced the first confirmed TB2 loss. Oryx notes that, to date, 24 TB2s are confirmed to have been lost during the conflict. These figures are the minimum quantity that will have been lost, with the actual number presumably much higher.
Therefore, based on the available information, Shephard estimates that Ukraine has received 40 TB2s since the war began, adding to its pre-war inventory of 36 (16 of which were delivered quickly after the war began), resulting in an estimated inventory of 76 which has been depleted to 52.
- TB2 effectiveness -
Despite sustaining losses, the UCAV has been effective against the invader. A 15 May 2022 article from The Guardian summarised that 'TB2s are clearly militarily effective' over Ukraine; however, the article stated, 'it is not obvious they are militarily decisive'. Elisabeth Gosselin-Malo highlighted that Russian deficiencies had facilitated this early success. The invaders continued their inability to establish air superiority, their initial failure to destroy Ukrainian airfields and runways and their continual deployment of conveys far beyond their air defence umbrella.
This article was created using data and analysis from Shephard's Defence Insight market intelligence tool. For more information or to request a demo, visit our information page here.
Shephard's DSEI 2023 coverage is sponsored by:

More from DSEI 2023 | View all news