IT2EC 2023: Culture hampering adoption of virtual reality pilot trainers
Portable mixed reality devices aim to augment expensive dome-based full mission simulators in military training but face lobbying and cultural resistance.
There was no shortage of portable mixed reality (MR) training devices on show at the IT2EC 2023 military training and defence trade show between 24 and 26 April.
Many offer very high or adjustable fidelity based on customer requirements, but not with the aim to replace live training or even dome training systems, in the case of pilot trainers.
Talking to a number of manufacturers on the show floor, Shephard believes the objective training solution providers set out with MR devices is to achieve a level of augmentation where the majority of virtual training would be conducted on more affordable, mobile systems instead of dome-based solutions.
Related Articles
IDSI and Varjo showcase mixed reality Joint Terminal Attack Controller trainer at IT2EC 2023
Brunner puts Apache MR motion sim on display at IT2EC 2023
IT2EC 2023: Training for multi-domain ops needs a fresh approach to succeed
Talking to Shephard, CEO and co-founder of Vrgineers Marek Polcak said he strongly believes this will be the case.
'Even the USAF will probably have around ten full mission simulators (FMS) for the F-35, and the rest will be MR trainers, and they will be [sufficient],' he said.
'They will have hundreds or thousands, and everyone will have unlimited access to these simulators, they can train whenever and whatever they need to train, and they will confidently pass the exams.'
Polcak added that MR solutions are not 100% yet, with many hurdles to be still overcome.
'You have to wear these on your head, and it's clearly not as comfortable as just looking at a screen,' he explained.
Other weak points that wearables need to resolve include connectivity and lighting – problems that other MR manufacturers and resellers mentioned during the show.
Vrgineers and others are confident that these issues will be fixed, and that portable cockpit trainers will be able to provide a 1:1 pilot training experience by the end of 2023.
However, even then, lobbying efforts from defence industry behemoths will hamper the expansion of MR portable trainers, Marek said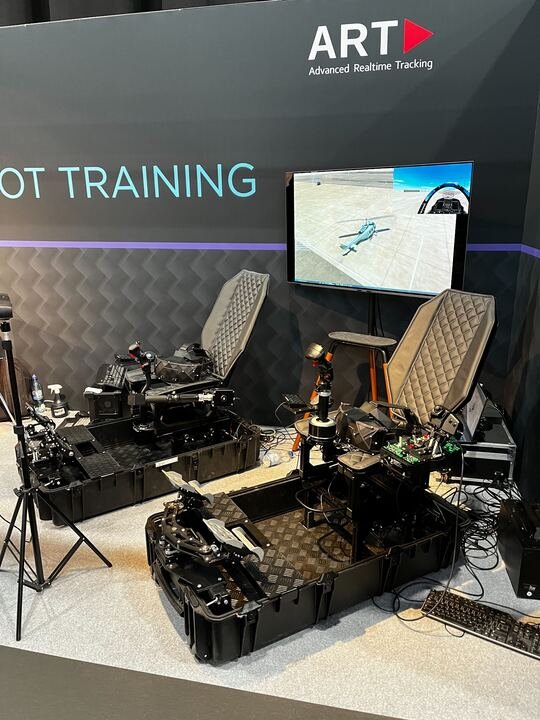 MR solutions are not 100% yet, with many hurdles to be still overcome but he is confident they will play a large role in pilot training in the near future. (Photo: Author)
When asked why major air forces like the RAF and the USAF do not talk about synthetic training enough, especially as they all struggle to qualify enough pilots, Marek blamed culture.
He said there were studies that clearly show that the overall pilot training process is about 30% faster with VR trainers, but they are not embedded into official syllabuses, so they do not have the ability to impact the standard flow of the pipeline.
'If you look at Germany, the UK or the US, instructor pilots are generally older people with a lot of flight hours, with some actual combat experience, but they have not really been using the latest technologies,' Marek said.
'The average Ukrainian pilot instructor is in their thirties, with a lot of combat experience.'
He said they have a different approach, and they have no problem with VR devices, so they are pushing for more modern approaches.
The only thing [Ukraine] cares about is to learn fast and to get whatever they need to achieve that.— Marek Polcak, co-founder and CEO, Vrgineers.
Marek believes that the first country that will implement VR/MR/XR solutions into its pilot training to a meaningful extent will be the US.
The USAF is currently running Pilot Training Next (PTN), which is an experimental programme under the Learning Next umbrella. It focuses on understanding how pilots learn, explore and prototype a flying training environment that integrates various technologies to produce pilots in an accelerated- and learning-focused manner.
'Then there is Ukraine,' Marek said. 'They don't care who builds the system or what its primary purpose is. The only thing they care about is to learn fast and get whatever they need to achieve that.
'They have the highest motivation to increase the speed of the process.'
Vrgineers is the only head-mounted display developer and manufacturer that also develops pilot trainers.
Recently the Czech company and Razbam Simulations have completed the development of the new F-15E Strike Eagle pilot simulator and showcased it at IT2EC.
The Portable Trainer can be set up in under 30 minutes and is easily transportable.
Marek said his company is currently working on an MR version of the F-15E trainer that will allow full 1:1 training that the company will aim to showcase at I/ITSEC at the end of this year.
The current offering includes both motionless and full-motion versions of the solution.
The company also has an MR F-35-like Classroom Trainer.
When asked whether Vrgineers would design a similar solution in Eurofighter Typhoon configuration, Marek said his company is in talks with Airbus Defence which manages the Typhoon training programme.
He said Airbus is interested, but there are no firm commitments yet, and Marek does not see any tangible customers for such a trainer yet.
Offering its XTAL 3 HMD to Dassault Rafale's training solutions on a subsystem level is also on the table, Marek added.
Shephard's IT²EC 2023 coverage is sponsored by:
More from IT²EC 2023 | View all news