Home

>

News

>

DSEI 2023: does the Royal Navy's surface combatant recapitalisation go far enough after a decade of neglect?
DSEI 2023: does the Royal Navy's surface combatant recapitalisation go far enough after a decade of neglect?
The UK Royal Navy (RN) operates one of the world's premier fleets with the ability to deploy high-end warships globally and retains key competencies in carrier aviation, amphibious and undersea warfare that few can boast. It also provides the UK's nuclear deterrent submarines. Despite this potential, it needs to recover from a decade of neglect to sustain these capabilities.
In the first of a three-part analysis of the state of the UK Royal Navy and the challenges it faces to sustain its core capabilities ahead of DSEI 2023, Shephard takes a hard look at UK surface combatant programmes, frigates and destroyers, which have seen a renewed focus in recent years after a decade of neglect.
The reason for this neglect was that in an effort to secure the delivery of the two Queen Elizabeth-class carriers promised in the 1998 Strategic Defence Review the RN agreed to cut the size of its surface combatant fleet to provide the necessary savings the MoD needed.
Why does the UK need four surface combatant programmes?
However, in the space of the last eight years the ministry has gone from having just one surface combatant programme (the Type 26 City-class frigate) to four.
This reflects concern across defence circles during the preceding two decades that, as the older Type 22 and Type 23 frigates were retired from service, the RN was set to reach a historically low number of major surface combatants, currently 17 when a minimum of 19 has been specified – a dangerous precedent for an island nation dependent on maritime trade.
In its original guise as the Future Surface Combatant (FSC) the Type 26 project was supposed to be for 18 ships replacing both the Type 22 and Type 23 frigates, but by 2010 this was reduced to replacing the 13 remaining Type 23 Duke-class on a like-for-like basis.
Then in the 2015 defence review the Type 26 programme was split into two parts. The first kept to the original plan to produce a high-end specialist anti-submarine warfare (ASW) platform, but the numbers were cut from 13 to eight. The remaining five became general purpose light frigates to be built under the new Type 31 Inspiration-class programme.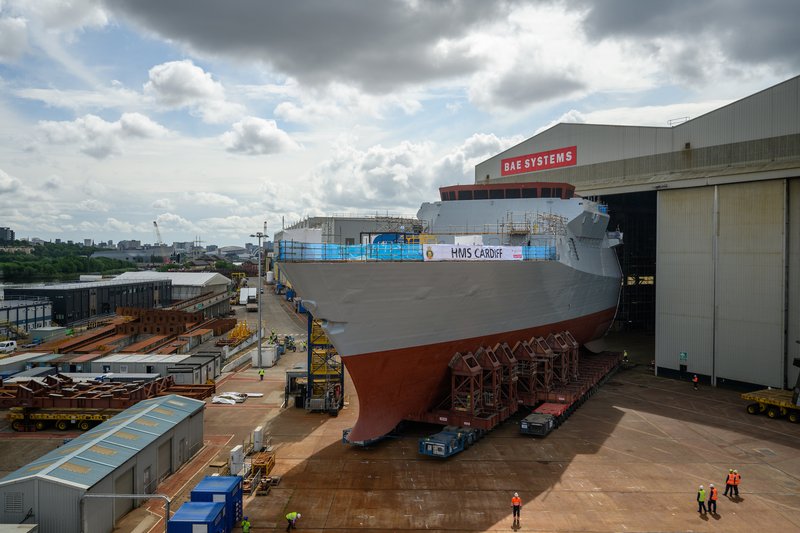 The forward block for the second Type 26 City-class frigate, HMS Cardiff, is rolled out at BAE Systems' shipyard in Glasgow. (Photo: BAE Systems)
Hiving off and downgrading a batch of frigates did little to allay concerns about the size of the RN's surface combatant fleet. Then in 2020 a new Type 32 frigate project was announced that would deliver an additional five frigates that to follow on from Type 31 under a plan to increase numbers over the next decade and alleviate concerns.
Then in 2021 the Type 83 Future Air Defence System (FADS) was announced that will replace the RN's six Type 45 destroyers from the mid-2030s.
Contracts for the first three batch one Type 26s were signed with BAE Systems in mid-2017 for £3.7 billion. The contract for the remaining five batch 2 ships followed in November 2022 for £4.2 billion.
The first three ships in batch one are under construction and the first-of-class Glasgow was launched in December 2022 with sea trials due to begin in 2025. Glasgow was due to achieve its initial operating capability in October 2027, however, this has been delayed by a year to 2028 because of Covid-19 supply chain issues and delays to completing the whole ship design.
It has also added £223 million in cost to the programme budget. Steel cutting for the fourth ship (first batch two vessel) took place in April. All eight ships are expected to be delivered by the mid-2030s.
| | | | |
| --- | --- | --- | --- |
| | | | |
| Title | City-class (Type 26) | Duke Class (Type 23) | Inspiration-class (Type 31) |
| Categories | Vessels | Vessels | Vessels |
| Subcategories | Frigates | Frigates | Frigates |
| Suppliers | BAE Systems | Swan Hunter | Babcock International Group |
| Region | EUROPE | EUROPE | EUROPE |
| Manufacturer Country | UK | UK | UK |
| Total Ordered | 8 | 16 | 5 |
| Total Delivered | U | 16 | U |
| Unit Cost (US$) | 1300000000.00 | 220000000.00 | 330120000.00 |
| First Delivery Date | 2027 | 1990 | 2027 |
| Out Of Service Date | U | U | U |
| Status | In production | Out of production | In production |
| Entry URL | https://plus.shephardmedia.com... | https://plus.shephardmedia.com... | https://plus.shephardmedia.com... |
| Length 1 (overall) | 149.9m | 133m | 138.7m |
| Width 1 (overall) | 20.8m | 16m | 19.8m |
| Weight 1 (overall) | 6,900t | 4,900t | 6,095t |
| Speed 1 (maximum) | 26kt | 28kt | 26kt |
| Range 1 (overall travel) | 12,964km | 13,890km | 16,668km |
| Crew | 157 | 185 | 105 |
| Passengers | 51 | 20 | 80 |
| Depth 2 (draft) | U | 7.3m | 5m |
✅ This data has been verified by the same team that brings you Defence Insight. Want to learn more?
Are the Type 31's funding problems over?
Meanwhile the five Type 31 frigates are being delivered by shipbuilder Babcock to its Arrowhead 140 design under a £1.25 billion contract awarded in November 2019. The lead ship, Venturer, is due to be launched later in 2023 and steel cutting on ship two, Active, took place in January with all five ships to be delivered by 2028.
This fast rate is to ensure that the RN's total frigate numbers are sustained for the rest of the 2020s as the ageing Type 23s retire. However, it has not been plain sailing for the project.
The first attempt at starting the programme failed because there were not enough qualifying bidders able to deliver the ships at the low costs the MoD wanted. The second attempt saw additional costs taken on by the MoD that allowed competing shipyards to provide the ships at an average price of £250 million each.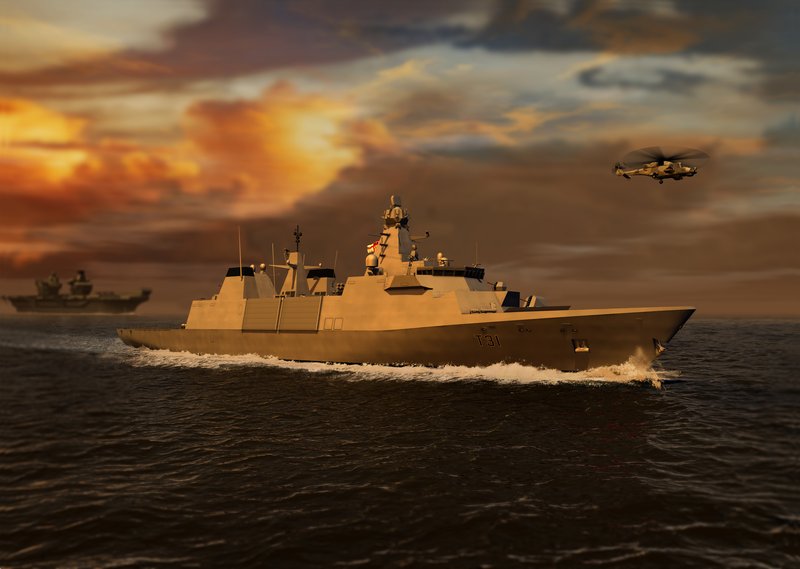 An artist's impression of the Type 31 Inspiration-class light frigate from Babcock. (Photo: Babcock)
However, this was still an unrealistic price. In April 2023, it emerged there was a dispute between Babcock and the MoD about who was responsible for further cost inflation, with the company stating that it needed an extra £50-100 million to avoid sustaining losses on the contract.
It is not clear if the 2028 delivery of Venturer can be achieved as the launch of the vessel merely means that the ship is structurally complete.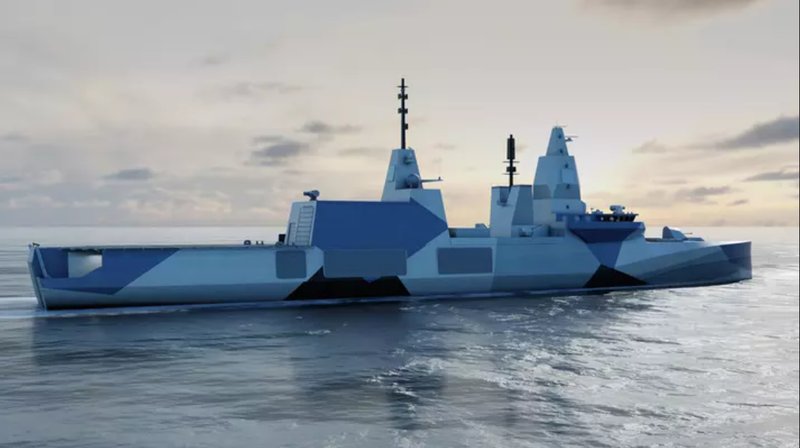 The Adaptable Strike Frigate concept design from BAE Systems is an early proposal to meet the Type 32 frigate requirements (BAE Systems)
Can the Type 32 be delivered on time?
There are further concerns over the follow-on Type 32 frigate project. The RN wants this ship to be an all-domain multi-purpose warfighting design for supporting a forward presence. But in July 2022 the navy withdrew its funding plans for the 32 frigates.
Although the Type 32 project remains in the MoD's equipment plan this makes it increasingly unlikely that the first ships can be delivered from the early 2030s. Babcock is offering a Batch 2 variant of the Type 31, with BAE Systems is proposing a 130m-long Adaptable Strike Frigate concept.
Tyape 32 is still in its pre-concept phase but the RN seems keen to move towards a modular solution with a platform that can meet a variety of requirements that could encompass mine countermeasures, amphibious capabilities and acting as an uncrewed systems mothership.
Funding has also yet to be provided for the Type 83 FADS destroyer project, which also puts a delivery date from the mid-2030s at risk. The Type 83 is expected to host air and missile defence capabilities and the capacity to conduct offensive strike missions.
Meeting these needs could mean a larger surface combatant, such as a follow-on to the Type 45 – such as a Type 46 model – or instead a host of smaller lean-crewed vessels with the focus on being an air defence launch platform only.
Shephard's DSEI 2023 coverage is sponsored by:

More from DSEI 2023 | View all news